In:
Royal Caribbean offers a variety of impressive specialty restaurants that serve up some of the best food available at sea and there are some ways to save money on the total cost to eat at these hot spots.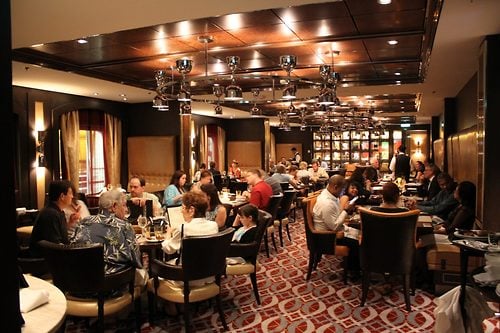 Whether you want to indulge in steak, sushi or Mexican, Royal Caribbean has added a number of specialty restaurants to its ships with cover charges per person that start at $25 and go up from there.
With these tips, you can cut down that cost and have more money to spend elsewhere on your cruise vacation!
First day discount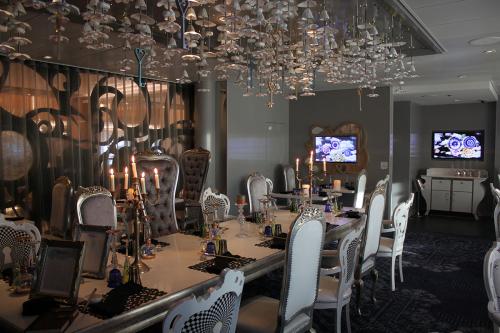 On most Royal Caribbean ships, the day you board you will find specials if you eat at many of the specialty restaurants that evening.
Most guests do not consider a specialty restaurant for the first night.  It is not clear why exactly, but specialty restaurants seem to enter guests' radar as the cruise progresses.
Look at your Cruise Compass or go to any of these restaurants and look for discounts available if you dine that day. Usually, there is a 20% discount if you dine at one of the restaurants that evening.
Pre-pay online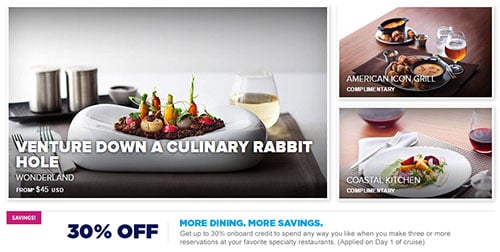 Royal Caribbean wants to encourage its guests to eat at more than just one specialty restaurant so they will reward you if you happen to go to at least three.
Using Cruise Planner on Royal Caribbean's website, you can save up to 30% onboard credit when you make three or more reservations at any specialty restaurants.
You will get the onboard credit on day one of your cruise and that's more money to spend onboard!
If you know you will dine at three (or more) specialty restaurants, pre-book them online to take advantage of the savings.
Dining Package
If you really love eating at the specialty restaurants and you just cannot get enough, consider the dining package.
We have seen the dining package offered on a few Royal Caribbean ships (Freedom of the Seas, Liberty of the Seas and Jewel of the Seas to name a few) where for $20 per day, guests can dine at any of the specialty restaurants every day of the cruise.
The dining package is not available on every Royal Caribbean ship, but if it is available on your sailing, it can be a great way to save money provided you want to dine at a specialty restaurant each night.
Which specialty restaurant discount have you used before? Tell us in the comments!