In:
We have a quick tip to share on how you can save money on your next Royal Caribbean cruise before you ever set foot on the ship from the comfort of your own home.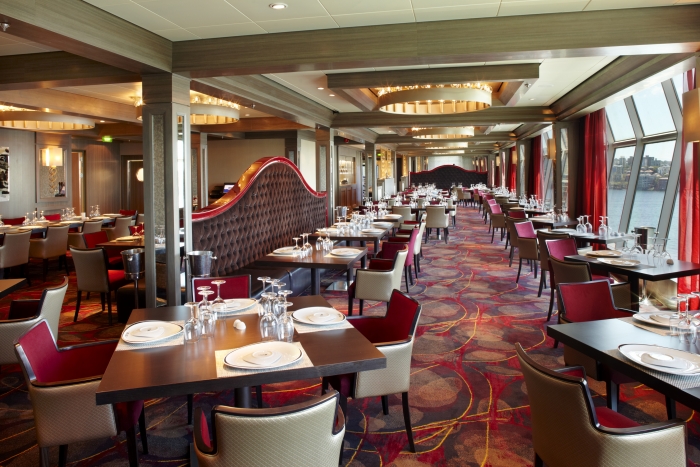 Specialty restaurants have become a focal point of a Royal Caribbean cruise, with more specialty restaurants available to dine at on your ship than ever before.  Royal Caribbean has been adding them to nearly all the ships in the fleet and the result has been more choices than ever for where to eat.
Most specialty restaurants have a cover charge, which is a one time fee you pay to dine at the restaurant and that covers most, if not all, of the food on the menu.
Prices for specialty restaurants range between $25 to $75 per person.  It depends on the ship you are sailing on and which restaurants are available.
If you book a reservation at three or more specialty restaurants, Royal Caribbean will give you back 30% of the total cost of the specialty restaurants in the form of onboard credit.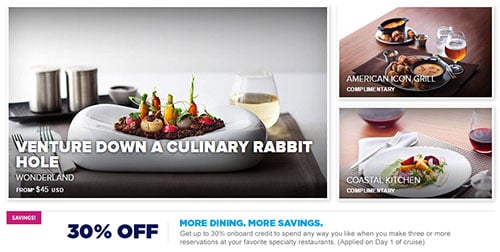 Assuming you make a reservation for two people at the least expensive specialty restaurants on your next cruise, Royal Caribbean will have a $45 onboard credit waiting for you when you board.
In practice, it is more likely you will save more than $45, since many other restaurants have a higher cover charge than just $25 and the more people you dine with, the more you can save.
You need to book the reservations in advance via Royal Caribbean's Cruise Planner site to qualify for this discount.
Here's another example: 4 adults eating on a 7-night cruise on Freedom of the Seas
Total onboard credit back: $102 
In many cases, if you were already thinking about dining at two specialty restaurants, by adding a third, you will end up paying about the same because of the 30% discount.
Will you be taking advantage of the 30% off three specialty restaurants deal? Share your thoughts on this discount in the comments!