In:
The day of your cruise has finally arrived! You are pulling up to the terminal and see the ship in the distance, only to be confronted by massive crowds waiting to get on the ship just like you.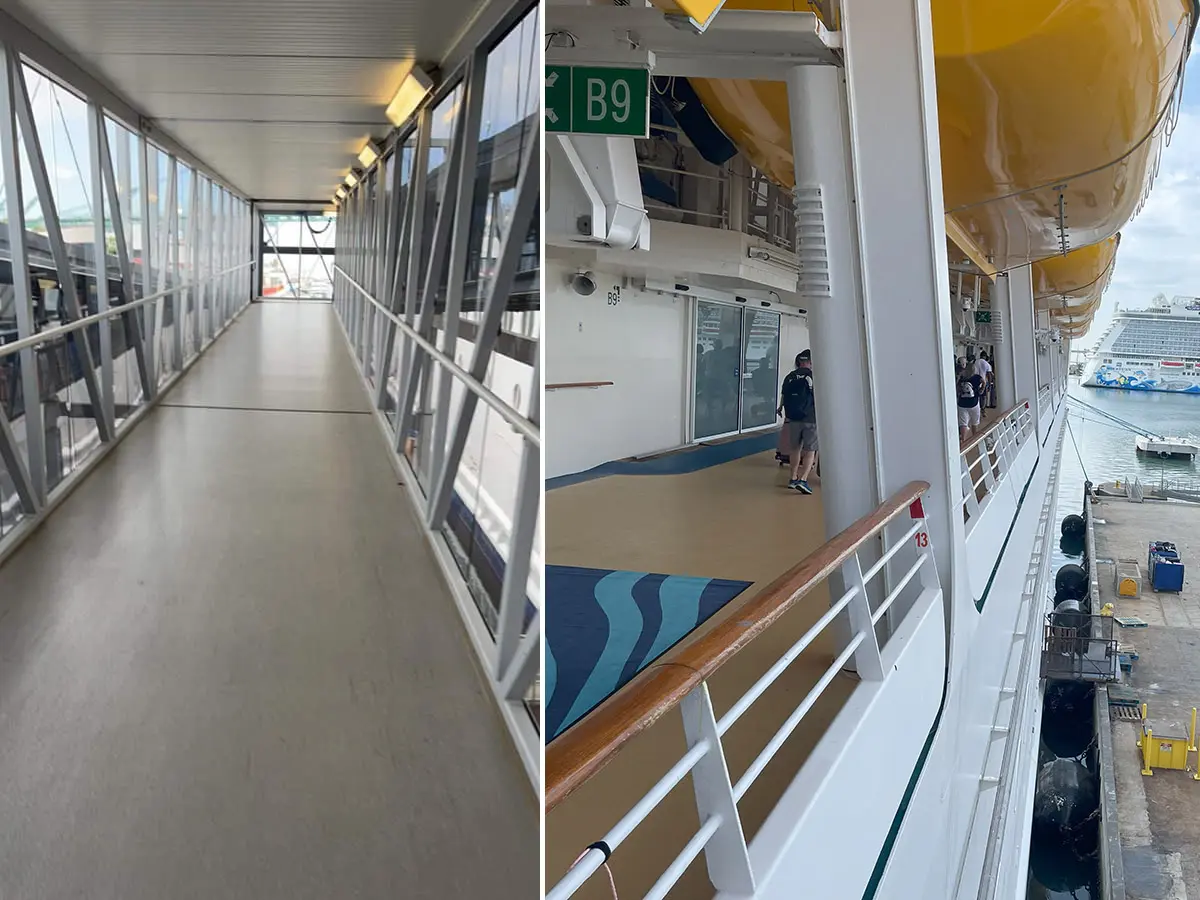 You do not want to spend your precious vacation time waiting inside of the terminal when you could be sipping on a cocktail on the pool deck or getting acquainted with the ship before sail away. 
Boarding early also allows you to enjoy a more leisurely lunch before the Windjammer gets crowded, as well as attend to some check-list things, including confirming dining reservations and signing children up for Adventure Ocean programming. 
If you plan ahead, you might be able to reduce the amount of time spent checking in and get to the fun stuff faster! 
Related: 30 Do's and Don'ts for the first day of your cruise
Here are 15 ways to speed up the embarkation process and board your cruise ship faster. 
Arrive a day early
If you do not live within driving distance and are flying to your cruise port, you will want to ensure that you make arrangements to arrive the day before the ship is scheduled to depart.
Aside from any delays or cancellations that could cause you to miss the ship, by being in the vicinity of the ship first thing in the morning, you can secure an early check-in time and have time to relax at your hotel beforehand! 
Reserve a suite
When you book a suite on a Royal Caribbean cruise, you are able to begin reaping the benefits before you even step onboard! The specific perks vary based on the ship and suite category, so it is important that you understand the differences if priority boarding is something you want to look forward to. 
All suites on Vision, Voyager, and Freedom Class ships get priority boarding as a benefit, regardless of whether it is a Junior Suite, Grand Suite, or Owner's Suite. 
Suites onboard Oasis and Quantum Class ships are part of what is referred to as the Royal Suite Class. All suites onboard are divided into three categories -- Sea, Sky, and Star -- that receive different perks. 
Sea Class guests, or those staying in a Junior Suite, do not have any priority boarding boarding benefits. Likewise, Sky Class suite guests are only eligible for flexible arrival. Star Suites are the only suites onboard Oasis and Quantum Class ships that guarantee expedited boarding. 
Print your luggage tags in advance
When you finish the online check-in process, you will be able to print your luggage tags. These tags are what help ensure that your luggage gets delivered to the correct stateroom, and by having them ready, you will spend less time outside of the terminal-- you can simply drop off your bags with a porter and go.
Note: it is customary to tip porters $1 or $2 per bag, so you will want a few small bills on your person!
If you do not have them printed and attached upon arrival, you will have to wait to speak with a porter, who will have to fill out a tag and attach it to your luggage before collecting it. 
To make this process even easier, you can purchase luggage tag holders on Amazon. That way, you do not have to worry about them getting damaged. 
Do not take big bags through security
Speaking of porters, they exist for a reason! Do not try and take your big suitcases with you onboard. While trying to navigate the lines, physical check-in, and security, it is inevitable that these bags will slow you down. 
Moreover, you do not want to have to worry about lugging them around the ship with you until your stateroom is available! You should only bring a manageable carry-on bag with you that has all of your essentials--you will not need all of your belongings the second you board. 
Have your carry-on bag packed and ready
Before you get to the terminal, you will want to make sure that you have a separate carry-on bag packed with your essentials, such as medication, travel documentation, boarding passes, valuable items, and more.
You do not want to be scrambling to pull these items from your luggage at the last minute. That might require pulling out tons of stuff and having to repack it on the sidewalk! 
The carry-on bag is also a great place to pack some items that will keep younger children entertained during the boarding process and let you attend to the logistics without any distractions. This might include some snacks, toys, an iPad, etc. 
Know your stateroom number
If, by chance, you forgot to print your luggage tags, you will have to tell the porter your stateroom number. Instead of lengthening bag drop off even more, have your stateroom number handy. They will use it to fill out a luggage tag and staple it to the big. 
Even if you came prepared with the tags, there is a chance that someone will ask you your stateroom number at another point during the check-in process. 
Plus, once you get onboard, knowing your stateroom number will help you locate your cabin. You will not find yourself in a position where you walked too far forward or on the wrong side of the ship. 
Purchase The Key
The Key is a cruise add-on that guests may purchase to unlock (pun intended) some benefits meant to enhance their cruising experience, such as priority access into the terminal within a specific time frame.
When you get to the terminal, you will be able to wait in an exclusive area just for those who purchased The Key where employees will handle your in-person check-in procedures. When boarding begins, you will be let on first. 
The Key comes with other benefits, too, that may help justify the extra cost, such as a VOOM Surf & Stream internet package. Sometimes, the price difference between purchasing an internet package and The Key is so minimal that the upgrade is worth it. 
Plus, you will also be able to drop off your carry-on luggage in the Main Dining Room and have it delivered to your stateroom, enjoy an exclusive lunch in the Main Dining Room featuring the Chops Grille menu and private time at onboard activities, and be one of the first people off with priority departure from ship-to-shore at tender ports.
Other perks include VIP seats at shows in the Main Theater, AquaTheater, and Studio B, as well as a private à la carte breakfast and choice departure on disembarkation day. 
Related: I tried The Key (again) to see if it's worth it 
Strive to reach Pinnacle Club
Pinnacle Club is the top-tier of Royal Caribbean's Crown & Anchor Society. To reach this level, you have to amass a whooping 700 cruise points! 
On embarkation day, Pinnacle Club members are able to arrive at the terminal up to an hour before or after their scheduled check-in time. 
Of course, there are other benefits that make reaching such a coveted tier worth the effort, including daily breakfast at a specialty restaurant, milestone certificates for free cruises, and others from lower tiers. 
Even if you are seemingly light years away from reaching Pinnacle Club, you should enroll in the Crown & Anchor society, as you will start to receive perks after your very first cruise. 
Complete your online check-in in advance 
Weeks before your cruise is scheduled to depart, you will be asked by Royal Caribbean to complete your online check-in. Here, you will input your home address, travel documentation (i.e., passport or birth certificate), emergency contact information, take a security photo, and confirm your date of birth. 
Making sure that this is done in advance will speed up your physical check-in time at the terminal. 
Have all of your documentation readily available
Even though you will submit your travel documentation online, you will still need to present it at the port. Do not waste your time or hold up the line by digging through your carry-on bag for your passport or birth certificate. If it is readily available, you can move through this part of the check-in process quicker. 
This includes your Set Sail pass, too, as it will have to be scanned in order for you to board the ship! You will not get your physical SeaPass card until staterooms become available. 
Cruise with a passport instead of a birth certificate 
While you technically can use a birth certificate and government-issued photo ID to take a closed-loop cruise in the United States, it is recommended that you use a passport.
Having a passport means not only a simpler embarkation and disembarkation process, but it protects you against an unexpected situation that may arise during your cruise vacation, such as a medical emergency in a foreign country. 
When boarding the cruise, the port agents will not have to spend more time verifying your birth certificate, meaning that those with passports will be able to start their vacation a little bit faster. 
Related: Do you need a passport for a cruise?
Book private transfers
Making arrangements for a private transfer to the terminal will bring you peace of mind on embarkation day, especially if your cruise port is far from a major city (i.e., Rome to Civitavecchia) or airport. 
You will not have to worry about hiring a ride share service the morning of or hauling your luggage through train stations. You can enjoy your breakfast before your ride shows up at the requested time!
Plus, while cruise line transfers might seem convenient, they are often overpriced, and you will have to wait for the entire bus to fill up before you depart. 
Avoid peak check-in times
If you get to the cruise terminal around noon, do not be surprised to find that a large crowd has already gathered. While most cruise lines have implemented check-in windows to prevent this from happening, you cannot account for those who want to try and get on the ship earlier than they are scheduled to. 
Another way to speed up the time spent in the terminal is to select a later check-in time, as most people want to try and board as soon as they can. Do not, however, push this too far-- you might arrive to find that you missed the final call. 
Keep prohibited items at home
Before you are able to board the ship, you will be required to go through a security process similar to that at an airport. You will have to send your belongings through an x-ray scanner while you walk through a body screener. 
If you bring anything that is strictly prohibited -- like a clothes steamer, iron, alcoholic beverages (outside of one 750ml bottle of wine or champagne per person), drugs, candles, etc. -- this will delay your check-in process. Plus, you may even find yourself denied boarding. 
Before you leave home, read up on what is and is not allowed on Royal Caribbean ships and make sure that your packed belongings do not violate their guidelines. 
Finish the e-muster drill before you arrive at the terminal 
While completing the virtual muster drill in advance will not help you get on the ship any faster, it will allow you to spend more time on the ship doing what you want once you get through the boarding process, rather than watching a video regarding safety procedures when you would rather be getting a drink or exploring. 
Do not forget that you will still have to visit your physical muster station, though!
Related: What to expect with Royal Caribbean's virtual safety drill