In:
The first day of your Royal Caribbean cruise is a really fun moment in any cruise fan's vacation, because it is when vacation begins and the many days, months and even years leading up to this cruise are finally realized.
Embarkation day offers a lot to see and do, and for anyone going on a Royal Caribbean cruise, here is what you can expect on embarkation day.
Arrival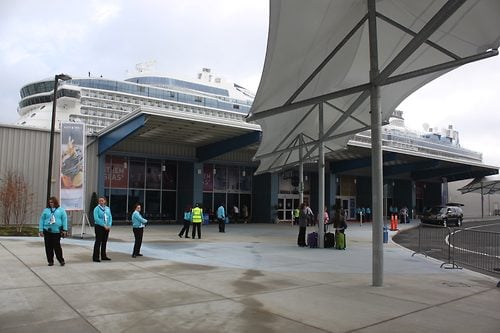 In most cases, your Royal Caribbean ship will arrive in port in the early hours of the morning and begin letting its just completed cruise passengers off shortly thereafter. 
The check-in process on embarkation day will take place throughout much of the day, and guests can arrive at their convenience to the port, as soon as the port allows guests to do so.
In our experience, guests will usually be let into the cruise terminal around 10am, or shortly thereafter and embarkation usually begins somewhere around 11am.
The exact times depend on a variety of factors, including how quickly customs clears the ship and how quickly Royal Caribbean's crew is ready for the new wave of guests.
You should plan on arriving to the cruise port as early as you can so that you can start your vacation.  The sooner you arrive, the sooner you can board the ship.
It seems like a majority of guests tend to arrive in the afternoon hours, so arriving before 1pm can often result in shorter lines.
Checking-in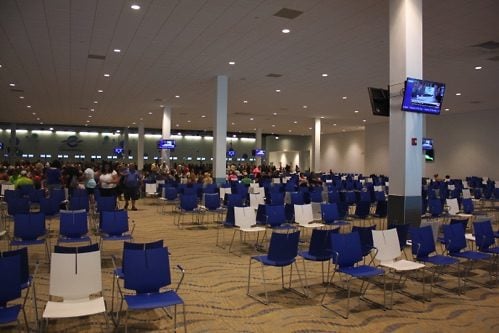 The check-in procedure at the port consists of dropping off your luggage with porters, going through security and then meeting with the pier staff to receive your boarding documents.
It is important to have your SetSail pass printed out prior to arriving at the pier to ensure a smooth and quick check-in process.  You can find your SetSail pass at Royal Caribbean's web site under My Cruises.
Royal Caribbean often boards guests in groups based on the order they arrive, although some guests do receive priority boarding (such as suite guests).
In most cases, guests receive their SeaPass card, wait to be called to board and then board the ship.
On Quantum class ships, your SeaPass cards are waiting in your stateroom.
Lunch to 3pm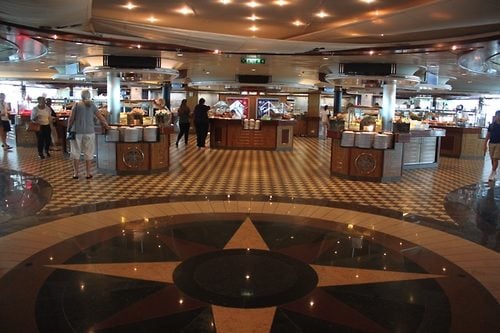 Once onboard a Royal Caribbean ship, there will be lots to see and do and like any cruise, it is up to you what to do.
At check-in, you should have access to a special embarkation day Cruise Compass that lists venues that are open and activities that will be available.
Most guests opt to have lunch somewhere on the ship on embarkation day.  The Windjammer is the most popular choice, although ships may have other venues open as well.
Some common activities to consider in the early afternoon after you eat are
This is a great time to explore the ship and get your bearings onboard and see what is offered. Getting acclimated with where everything will make your cruise easier since you will spend less time trying to locate everything. Plus you may discover something onboard you didn't know existed!
By 1pm, your stateroom will be ready and that means you can check out your new home, drop off any carry on luggage you brought and start enjoying the benefits of your room.
3pm - 6pm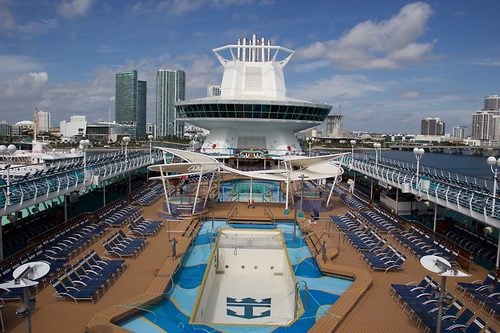 Depending on your ship's departure time, a mandatory muster drill will take place where guests are instructed what to do in case of an emergency at sea.
The crew will instruct you where and when to report for muster drill and it is a fairly straight-forward event.
The muster drill consists of going to your assigned muster station and being instructed on what would happen in the event of an emergency at sea. There is no need to bring a life jacket to the muster drill.
While the muster drill is not the most exciting thing about your cruise, following your muster drill, the real fun begins of a Royal Caribbean cruise.
Sail away usually follows the muster drill, in which case there is a sail away party at the pool deck that many guests opt to join in.  
While many guests elect to join in the sail away party fun, others enjoy sail away from other parts of the ship, such as their balconies, on public decks or at the helipad on some ships.
6pm and after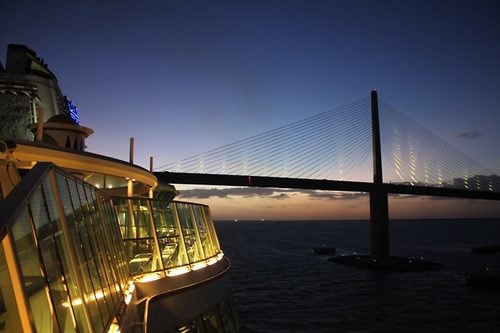 Following the muster drill and sail away, your evening plans will start to open up more than what was available during the afternoon.
Once the ship leaves port and gets into open water, shops, the casino and more bars will open up.  
Specialty restaurants, the main dining room and other dining venues will also start serving dinner.  Evening entertainment starts up around this time, with live music at a number of locations throughout the ship.
The pattern of activities in the evening on embarkation day is a lot like what happens on any other evening of your cruise.  
What are your favorite things to do on embarkation day? Share them in our comments!