In:
Royal Caribbean prides itself for being a family cruise line and families often include kids that are still very young.  Royal Caribbean has been rolling out its Royal Babies & Tots Nursery across its fleet of ships as part of the Royal Advantage program and we had a chance on a recent cruise to check out the Royal Babies & Tots Nursery for ourselves (well, my daughter anyway).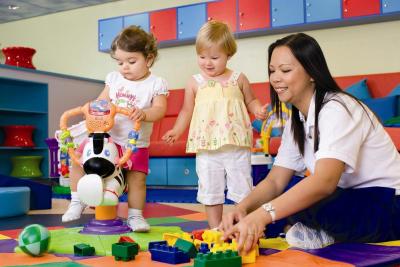 Description
For families cruising on Royal Caribbean cruise ships with children age 6 months through 36 months, the Royal Babies & Tots Nursery is the place to have supervised care of your kids throughout the day.  The nursery is staffed by trained professionals who are available day and night.
On our cruise aboard Freedom of the Seas, there was an open house the first day of the cruise, so the nursery is not open for business, but it is open for parents and kids alike to check the place out and get an idea of what to expect.  In addition, this is your first opportunity to make reservations for later in the cruise.  The nursery has a limited staff and they are mandated to only be able to accommodate a certain amount of children per staff member (1:3 ratio for children 6-18 months; 1:4 ratio for 19-36 months). Reservations can be canceled if you change your mind, but it's best to reserve times you think you will need.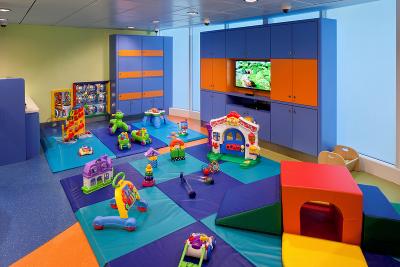 The nursery is split up into a two main rooms.  The main room is the play room, where there is a television that plays various kid friendly films.  Most of the room is comprised of being a play area, with cushioned obstacles for kids to climb as well as toddler toys all around.  The kids are not segregated by age so the 2 year olds will be with the 6 month olds, which may sound like a problem but the staff is usually on top of keeping the kids from bothering each other.
The other room is for kids to nap in and is made up of a few cribs.  As you may have guessed, this is where the kids go when they need to lay down for a bit and not be bothered by the other kids who aren't ready for sleep.
The Royal Babies & Tots Nursery costs $8 per hour, which we found to be a real bargain for what you get.  The fee does include meals, although you can certainly bring whatever food you want for your child with you.  You also need to provide your own diapers.
When you drop your child off, you fill out a quick form to tell the staff how your child is doing and what he/she may need during their time there.  In addition, the staff provides you with a wireless phone that they can use to call you in case something happens or for you to call them if you want to check up on things.
Experience
There were not a lot of young kids on our cruise, so the nursery was usually available every night we went.  The nights we did see the most kids was on formal nights, with the first formal night the staff only accepting reservations.  Otherwise, the other nights we were able to drop off our 2 year old daughter without incident.  We made reservations after picking her up each evening for the next night.  In all ,we probably dropped her off 4 out of the 7 nights of our cruise.
My daughter loved her time in the Royal Babies & Tots Nursery (which she called "camp").  She had been going to day care back home so she was used to the experience of it, which may or may not be an issue for non-day care kids.  The staff was very attentive and by the second night there, my daughter was well known by the staff who really liked having her there.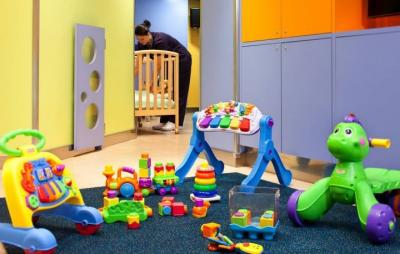 From a parent's perspective, the nursery was well run and they seemed like they were on top of everything.  I never felt concerned that the staff on duty were unfit or oblivious to what was going on.  Moreover, having that wireless phone really put our concerns at ease that if there was a problem, it would be easy for them to contact us.  On a side note, having the wireless phone allows you to call anyone and anywhere on the ship, which was useful for even non-nursery calls, such as staying in contact with friends onboard the ship.  Definitely not what it was intended for but it's worth mentioning since I am likely not the first person to discover this.
Given my daughter's desire to keep going back and the inexpensive price, we found the Royal Babies & Tots Nursery to be well worth every dollar we paid for it.  Considering in-room babysitting runs about $20 per hour, the $8 nursery option is much cheaper and gave us some alone time to go see shows or the casino while my daughter was able to have a great time playing in the nursery.
For parents looking for affordable supervision for their toddlers, it's really hard to go wrong with the Royal Babies & Tots Nursery.  The service was excellent and another added value for cruising with Royal Caribbean.
We reviewed the Royal Babies & Tots Nursery aboard Freedom of the Seas.
Cost: $8 per child, per hour
Ships available: Oasis of the Seas, Allure of the Seas, Freedom of the Seas, Liberty of the Seas, Radiance of the Seas, Splendour of the Seas, Rhapsody of the Seas, Mariner of the Seas, Grandeur of the Seas, Serenade of the Seas, Enchantment of the Seas, Legend of the Seas, Independence of the Seas, & Brilliance of the Seas