In:
Every cruise is bound to come with aspects you enjoyed, but you may also encounter certain parts of the cruise you disliked or wish you did differently.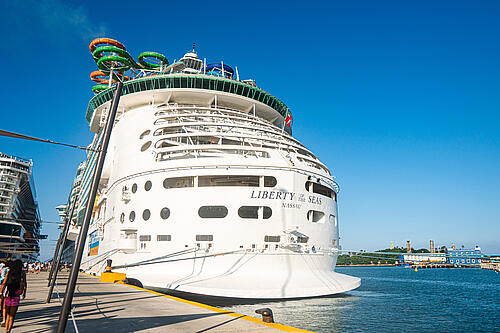 I recently returned from a 4-night cruise on Liberty of the Seas. This was my first time sailing on this ship, but because I had sailed on other Freedom Class ships before, I thought I had a pretty good idea of what to expect.
Every cruise comes with surprises, though, and I encountered both positive and negative surprises onboard Liberty of the Seas. From the waterslides to entertainment and food, here is what I liked and disliked about my Liberty of the Seas cruise.
What I liked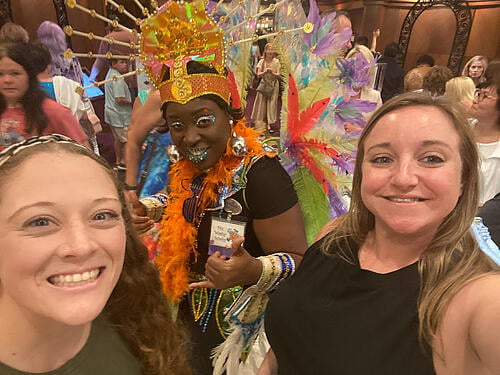 Washy Washy ladies
Walking into the Windjammer buffet on any Royal Caribbean ship is sure to be met with the words "Washy Washy" as the Windjammer staff encourage guests to wash their hands before entering.
While Liberty of the Seas does not yet have hand washing facilities in the Windjammer, there's 0% chance any guest will enter the buffet without clean hands.
The reason? The "Washy Washy" ladies, also known as the happiest, most colorful, and funniest crew members you'll find onboard.
Related: Guide to Royal Caribbean's Windjammer Cafe buffet
As soon as you arrive at the Windjammer, you'll find one of these crew members dressed in a costume (which changed each day) and holding a bottle of hand sanitizer. While this may sound like a boring job, these women danced, sang, laughed, and had huge smiles when everyone passed through the Windjammer's doors.
They had the most energy I've ever seen from any crew member (or maybe any person ever). We looked forward to our meals in the Windjammer every day not only for the food, but for the guaranteed entertainment we would encounter when needing to sanitize our hands.
Tidal Wave waterslide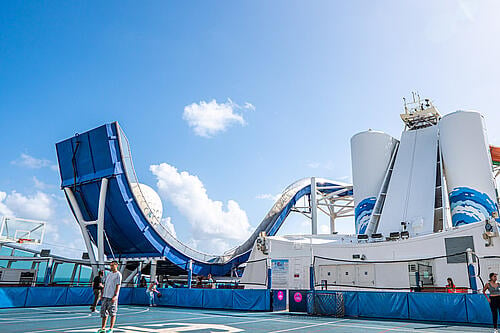 I don't usually use the waterslides on a Royal Caribbean cruise, especially the ones that are fully enclosed, as they make me feel a little too claustrophobic. Liberty of the Seas, however, has one of the fleet's most unique waterslides: the Tidal Wave.
The Tidal Wave waterslide is a raft slide, and two guests can slide down together before "boomeranging" off a large wall. While the ride is really short, it was way more fun than I initially anticipated.
We went on the slide over and over again and couldn't get enough!
Saturday Night Fever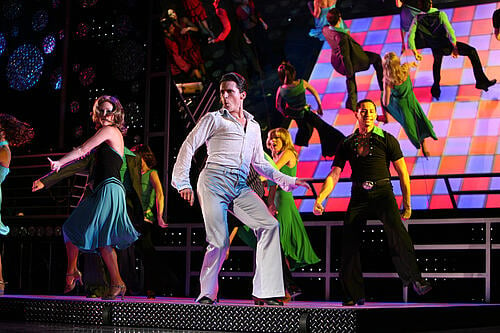 Something that makes Liberty of the Seas unique is that she has a Broadway show available onboard: Saturday Night Fever. I knew nothing about this show before I entered the theater, but was beyond impressed by the acting and dancing of the cast members.
This show follows the story of a Brooklynite, Tony Manero, who spends his weekends at a local disco dancing and finding love while also distracting himself from life's struggles. The show features dancing with songs from the Bees Gees, KC and the Sunshine Band, and Tavares.
Related: Broadway shows on Royal Caribbean: Everything you need to know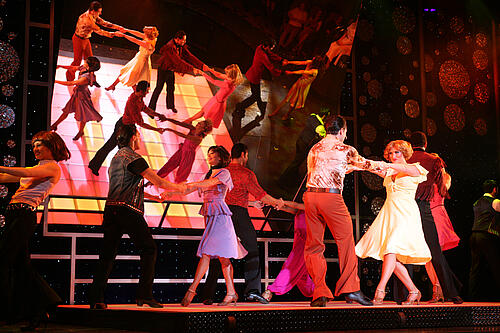 My favorite part of Saturday Night Fever were the performances from the crew members playing the Puerto Rican dancers in the story. If I could give one reason to see this show, it would be to watch this dance couple cha cha, merengue, and salsa their way around the stage.
While I wouldn't say it was my favorite Broadway show on a Royal Caribbean ship (that goes to We Will Rock You on Anthem of the Seas), I would definitely see the show again next time I'm onboard.
Freedom Class features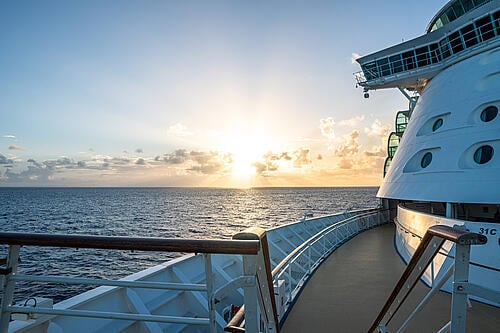 Freedom Class cruise ships are some of my favorite ships in Royal Caribbean's fleet. Just like on Independence and Freedom of the Seas, I enjoyed the features of a Freedom Class ship on my Liberty of the Seas cruise.
I love having access to the ship's helicopter pad, taking walks on the scenic outdoor Promenade deck, and hanging out at the outdoor Diamond lounge deck.
Related: All about Freedom Class cruise ships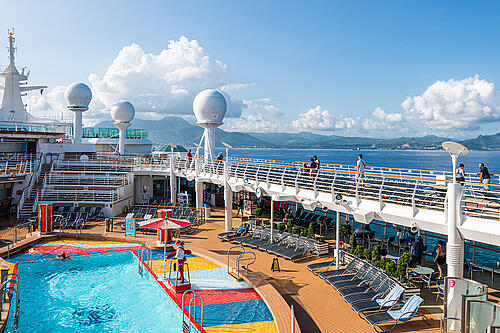 I find the size of a Freedom Class ship to be ideal, too, as it isn't too big nor too small. Plus, the shorter Caribbean itineraries offered on Freedom Class ships means they always have a higher "party" atmosphere compared to longer cruises or itineraries visiting places like Alaska.
I spent a lot of time outdoors on Liberty of the Seas, whether relaxing on the helicopter pad or suntanning at the outdoor Solarium, and I have no complaints about the Freedom Class-specific features and amenities.
Classical guitar at Vintages
During my Liberty of the Seas cruise, a classical guitar player performed outside of Vintages wine bar each evening.
I don't usually spend too much time at Vintages while on a Royal Caribbean cruise, but sipping a glass of wine with live guitar music created the perfect atmosphere that I kept coming back to every day.
What I disliked
No Izumi
I found it quite odd that there was no Izumi restaurant on Liberty of the Seas, as Royal Caribbean's Japanese specialty restaurant can be found on nearly every ship in the fleet. Even 3 out of the 4 smallest ships, the Vision Class, have an Izumi location!
Instead of Izumi, Liberty of the Seas offers specialty dining at Chops Grille, Giovanni's Table, Sabor, and Chef's Table. While I love all of these options, I felt something was missing without Izumi onboard.
Part of the Windjammer buffet is named "Jade" and supposedly this used to be a specialty sushi counter where guests could purchase sushi at an extra cost. This did not appear to be offered on my Liberty of the Seas cruise.
Perfect Storm waterslides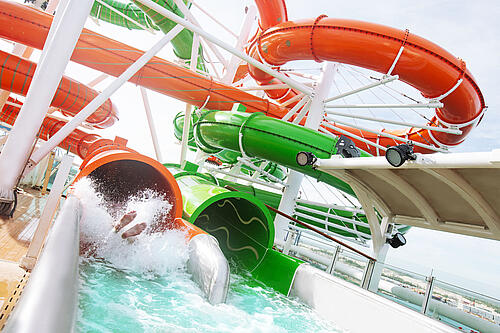 Speaking of how much I loved the Tidal Wave slide on Liberty of the Seas, the opposite can be said for the Perfect Storm waterslides.
Royal Caribbean's Perfect Storm waterslides are found on several ships in the fleet. These racing slides twist and turn several times as guests make their way downhill.
Related: Which Royal Caribbean ships have waterslides?
I've gone on these slides on other ships and found them exciting, but I was disappointed with the slides on Liberty of the Seas. The water pressure was extremely light and the slides had such a low slope that I had to push myself down.
The water pressure might be strong enough to get kids down the slide quickly, but it took us adults a while to reach the bottom!
Long lines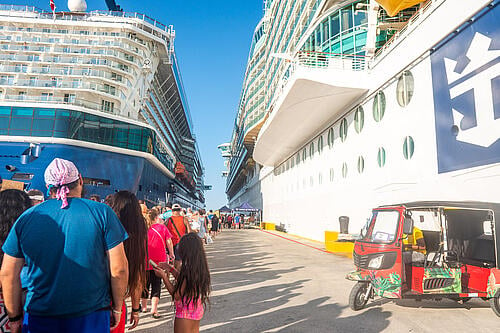 I'm not sure if this is something specific to Liberty of the Seas, but I encountered worse lines on this ship than any other in the fleet so far.
Whether grabbing an ice cream cone on the pool deck, a slice of pizza at Sorrento's, or boarding the ship after our port day, the lines seemed to be longer and slower than usual.
The Italian-themed dinner in the Windjammer, in fact, had lines so long we didn't even dare wait for pasta. 
I may have just gotten to these places at the wrong time, and an extra five minutes of waiting here and there was fine, but this was one thing I didn't enjoy about my Liberty of the Seas cruise.
Game show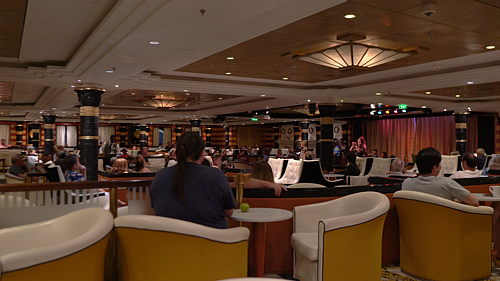 My cousin and I were looking for a way to pass the time one evening and came across an activity I had never seen before: Game Show: Rock the Room.
This show appeared to be a dancing competition between different sides of the room where both the game show's participants and audience stood up and danced.
If I ever wanted to show a new cruiser that cruising can be modern and trendy, this would absolutely not be the way to do it. This show was like a stereotypical cruise ship activity you'd see on a comedy skit poking fun at cruises, and I couldn't think of a better way to describe the show than "cringeworthy".
We dipped out almost immediately after the show began. Two minutes later, I saw a huge hoard of other guests leaving the Star Lounge. One guest mentioned it was a "mass exodus", so I wasn't the only one that didn't like this activity!
Final thoughts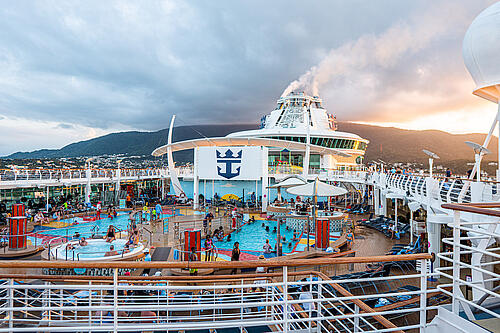 While there were some aspects of my Liberty of the Seas cruise I didn't enjoy as much as others, I still had a wonderful experience onboard. As a matter of fact, my cruise on Liberty of the Seas was one of the most fun cruises I've experienced yet. From the positive vibes of the crew members to party atmosphere onboard this short sailing, there was never a dull moment.
I'm already looking forward to returning to Liberty of the Seas this January to discover more of what this ship has to offer!
Planning a cruise? Star here: