In:
Liberty of the Seas, one of Royal Caribbean's Freedom Class cruise ships, is packed with onboard activities, dining options, and impressive entertainment. Everything from waterslides and ice skating to a Broadway show can be found onboard, but with all the excitement of a Royal Caribbean cruise, it's easy to miss out on some of the ship's best features.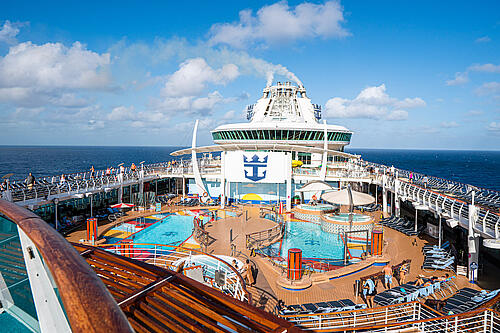 Because Liberty of the Seas just repositioned from Galveston to Fort Lauderdale, there will be many cruisers onboard this ship for the very first time. To make sure you are as prepared as possible for a cruise on Liberty of the Seas, we're sharing our top 10 hidden secrets that you shouldn't overlook.
Tidal Wave waterslide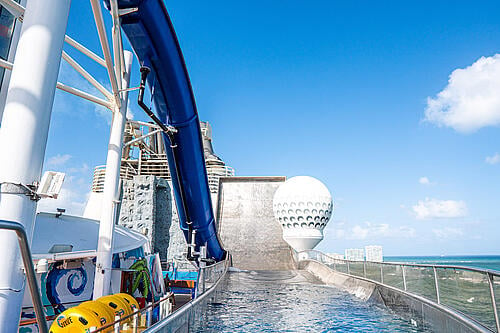 Waterslides have become more and more common on cruise ships, and Liberty of the Seas has one of the most unique waterslides in Royal Caribbean's fleet: the Tidal Wave.
The Tidal Wave waterslide is a boomerang-style slide, which allows guests to slide on a raft downhill before "boomeranging" up a nearly vertical wall. This boomerang motion brings a feeling of weightlessness to passengers before they slide back down for a big splash.
Related: Which Royal Caribbean ships have water slides?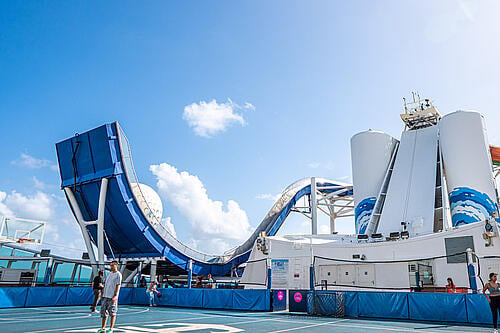 Because this type of waterslide is only found on Liberty of the Seas, don't miss the opportunity to try it once onboard!
Other than the Tidal Wave, you can also find the Perfect Storm waterslides on Liberty of the Seas.
In-pool seating at the Solarium
There's no swim up bar available on Liberty of the Seas (the fleet's first will come to Icon of the Seas). You can, however, order a drink at the Solarium Bar and enjoy it from the ship's in-pool table and chairs.
Located directly under the bridge above the Solarium pool is a small table with chairs located underwater. If you're looking for the most refreshing place to enjoy a tropical cocktail or beer onboard, this is undoubtedly the best spot.
Because this area is located in the Solarium, it's reserved for guests aged 16 and above.
Related: Everything about Royal Caribbean's Solarium
Free saunas and steam rooms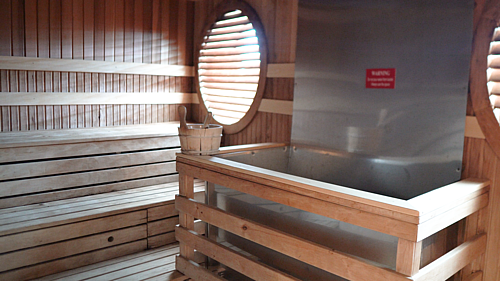 One perk of sailing on Liberty of the Seas is having access to complimentary saunas and steam rooms in the Shipshape Fitness Center.
These saunas and steam rooms are gender-segregated. They can be found in both the men and women's changing rooms in the gym on Liberty of the Seas. Each changing room has one sauna and one steam room.
On newer or recently amplified Royal Caribbean ships, these complimentary spa areas have been removed. On some ships this area has been removed altogether whereas on others they have built a thermal spa in its place.
The thermal spa on those ships, though, comes at an extra cost. This makes the complimentary saunas and steam rooms a huge benefit of sailing on Liberty of the Seas.
There's a Broadway show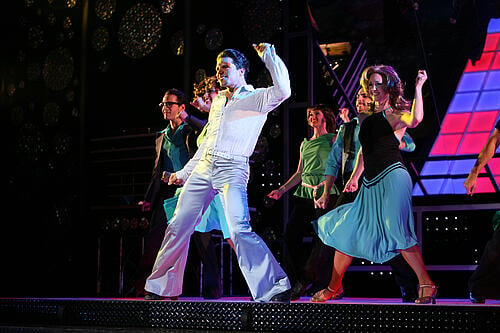 Most Broadway shows are found only on Oasis or Quantum Class ships in Royal Caribbean's fleet, but did you know Liberty of the Seas also has a Broadway show?
Saturday Night Fever can be found on Liberty of the Seas. This show transports guests straight to the 1970s to follow the story of Tony Manero, a Brooklynite who spends his weeknights dancing at a local nightclub.
The 90-minute show features music from the Bee Gees, Sunshine Band, and Tavares.
Sabor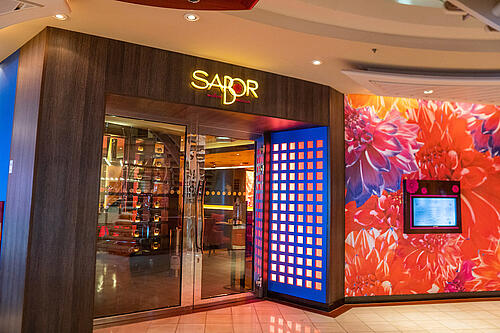 Liberty of the Seas is one of the only ships in Royal Caribbean's fleet without Izumi Sushi, but another top-notch restaurant can be found in its place: Sabor.
Sabor is Royal Caribbean's Mexican specialty restaurant which focuses on combining traditional flavors with a modern twist. The restaurant is most well-known for offering endless guacamole customized to your spice preference.
Related: How to know if you should buy a Royal Caribbean dining package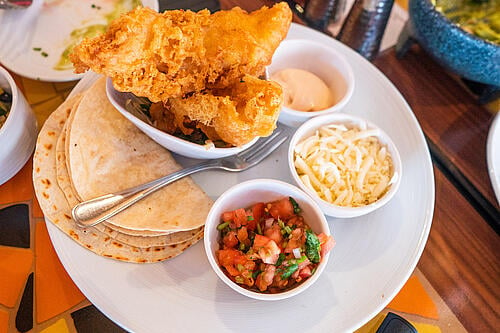 Don't miss the opportunity to build your own tacos with a choice of barbacoa, spicy chicken, fish tempura, or shrimp. If you'd prefer something different, consider a burrito, quesadilla, ceviche, calamari, or chicken-stuffed jalapeños.
You can also pair your meal with one of Sabor's specialty margaritas, such as the Sweet & Spicy Margarita. Combining Patrón Reposado tequila with fresh juices from pineapple, carrot, lime, and red chili pepper, this drink is sure to pair perfectly with endless Mexican food.
Ben & Jerry's Suite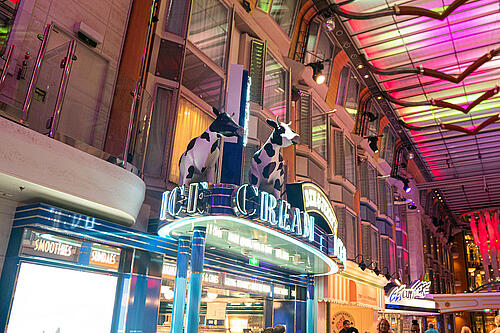 When Royal Caribbean built the Freedom Class ships, including Liberty of the Seas, they built a Ben & Jerry's ice cream parlor in the Royal Promenade.
The decor of Ben & Jerry's includes signage with two cow statues overlooking the promenade. Although these statues added to the store's design, they created a problem: the statues blocked the view from cabin 6305, one of the ship's interior promenade view staterooms.
Related: The rare cruise ship cabins that get booked very quickly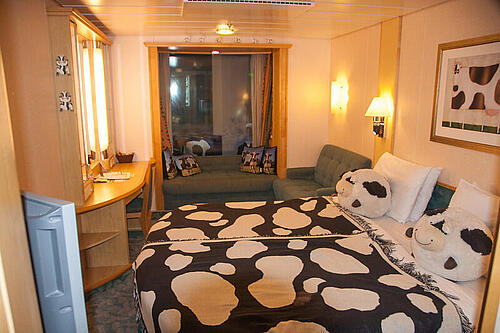 Because of this, Royal Caribbean turned cabin 6305 into the Ben & Jerry's Sweet. Instead of the typical cabin decor found elsewhere onboard, this cabin is designed with cow motif, including cow-print bedding, cow pillows, and cow wall art.
The best perks of the Ben & Jerry Sweet, however, include vouchers for complimentary Ben & Jerry's ice cream and access to the Suite Lounge.
Helicopter Pad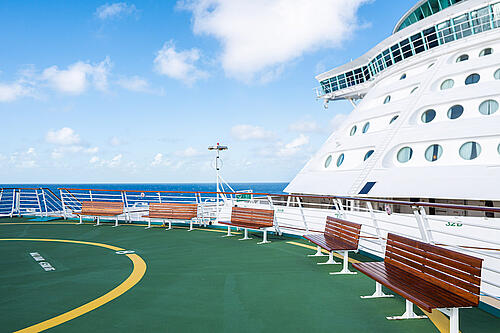 All Radiance, Voyager, and Freedom Class cruise ships provide guests access to the helicopter pad. Located in the front of the ship, this spot is one of the best places to watch sailaway on Liberty of the Seas.
Related: The best spot for sailaway on every Royal Caribbean cruise ship
To access the helicopter pad on Liberty of the Seas, go to the outdoor Promenade Deck on deck 4. Walk all the way forward until you reach a set of stairs. Go up the stairs to deck 5, walk all the way forward, and you will reach the helicopter pad.
Easily missed quiet areas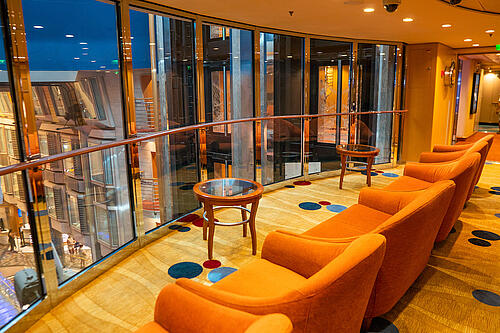 While most people spend a Royal Caribbean cruise enjoying activities, entertainment, and lounging by the pool, some guests are looking for a quiet space to relax.
Liberty of the Seas has quite a few hidden places to take a break from the hustle and bustle found elsewhere onboard. Most of these locations can easily be overlooked, however, especially if you don't stumble upon them by chance.
Here are our favorite tranquil spots on Liberty of the Seas:
Internet Cafe/Loyalty Ambassador space (deck 8 between aft elevators)
Library (deck 9 between aft elevators)
Card Room (deck 10 between aft elevators)
Seating space near Liberty Dunes (deck 13 forward)
On Air Karaoke Club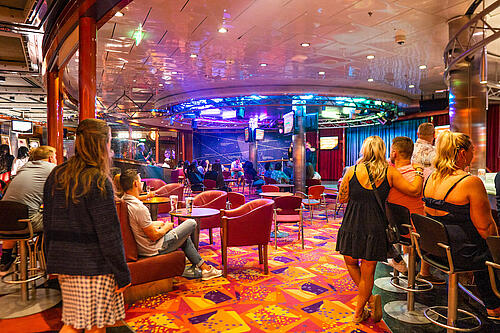 Karaoke is a popular nighttime activity onboard any Royal Caribbean cruise ship, but Liberty of the Seas has a separate karaoke venue, the On Air club. Located on deck 3 by the Studio B ice-skating rink, this area of the ship is often overlooked due to areas like the theater and Royal Promenade.
If you're looking to watch your fellow passengers put their vocal skills to the test (or bust out your own favorite tune) be sure to spend time at On Air while on Liberty of the Seas.
Most karaoke-specific venues are only found on Oasis Class ships, with others opting to have karaoke in other onboard entertainment spaces instead. This makes the On Air club on Liberty of the Seas unique—and the best place to watch karaoke onboard.
Red dog statue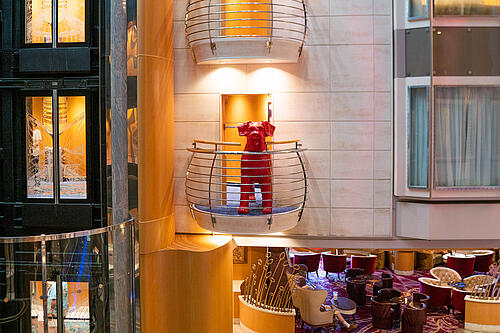 If you're searching for a fun photo opportunity, head to the port side aft elevators on Liberty of the Seas. Here you'll find a cute statue of a red dog overlooking the Royal Promenade.
This fun statue may not bark or play fetch, but it's a fun piece of art in addition to all the other unique artwork found on Liberty of the Seas.
For the best photo opportunity with the big red dog, have the photo-taker stand directly across from the dog at the starboard side elevators.
Cruising soon? Check out more hidden secrets on Royal Caribbean cruise ships: