In:
Our readers ask a lot of questions about the Royal Caribbean cruise experience, especially when it comes to Royal Caribbean's unlimited drink packages. These all-you-can-drink options have never been more popular with guests, but there is often a concern or two prior to purchasing one.
We dug through our inbox's, comment threads and message boards to find the sort of questions we get asked a lot and are sharing the answers to help everyone figure out if a Royal Caribbean drink package is right for them.
1. What drinks are included without a drink package?
Before you can decide if a drink package is worth the cost, you need to understand which beverages Royal Caribbean includes in your cruise fare.
You can expect these drinks to be included and available during your cruise for no additional cost
regular coffee
decaffeinated coffee
tea
iced tea
tap water
milk
chocolate milk
lemonade
flavored waters
juices (at breakfast, not fresh squeezed)
hot chocolate (via instant packets)
These drinks are available throughout your cruise at a number of locations, so there will always be somewhere to get something to drink for free.
2. Can I get the drink package only for certain days of the cruise?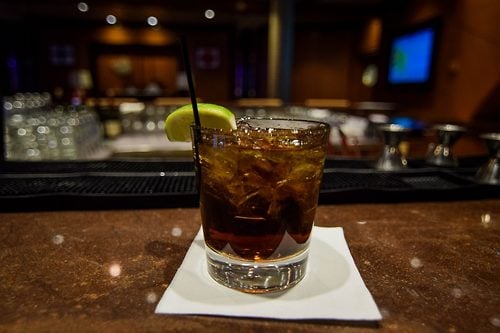 Not exactly.  You cannot "cherry pick" days to have the drink package benefits.  Basically, when you purchase a drink package, you are buying it for the duration of the cruise.
There is one way to buy a drink package for only certain days, and that is if you skip a few days at the beginning of your cruise.  Royal Caribbean will sell you the drink package even after the first day.  If you purchase it on day two, three or six, the cruise line will only charge you for the days remaining on the cruise. This can be a good strategy for someone that is unsure how much they will really want to drink onboard.
3. Is the drink package worth it?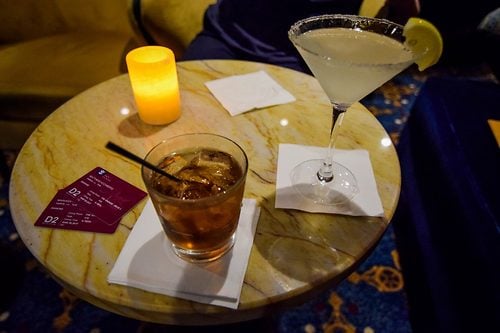 Trying to determine if Royal Caribbean's drink packages are worth it is ultimately a personal decision. Everyone cruise's differently, and everyone has different needs and wants.
You must weigh the benefits of having virtually all of your drinks paid for, the ability to try new drinks without much risk and not having to worry about your bar tab at the end of the cruise, versus considering if the drink package will actually save you money compared to buying drinks a la carte, and if you will want to drink enough drinks every day of your cruise to make your package investment worthwhile.
If you want a completely unscientific means of figuring out if a drink package is for you, ask yourself this question:
Can I drink 5-7 drinks per day, every day of my cruise?
If after thinking that you initially thought, "Whoa, that is a lot to drink" or "Whoa, that's it?", then you probably have your answer.
4. Is Starbucks included with the unlimited alcohol package?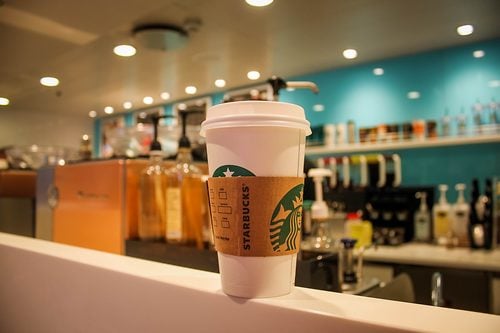 On non-Oasis Class ships, the drink package includes premium coffee and tea from places like Cafe Promenade, where Starbucks drinks are brewed. It is Starbucks beans, but not a licensed Starbucks location.
On Oasis-Class ships (Oasis, Allure and Harmony of the Seas), the drink package does not work at the Starbucks location onboard, but there will be Premium Coffee offered at Cafe Promenade or Park Cafe.
5. If a drink costs more than my drink packages covers, can I just pay the difference?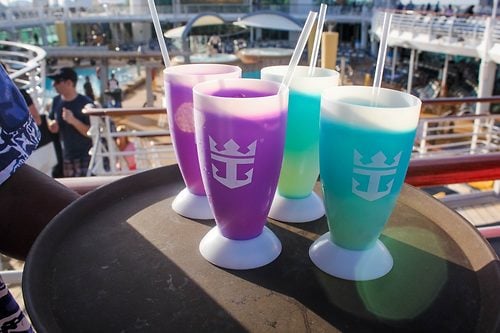 Yes, your unlimited alcohol package covers the cost of your drinks up to $12 or $13 per drink (the exact amount depends on which ship you are on). Above that price threshold, anything you order will be charged you the difference.
So if you purchase a $25 shot of whiskey on Oasis of the Seas, you will be charged $12 to your SeaPass account.
6. How many drinks can I order at one time?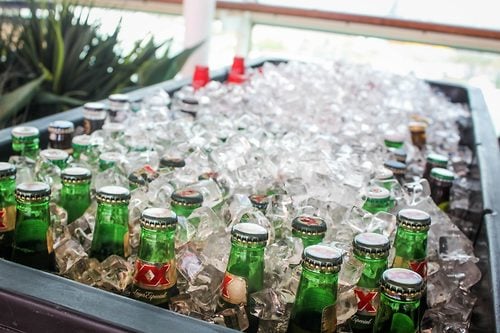 You may order one drink per drink package at a time. 
You are allowed to bring your spouse/friend/parent/guy you met 10 minutes ago/neighbor SeaPass card up to the bar with you and make a group order, provided each SeaPass card has purchased an unlimited drink package.
Royal Caribbean does not have a minimum amount of time to wait between alcoholic drink orders, so you can keep the good times flowing as you see fit.  This is probably the part of the blog post where we recommend drinking responsibly.
7. Does the unlimited alcohol package work in all specialty restaurants? Can I get a glass of wine at dinner?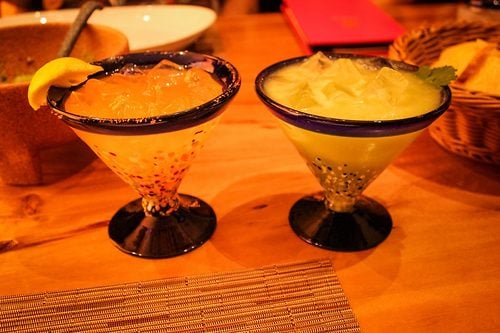 Yes it does. You can use any drink package benefits (alcohol or not) at any of the specialty restaurants.  In terms of what is included or not, the same rules apply to specialty restaurants, as they do at the bars around the ship.
You can order glasses of wine at dinner, whether in a specialty restaurant or the main dining room.
8. If I get a drink package, why am I charged for the last day of my cruise?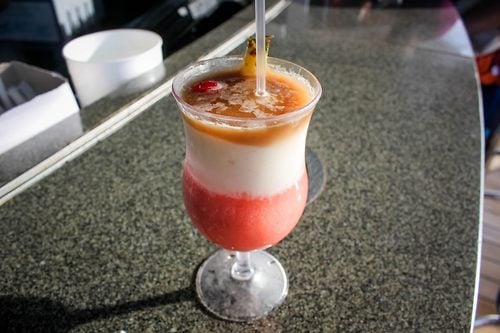 Despite the fact a lot of verbiage you see refers to the drink packages being charged per day, the reality is you are charged for each night.
So on a seven night cruise, you will be charged seven times the daily rate (plus gratuity). This means you get to use the drink package benefits on embarkation day and disembarkation day.
9. How can I get a discount on a drink package?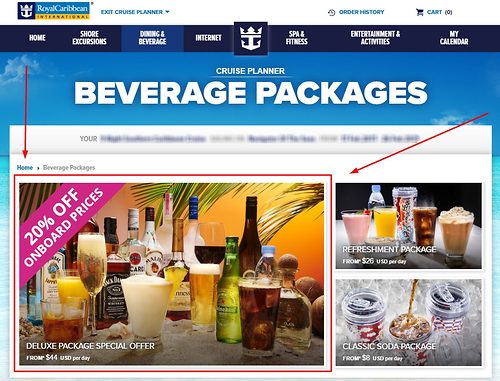 The most reliable way to get a drink package discount is to purchase it before your cruise on Royal Caribbean's Cruise Planner. Here are directions on how to take advantage of the online discount.
To be clear, if you are going to purchase a drink package, you will save money if you purchase it online rather than waiting to buy it onboard. 
10. Someone in my stateroom wants a drink package, but I do not.  Does Royal Caribbean require all adults in a room to get a drink package?
As of October 2017, Royal Caribbean has changed the rule so that if one adult purchases an unlimited alcohol package, all adults in the same stateroom have to purchase a drink package.
There are provisions that allow for that requirement to be circumvented if certain conditions are met.  These include guests tha are
Pregnancy
Recovering Alcoholic
Medical Reason
Religious Reason
Does Not Consume Alcohol Due to Personal Preference