In:
Guests sailing on Brilliance of the Seas can look forward to enjoying an escape room game while onboard their next sailing.
Puzzle Break CEO Nate Martin confirmed to Royal Caribbean Blog in an exclusive interview that the company now offers, "Royal Mystery," which is a hybrid puzzle hunt escape room experience that is playable by multiple teams at the same time.

Puzzle Break's website lists Brilliance of the Seas as a ship offering a Puzzle Break experience
"To bring Puzzle Break experiences to an even larger audience, we also have a couple of games that we've done for Royal which we're rolling out to more and more ships everyday. It is a kind of a hybrid experience, that kind of captures what an escape room is...but instead of one team in one room, it's a whole bunch of teams in a very large space all working on the same puzzles independently, racing against the clock and somewhat racing against each other," said Nate Martin, Co-Founder and CEO, Puzzle Break.
"This is called A Royal Mystery, we're going to be eventually be doing several of these for Royal.  They are available now aboard Brilliance of the Seas, Ovation of the Seas, and I think we are rolling out to Harmony pretty soon."
"I think the current plan of record is to get those on every single ship in the fleet."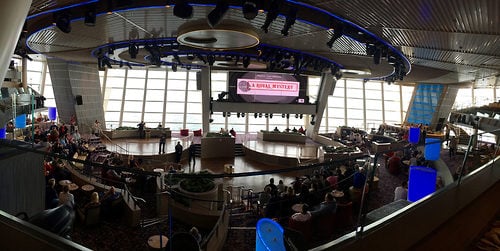 Royal Mystery on Ovation of the Seas. Photo by drummerdave72
Royal Caribbean and Puzzle Break are also collaborating on bringing an escape room experience to Symphony of the Seas, which is Royal Caribbean's upcoming fourth Oasis Class ship that will debut next year.  According to Martin, an escape room game for a ship like Symphony of the Seas costs "over a million dollars to make."