In:
Royal Caribbean sent an update to users that its current smartphone app for iOS devices is being retired.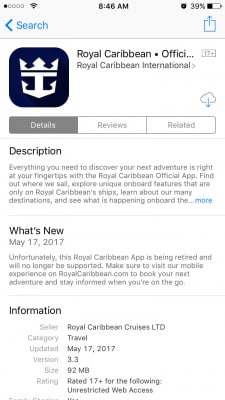 The app was updated in the iTunes App Store on May 17, 2017, with the notice, "Unfortunately, this Royal Caribbean App is being retired and will no longer be supported. Make sure to visit our mobile experience on RoyalCaribbean.com to book your next adventure and stay informed when you're on the go."
The official Royal Caribbean app was rarely updated, with just one update in all of 2016 and a few updates in 2015.
While not confirmed, it is believed retiring the current Royal Caribbean app may be the precursor to the release of the new smart phone app that Royal Caribbean is actively developing. According to Royal Caribbean Cruises Ltd. Chairman and CEO Richard Fain, the new smart phone app should be out sometime this summer.
Thanks to Jason Percival Sr. and Marc Schwartz for alerting us to this app change.