In:
It is hard to believe, but one year ago today, Royal Caribbean took delivery of Harmony of the Seas.
In her first year in service, Harmony of the Seas has made a big impact on the cruise industry and we wanted to look back on the events that shaped her first year.
Delivery
Following 32 months of construction, on May 12, 2016, Royal Caribbean took delivery of Harmony of the Seas from STX France shipyard at a traditional delivery and flag changing ceremony in Saint Nazaire, France.
Joining the festivities in the ship's signature AquaTheater were Richard Fain, Chairman and CEO of Royal Caribbean Cruises Ltd. and Michael Bayley, President and CEO of Royal Caribbean International together with Laurent Castaing, General Manager, STX France.
This would mark the beginning of Harmony of the Seas' service in Royal Caribbean's fleet, and a momentous day many in the company and public had been looking forward to for so very long.
Arrival in Southampton
Before Harmony of the Seas would visit the warm waters of the Mediterranean or call Port Everglades home, she visited Southampton, U.K. on May 17, 2016 to offer early sailings.
Harmony of the Seas offered guests some quick sailings from Southampton to Northern Europe, prior to beginning her summer season in Barcelona.
Harmony of the Seas began maiden Mediterranean season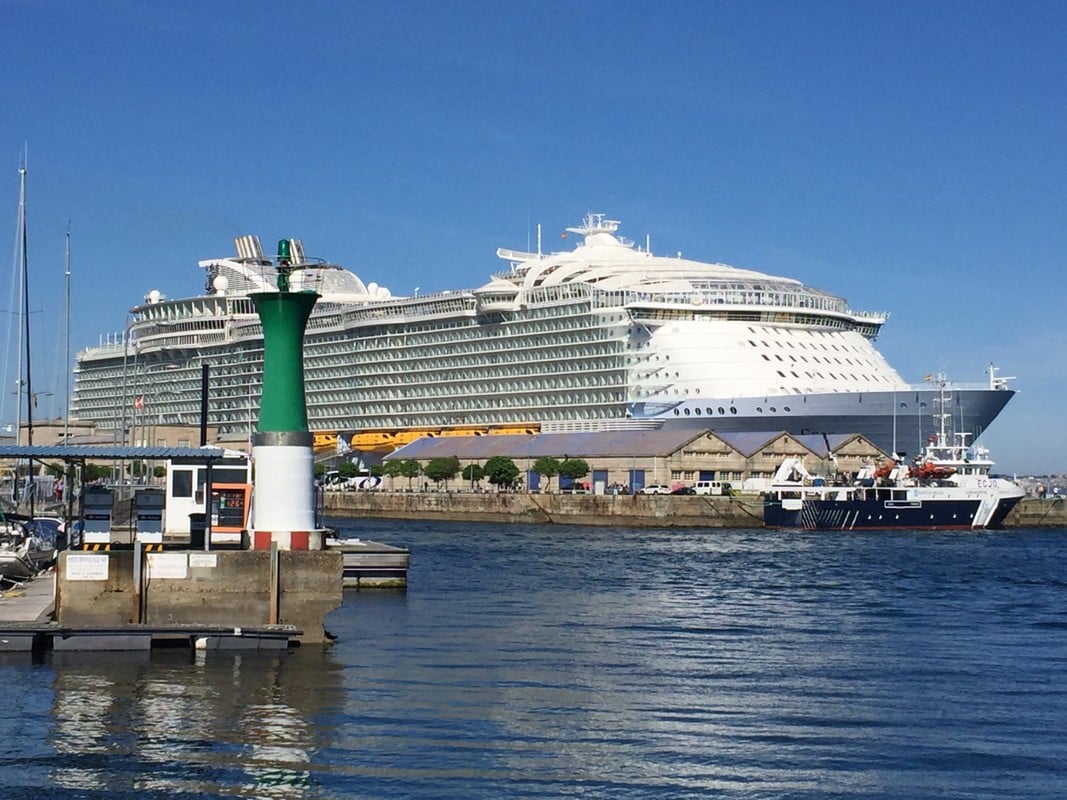 On June 9, 2016, Harmony of the Seas began her inaugural cruise season from her summer homeport of Barcelona, Spain. 
Guests on the first sailing enjoyed a five-night Western Mediterranean itinerary with visits to Rome (Civitavecchia) and Naples, Italy. Guests from 34 countries flocked to enjoy that historic occasion.  For the rest of the summer, Harmony of the Seas offered seven-night Western Mediterranean itineraries, showcasing Europe's most popular destinations – Barcelona and Palma de Mallorca, Spain; Provence (Marseilles), France; Florence/Pisa, Rome and Naples, Italy.
Godmother chosen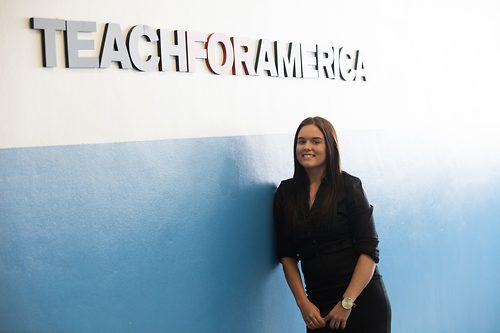 Believe it or not, Harmony of the Seas did not have a Godmother until October 2016, when a contest concluded among educators in South Florida and a winner was chosen.
Brittany Affolter was the lucky winner, having distinguished herself from her work with Teach for America in Miami-Dade County.  Brittany supported and inspired a number of high-needs schools in Royal Caribbean's hometown.
The ship's Godmother, Brittany Affolter from Teach For America Miami-Dade, was selected as Godmother of Harmony of the Seas for her work in inspiring South Florida's next generation to dream big, think differently and challenge the status quo. Royal Caribbean conducted a six-week search and received nearly one thousand nominees for the honor usually reserved for celebrities and royalty.
Epic meet up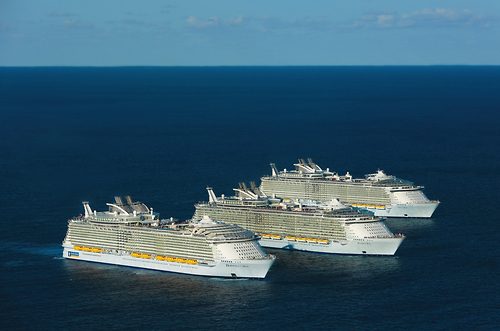 How do you celebrate the arrival of Harmony of the Seas to the United States? How about an incredible photo opportunity with her sister ships, Oasis of the Seas and Allure of the Seas?
On November 6, 2016, Harmony of the Seas greeted her sister ships off the coast of Florida.
The world's most adventure-packed ship was fêted with an adventurous take on the traditional flotilla send-off, complete with a team of 16 jetboard and jetpack riders from the world-renowned Aquafly Hydroflight Sports Performance Team leading Harmony out to sea and performing a show of extraordinary stunts.
DNCE rocked Friendsgiving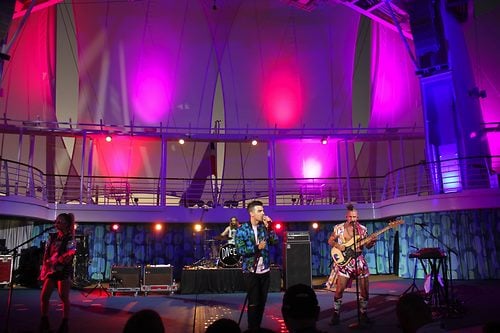 Part of the celebration involved with Harmony of the Seas' arrival at her homeport of Port Everglades, Florida included a private concert with multi-platinum-selling band DNCE.
In a spin-off of Thanksgiving, Royal Caribbean celebrated "Friendsgiving" by throwing, "the Ultimate Friendsgiving party" onboard Harmony of the Seas. The concert was held in the AquaTheater on November 11, 2016.
Harmony of the Seas officially named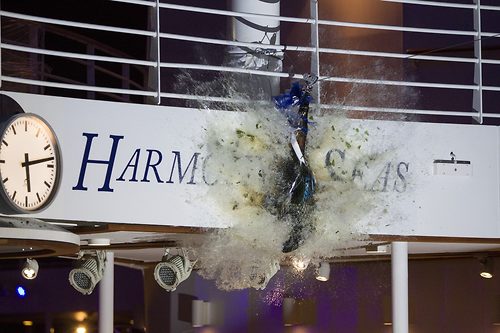 Following maritime tradition, Royal Caribbean officially named Harmony of the Seas on November 13, 2016 that was centered around the ship's Godmother, Brittany Affolter.
The event took place onboard Harmony of the Seas, and included Affolter, as well as singer-songwriter Jon Secada. The two took turns during the event to celebrate the ship's official arrival in her new home.
To cap off the evening, an array of fireworks filled the sky over Port Everglades in commemoration of this special day.
Your favorite memory
What was your favorite memory from Harmony of the Seas' first year?  Share them in the comments below, and be sure to include photos if you happened to be onboard!