In:
Royal Caribbean announced the teams of adventure squads that are finalists in the cruise line's "The World's Most Adventurous Squad" contest.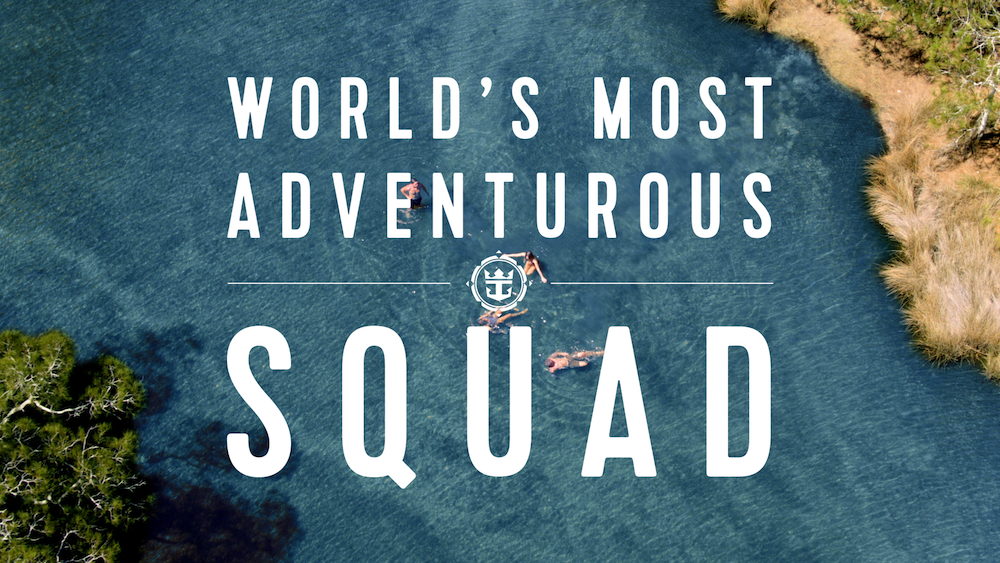 In late March, squads began competing in the contest's opening round of five challenges chronicled on social media. With themes like "Thrills and Chills" and "Epic Eats," these challenges ran through April. Royal Caribbean then selected one winning squad for each challenge. Five finalists were picked among a field of more than 3,000 competing teams who entered the contest. Each team is made up of up to four thrill-seekers, and will compete to be crowned the winner in just two weeks.
The contest progress can be tracked at AdventureSquad.com. The finalist teams are
Cousins of the Caribbean, Winners of the Thrills and Chills Challenge — These competitive cousins are former collegiate athletes, game-changers, and open-minded wanderlusters.
Hawaii Koa, Winners of the Hidden Gems Challenge — Instagram 'Pros and Bros' are self-proclaimed 'surf & snow animals' that believe life begins at the end of your comfort zone.
Bangarang, Winners of the Epic Eats Challenge — This globetrotting team collectively has sampled many of the world's wonders and believe, 'You gotta risk it to get the biscuit.'
Seas the Day, Winners of the Culture Capture Challenge — Calling themselves 'a couple of couples,' this crew enthusiastically seeks out the adrenaline rush of serious adventure travel.
Skallywags, Winners of the Air Land and Sea Challenge — Having brains, muscle, and moxie, these outdoorsy outliers know how to beat attitude with gratitude and plenty of altitude.
From May 27–June 3, the remaining tier of the Adventure Squad contest begins. The Final Five will embark on Royal Caribbean's Harmony of the Seas for a seven-day sailing. Beginning in Labadee, Haiti, squad mettle will be tested as teams careen down Dragon's Breath Flight Line, the world's longest overwater zip line. A sail to Haiti's remote Amiga Island, surrounded by white-sand beaches and crystal blue waters, culminates in a kayaking and wave-jet surfing adventure to round out the day.
Next, competitors sail to Falmouth, Jamaica, where they'll raft their way down three miles of the Martha Brae River on handmade vessels of bamboo. Later, crews get to sample some of the best jerk chicken and pork in Jamaica that's cooked over the pimento tree wood pits of Scotchie's Restaurant in Montego Bay. Exploring the exhilarating waterfalls and secret cave of Jamaica's Blue Hole as well as off-roading on ATVs through the island's jungle terrain is also on the adrenaline-pumping itinerary. But no worries, squad members get to shake off hard-earned road dust with a refreshing cliff-dive into azure waters.
The final port-of-call will take the eager travelers to the island of Cozumel, Mexico, where they'll hop a plane to explore the intriguing archaeological Mayan ruins of Chichen Itza. Once there, underground limestone caverns of some of the country's many cenotes await their inspection. The group will then be treated to restorative handmade tortillas at a private Cozumel taqueria.
At the end of sailing, all five teams will gather in Harmony's outdoor AquaTheater to hear which group is crowned "The World's Most Adventurous Squad." Each winning squad member will be awarded with three Royal Caribbean cruises.