In:
When you are onboard a Royal Caribbean cruise, there is a wide array of activities and events taking place every day of your sailing. Any notion of there not being enough to do is quickly dismissed once you take a glance at what is offered onboard.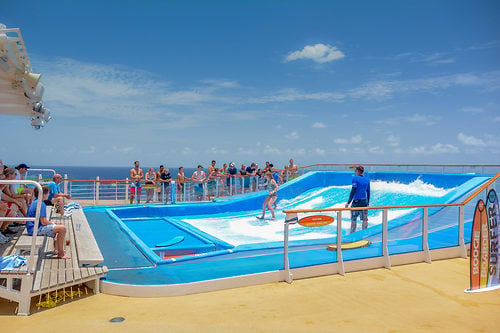 Royal Caribbean's activities staff plan a variety of events to fill your time onboard the ship. These activities are optional for anyone to enjoy, and first time cruisers will find a great deal of options to pick from.  From trivia contests to dance lessons, exercise programs to dodge ball games, wine-tasting to surfing, there really is something for everyone.
Type of activities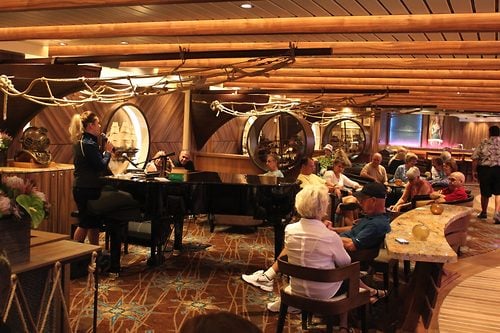 From start to finish, your Royal Caribbean cruise will be filled with different activities to take part in.  Each activity is optional.  Think of them like a restaurant menu: you only enjoy what you want.  
Most of the activities listed for guests to enjoy are complimentary, which means there is no additional fee.  There are, however, certain events that have an additional cost associated with them.  It will be clearly labeled whether an event is complimentary or costs extra. 
In general, Royal Caribbean tries to offer its guests a wide variety of choices.  Having thousands of guests onboard its ships means the staff will try their best to have something for everyone.  The exact activities offered will vary from ship to ship, and sailing to sailing.  Royal Caribbean does not publish its activities prior to a cruise, but if you learn about the most common activities available onboard, it should provide a good idea of what to expect once onboard.
Physical activities
Rock climbing wall
Mini golf (not available on all ships)
FlowRider surf simulator (not available on all ships)
Sports court activities (basketball, volleyball, soccer, etc)
Water slides (not available on all ships)
Zip line (not available on all ships)
Ice skating (not available on all ships)
Fitness classes
Skydiving simulator (not available on all ships)
Educational
Trivia contests
Napkin folding demonstrations
Towel animal folding
History and port lectures
Dance lessons
Wine/alcohol tasting
Escape rooms (not available on all ships)
Culinary classes
Behind the scenes tours
Gambling
Bingo
Casino gaming lessons
Shows
Poolside games
Theatrical performances
Live music
Comedians
Acrobatic/dive shows
Karaoke
Family activities
DreamWorks character meet opportunities
Parades
Movies
Teens-only events
Dance parties
Cruise Compass
If you are wondering how to find out which events will happen and when, then you will want to consult the daily publication provided each day to guests, known as the Cruise Compass.  
Each evening, your stateroom attendant will deliver a paper copy of the Cruise Compass to your stateroom.  Inside, you will find a list of the next day's activities, shows and entertainment.  It also lists the times venues such as restaurants, shops, bars and the spa will be open.  There is even a weather report and information about the port you will be visiting.
Most importantly, there is a chronological listing of events from the early morning to the late evening. Each event has a time, event name, location and possibly brief description listed.  There will also be an indication if this event costs extra.
As mentioned earlier, Royal Caribbean does not provide a copy of its Cruise Compass in advance of a cruise, but we keep an archive of past Cruise Compass' on this website, so that you reference them.  While a past Cruise Compass will not provide an exact list of events for your cruise, it does serve as a "ballpark overview" of what to expect.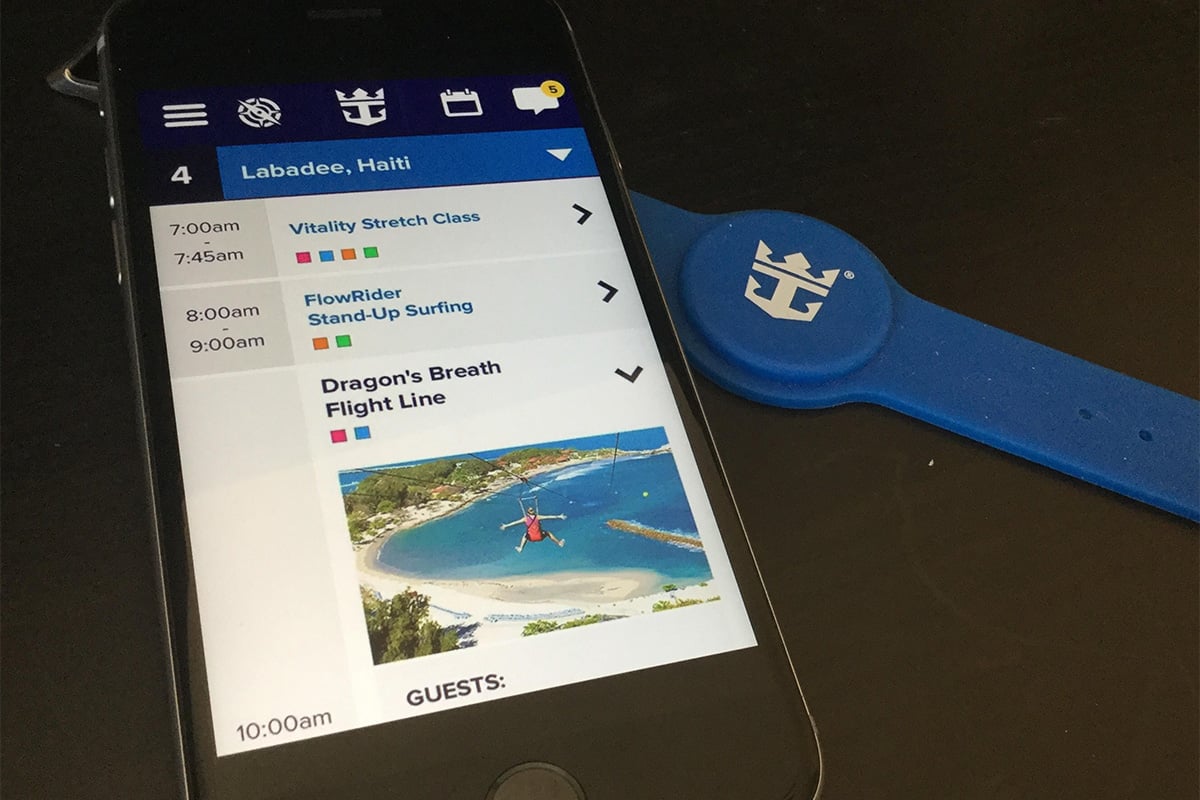 On Royal Caribbean ships that offer the Royal iQ smartphone app, a copy of the Cruise Compass can also be referenced there.  In fact, the app provides the ability to select events from the Cruise Compass and add them to your own personal calendar.  Royal Caribbean also announced that it is working on a new smart phone app, which should debut later this year.
Tickets and shows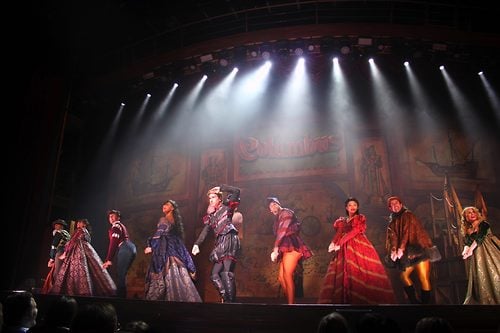 Most activities and entertainment on a Royal Caribbean cruise require no reservations or tickets in advance.  Guests simply show up at the designated time and location and an activities crew member will be present to coordinate the function.
Certain events do offer advance tickets for the performances.  Oasis and Quantum class ships will even offer tickets for its theatrical products prior to the cruise, via Royal Caribbean's Cruise Planner website.  Tickets are complimentary, and guarantee a seat in the show, but not a specific seat.  Royal Caribbean also requires guests with tickets arrive to the show a certain amount of time before show time or risk losing that guarantee.
Activities such as exercise classes, wine/liquor tastings, or culinary demonstrations may require and/or offer advanced tickets to secure a spot.  The nature of these events are that there is a limit on how many guests may attend. You can certainly show up at the given time and hope for a spot, or speak to a crew member about reserving them.  Tickets to certain events are even available online via the Cruise Planner, where guests may purchase the tickets before getting onboard. 
If tickets are available prior to a cruise for an event, we generally recommend guests take advantage of the option to secure a spot for them.  Once onboard the ship, admission to certain events gets quite competitive, so taking advantage of pre-cruise reservations is a good practice.
Pools and water slides
During the daytime, the pool deck tends to be a hub of activity for guests of all ages.  Depending on the ship, guests will find a variety of pools and even water slides to enjoy.  Royal Caribbean designed their pools to be fun, relaxing and most of all refreshing experiences. Whether you are there for the ambiance, the cooling effect or the activities, time at the pool is a great idea.
Pools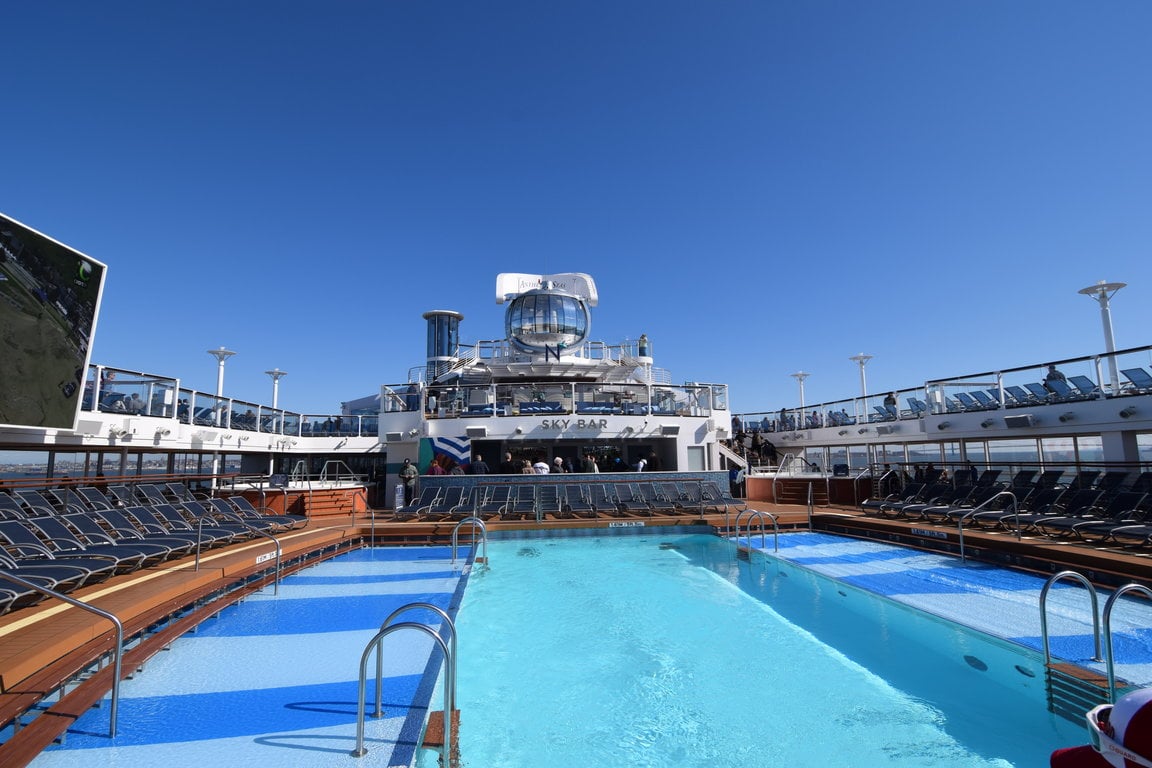 Royal Caribbean's pools are a hub of activity on most cruises.  It is where the activity staff will hold many events and you will find by just spending time at the pool, you will encounter a lot of the ship's going-on's. 
Nearly all the events happening at a pool will occur at the main pool. Exact activities differ depending on your ship and sailing but here are some common ones 
Belly flop competition
World's sexiest man competition
Scuba classes
Fitness classes
Poolside bingo
Dance classes
Poolside movies
Water slides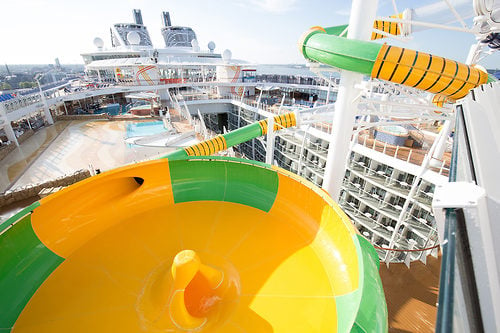 In recent years, Royal Caribbean has begun adding water slides to its cruise ships.  Guests of most ages can enjoy the slides, which are complimentary and the kind of activity guests can enjoy as many times as they want.
Currently, water slides are available on
Harmony of the Seas
Symphony of the Seas
Liberty of the Seas
Adventure of the Seas
Some other ships feature slides for kids, such as the Radiance Class ships, as well as Majesty of the Seas.
Fitness Center and Gym
One popular onboard activity is staying physically fit while onboard.  Whether you love spending time at the gym, or are just looking for a way to work off the delicious food served onboard, Royal Caribbean's fitness center is the right place for you.
The fitness center is usually located near the ship's spa, and is open for most hours of the day.
Fitness center aboard Harmony of the Seas
Inside the fitness center are a variety of choices, ranging from cardio to strength-training equipment.  The equipment in Royal Caribbean's fitness center are complimentary and available on a first-come, first served basis.  There is no cost to use the machines and free weights at the fitness center.  In fact, Royal Caribbean tends to stock its gyms with top equipment for guest use.  
In addition, there are spaces for fitness classes, such as spin, yoga, and Pilates. These classes have limited capacity, and there is usually a sign up sheet near the entrance to the fitness center where guests can write down their name and stateroom number for a particular class they want to attend. Guests are charged for each class they attend, so you can attend as few or as many as you like, provided there is space available.
Family and children's activities
The heart of things to do on a Royal Caribbean ship for kids is centered around the Adventure Ocean program.  Adventure Ocean is the supervised children's program, which is kind of like camp, where parents drop the kids off and pick them up anytime while Adventure Ocean is in operation.
Adventure Ocean is available for children who are at least three years old and fully potty trained, all the way through the age of seventeen.  Counselors lead the Adventure Ocean programming while the children are in attendance, and activities are age appropriate.  These activities include art, dance parties, games, scavenger hunts, supervised play and more. Adventure Ocean is complimentary, unless your child stays in Adventure Ocean past 10pm, at which point an hourly charge is assessed. Kids may remain in Adventure Ocean until 2am during the after-hours time.
Children are split up into groups based on their age.  Older children and teenagers will find their own dedicated areas of Adventure Ocean that include lounges and teen-only events listed in the Cruise Compass.
On sea days, Adventure Ocean usually is open
9am - noon
2pm-5pm
7pm-10pm
10pm-2am (Extra cost after hours)
During port days, Adventure Ocean will be open as long as the ship is docked in port, allowing parents to leave their children in Adventure Ocean while they enjoy a time on shore.
Royal Caribbean publishes a special daily version of the Cruise Compass, just for kids and teens.  Your stateroom attendant will deliver a copy of this if there are kids in the room, and it lists Adventure Ocean programming for the coming day.  The regular Cruise Compass will also list teens-only events as well.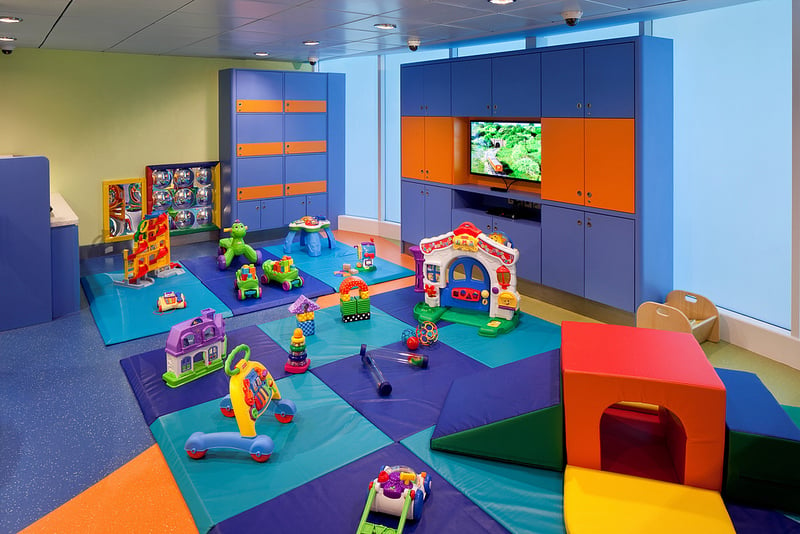 For children younger than three years old, Royal Caribbean's Royal Babies & Tots Nursery offers infants and toddlers supervised care for an hourly charge. 
The nursery has limited space, and it is recommended to make reservations for the times you wish to bring your child.  You can always call the nursery and inquire if there is open space to drop off at the time, but ideally you will want to make reservations. Like Adventure Ocean, the nursery is has set hours, and opens in the morning, going late into the night.  If it is a port day, the nursery can open earlier to match the time the ship is in port.
Beyond Adventure Ocean, many of the activities listed in the Cruise Compass are open to kids, as well as adults. 
Nightlife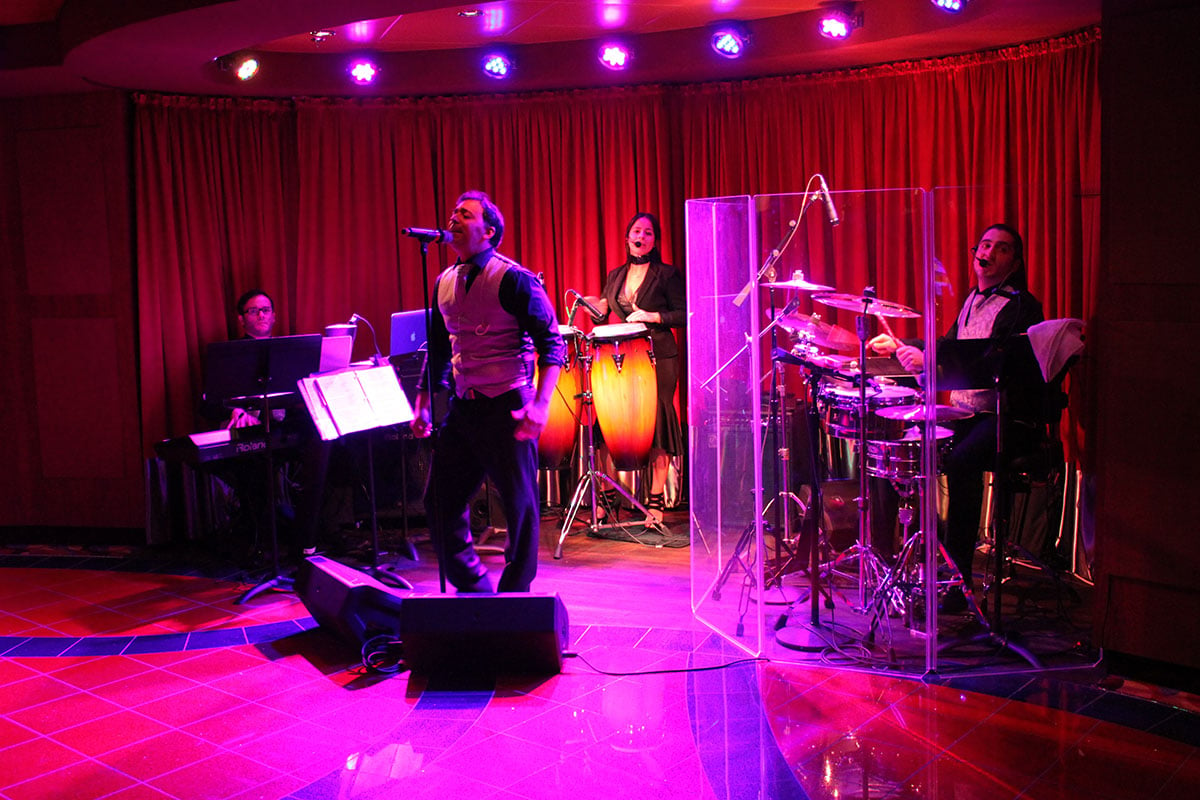 After the sun sets, Royal Caribbean ships are filled with lots of evening activities. 
Music is a big part of Royal Caribbean's nightlife.  Guests will find live performances around the ship (primarily at bars), along with the opportunity to dance at many of them.  Dance parties on deck and in select venues are common as well, with usually a music event lasting well into the early hours of the next morning.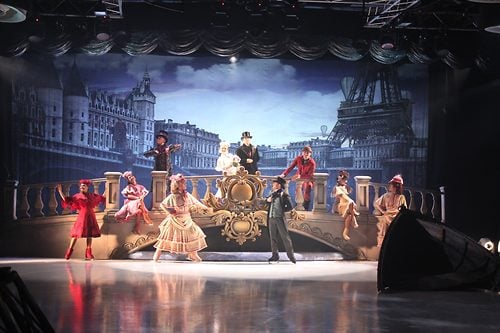 Each evening, there will be theatrical performances offered in the Royal Theater, as well as other venues such as Two70, the AquaTheater and/or ice skating rink.  Depending your ship, the variety and scope of nighttime entertainment will vary, but there will be something going on each evening that is clearly the primary performance.  In addition, there will be alternate times provided for most of these productions, to allow guests time to enjoy dinner without having to sacrifice seeing the show.
Royal Caribbean's shows are its signature activity, with some ships even offering full Broadway shows.  The shows are included in your cruise fare, and seating is provided on a first-come, first served basis.  We recommend arriving to any show at least 15 minutes early to secure a (good) seat.
Royal Caribbean will also regularly show feature-length films near the pool, provide sing-along music at the pub, offer karaoke performances, and much more.