In:
When you are looking to pick the perfect Royal Caribbean cruise for your family, often you will find a few good choices to choose from and in many cases, it can come down to the ship class as the big difference.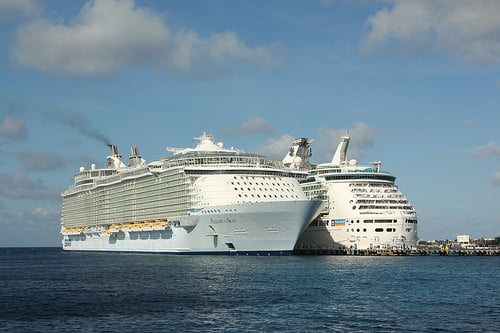 With over 20 ships in Royal Caribbean's fleet, there are a lot of choices and today we will compare two of the most popular classes of ships, the Oasis-class to the Voyager class.
The ships
The Voyager-class ships include Voyager of the Seas, Explorer of the Seas, Adventure of the Seas, Mariner of the Seas and Navigator of the Seas.
The Oasis-class ships include Oasis of the Seas, Allure of the Seas and Harmony of the Seas.
Ship size
The Voyager class ships were built between 1999 and 2003 and set the standard for what a large cruise ship is these days.  You will have a little over 3000 passengers onboard with you, has 15 decks and is 138,000 GT.
The Oasis class was first built between 2007 and 2010 with some new ships under construction since 2013.  On these ships, there are somewhere between 5400 and 6200 passengers, has 16 decks and is 225,282 –227,700 GT.
Both classes of cruise ships are large but the Oasis class is currently the largest in the world.  While the Oasis class dwarfs the Voyager class, they are both really big ships and essentially we are talking about a big class and a bigger class.
What's onboard
Voyager class ships are best known for their 350-foot indoor mall known as the Royal Promenade,that features indoor pubs, shops, cafes, and bars.
Activity options on all five ships board include a basketball court, at least 3 pools, a mini-golf course, a rock wall, an ice skating rink and on some ships a FlowRider surf simulator.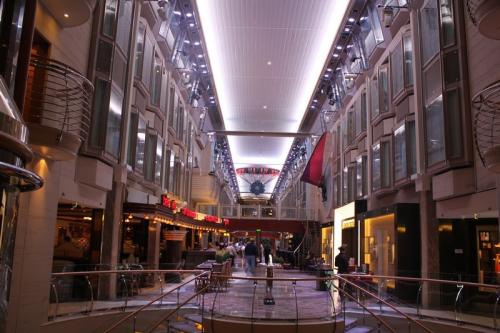 Royal Promenade on Navigator of the Seas
The Oasis class is known for having it all and have seven different "neighborhoods" that are areas of the ship with a distinct theme, such as a Royal Promenade, Boardwalk, Central Park and more.  There's also a slew of dining choices (25 in total) and Broadway shows.
You will find onboard Oasis class ships many of the same features of the Voyager class but larger and in some cases more of them.  For example, there are two rock climbing walls and two Flow Riders on the Oasis class.
Central Park on Oasis class
Both classes of ships have the same core offerings, such as the Adventure Ocean kids club, dining rooms, specialty restaurants, pools and more.
Significant differences
Besides the size of the ships, there are some key differences that will either be a plus or minus for you.  
The Oasis-class ships have a special pool splash area just for kids and babies.  On the Voyager class, you will find pools but no water play area for kids and no pool access for children with diapers. This can be a big factor for families with younger children.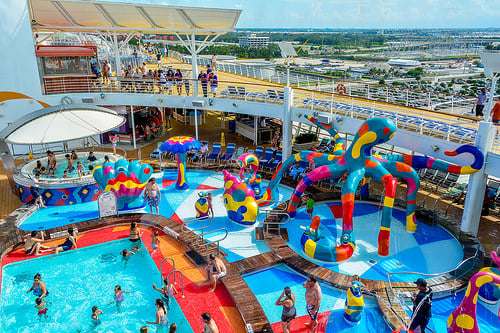 H2O Zone on Oasis class ships
In terms of pricing, generally speaking the Voyager class ships tend to cost less and offer more variety in their itineraries.
Voyager class ships also offer a lot of the same onboard activities and entertainment that the Oasis class does, such as the ice skating rink, FlowRider, and Royal Promenade.
Both classes of ships have recently been refurbished over the last few years and have gotten new specialty dining options as well as updates to their staterooms.
For families with children under 18, the Oasis class offers a lot more in kids activities, both in terms of the Adventure Ocean club as well as activities.
In terms of dining, if you enjoy specialty restaurants and do not mind the extra cost, the Oasis class offers far more choices than any Voyager class ship.  If you want a Voyager class ship with a lot of specialty dining, Navigator of the Seas should be your pick.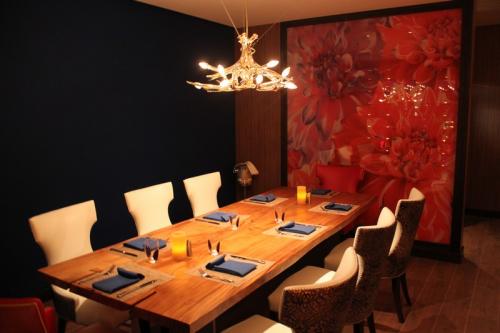 Sabor Modern Mexican on Navigator of the Seas
Another key difference is the Oasis class ships have Broadway shows, such as Cats (Oasis of the Seas) and Mamma Mia (Allure of the Seas).  The Voyager class ships have Broadway caliber shows but they do not feature former Broadway shows.
Where the ships sail
The Voyager class ships have spread to nearly every corner of the globe.  At the time of this blog post, there are two Voyager class ships based in Asia and Australia, one in the United States, one in Puerto Rico and many traveling to Europe in the summer.  You will find a great deal of port options on a Voyager class ship.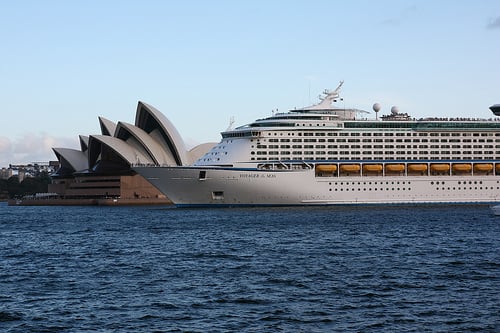 Voyager of the Seas in Sydney
The Oasis class ships are traditionally based in Florida although Royal Caribbean has started to send them to Europe for the summer.  As of the time of this blog post, the home ports for all Oasis class ships will still be in Florida.
Conclusions
Voyager class ships offer a lot for very likely less cost than the Oasis class.  You still get a decent variety of specialty dining, pools, and lots to do .  
The Oasis class offers it all and has more for families with young children to enjoy.  It still has premium pricing so you will likely pay more for it on average.
Both classes are large ships and with the recent refurbishments to the Voyager class, the differences are not as wide as they once were.
Honorable mention for the Voyager class goes to Navigator of the Seas.  It seemingly had the best refurbishment with a slew of restaurants, virtual balconies and more.
Honorable mention for the Oasis class is Harmony of the Seas, which will debut in 2016 and will have water slides, a first for Royal Caribbean ships.
Which class do you prefer? Is Voyager class a better choice or do you think there's no beating Oasis class? Share your opinion in the comments below!