In:
Today was our final day on board Royal Caribbean Oasis of the Seas.
This week has just flown by so fast, but it seems like they always do.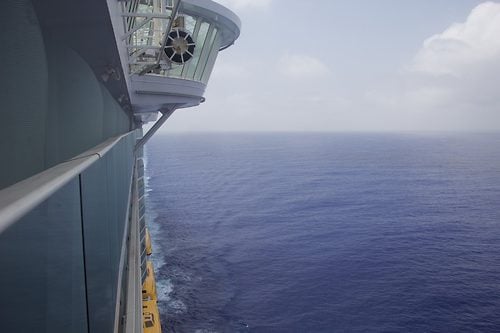 This morning we decided to skip breakfast; we just needed a break from all the food.
We decided to go relax in the hot tub that hangs over the side of the ship. These are right beside the solarium pool and have the best views of the ocean. While we were in the hot tub we were reflecting on the week.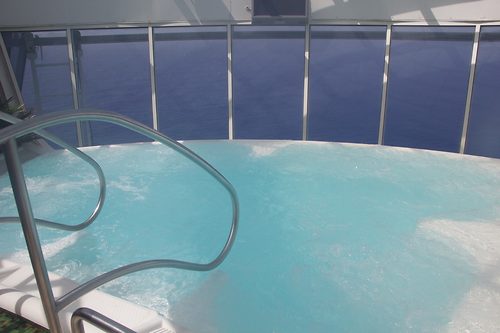 For lunch today we had reservations at Izumi Sushi for noon. On our walk down to lunch we made a quick stop in the casino. We had received a card in the cabin that said we had a free $5.00 in the slot machines. Sadly, we didn't win any money, but at least we didn't lose any either!
Lunch in Izumi was different than usual stop in Sabor, but I've never seen them so busy before. I asked our waiter why they were so packed and he said they always are on the last sea day. Our service was a little slower than I would have liked, that's okay we weren't in a rush for anything. I ordered the DX Sushi combo, spicy tuna, and Ryu Futomaki. They were all good, and I also enjoyed some of those special Japan beers. At the end of the meal our waiter charged me $53 for the rolls. I talked to the manager on the way out and he voided the charge off, once I explained I had the dining package.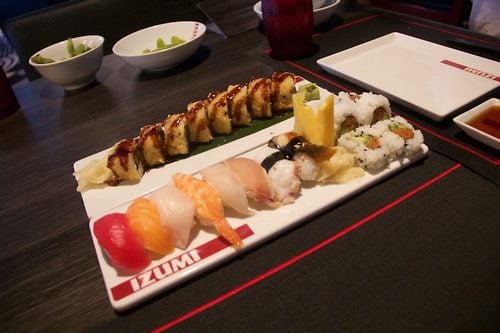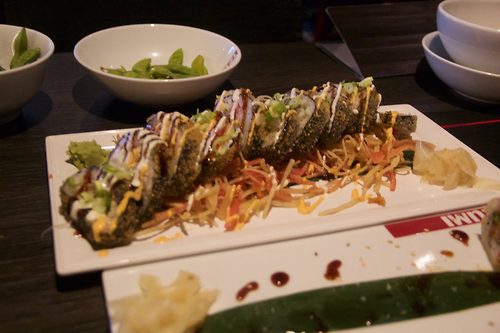 After lunch we went to Sabor to meet her parents, and I just saw people in line everywhere on the boardwalk trying to eat. Then I noticed it was raining outside so everyone came in for lunch. At one point the doghouse ran completely out of hot dogs, not to worry because you know they always have more!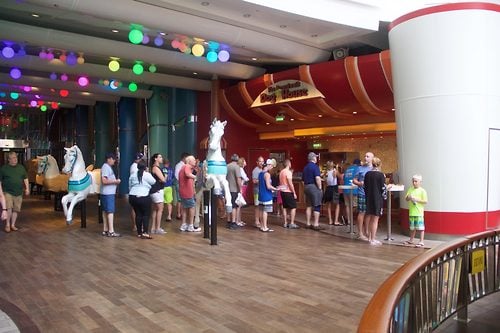 We had planned to go see Cats today at 2:30pm. Unfortunately, the cruise director Tim made an announcement that both of the Cats shows are cancelled due to a few lead roles being sick. This was sad to hear, because I was actually getting excited for the show. They did put together a replacement show where they did some singing in the main theater.
We walked around the ship for a while to take in those last moments or something we hadn't seen yet. We found ourselves on the back jogging track relaxing. On Oasis and Allure they have these wooden chairs that you can just sit and listen to the wake from the ship.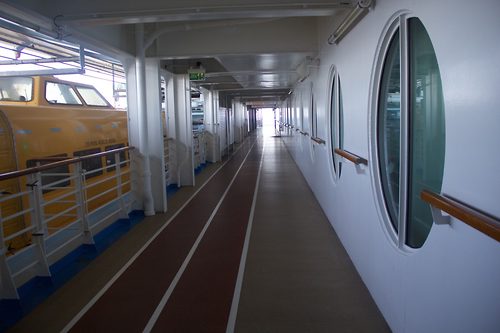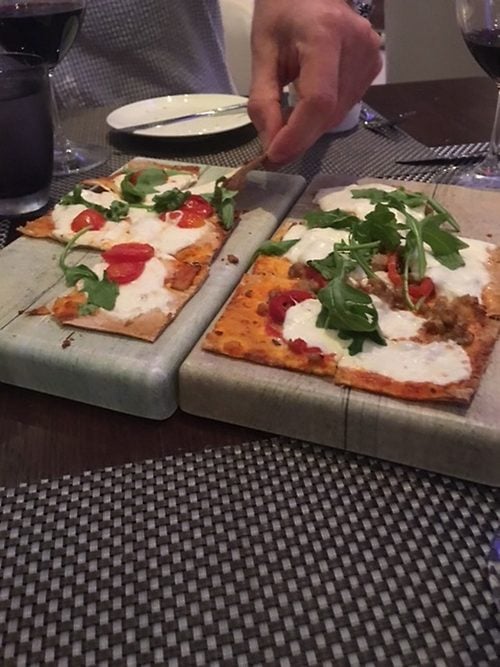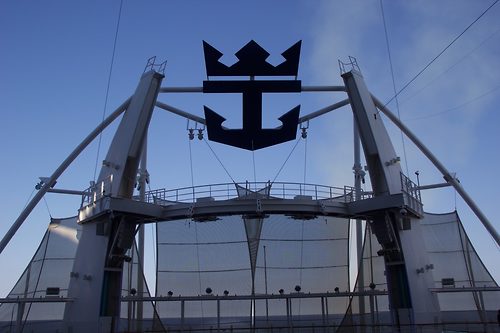 For happy hour this evening we went to the Champagne bar. I noticed this bar was usually very busy, unlike my other sailings where it was usually empty. I think people know they can make specialty cocktails in there now, and it's become very popular. We both ordered the chocolate espresso martini, and wow is all I can say! If you ever need a wake-me-up kind of drink order this.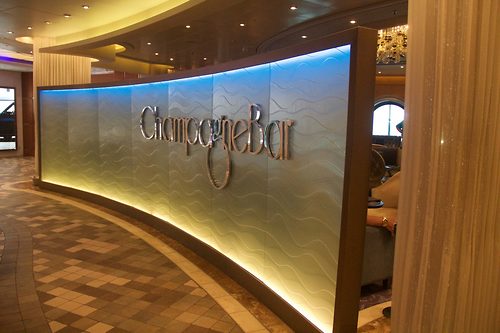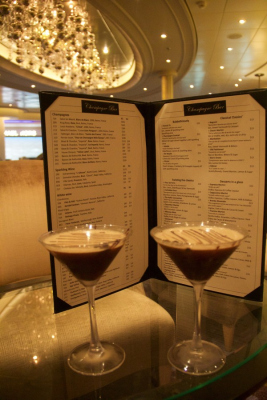 Dinner tonight was in Sabor, it's become a tradition of mine to end any cruise with Sabor, unless of course I'm on a ship without it. We have good friends sailing with us Rich and Tammy, so I had arranged for the four of us to eat together on the last night. We had the best service tonight, I almost felt like family in there! I had the shrimp tacos for dinner and they were outstanding. But if you are a tuna taco lover, I'm sad to report it's been removed from the menu.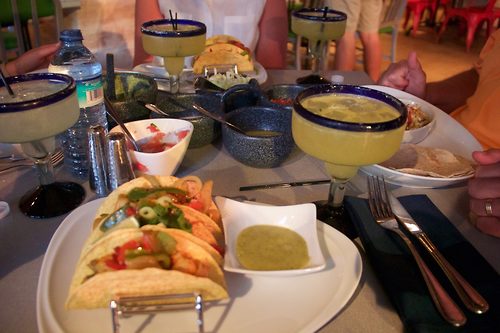 After dinner we thought it would be fun for everyone to ride the carousal. Who said adults can't have fun too! Everyone was laughing and just having the best time. I also recorded our ride on my periscope account if you want to enjoy that.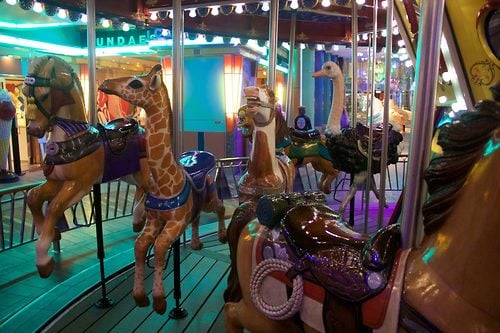 Wrap up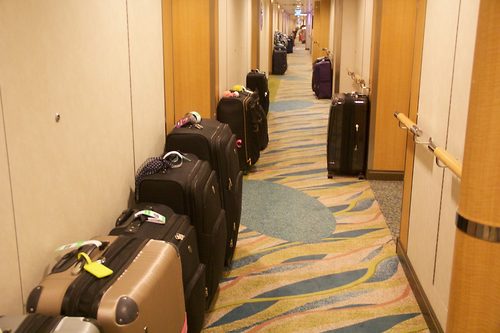 This was my third time on Oasis of the Seas, and by far my favorite cruise on her. I connected with so many of the staff members on board. The entertainment on board is the one thing that just stands out, as I reflect on the cruise. All the shows were so entertaining and we kept talking about them throughout the week. I hope you enjoyed following along with me this week, it was truly a lot of fun sharing.
Voom Internet worked so well on this ship. I always stayed connected and the speeds were very fast.
The crew was so friendly; some have been there since the first voyage in 2009.
Diamond drinks (3 coupons loaded on sea pass cards) could be ordered in any restaurant. I also saw many people getting their diamond drinks all at one time (unopened beers) to store in their cabin.
I never stepped foot in the Windjammer or Main dining room this whole cruise with since I had the ultimate dining package.
Customs no longer requires a declaration form if you aren't claiming anything. Lines were moving very fast, didn't take us more than 15 minutes from ship to car.
I hope you enjoyed following along with me this week, it was truly a lot of fun sharing. Until next time!