In:
Royal Caribbean announced it has extended its voluntary suspension of cruises an additional 30 days due to coronavirus.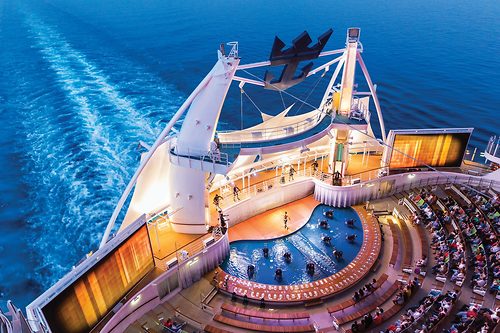 The cruise line had cancelled all sailings through April 10, and will now cancel all cruises through May 11, 2020.  
Royal Caribbean expects to return to service on May 12, 2020.
We are working with our guests to address this disruption to their vacations, and we are genuinely sorry for their inconvenience. We are also working with our crew to sort out the issues this decision presents for them.
In addition, due to port closures around the world, Royal Caribbean added they expect to return to service for Alaska, Canada and New England sailings July 1, 2020.
Like the previous 30 days of cancelled sailings, guests impacted by this round of cancellations can choose between a 100% refund or 125% Future Cruise Credit. Future Cruise Credits will be automatically issued on April 30, 2020.
Any pre-purchased amenities and packages, such as internet, beverage, dining or RoyalUp upgrades, will be automatically refunded. Royal Caribbean Travel Protection will also be refunded.
The global outbreak of coronavirus has impacted all sectors of travel, and all cruise lines have had to put further sailings on hold. Royal Caribbean had announced just a pause for 30 days, while some cruise lines opted to delay resuming sailings for a longer period of time. MSC Cruises paused for 45 days and Viking Cruises opted to wait until May 1, 2020.
UPDATE 6:04PM: Voyager of the Seas in Singapore is scheduled to return to service in June 2020.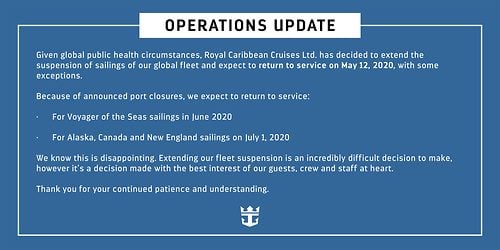 More resources: