In:
What is it like if you go on a cruise ship and test positive for Covid-19?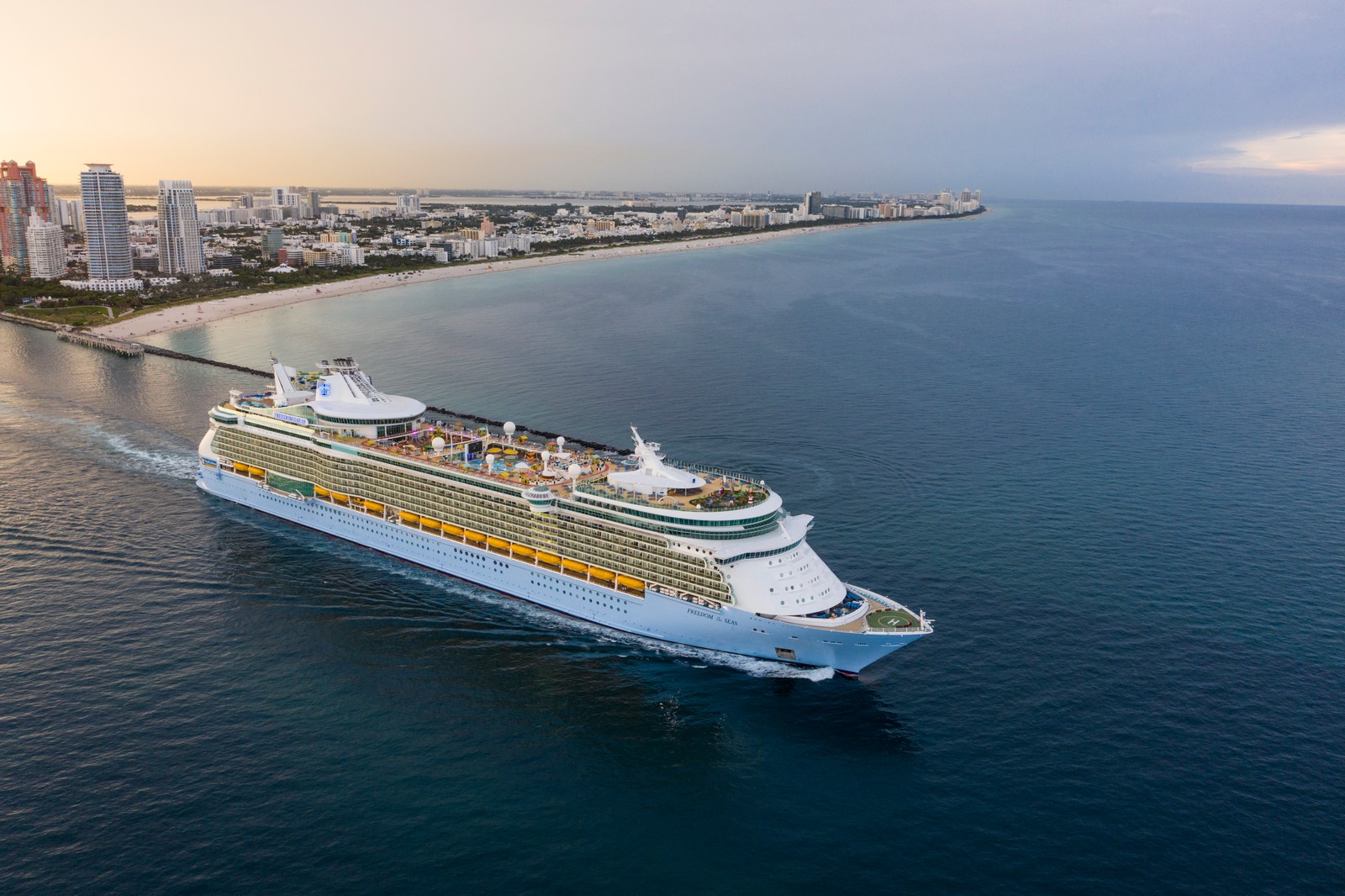 With the Omicron variant driving up positive case counts around the world, cruise ships have not been immune to seeing more cases onboard as well.
While Royal Caribbean is still operating its ships with arguably the most stringent health protocols found anywhere, some guests are more concerned with what the onboard process is like if you were to test positive, rather than concern over getting sick.
While sailing on a New Years Eve cruise aboard Freedom of the Seas, Brandon Smith tested positive for Covid on the second day of his voyage, and documented the experience on his YouTube channel once he got home.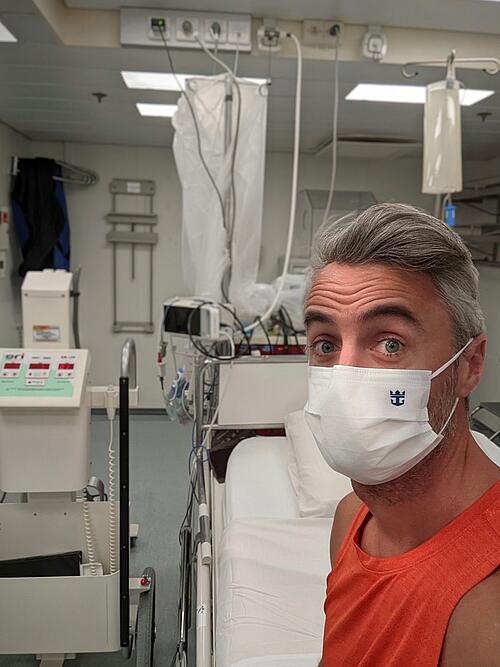 Just like all aspects of life right now, there are no zero-risk activities, but Brandon felt better about going on a cruise ship in terms of the procedures the cruise line has in place, "if I was going to be anywhere, if I was traveling, I think on a cruise ship, especially with Royal Caribbean, knowing that they've got all this taken care of is the best place to have a bad situation."
Brandon shared what happened when he tested positive for Covid on a ship, and what steps and changes you might expect to encounter should it happen to you.
Testing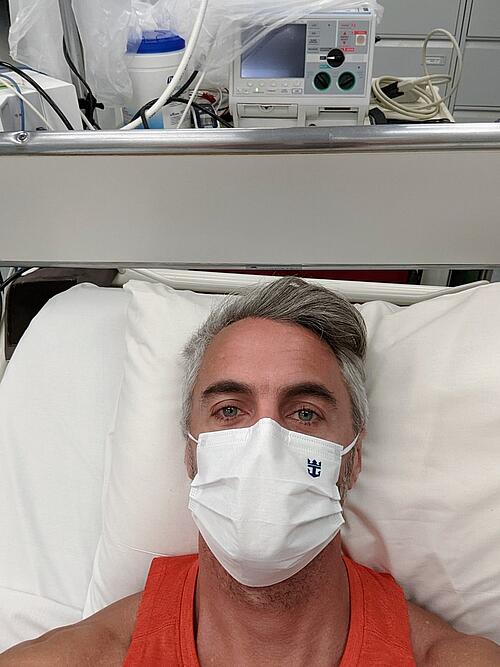 Every single passenger on a cruise ship must take a Covid-19 test in the days leading up to a cruise ship sailing.  
In the case of Brandon, he took his test two days before embarkation and it came back negative. In fact, he felt great walking onboard Freedom of the Seas, "I felt absolutely fine when I boarded."
"I was even well enough to go work out when I got on the gym around 6pm that evening went to dinner, luckily, by myself at that time. And then walking around the ship trying to figure out what the New Year's Eve celebration was that I wanted to do."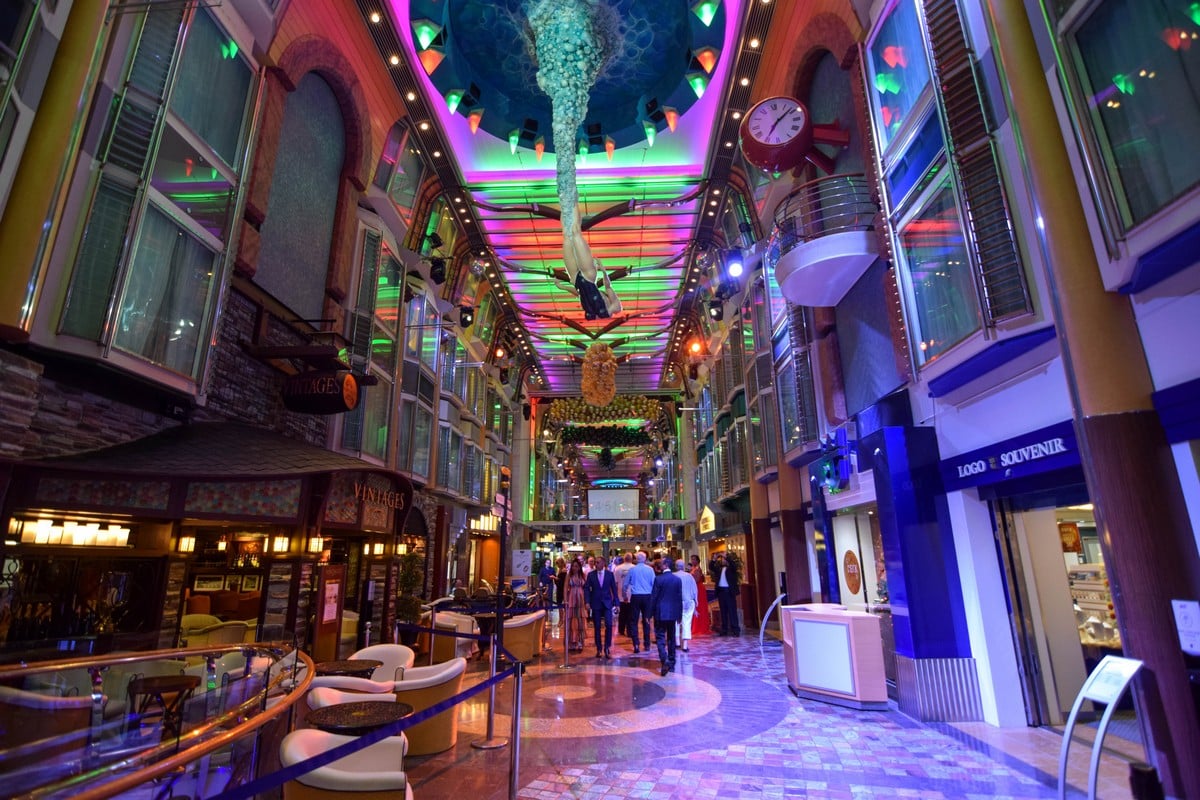 As the evening went on, Brandon started to feel the early effects, "Towards the end of the evening, I was starting to get fatigued. And at the time I didn't think anything about it. I was kind of disappointed in myself that I couldn't make it to the New Year's Eve celebration."
He returned to his cabin to rest, but woke up the next morning with a sore throat and found it difficult to swallow, "That was my first sign that something was amiss or awry."
"It progressively got worse. The headache kicked in, the fog, and a little bit of a cough started to creep in."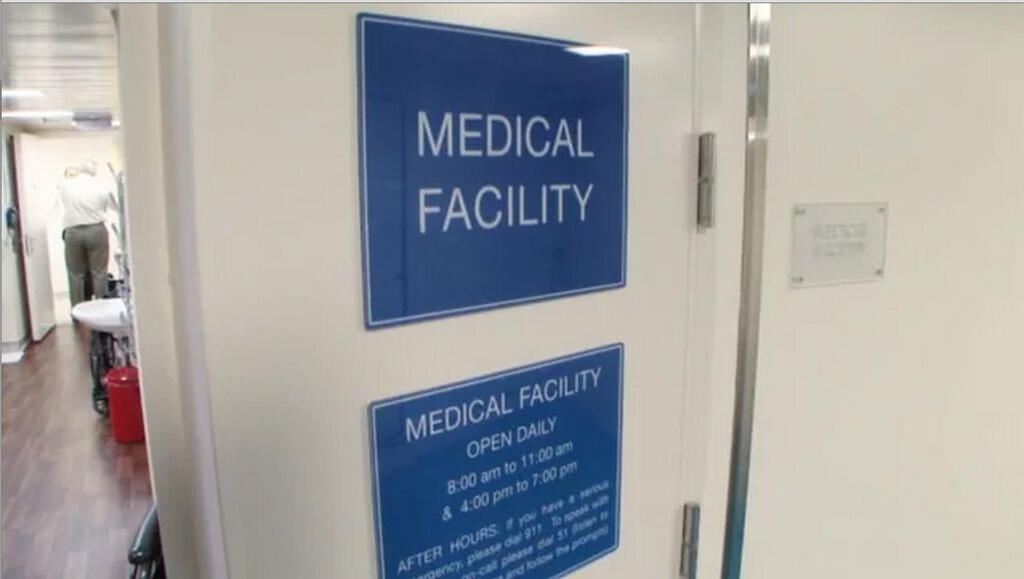 Sensing something was off, he called the medical center onboard to share his symptoms.
Every Royal Caribbean ship offers limited professional medical services through licensed (international or domestic) physicians and nurses. All  ships have shipboard medical facilities that are built, staffed, stocked and equipped to meet or exceed guidelines established by the American College of Emergency Physicians Cruise Ship & Maritime Medicine Section.
Royal Caribbean says depending on the ship and amount of passengers onboard, there are one to three doctors and three-to-five Nurses, available to passengers and Crew members 24 hours a day, seven days a week.
After arriving at the medical center, Brandon took a PCR test, "unfortunately, that returned the positive result that nobody wanted to see."
Quarantine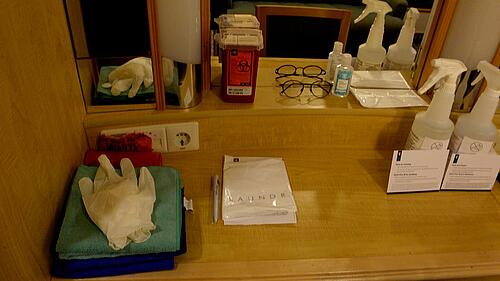 Once he tested positive, Royal Caribbean moves the passenger into a quarantined area of the ship.
In Brandon's case, he was escorted to a new cabin on deck 2 of the ship, which was an oceanview cabin.
"They first offered for security to pack up my belongings," but since Brandon was traveling alone, he was able to be escorted back to his original cabin to pack up his belongings.
Each of the crew members escorting Brandon is wearing full PPE outfits, with white gloves, shoe covers and face mask.  They also carry a ionizer that resembles a hair dryer, which the crew member can spray a mist to cover the area where Brandon walks.
"They're also closing off all of the hallways and all of the areas that you're going through. So we do take the service elevator at that time. You don't go in the traditional guest elevator, take the service elevator to my floor."
"There's a gentleman in the service elevator, so they're protecting the crew so crew members can't come up or down the stairs that are located there."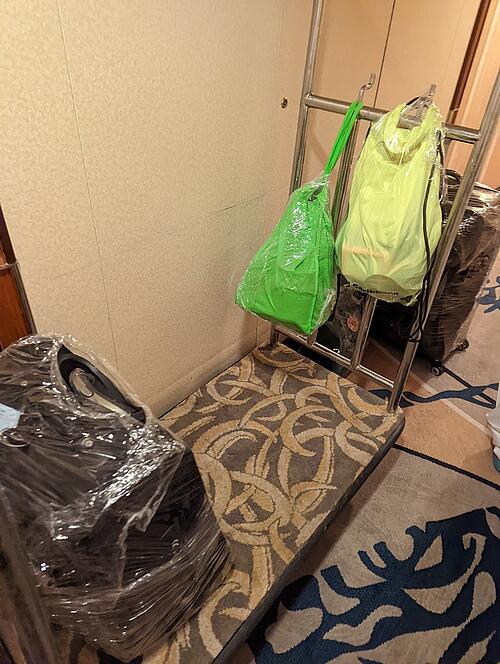 "And then there's two security guards at the beginning and entrance of the hallway where my room is standing there, blocking the hallway so that people can't come in and see and be exposed to Covid-19."
Once in his quarantine cabin, Brandon describes his cabin experience, "It's kind of bare. They've really stripped the room out. There's not a separating curtain. The bed doesn't have a bed skirt. It's really been taken down to bare bones a little bit. I think just so that you they don't have as much to clean when they need when you leave the room."
"There's also red trash bags for biohazard, there's cleaning cloths, there's two large bottles of I think one was Clorox and one was another disinfectant that was there."
Communication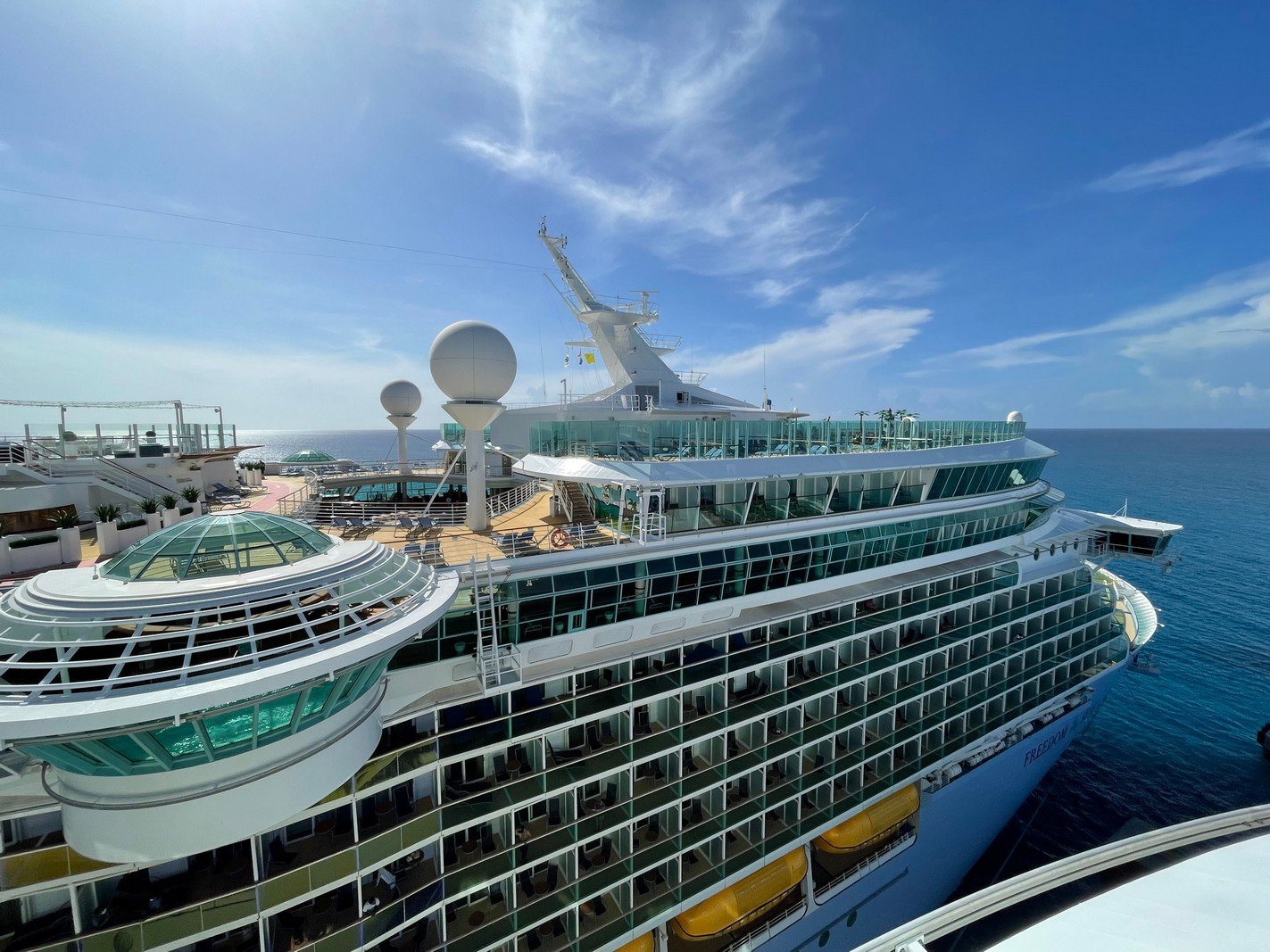 One thing that struck Brandon about the experience was all the communication he received from crew members to walk him through the process.
In the end, the guest services manager, the hotel director, security, and the medical facility all contacted him.
"I was getting or averaging around two phone calls in the morning and two phone calls in the afternoon, just checking up on me and seeing how I was doing."
Once he was settled in his new cabin, guest services informed him of the basics of his quarantine experience:
Complimentary room service
Complimentary pay-per-view movies
Complimentary internet access
"I had an extension I could dial if I needed to get up with my person there, and they also sent a lot of letters to the room. This started happening more on the evening before debarkation."
These letters detailed the future cruise credit he was going to receive for the missed days onboard, as well as the refund for a drink package purchase.
In addition, Royal Caribbean provided Brandon with documentation from the U.S. Centers for Disease Control and Prevention (CDC) on how he should quarantine once he gets home.
Contact tracing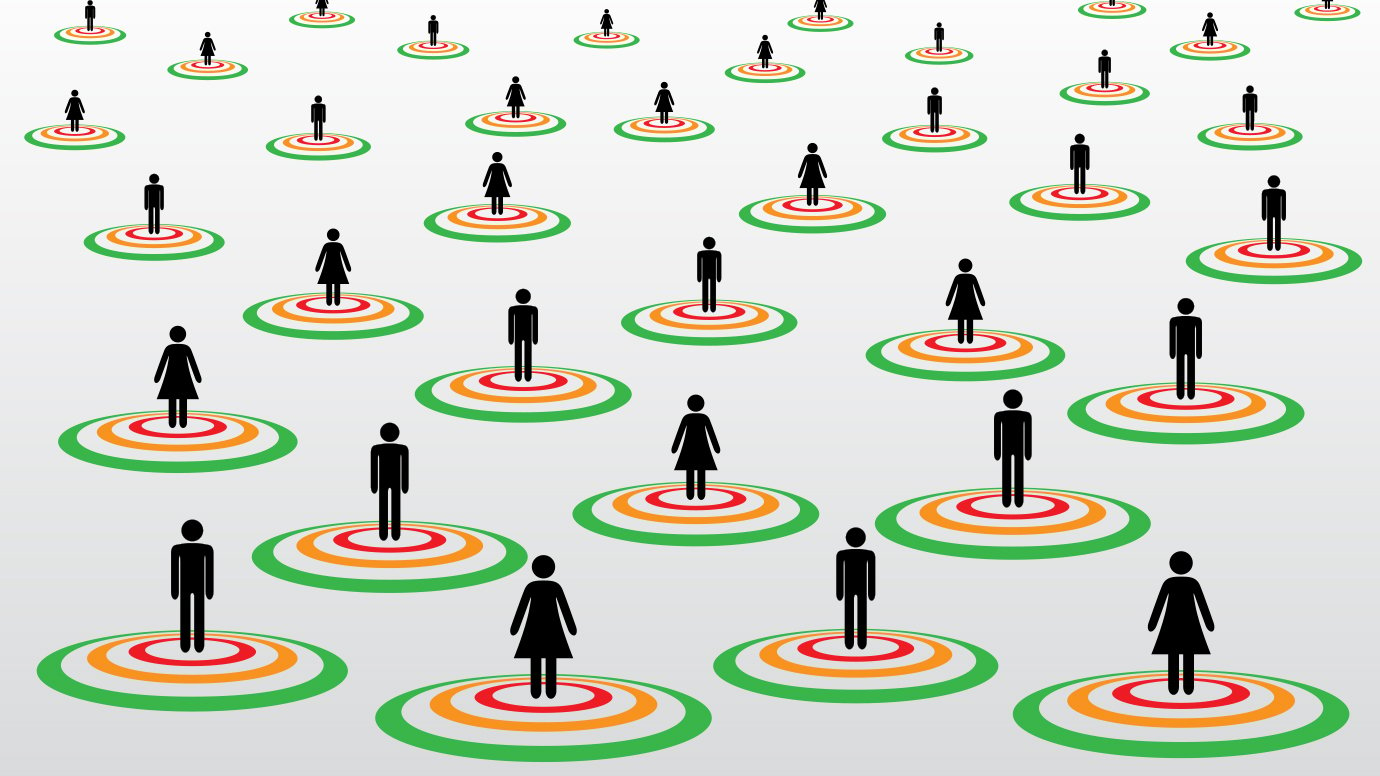 One of the many steps Royal Caribbean takes if someone tests positive for Covid-19 is to conduct contact tracing.
Brandon said a member of the onboard security department contacted him to go over where he had been, "I walked him through where I was, how much time I spent with people."
"I was a little bit of a loner that evening. One of the benefits of going on cruises allows you can kind of pick and choose when you want to be extremely social or when you kind of just want to do your own thing."
"I got the impression that given the exposure that I had to other people, which was traditionally, less than 10 minutes, I kept my mask on. Most of the time I had dinner by myself, I was in the gym with. I think there was only two other people in the entire facility. There just wasn't a lot of opportunity for me to be around individuals or people that I could expose more heavily."
Disembarkation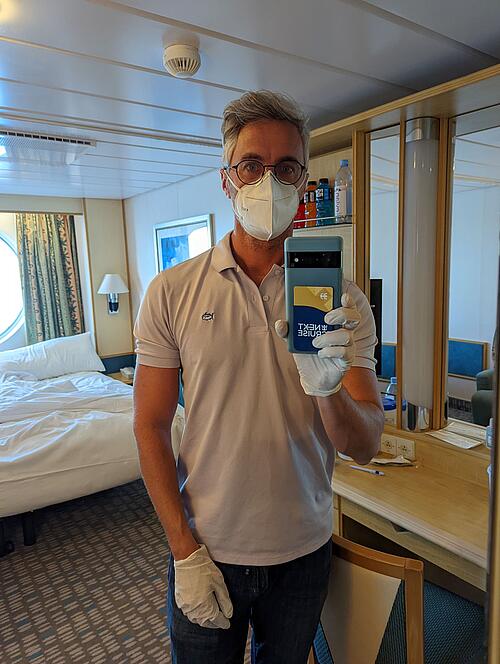 Getting Brandon off the ship and safely back home without exposing other crew members or passengers to Covid was the next step in his journey.
Brandon recalls the ship's Hotel Director called the night before the cruise ended to walk him through what would happen the next day.
On disembarkation day, Brandon said getting off the ship made him feel "a little bit like you're in the movie Mars".
He said he was among the last passengers to disembark the ship so that other passengers can disembark first, "They made sure everybody was off the ship and then they came to my cabin, knocked on the door and said, We're getting ready to escort you off."
He packed his bags and put them in the hallway, at which point his bags were wrapped in plastic wrap and put it on a luggage cart.
"Almost everybody's kind of dressed up and you're going through hallways with plastic."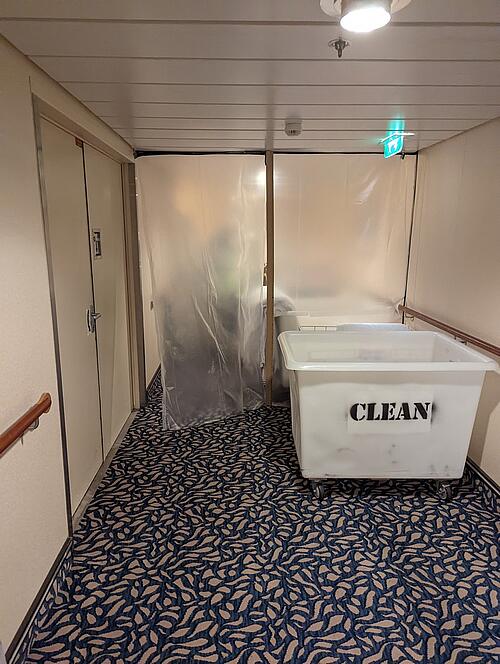 "I was really surprised at how many rooms were set up for the potential of quarantine on deck number two."
"I believe it was only me and one other gentleman who was unfortunately making use of these rooms, but there were a lot of rooms that were set up that I was able to walk by and kind of peek in all with the same setup that my current room had as well."
He walked off the ship from the deck 1 gangway instead of the gangway passengers usually use on deck 4.
At this point, a U.S. Customs officer met Brandon to process his paperwork.  He was then taken by private car to his vehicle in the parking garage.
"I was in good hands"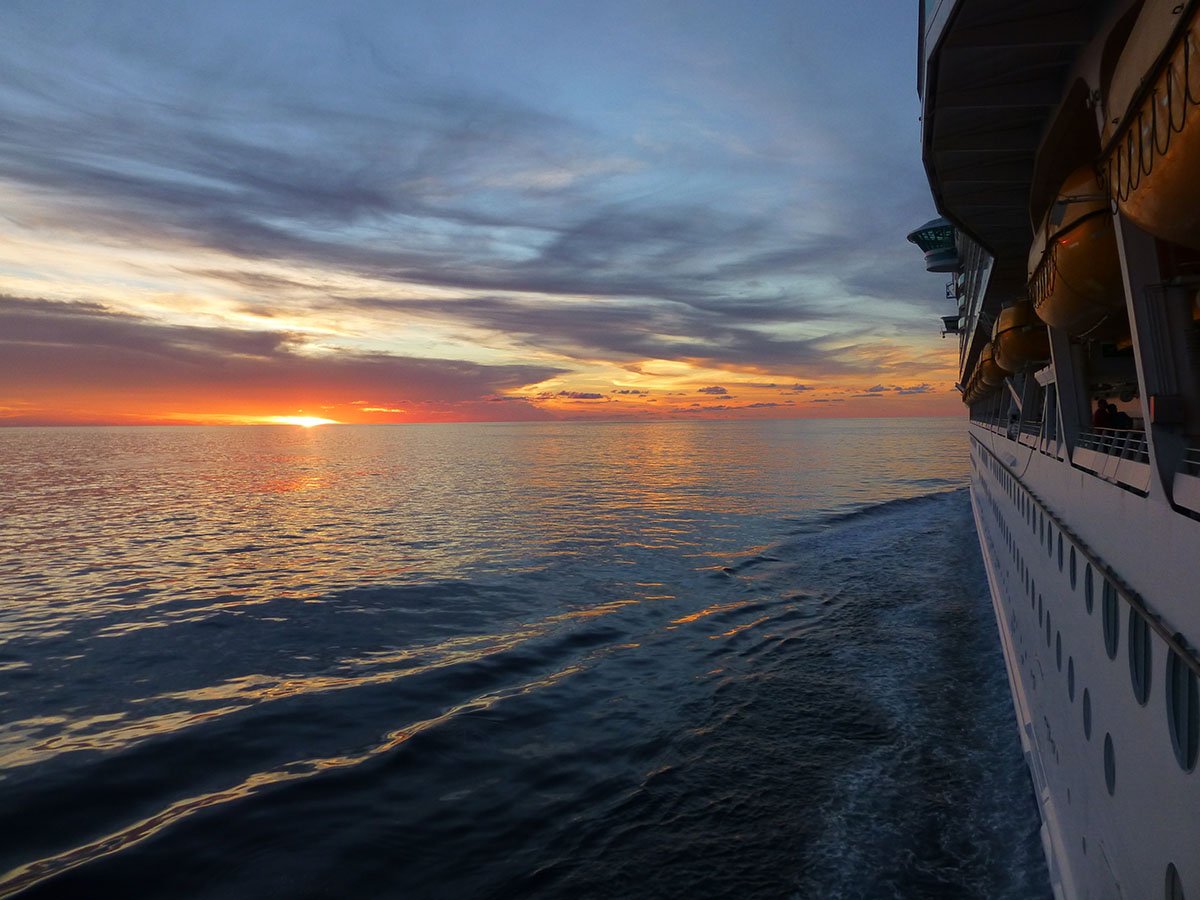 Looking back at what happened, Brandon was grateful to Royal Caribbean for taking such good care of him.
"I felt extremely well supported. They were communicative. They kept me in the loop on what was happening, and I got the sense that they knew what the next step was."
"They knew what the process was. They kept to whatever playbook or guidebook was that they have."
"And for me, as a passenger going through this quarantine Covid test experience, I felt really comforted knowing that all of that was taken care of. It was thought through and that I was in good hands."
Brandon's advice to anyone who is on a ship is don't be afraid to let someone know if you aren't feeling well, "Make sure that you are seeking medical treatment and not just waving it off. Just give it a whirl. Just see what they have to say.
"You might have to go through the quarantine experience, but you'll have the comfort in knowing you don't expose other people to it."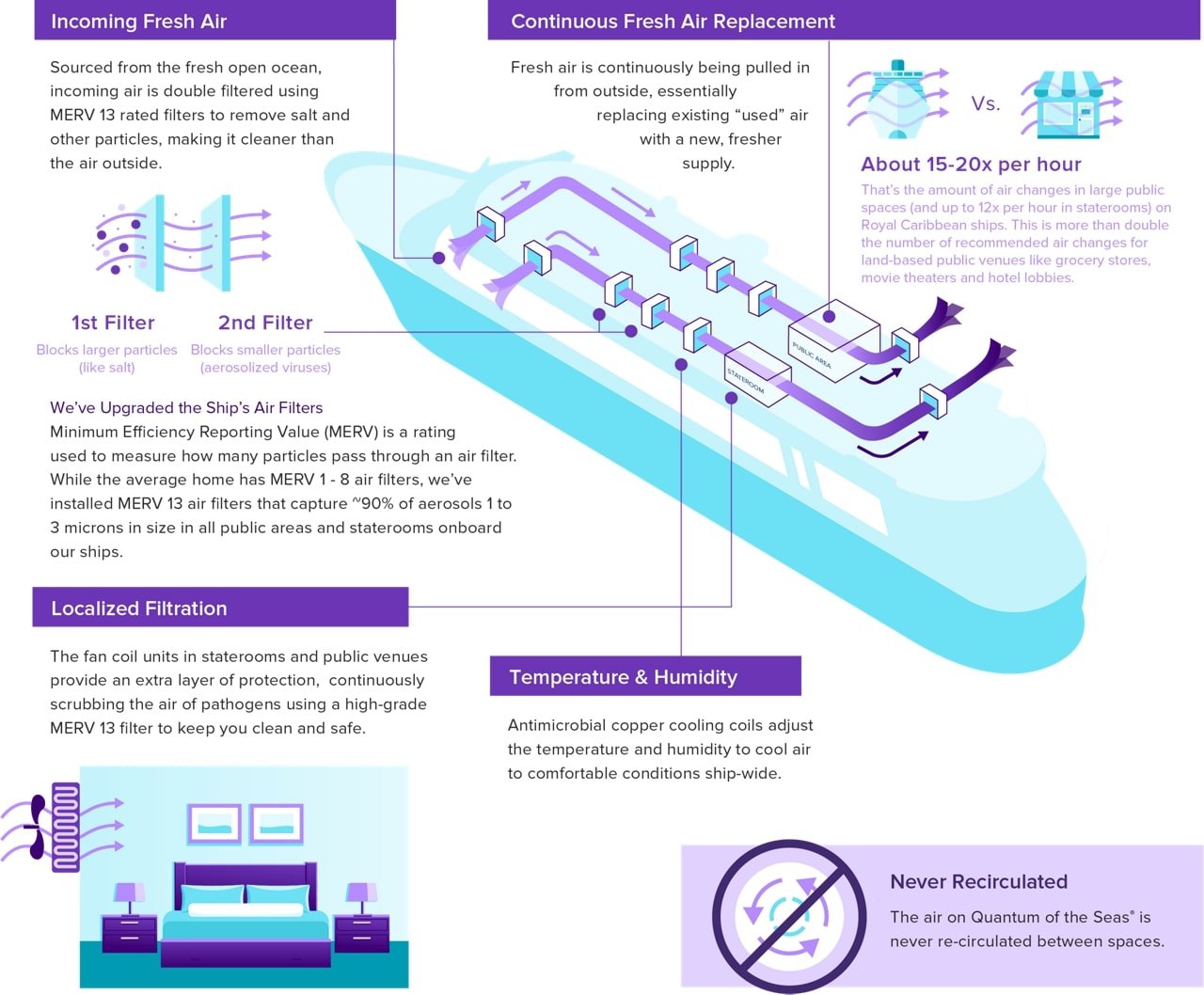 I asked Brandon having gone through the entire process, how he felt about getting back onboard a ship once he felt good again and tested negative.
"Being on a cruise still is a safe place to be."
"You can get Covid anywhere at the end of the day, and it's probably always going to be able to make its way onto the cruise ships. But it's reassuring to me to know that when that happens, they do have those policies and procedures in place."