In:
Royal Caribbean announced on Wednesday it was once again canceling most of its cruises through October 31, 2020 due to the current health crisis.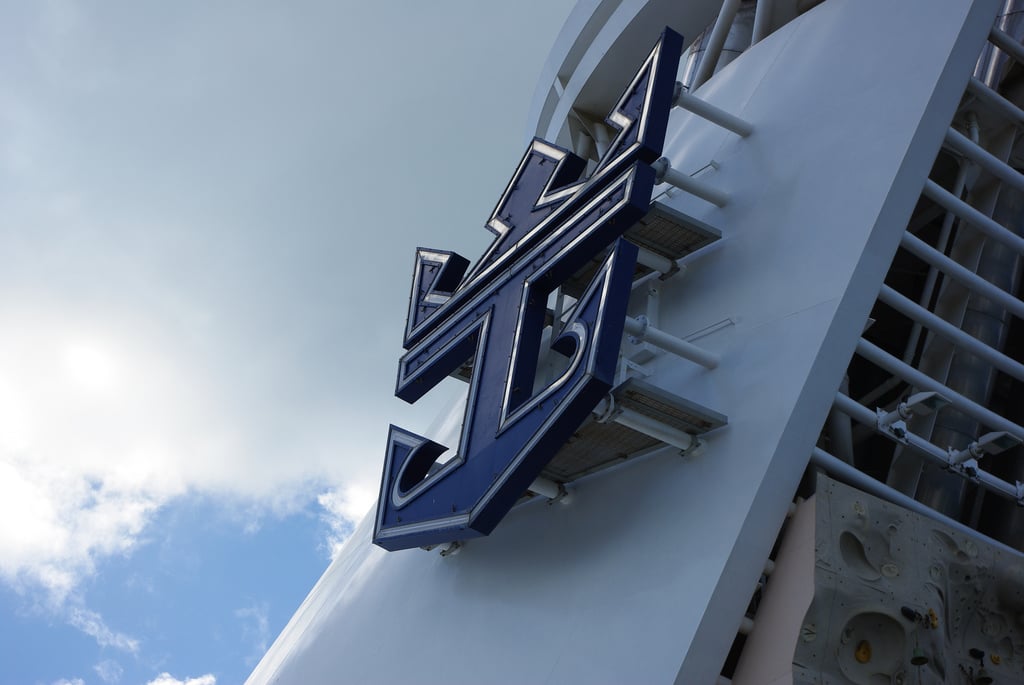 Cruise operations had been suspended through the end of September, but will now be extended an additional month, except for Australia sailings.
In addition, the remainder of the 2020 Europe season and the fall Transatlantic sailings have also been cancelled. This includes the planned 2020 President's Cruise on Allure of the Seas.
Royal Caribbean also added an an additional pause to their China itineraries through September 13, 2020.
Royal Caribbean hopes this additional time will allow them to work on their new safety measures.
Compensation
Guests affected by the cancelled cruises between October 1 - 31, 2020 have three options for compensation.
Lift & Shift: Select next year's sailing with the same itinerary type, sailing length, stateroom category, and within the same 4-week window of the original cruise date, and you can take your existing reservation and move it to next year.Option expires on August 20, 2020.
125% Future Cruise Credit: To account for the inconvenience this has caused, guests are eligible for a 125% Future Cruise Credit (FCC) that is based on the total cruise fare paid at the guest-level and will be automatically issued on-or-before September 14, 2020 — if neither of the other options is selected.
Taxes and fees, as well as any pre-purchased amenities or onboard packages will be automatically refunded to the original form of payment within 45 days from the cancellation date. 
If you previously opted to take advantage of our Cruise with Confidence policy, the 100% FCC will stand, and this new option is ineligible.
Additionally, if you redeemed your Cruise with Confidence Future Cruise Credit on a sailing that is now cancelled, their original FCC will be reinstated, plus 125% of any amount paid by the guest on the cancelled reservation.
FCCs for sailings between October 1 – 31, 2020, plus remaining 2020 Europe & Fall Transatlantic season can be expected via email no later than September 14, 2020.
Refund: If you prefer a cash refund, you can do so by requesting this option on-or-before December 31, 2020.
You can expect their refund to the original form of payment within 45 days from the cancellation date. 
If you redeemed a Cruise with Confidence Future Cruise Credit on an impacted sailing and would now prefer a refund instead, Royal Caribbean will process this request in the amount of any new funds paid above the original certificate and, in turn, will reinstate the Cruise with Confidence FCC for future use.
Cruise Planner Purchases: If you had purchased any cruise add-ons, such as shore excursions, drink packages, wifi and more, you could opt to convert your Cruise Planner purchases  to an Onboard Credit valued at 125% of the total amount paid. This offer expires on August 20, 2020.
Cancelled President's Cruise
Among the many sailings impacted by this recent round of cancellations is the annual President's Cruise.
In an email to guests, Royal Caribean International CEO Michael Bayley informed guests booked on the sailing that they had no choice but to cancel.
"This is disappointing news for you and me. The President's Cruise is a wonderful opportunity for all of us to come together and celebrate the cruise line we love, our incredible crew and each other — something we have been doing since 2016."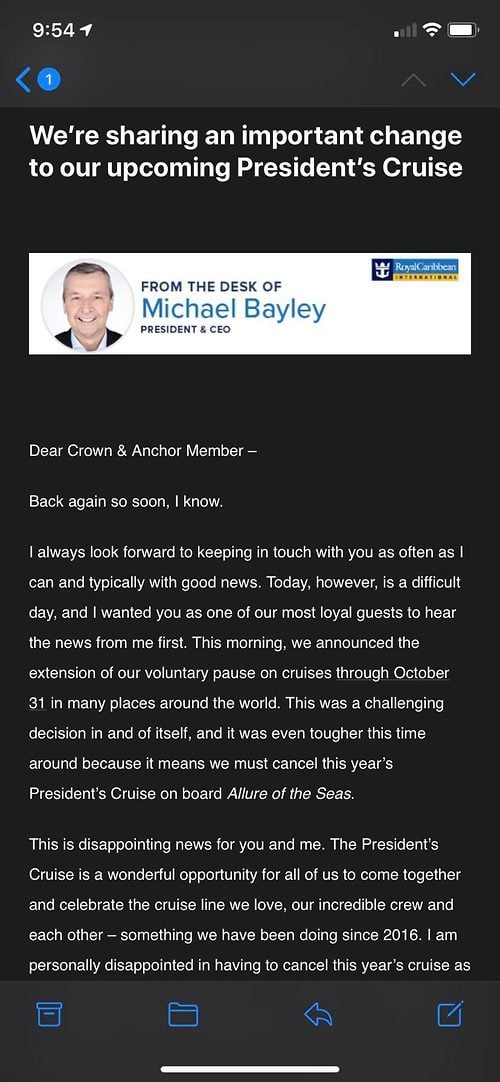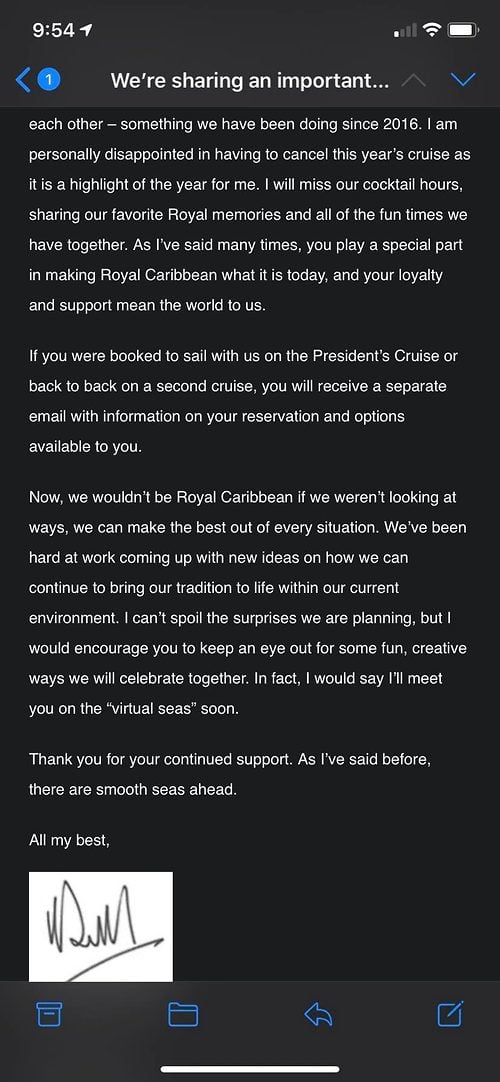 Mr. Bayley did allude to "new ideas" and other ideas the cruise line is working on for guests that will be announced at a later date.
"Now, we wouldn't be Royal Caribbean if we weren't looking at ways, we can make the best out of every situation. We've been hard at work coming up with new ideas on how we can continue to bring our tradition to life within our current environment. I can't spoil the surprises we are planning, but I would encourage you to keep an eye out for some fun, creative ways we will celebrate together. In fact, I would say I'll meet you on the "virtual seas" soon."