In:
Allure of the Seas is going to get some, but not all, of the refurbishment work beginning this week.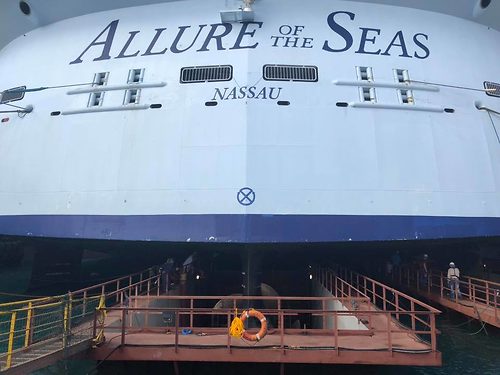 The ship is on her way to Cadiz, Spain for a "technical dry dock".  Allure will enter the Navantia Cádiz shipyard in Spain at the end of this week, and the work will take about 30 days.
Royal Caribbean was forced to postpone the work in March after Spain closed its cruise ports in March.
The amplification aspect of the work to be done is still being finalized, and Royal Caribbean will communicate an update when a plan is in place.
Spanish media is also reporting that the shipyard Commitee Chairman, José Gallardo, indicated Royal Caribbean has decided to postpone some of the upgrade work that was originally planned, and instead simply focus on the propulsion and navigation of the ship.
"La reforma del hotel no se va a hacer, algo lógico dada la situación del negocio de los cruceros, "Gallardo said. This translates to, "The reform of the hotel is not going to be done, which is logical given the situation of the cruise ship business."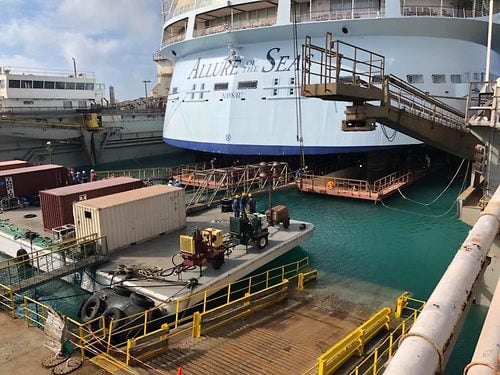 The work will be carried out by workers at the shipyard, with a focus on limiting the presence of foreign subcontractors.
Like so many other aspects of Royal Caribbean's business, plans for upgrades to Allure of the Seas (and Explorer of the Seas) were put on hold and now delayed until the company's financial situation can improve.
Royal Caribbean indicated last week it identified approximately $3.0 billion and $1.4 billion of capital expenditure reductions or deferrals in 2020 and 2021.
Planned upgrades for Allure of the Seas included the Ultimate Abyss, the tallest slide at sea; The Perfect Storm trio of waterslides, completely redesigned Adventure Ocean kids and teens spaces, the first Giovanni's Italian Kitchen & Wine Bar, and Music Hall.