In:
It appears Allure of the Seas scheduled $165 million amplification is on hold temporarily while all of Spain's ports are closed for at least two weeks due to the Coronavirus pandemic.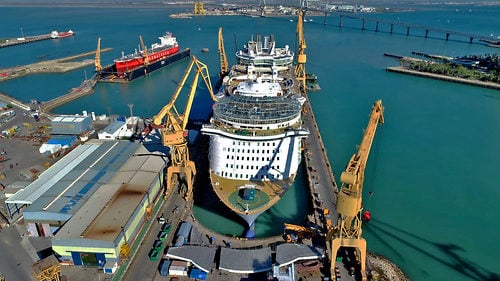 Oasis of the Seas in Cadiz, Spain during her 2019 Royal Amplification
Local media reports in Spain say that Allure of the Seas was scheduled to undergo the Royal Amplification at the Navantia shipyard in Cadiz, Spain, but that has been postponed.
Spain's Council of Ministers announced that in an effort to avoid Coronavirus, cruise ships from any origin will not be permitted to visit Spanish ports between March 13 and 26.
No official word by Royal Caribbean on the impact, if any, on the timetable for Allure to rejoin the fleet. The delay in work may be mitigated by a number of other Coronavirus travel restrictions and port closures in Europe that have the entire European cruise season in doubt.
Once the work begins, Allure of the Seas will undergo a 58-day, $165 million transformation that will add new features, including the Ultimate Abyss, the tallest slide at sea; The Perfect Storm trio of waterslides, completely redesigned Adventure Ocean kids and teens spaces, the first Giovanni's Italian Kitchen & Wine Bar, and Music Hall.
Allure was scheduled to resume sailings in May 2020 with 7-night Western Mediterranean cruises sailing roundtrip out of Barcelona.