In:
Royal Caribbean confirmed that while Allure of the Seas will no longer sail from Galveston in 2021, she will call Port Everglades in Fort Lauderdale home instead.
A day after Royal Caribbean announced due to pier construction delays in the Galveston terminal Allure of the Seas will not be able to call Galveston home because the current pier will unfortunately not be ready to welcome an Oasis Class ship. 
Royal Caribbean Senior Vice President of Sales and Trade Support & Service Vicki Freed confirmed that Allure of the Seas will instead sail from Port Everglades.
I'm sure you're likely wondering, "Now that the Allure of the Seas is not going to Galveston, where will she be going, Vicki?" Well, we're aren't really sure of her exact itineraries just yet, but it's been confirmed that she will sail from Fort Lauderdale in the winter of 2021 and 2022.
Royal Caribbean cited the new terminal delay was caused by the closure of shipyards along with the disruption to the supply chain. Thus, the cruise line decided to postpone construction of a new terminal in an effort to cut costs.
In addition, the upgrades and enhancements that were scheduled as part of the ship's Royal Amplification have been postponed until further notice.
Taking Allure of the Seas' place in Galveston will be Liberty of the Seas, which has been homeported there for years.
In order to accommodate guests who were booked on Allure of the Seas, the cruise line is working on rebooking guests into the "best available stateroom".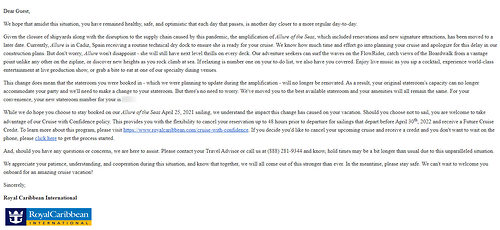 Prior to Allure's winter 2021-2022 season, Allure of the Seas will start out in Miami, then transition to Port Canaveral and then remain there until she moves to Port Everglades.