In:
The Port of Galveston met on Tuesday to approve Royal Caribbean's proposal to delay construction of its new cruise terminal by a year.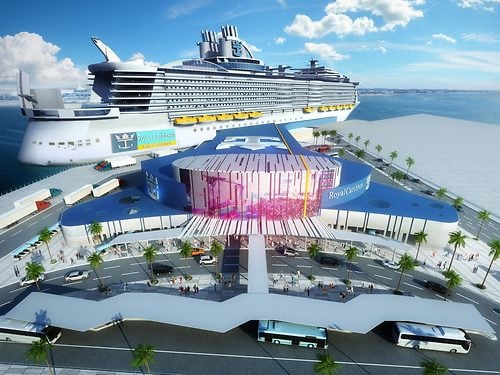 The Galveston Wharves Board Meeting took place on April 28, where the Board of Trustees took a vote on item E10 of the agenda, and voted 6 to 1 to approve Royal Caribbean's amendment to allow Royal Caribbean a one year delay in building Cruise Terminal 3.
The new target completion date for the terminal is September 1, 2022. Neither the Port nor Royal Caribbean wanted to cancel the contract and felt the best option was the one year delay.
The one dissenting vote expressed a desire to explore other options before committing a one year delay in the project.
In late March, Royal Caribbean asked the Port of Galveston to delay the start of the new cruise terminal by one year.
Terminal 3 will be built on 10 acres of land at Pier 10, and will be used by Royal Caribbean.
The plan for Terminal Three was announced in December 2019, with the added bonus of Allure of the Seas moving to Galveston to begin sailings shortly after the terminal opened in November 2021.
There was no verbal mention or discussion of one presentation slide indicating Anthem of the Seas possibly moving to Galveston at the current Cruise Terminal 2.