In:
Royal Caribbean has asked the Port of Galveston to delay the start of construction on a brand new cruise terminal by a year due to the COVID-19 pandemic.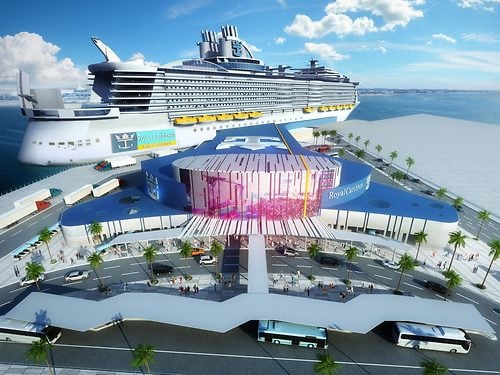 The Daily News reports Port Director Rodger Rees delivered the request to the Wharves Board of Trustees, and it will be discussed at an upcoming meeting on Tuesday.
Mr. Rees specified that the delay is not official yet and that the port and Royal Caribbean must agree on new terms.
In the early days of the pandemic, Royal Caribbean announced it was taking certain steps to improve its financial situation, including reducing capital expenditures.
Mr. Rees also indicated that Royal Caribbean wants to build the new terminal, just not this year.
In December 2019, Royal Caribbean and the Port of Galveston signed a long-term agreement to build a $100 million 150,000-square-foot cruise terminal.
Prior to this proposed delay, the new terminal was slated to open in November 2021.
The new cruise terminal will be big enough to handle Royal Caribbean's largest cruise ships, including an Oasis Class ship or the new Icon Class ships slated to debut in 2022.
In coordination with the new terminal, the cruise line was planning on homeporting Allure of the Seas in Galveston, beginning in 2021.