In:
Royal Caribbean and the Port of Galveston signed a long-term agreement to build a new cruise terminal at the Port of Galveston.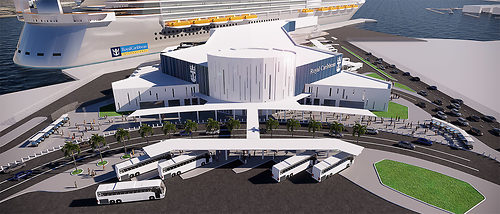 Rendering of the new cruise terminal design
The Houston Chronicle reports the agreement was approved by the Port of Galveston's board on Wednesday, and will result in Royal Caribbean investing around $100 million to construct the 150,000-square-foot Terminal 3, which is slated to open in November 2021.
The new cruise terminal will be big enough to handle Royal Caribbean's largest cruise ships, including an Oasis Class ship or the new Icon Class ships slated to debut in 2022.
The facility will feature state-of-the-art technology, including mobile check-in and facial recognition to expedite guest arrival. The terminal will be designed and developed sustainably to meet LEED (Leadership in Energy and Environmental) certification standards.
Royal Caribbean has strongly hinted at the possibility of an Oasis Class ship coming to Galveston over the last year. Moreover, Royal Caribbean's schedule for its Oasis Class ships is released through early 2022, with the exception of Allure of the Seas. Allure has no scheduled sailings currently available to book beyond November 2021.
Terminal 3 will be built on 10 acres of land at Pier 10, and will be used by Royal Caribbean, which will lease the terminal land for 20 years. The cruise line will then have the option of extending that lease for an additional 10 years, up to four times.
While some preliminary work has already begun on the terminal, construction of the terminal will begin in April 2020.
The port will be responsible for items including maintenance, a new surface parking lot, and improvements to the dock to accommodate the larger vessels. Royal Caribbean will help with the cost of improving the docks.