In:
Royal Caribbean announced today it has extended its global voluntary suspension of sailings through June 11, 2020 due to the COVID-19 pandemic.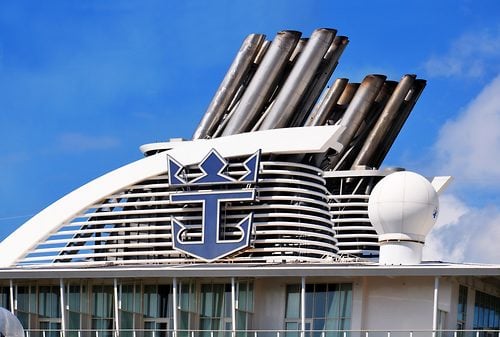 As a result of this new extension of cancelled sailings, Royal Caribbean expects to return to service on June 12, 2020.
This is the third time Royal Caribbean has cancelled sailings due to the health crisis, with the first set of cancelled sailings through April 10, then they cancelled all cruises through May 11.
Royal Caribbean had already cancelled all Canada, New England, and Alaska sailings through June 30, due to Canada closing all of its cruise ports.
There is a slight change to the policy on Future Cruise Credits for guests who had cancelled sailings between May 12 - June 11, 2020. They can choose between a 100% refund or 125% Future Cruise Credit. Future cruise credits must be redeemed by January 1, 2021 and sail by April 30, 2022. In addition, the deadline to request to change a future cruise credit to a refund deadline is December 31, 2020. 
Guests who had cancelled sailings between March 14 - May 11 must redeem their future cruise credits and sail by December 31, 2021.  They may request a future cruise credit to be changed to refund by December 31, 2021.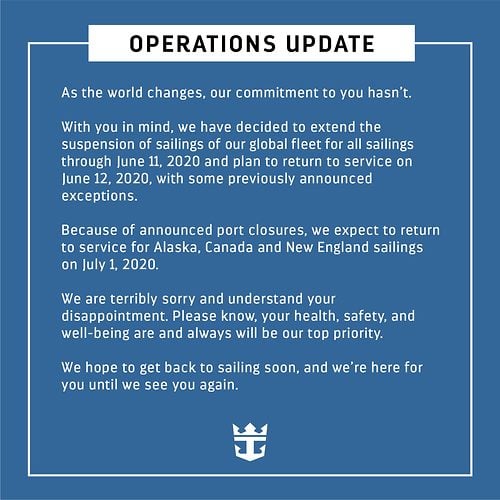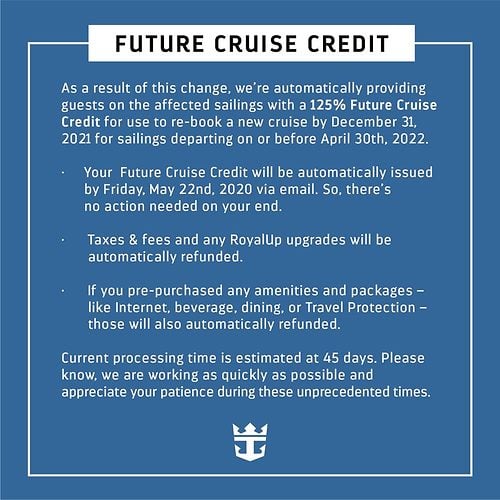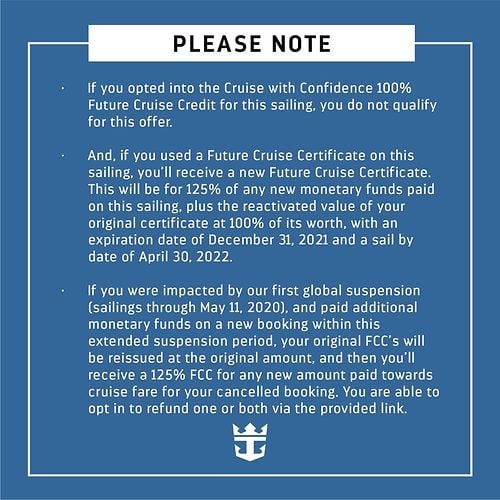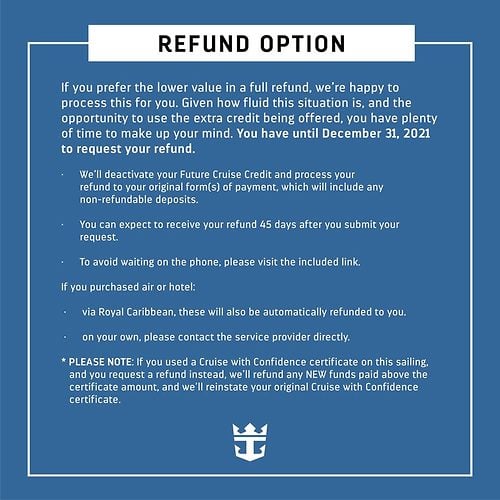 Any pre-purchased amenities and packages, such as internet, beverage, dining or RoyalUp upgrades, will be automatically refunded. Royal Caribbean Travel Protection will also be refunded.
Guests can opt-in to convert all Cruise Planner purchases into an Onboard Credit valued at 125% of the total amount paid. This offer is available to choose before it expires on May 4, 2020.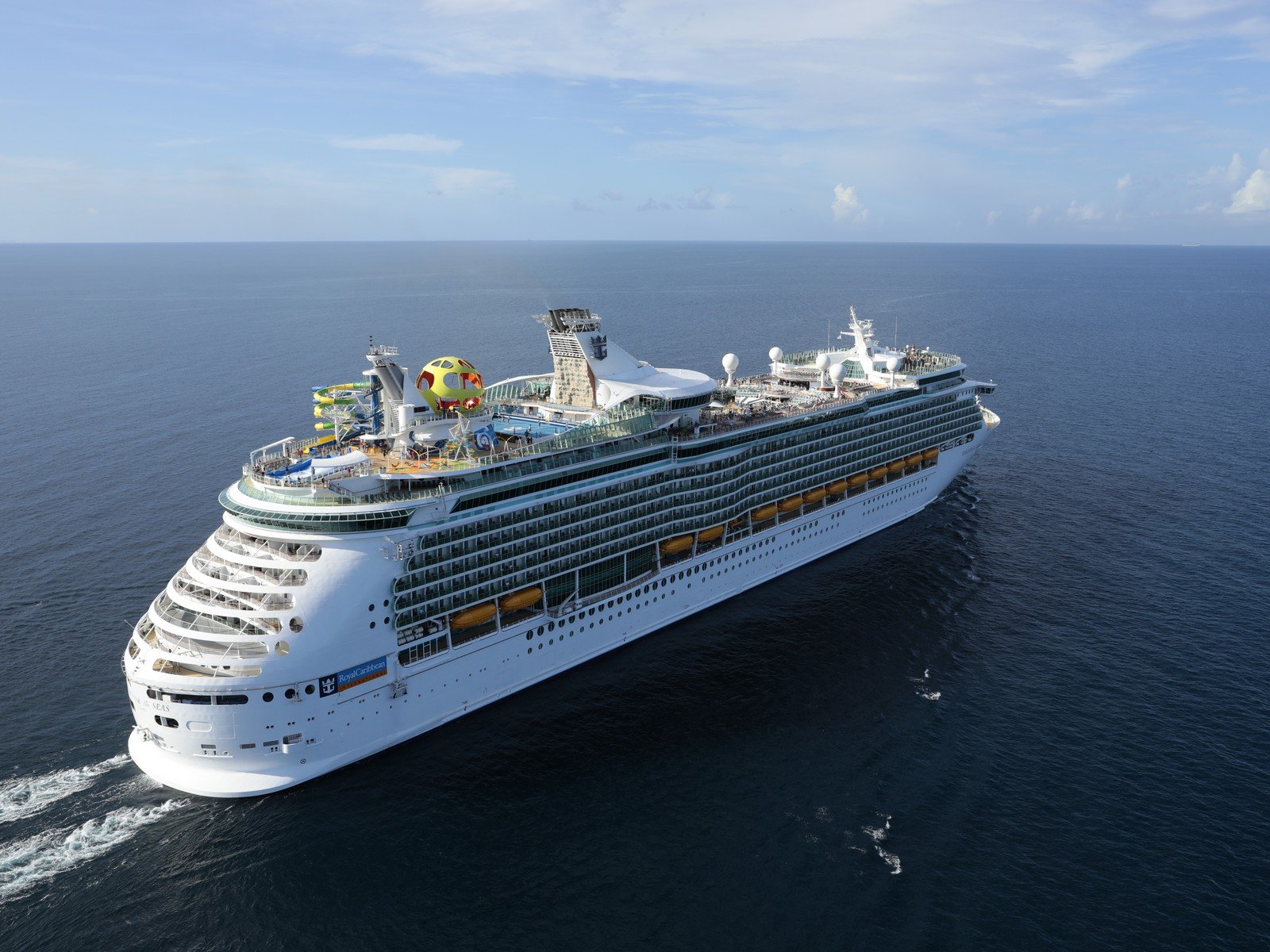 The announcement comes a day after Royal Caribbean reduced its U.S. workforce by 26%, and less than a week after the U.S. Centers for Disease Control and Prevention issued an extended "no-sail" order for cruise ships operating out of U.S. ports. The "no-sail" order could remain in effect through late July.
Competitor Carnival Cruise Line announced earlier this week it would cancel all of its worldwide sailings through June 30.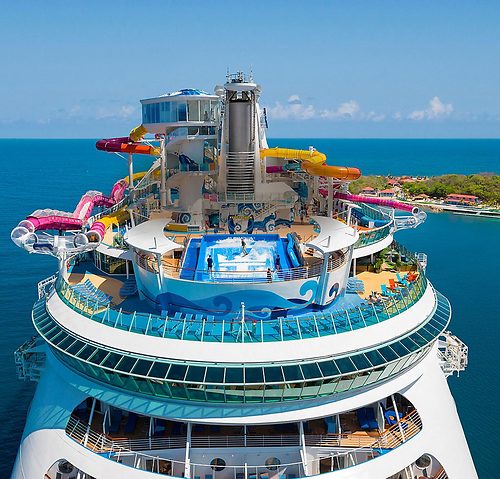 Helpful resources