In:
It may be hard to imagine, but it has been exactly one year since Royal Caribbean officially opened its revamped private island in the Bahamas, Perfect Day at CocoCay.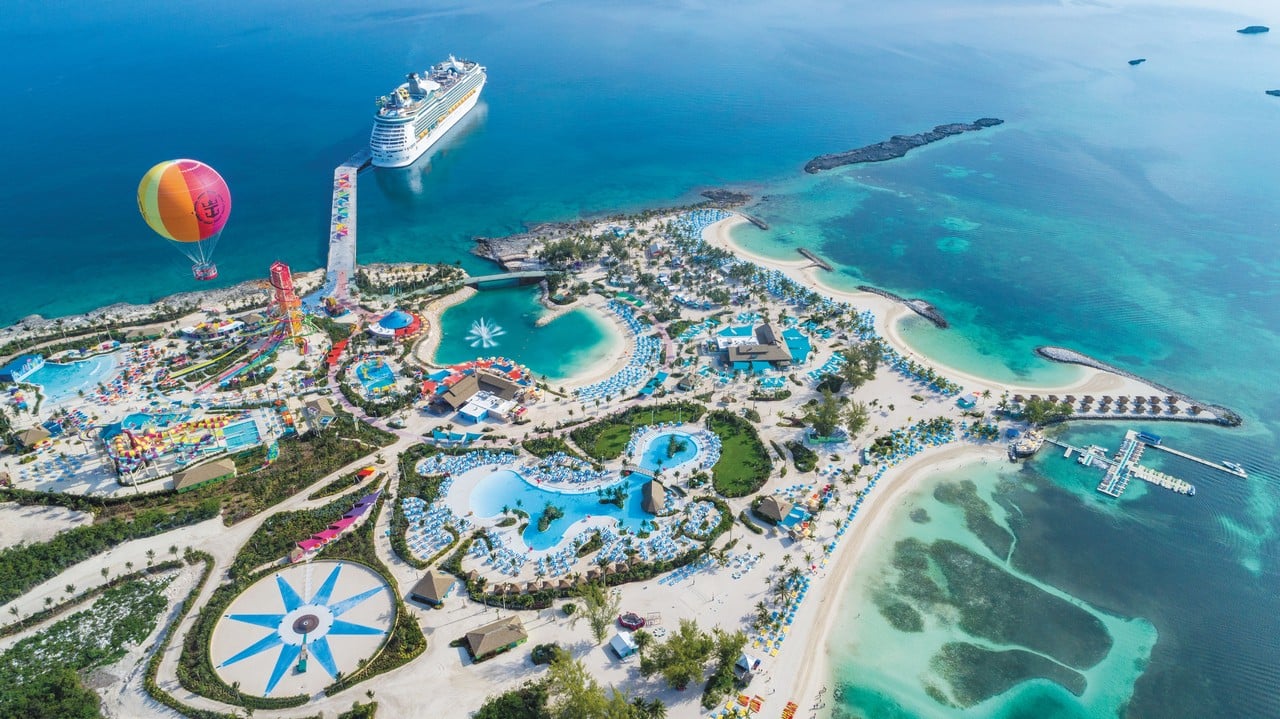 In the year since Perfect Day at CocoCay opened, it has quickly become a favorite destination of so many cruisers, even those who questioned the massive overhaul concept.
In celebrating the anniversary of the opening, I thought it might be fun to look back at the highlights from the first year of paradise.
The announcement
At a ceremony in March 2018 in New York City, Royal Caribbean announced its plans to expand its private island in the Bahamas, CocoCay.
The $200 million transformation (later it increased to $250 million) was part of an even bigger announcement to reveal the Royal Amplified fleet upgrades.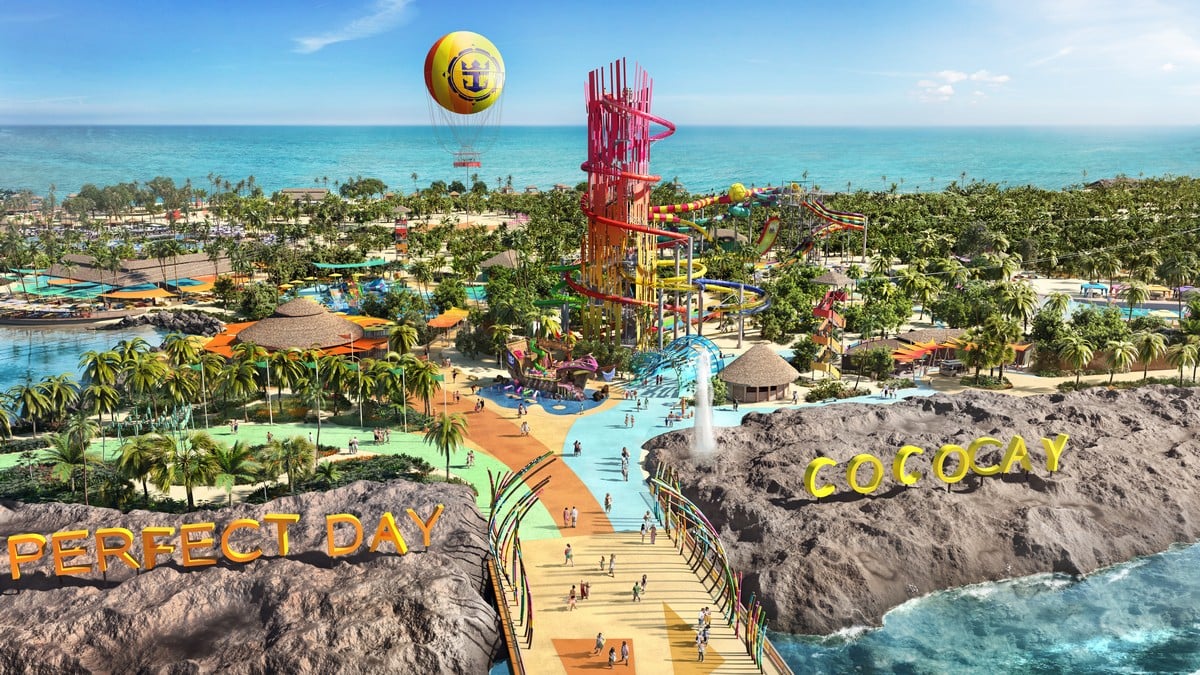 Originally, the timeline had an early opening in September 2018 with the completion of the pier, followed by the majority of the island will launch spring 2019. This timeline changed quite a few times in the months to come, but the objectives remained in tact.
Royal Caribbean hoped this destination would offer guests more than just a beach day experience.  A water park, zip-line, cabanas, dining venues, and even an upgraded luxury beach option were part of the initial plans.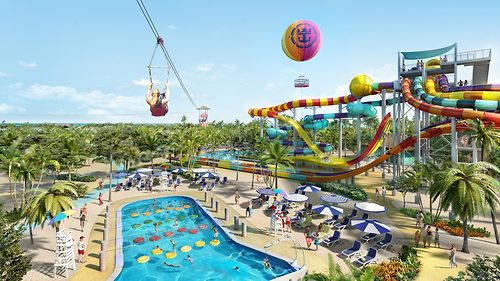 "It's true that our ships are technological and engineering marvels in their own right and offer a multitude of unexpected experiences; but our destinations are an equally important part of the cruise vacation," said Michael Bayley, President and CEO, Royal Caribbean International. "We are introducing the Perfect Day Island Collection to deliver the most memorable vacation for adventure seekers on land and on board our ships. Once completed Perfect Day at CocoCay will be the ultimate family destination in the Caribbean."
Pre-opening - March 2019
Royal Caribbean took a phased approach to opening its private destination, beginning with opening its new pier, along with the Oasis Lagoon pool, Snack Shack and Chill Grill.
On March 16, 2019, Mariner of the Seas docked at CocoCay, marking the first time a Royal Caribbean ship docked and disembarked guests on the island.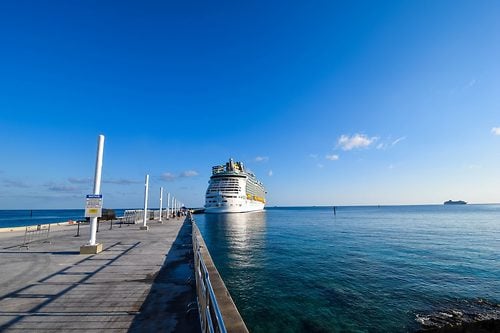 While the water park and other venues were still under construction, guests got their first look at what Royal Caribbean had in mind.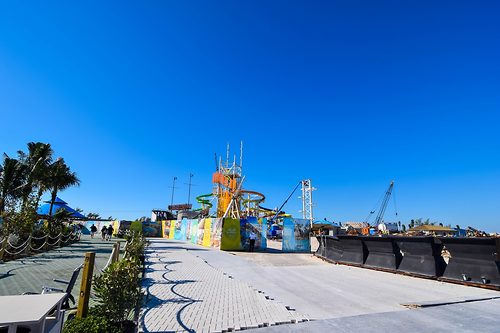 The largest freshwater pool in the Caribbean, Oasis Lagoon,offered a massive complimentary pool day for guests to enjoy. This included a swim-up bar, fountains and in-pool seating.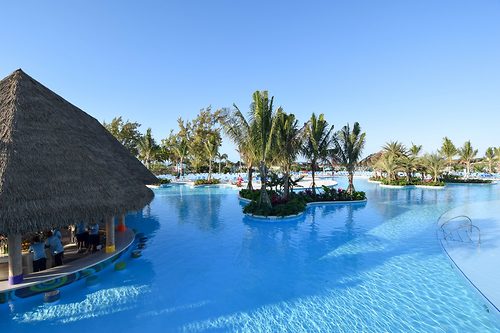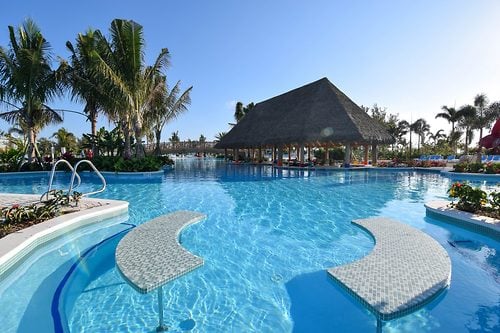 Two dining venues opened as well, Snack Shack and Chill Grill. These venues served up more than hot dogs and hamburgers, with the largest variety of private island food Royal Caribbean has ever had.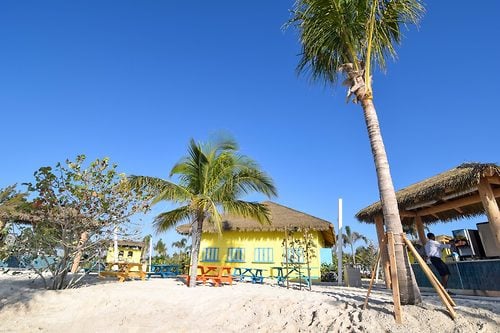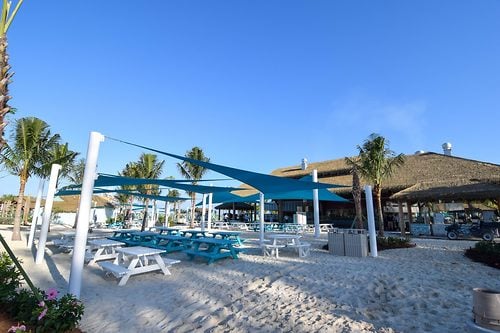 The Artisan Market was also revamped and opened, where Bahamians could sell guests their many wares in a straw market environment.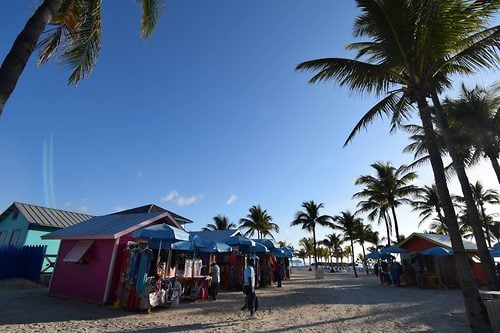 April 2019 - Splashaway Bay and Skipper's Grill open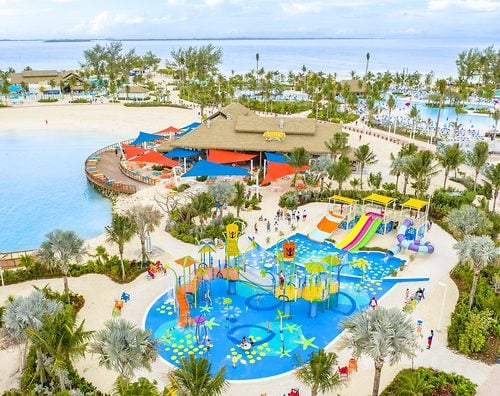 A few short weeks after the initial venues opened, Royal Caribbean opened up two new areas: Splashaway Bay and Skipper's Grill.
Splashaway Bay is a complimentary aqua park for kids that features geysers, drench buckets, sprays and more. A complimentary option, it is a real hit with younger kids who enjoy non-stop splashing.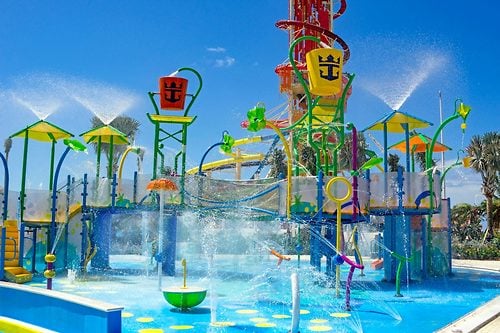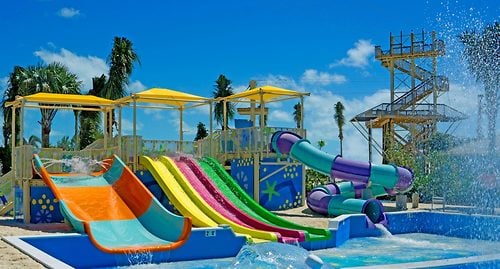 Skipper's Grill is another complimentary dining option on the island that provides lunch and snacks to guests.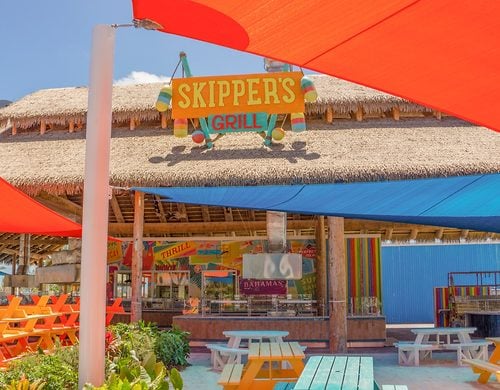 In addition to the newly opened venues, it appears Royal Caribbean has expanded its Voom internet access to the island, marking the first time any of its private destinations offer internet access on the island.  
Up, Up and Away goes up for the first time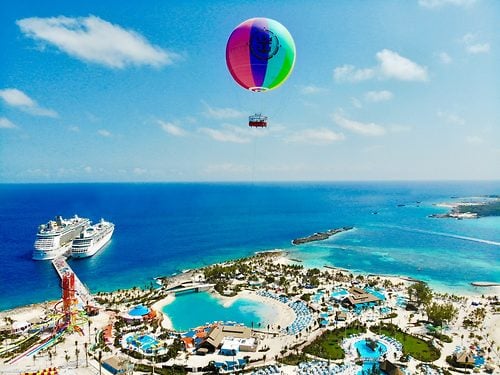 About a week later, one of the signature attractions Royal Caribbean added to Perfect Day at CocoCay launched.
The Up, Up and Away helium balloon takes guests 450 feet above Perfect Day at CocoCay, providing the highest vantage point in The Bahamas.
May 4 - Grand Opening of Perfect Day at CocoCay
Fourteen months after being announced, Royal Caribbean officially opened Perfect Day at CocoCay.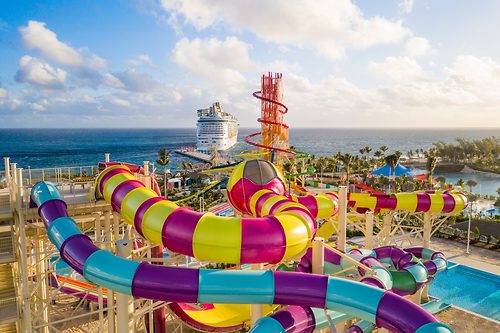 Guests sailing on Navigator of the Seas were welcomed to Perfect Day at CocoCay, where a number of new venues, activities and offerings were officially open for guest use.
Among the many options now available to guests, Thrill Waterpark was highly anticipated and open as well.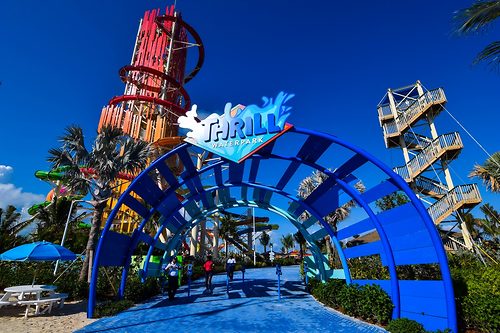 Thrill Waterpark is home to Daredevil's Tower, where guests can try a number of single-rider waterslides of various heights, including the 135-foot-tall Daredevil's Peak – the tallest waterslide in North America.
Additional highlights are the twin Dueling Demon drop slides, launching riders from a vertical position; the Manta Raycers, where friends can race down twin open flume slides; the high-speed, fully vertical Screeching Serpent; and the coiling Green Mamba, a massive aqua tube slide.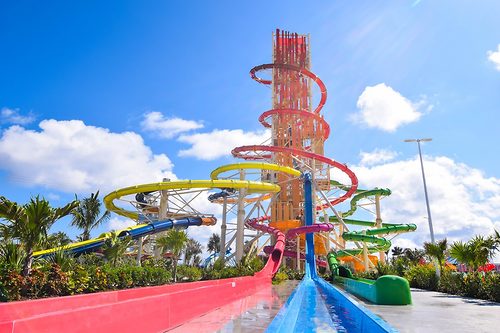 Younger kids could enjoy the complimentary Captain Jill's Galleon, which is an interactive play structure loaded with swashbuckling thrills.
Royal Caribbean also revamped its beach offerings with the dedication of Chill Island.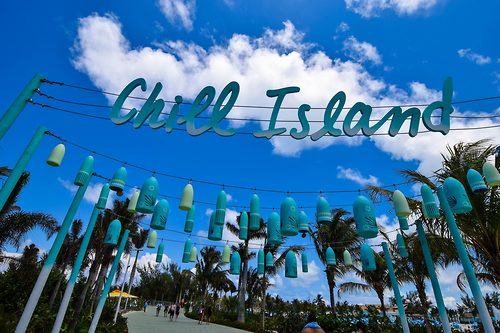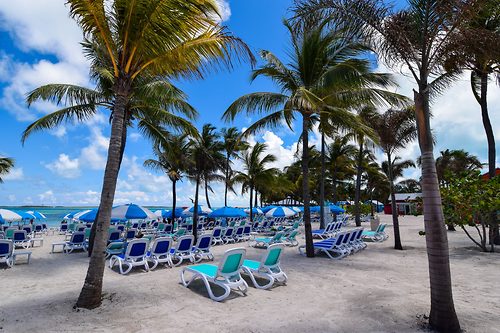 The 1,600 foot zipline opened as well, marking yet another fun activity for families to try.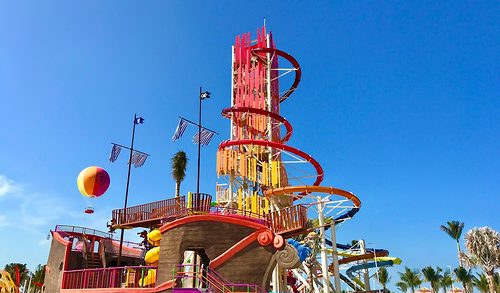 Summer 2019: Late night stays & Two-stops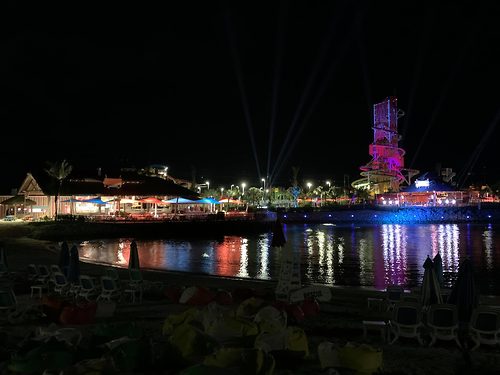 Off the bat, Perfect Day at CocoCay was such a hit with guests that Royal Caribbean announced it would add select sailings that visit Perfect Day at CocoCay twice, along with late night stays.
Beginning September 30, 2019, Royal Caribbean began to offer 4-night itineraries to the private island destination across nearly 40 sailings.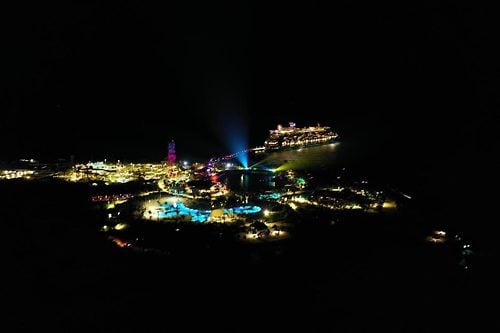 In addition, three one-of-a-kind cruises with late-night visits to the island were offered on Navigator of the Seas. These visits included traditional Bahamian-inspired activities, including a Junkanoo Jam Up Party, an island barbeque and performances by a calypso band and fire dancers, topped off with unforgettable farewell fireworks before setting sail.
The official beer of Perfect Day at CocoCay!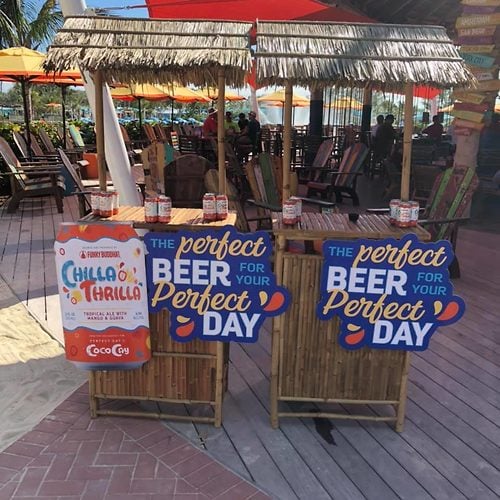 In the fall, Royal Caribbean teamed up with Funky Buddha Brewery to create an exclusive beer for Perfect Day at CocoCay.
The Chilla Thrilla beer is available only at the island, and offers a fun and different option for guests to enjoy while spending the day there.
Coco Beach Club opens - January 2020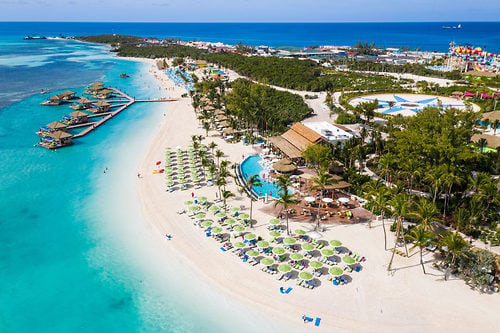 The final phase of Perfect Day at CocoCay opened on January 31, 2020 with the grand opening of the Coco Beach Club.
The Coco Beach Club is a exclusive area of Perfect Day at CocoCay that offers an oceanfront infinity pool, upgraded cuisine and the only floating cabanas in the Bahamas. Plus, there is a complimentary restaurant at Coco Beach Club featuring lobster, snapper, and steak— plus a buffet of soups, salads, and starters.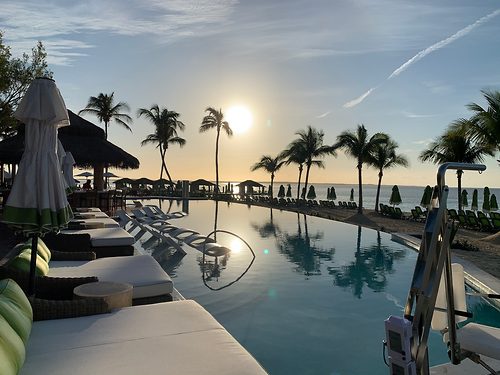 Entry to the Coco Beach Club requires an additional cost. Guests can choose between a day pass to the Coco Beach Club, as well as the option to reserve a cabana or floating cabana.
The attention-grabbing floating cabanas also debuted, which sought to bring a bit of Bora Bora to the Bahamas.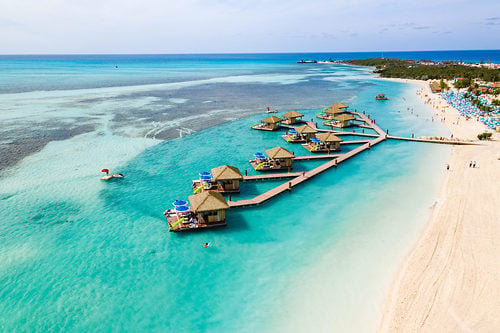 The 20 luxurious cabanas feature a private slide into the ocean, overwater hammock, dining area, freshwater shower, wet bar and an unbeatable ocean vista.
Have you visited Perfect Day at CocoCay yet? What is your favorite spot on the island? Share your memories, tips and advice in the comments!