In:
One of the first Royal Caribbean cruise ships has been scrapped.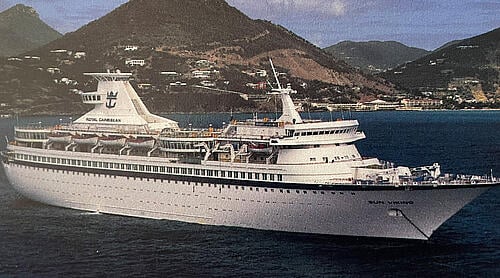 According to a report by The Maritime Executive, the ship formerly known as the Sun Viking was beached this week in Pakistan to be broken up and recycled.
The ship had mostly recently been operating as the Oriental Dragon, where she operated as a a gambling ship in Hong Kong and Penang, Malaysia.
A part of Royal Caribbean's roots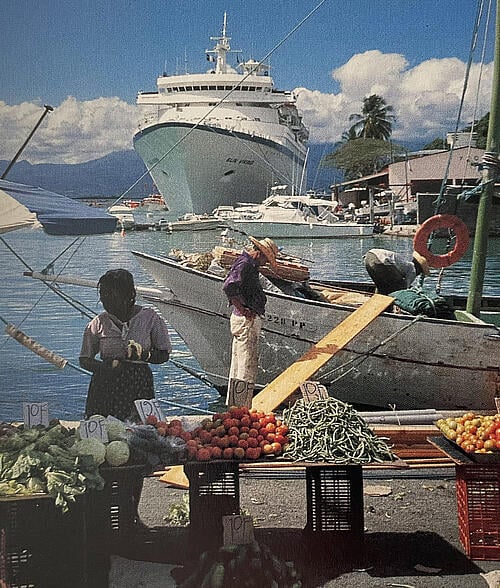 Sun Viking was one of the three original cruise ships ordered by Royal Caribbean Cruise Lines as part of their early fleet.
Sun Viking was the last of the original Royal Caribbean ships to launch when the company was first formed in the early 1970s.
With two vessels in service, Royal Caribbean waited another year for its third. Her first keel plates had been laid on May 18, 1971, with completion scheduled for December of the following year.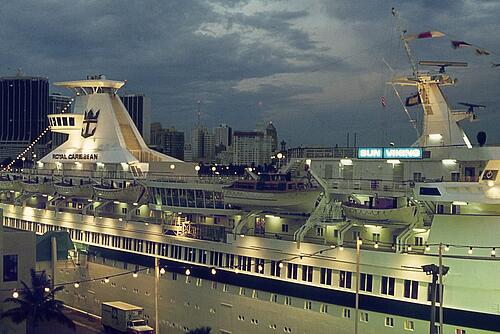 Photo by Glenmore1971
Contractually, Sun Viking's general arrangement differed from that of her predecessors. Although her underwater dimensions were identical, forward above the waterline she had been changed. The bow was a deck higher, allowing seven more passenger cabins.
The bridge screen as well as the verandas flanking the pool had been given a rounder, more streamlined form, and the painted blue waist encircling the hull has been raised, nestling directly beneath the public-view rooms. Her external look was, admittedly, more "massive" than the first two, but overall, the profile seemed an improvement.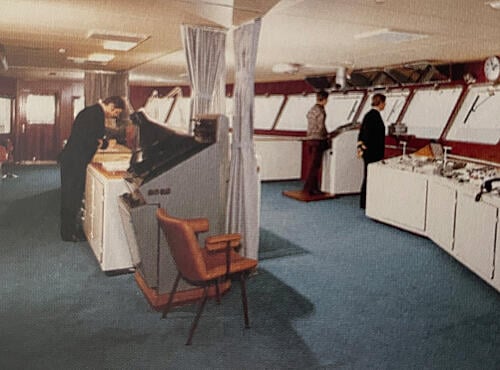 The ship was 18,000 tons (compared to Wonder of the Seas, which has a gross tonnage of 236,857t) and had a capacity of 724 passengers.
She was named Sun Viking by Bergljot Skaugen, who was Sigurd Skaugen's wife. Sigurd Skaugen was one of the Norwegian families that formed Royal Caribbean in the late 1960s.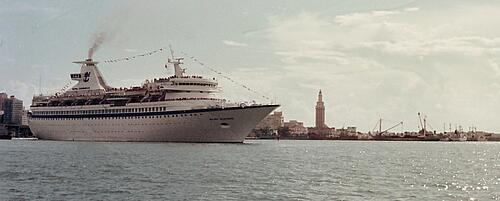 Photo by Terry Hammonds
She entered service in 1972, and like Song of Norway and Nordic Prince, was purpose built for Caribbean cruising instead of being a converted ferry or ocean liner.
Sun Viking would not only sail the Caribbean waters, but also offered 7-night cruises to the Mexican Riviera as well as being homeported from San Juan, Puerto Rico.
Departure from Royal Caribbean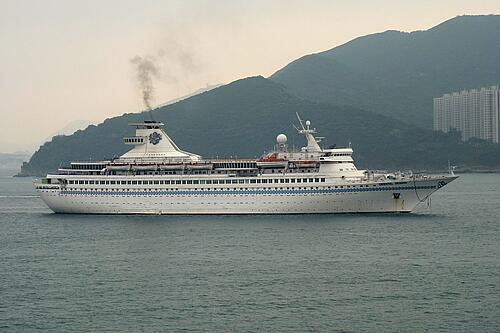 Photo by Joseph Hollick
She would sail with Royal Caribbean for 26 years until the late 1990s when she was sold to Star Cruises.
The last Sun Viking cruise sailed in 1998.
She was renamed the SuperStar Sagittarius, and then went on to operate and be sold to other lines as a gambling ship.
She was later renamed Hyundai Pongnae in 2003, sailing for the Hyundai Merchant Marine Company, before being renamed Omar III for Asia Cruises
Her final years were spent in Penang, Malaysia.