In:
A piece of Royal Caribbean's early history is headed to the trash heap.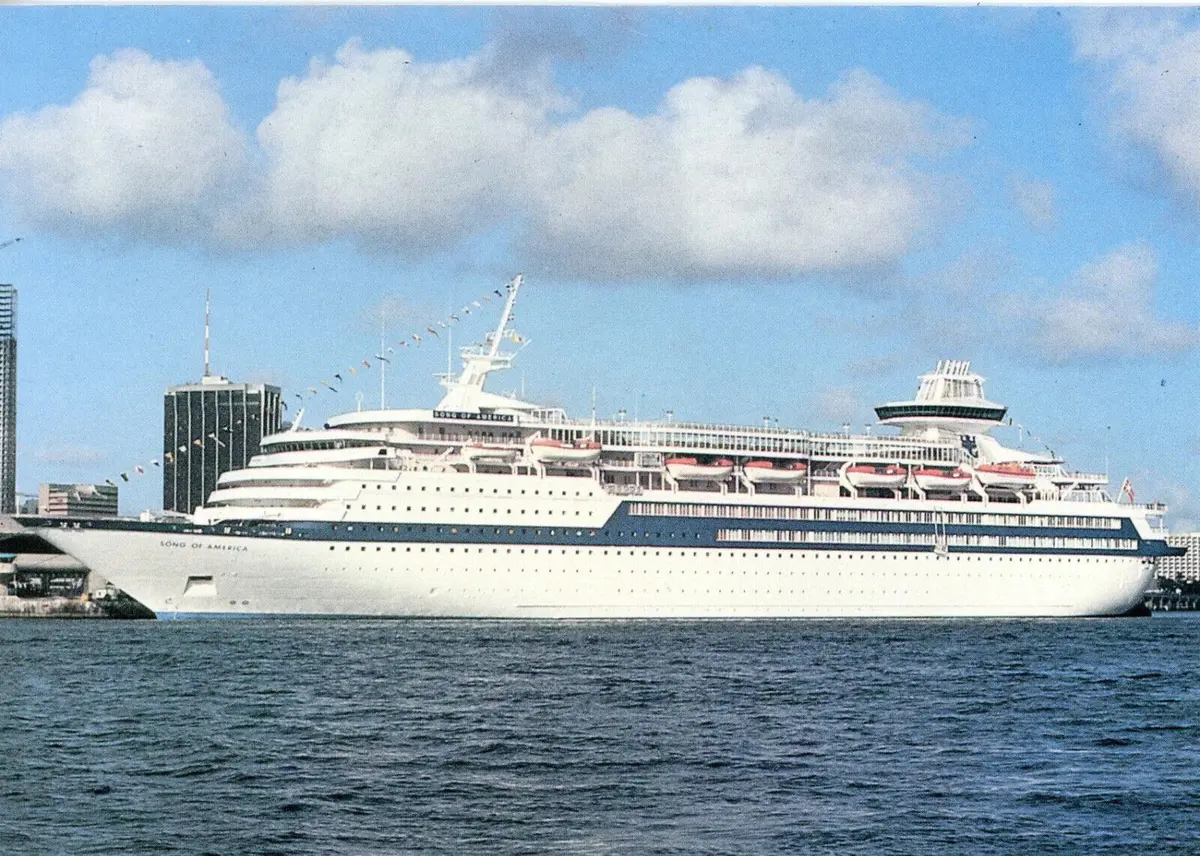 Celestyal Cruises confirmed it is going to scrap Celestyal Olympia, which started her cruising life as Song of America.
Song of America was Royal Caribbean's fourth ever cruise ship.
Evidently the old ship will be replaced by a ship that Celestyal just bought that was built in 2003. The 42,000 ton ship from AIDA Cruises will take over offering short three- and four-night cruises around Greece.
Up until now she was the last of Royal Caribbean's original fleet to still be in service somewhere.
Read more: What happened to Royal Caribbean's first cruise ships?
Ordered in 1979 and built in 1982, Royal Caribbean's Song of America cruise ship was over twice the size of Sun Viking at 37,584 GT. Song of America had a capacity of almost1,500 people, and was one of the Royal Caribbean's largest ships at the time.
At the time of her launch, she was the third largest passenger vessel afloat.
She was built at the Wartsila shipyard in Helsinki, Finland.
She was the first ship to be built with the Viking Crown Lounge providing 360 degree views around the ship.
Read more: 8 ways Royal Caribbean changed the cruise industry
Song of America's expanded sun bowl, featured for the first time on any Royal Caribbean ship, two swimming pools.
Another first for Song of America was the first ship to introduce the concept of putting staterooms towards the front of the ship and public spaces towards the aft so that cabins were furthest from the ship's engines.
Song of America initially sailed Caribbean cruises from Miami to Nassau, San Juan, and St. Thomas, but she later ran cruises from New York to Bermuda.
She spent 17 years with Royal Caribbean until 1998 when Song of America was sold to Sun Cruises, although the ship was chartered back to Royal Caribbean until 1999.
Renamed the MS Sunbird, the former Song of America was based in the Mediterranean. She was sold to Louis Cruise Lines in 2004 and operated under the name MS Thomson Destiny.
In 2012, she began operating under the name Louis Olympia, homeporting from Piraeus, Greece.
In 2014, Louis Cruise Lines re-branded to become Celestyal Cruises and the ship was renamed Celestyal Olympia.
A launchpad for the future
In many ways, Song of America was the catapult Royal Caribbean would use to reach the modern era of cruising.
While the 1970s had been a boon for Royal Caribbean, the 1980s were a slower time for the company. Royal Caribbean wanted to recapture the leadership edge it had achieved in the early 1970s.
In 1984, Royal Caribbean had 11% of the cruise market share, whereas NCL had 14% and Carnival had 15%.
The success of Song of America led the cruise line to ponder what would be next. Economies of scale, already realized onboard Song of America, were clearly the wave of the future.
Miami management felt that if anything, they should proceed cautiously, producing a slightly larger Song of America with a 1,600-passenger load. But the committee overseeing the construction of a new ship argued for even greater expansion, constructing a larger ship altogether. 
That larger ship would end up being Sovereign of the Seas, and Song of America was used as a base for where to start planning such a ship.
The passenger count, which started at about 1,800, would be 2,673 total occupancy, more than double of Song of America's capacity.
Sovereign would also inherit the Viking Crown Lounge concept that was first introduced on Song of America.