In:
In search of a cheap cruise? Some of the lowest cruise fares can be found on sailings booked at the last minute. Whether a 3-night weekend cruise or 15-night transatlantic, it's possible to find cheap last-minute cruises at any point during the year.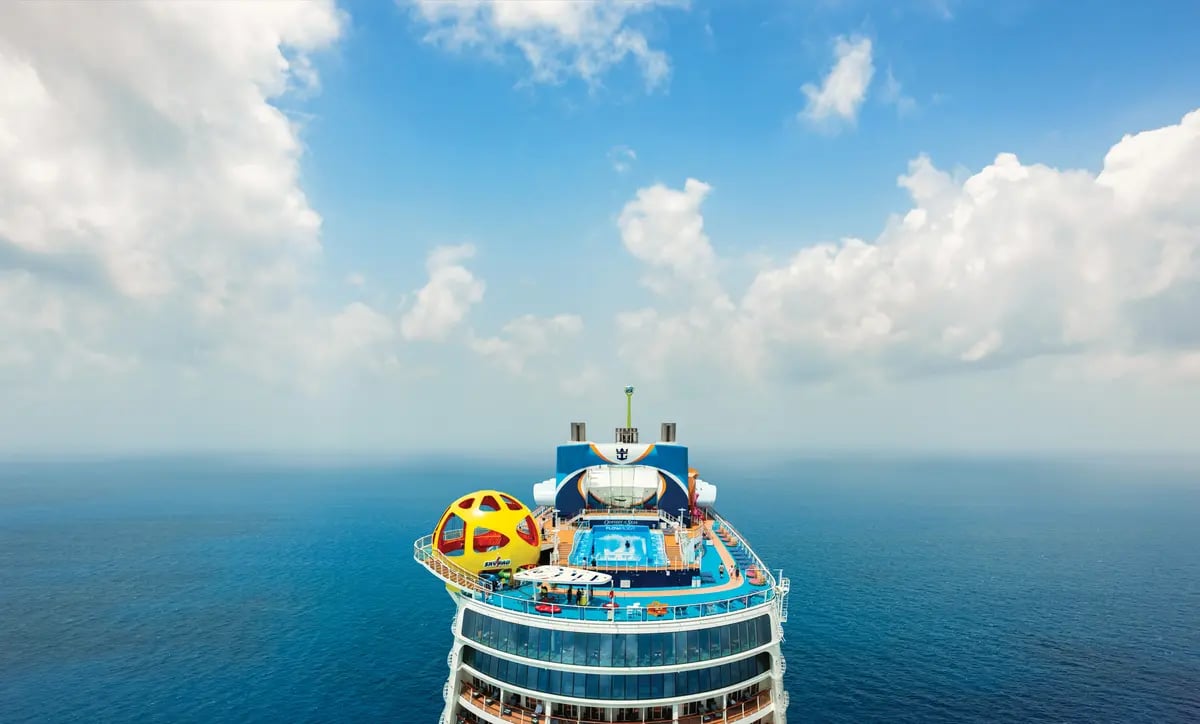 Last-minute cruises refer to any cruise departing within the next 90 days. Most cruise lines require final payment to be made 75-90 days before the cruise departs, and if they haven't sold enough cabins by this point, the price may drop.
The trick to finding a cheap last-minute cruise deal is to remain flexible. If you keep your mind open to a wide variety of destinations, ships, and sail dates, you can almost always find a great deal.
The good news is that finding cheap last-minute cruises is easy. Several websites provide detailed lists of cheap cruises you can book, and little effort is required in order to find the best and most affordable cruises.
Here are our favorite ways to find cheap last-minute cruises.
Royal Caribbean website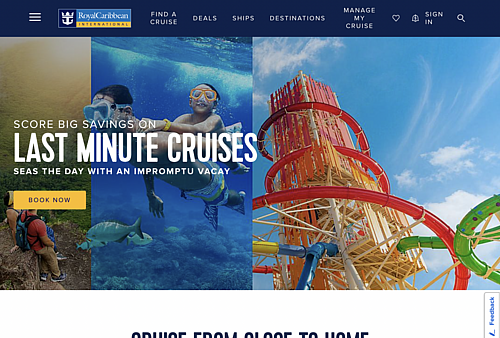 The most straightforward way to find last-minute cruises on Royal Caribbean is directly on the cruise line's website. Royal Caribbean's website has a Last Minute Cruises page where they list the best deals on cruises.
Last-minute deals are organized by port and destination, and you can search for last-minute deals to the Bahamas, Caribbean, Mexico, and Alaska. Royal Caribbean will list their best last-minute cruise deals on this page, so be sure to check periodically for any new sailings that pop up.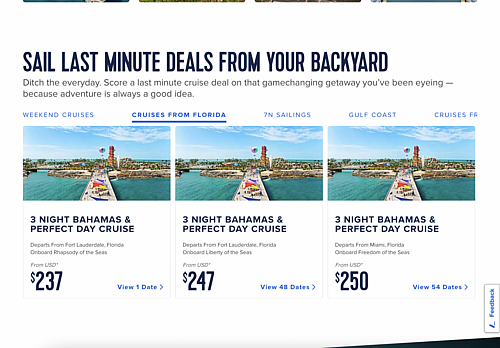 Related: How to find the cheapest cabins on Royal Caribbean
However, you can also use Royal Caribbean's traditional search engine to find last-minute cruises. Filter the cruise dates to sailings within the next few months and change the results to populate from "Price lowest to highest."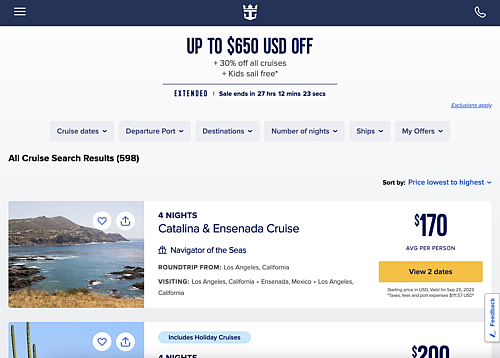 By doing this, you can see a list of the cheapest cruises departing in the next few months. You can also filter by departure port, destination, number of nights, and ships.
Going, Going, Gone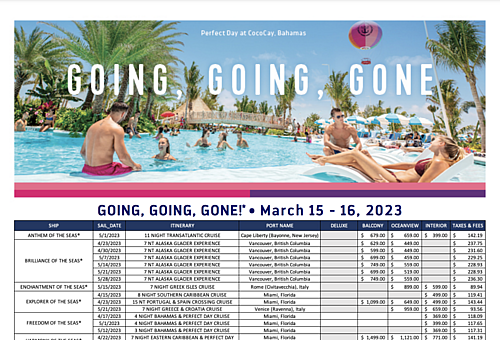 Another way to find cheap last-minute cruises on Royal Caribbean's website is the Going, Going, Gone flyer. This flyer is published weekly (usually late Monday) by Royal Caribbean and lists cruise deals departing within the next few months.
You can find the flyer on Royal Caribbean's website here.
The flyer lists the ship name, sail date, itinerary, embarkation port, and special rates for cabins. Not every cabin category will offer a great deal on the flyer—one sailing may offer a cheap deal on a balcony cabin whereas another has a promotion on interior or oceanview cabins.
Suite deals, however, are not found as often as standard cabin categories.
We recommend checking the Going, Going, Gone flyer late Monday night or early Tuesday morning. The flyer is not updated throughout the week, so certain sailings and cabin category promotions can sell out quickly.
Vacations to Go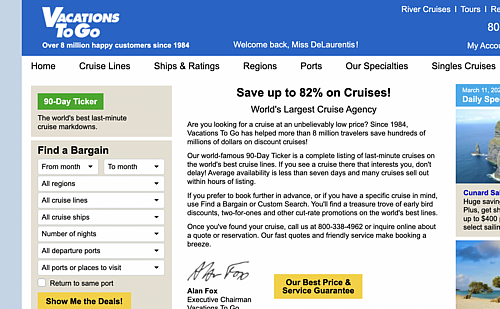 Vacations To Go has what they call a 90 Day Ticker on their website, and this is one of the easiest places to find all last-minute cruise deals in one place. All cruises on the 90 Day Ticker set sail within the next 90 days, allowing you to make the most of any cheap cruise deals available.
On the ticker you'll find a long list of sailings organized by destinations around the world. Destinations include Alaska, Antarctica, the Arctic, Asia, Australia and New Zealand, the Caribbean, Europe, the Middle East, the Pacific U.S., the Panama Canal, South America, transatlantic, and transpacific cruises.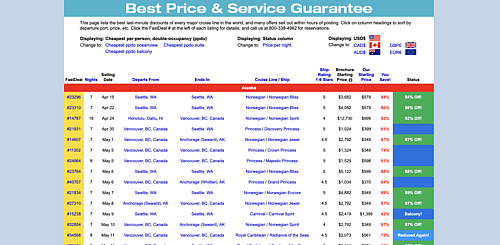 Under each destination is list of cruises with the following details in each row:
Number of nights
Sail date
Embarkation and disembarkation ports
Cruise line and ship name
Ship rating
Price
The 90 Day Ticker lists cruises for a number of cruise lines, from mass market lines like Royal Caribbean to more upscale lines like Silversea. At the top of the ticker, you can click on each column name (Nights, Sailing Date, Cruise Line, etc.) to filter the results in alphabetical order.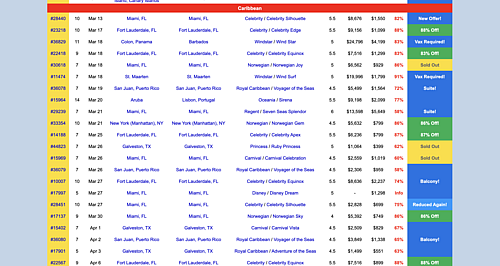 Using Vacations To Go's 90 Day Ticker is a valuable resource for those without a set plan for a last-minute cruise. Hundreds of cruise itineraries are on the ticker, which gives you the chance to discover the best deals much easier than you could by visiting each cruise line's website individually.
You do not have to book a cruise through Vacations To Go in order to use the ticker. The resource is completely free, but you will have to provide your email to sign up and access the list of cruises.
Cruise Critic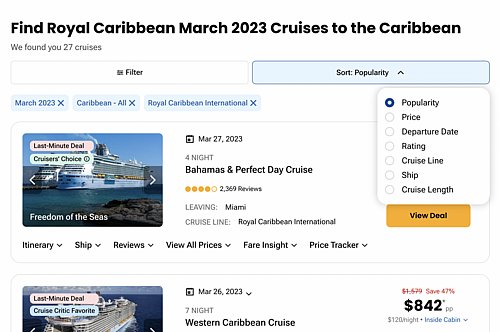 Cruise Critic's website has a Find a Cruise page where you can easily compare prices from multiple websites. This is another great way to find cheap last-minute cruises, as you can filter the results by destination, departure port, departure month, cruise line, ship, cruise length, and more.
Once you click Find a Cruise, a list of cruises will populate. Cruises will be automatically sorted by the "Popularity" filter; to have cruises ordered by price, select "Price" in the dropdown menu instead.
Each cruise on the Find a Cruise search results lists the following:
Sail date
Number of nights
Name of cruise
Cruise line
Price per person
Price per person, per night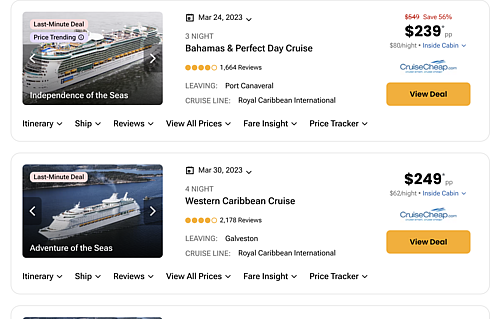 Not only is this tool helpful for finding cheap last-minute cruises, but it's a fantastic way to find cheap cruises several months and years into the future as well. Although you can find the same deals on the Find a Cruise page as you can on Royal Caribbean's website, the search and filter tools are a little more intuitive.
How to book a cheap cruise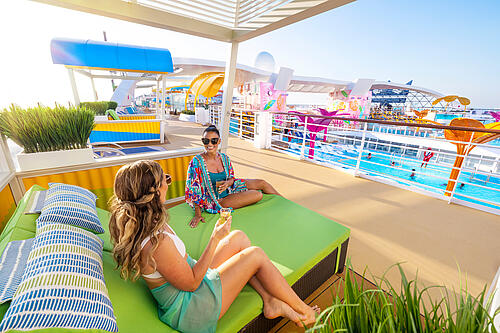 In addition to the Royal Caribbean website, Vacations To Go, and Cruise Critic, you can find cheap last-minute cruises on a variety of other websites.
Popular travel websites like Expedia, Priceline, and Costco Travel all have extensive lists of last-minute cruise deals. You'll also find many smaller websites and travel agencies with pages of cheap cruises you can book at the last minute.
Just because you find a cheap cruise deal on a particular website, though, does not mean you have to book the cruise from that website. If you find a cheap cruise deal on Vacations To Go, for example, you are not obligated to book the cruise from them.
Instead, you can search for the cruise directly on Royal Caribbean's website or contact your travel agent to book the cruise for you. Because these tools are free, they provide an easy way to find cheap deals, but it's up to you how you would like to book the cheap sailing you find.
As always, we recommend booking a cheap last-minute cruise with a travel agent. They can help to answer any questions you have about the sailing, organize ground transportation and pre-cruise hotels, and contact Royal Caribbean in case of any issues or concerns you encounter before, during, and after your cruise. 
Related: Top 5 things to look for in a good travel agent for your cruise vacation
Travel agents cost nothing extra and are extremely helpful during the cruise booking process, especially when booking a cruise so soon in the future.
Is a last-minute cruise worth it?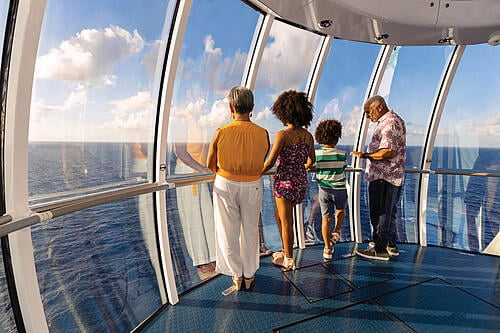 Is booking a last-minute cruise worth it, or is it better to book a cruise further in advance?
In most situations, booking a cruise early is the better choice. Booking as early as possible means you can (usually) find the lowest prices and you can take advantage of repricing the sailing if you spot a lower price before final payment date.
Booking a cruise early also gives you the most choices in stateroom options. If you're hoping to sail in a certain type of cabin—whether a suite or solo room—it's better to book early before these categories sell out.
Not only that, but airfare tends to be cheaper when booked further in advance, and booking a cruise early gives you extra time to handle logistics at home, whether reserving a dog sitter or requesting vacation time from work.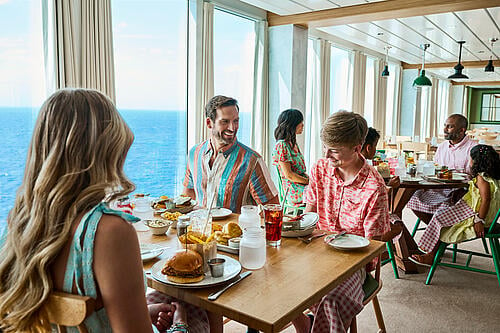 Related: Pros and cons of booking a cruise early vs last-minute
This isn't to say, however, that a last-minute cruise is a bad idea. Planning a spontaneous, last-minute vacation is exciting, whether you're sailing to Florida or France. Instead of spending months (or even years) anxiously waiting for your cruise vacation, you'll be heading to your cruise before you know it!
Moreover, even though booking far in advance usually means finding the best deals, it's not guaranteed. It's possible to find a cheap last-minute cruise for a lower price than the sailing was ever listed at before.
For those flexible on ship choice, embarkation port, itinerary, and cabin category, booking a cheap last-minute cruise can lead to a memorable, affordable vacation. Ultimately, being on a cruise ship is always better than being at home!
Planning a last-minute cruise? Check out more of our tips and tricks: