In:
A Royal Caribbean cruise is a fantastic family vacation choice, but before you book, you should arm yourself with some knowledge to ensure your cruise is terrific.  The saying "you don't know what you don't know" is certainly true when it comes to cruising.  First time cruisers make a lot of mistakes and there are many things that are simply impossible to know until you go.
With that in mind, we have written this guide with some important things that first time cruisers ought to know before they actually book a cruise.  There is plenty of planning to be done after booking a cruise, but here are some good things to consider prior to picking a ship and sailing.
Use a travel agent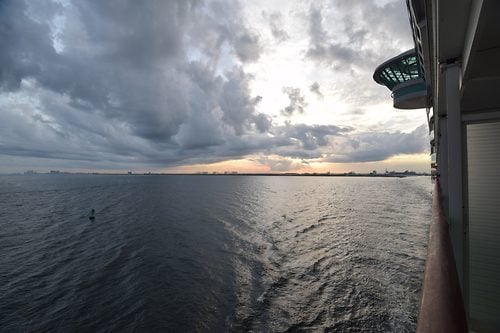 Whether this is your first cruise, or you have cruised a ton, I always recommend using a travel agent.  Simply put, travel agents work to make your vacation planning easier on you and they are paid by the cruise line (not you) for your business. You literally have nothing to lose by using a travel agent.
For first time cruisers, a good travel agent is a great resource of information on Royal Caribbean in general.  Moreover, they can answer the kind of personal questions that no blog can ever tackle.  Often, many first time cruisers have questions about their particular circumstances, and a good travel agent can leverage their own experience to provide the right answer for you.
In addition, travel agents are knowledgeable about the many discounts and offers available by Royal Caribbean. If there are pricing questions, or changes to be made to the reservation, they are the ones that call Royal Caribbean and sort out the details for you.  That frees you up to do something far more interesting and fun.  Essentially, a travel agent is your advocate for any concerns you may have, including when you are on the ship.  All too often, new cruisers try to do it themselves because they can, and it leads to time and effort that could have been saved by using a travel agent.
When considering which travel agent to use, ensure you pick one that is deeply knowledgeable about Royal Caribbean, and does not charge any fees to you for changes.  Talk to them before even committing to book with them and ask questions about their experience and level of service they provide so you can feel comfortable in how they will work with you.
Try to learn the lingo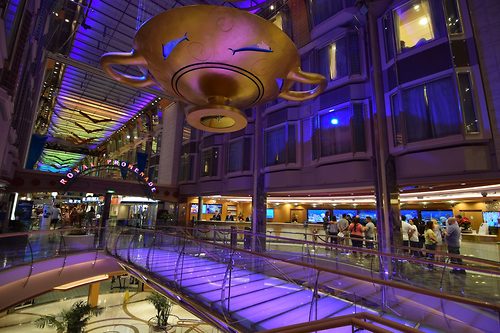 If you have not been on a cruise before, you may quickly run across terms, options, and phrases that are unfamiliar to you.  Frankly, it can be a bit overwhelming.
Thankfully, we have taken precautions to help you adjust to a Royal Caribbean cruise in advance.  Our Royal Caribbean cruise ship term glossary will break down everything from Adventure Ocean to WOWband so that you understand everything in the cruise planning process.
Compare ship features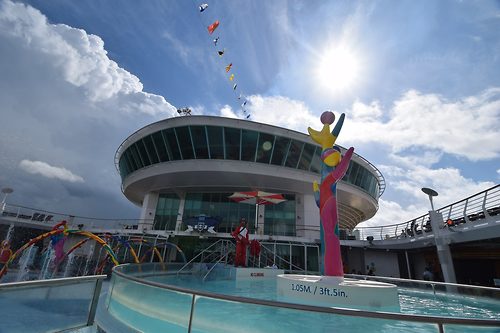 Royal Caribbean has 24 ships in its fleet, and while they share a core experience across them all, the ships in Royal Caribbean's fleet vary from class of ships and even between individual vessels.  This means, you need to be aware of what each ship offers, and which features each ship you are considering has and if it is important to you.
In short, Royal Caribbean breaks up its many ships into classes.  Ship classes are groupings of ships that share a common structure and layout.  Think of ship classes like types of cars: you have pickup trucks, sedans, minivans, etc.  Within each type of cars, you then have individual car models.  That is fairly similar to how Royal Caribbean categorizes its ships.
In addition to just size and tonnage, each ship class tends to include similar entertainment, activities and onboard amenities.  What you want to do is think about which features you want on your cruise ship, and then see if that class has what you want.  If water slides are important, then Oasis or Freedom Class ships would be a good pick.  If you want a nursery, then skip Majesty of the Seas.   Again, a good travel agent can greatly assist with narrowing down the choices for you.
You should also be aware that while ships within each class are similar, Royal Caribbean has added new features to some ships over the years that have differentiated them more than in the past.  Basically, do not assume one ship in the class is identical to another ship in the class (especially on the newer ships).
Book as early as you can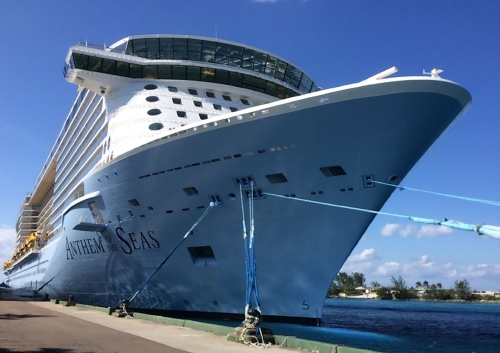 A very common question before you book a cruise is, "when is the best time to book a Royal Caribbean cruise" or "when should I book my Royal Caribbean cruise."  The simple answer is: as early as you can.
For years Royal Caribbean has urged its customers to book early. It is a mantra that used to be simply marketing, but these days, is absolute gospel. 
The best prices for cruises on Royal Caribbean are when the cruise line first starts taking bookings. Prices tend to rise as you get closer and closer to your sailing date, so waiting to book can actually cost you more money.
Why does the price increase as you get closer to the sail date? For one, it's a matter of supply and demand. The more people that book, the less supply there is and therefore, the price rises. In addition, Royal Caribbean wants people to book early so it can fill up their ships and by giving early birds financial incentive to book early, it helps Royal Caribbean accomplish that goal. These days, Royal Caribbean cruises are incredibly popular and ships sail full routinely.  So trying to wait for a "deal" is not advisable because it may never actually show up.
Time and time again, the lowest pricing for all sailings comes when they first go on sale.  
The caveat to this tip is you have to be prepared to book a cruise 1-2 years in advance.  For a lot of folks, that is not very practical since work and school calendars are rarely published that early.
Your best bet is to book something with just a deposit and have the flexibility to change it later.  Even if you book only 7 or 8 months in advance, that is still better than trying to book 4-5 months in advance.
Check airfare prices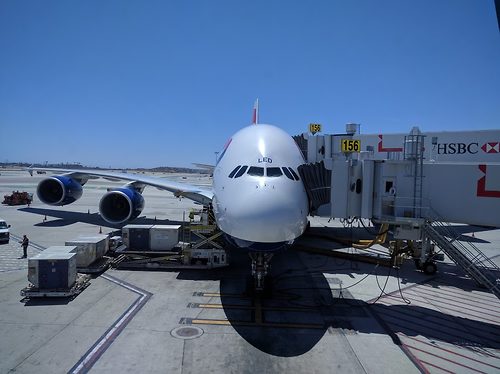 Odds are that you may not live close enough to be able to drive to the cruise you will eventually book, so that means you will need to book a flight to get there.  Before booking a Royal Caribbean cruise, consider airfare costs because that may make or break your cruise plans.
Airfare prices are anything but predictable, so you will want to start looking into flight options to ensure the best possible price. Just like cruise fares, the best prices for airfare seem to favor those that book well in advance.
What you want to do is when considering different cruise choices, check on airfare for each cruise to ensure you are not picking a great sailing that will come with an expensive or impractical flight choice.
Be sure to also consider nearby airports that could save you a lot of money. As an example, if your cruise leaves from Port Everglades in Florida, nearby airports of Miami, Orlando, Tampa and West Palm Beach are close enough to be an easy car ride over, especially if that helps bring your total airfare price down.
Read an old Cruise Compass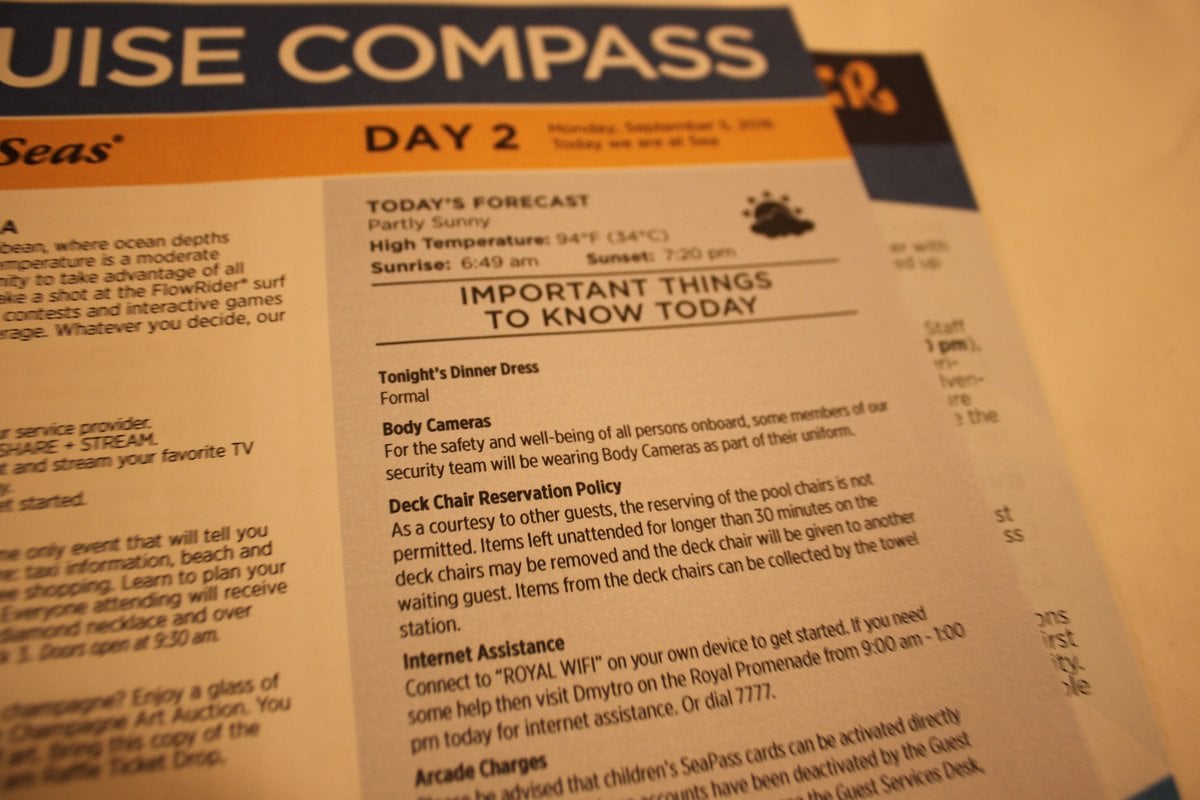 When trying to pick the right ship and sailing for you, you will likely have questions about what there is to do onboard.  In fact, the available activities may play a major role in which ship you end up booking. 
There is no way to know in absolute terms what your upcoming Royal Caribbean cruise will or will not offer, because Royal Caribbean does not publish its activities or entertainment in advance. What you can do to learn about what to expect on your sailing is to consult a past Cruise Compass to see what was available on those similar sailings.
A Cruise Compass is Royal Caribbean's daily newspaper that is distributed to guests on each day of the cruise.  Generally speaking, Royal Caribbean sailings on a particular ship do not change that much from week to week in terms of the activities or entertainment offered. There will be some discrepancies, but an old Cruise Compass can give you a good ballpark of expectations to plan around.
Your thoughts
Are you looking to book a cruise and have a question or concern?  Have you taken many cruises and want to share something you wish you have known before your first cruise? Share what is on your mind in our comments!