In:
I went on Royal Caribbean's Freedom of the Seas to put the SpaceX's Starlink satellite internet to the test. 
Royal Caribbean's Wi-Fi speeds have been hit or miss, depending on the ship. Even ships with the higher speeds (typically new ships), it was still slower than our internet at home.
For those of us that don't completely disconnect on cruises, it is often frustrating to get websites and videos to load, and even connect with friends and family at home. I considered it a cost of cruising, as being on a ship in the middle of the sea doesn't give you many options.
That is, until now.  
Earlier this month, Royal Caribbean Group filed with the Federal Communications Commission, disclosing a partnership with SpaceX Services, Inc. While certain airline carriers, including Hawaiian Airlines, have worked out deals to offer Starlink to their passengers, Royal Caribbean is the first cruise liner to file the request. At the time of filing, Starlink was not approved for use on moving vehicles, and the filing called on the FCC to speed up the process.
Around the same time of the filing, passengers started noticing that the Freedom of the Seas was outfitted with Starlink satellite dishes, and quietly testing the service for those onboard.
Hoping that Starlink would still be actively testing, I booked a weekend cruise on Freedom to try it for myself.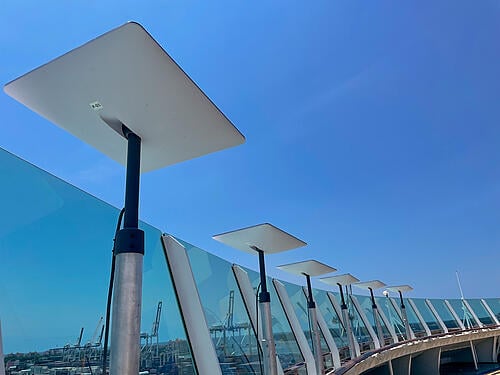 My goal was to test the Wi-Fi speeds on board, while sailing and at Perfect Day at CocoCay. There was no indication that Starlink would still be offered by the time I got onboard, as it can be pulled down at any time during its testing. It also isn't clear if or when other ships will get this service. 
For this sailing, we purchased both the Voom Surf and Voom Surf & Stream internet packages to test. Royal Caribbean's Voom service is boasted as the fastest internet at sea, being 6x faster than other internet at sea.
On embarkation day, we headed to the Royal Promenade on deck 5 to start the testing process. Using two laptops, my husband John tested the Surf & Stream while I tested the Surf speed.
Once we started the speed test, it showed that we were connected to SpaceX Starlink, meaning that the Starlink trial onboard Freedom was still active.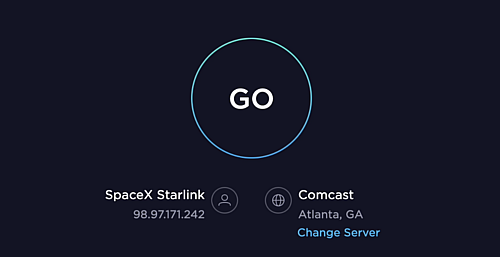 It was instantly clear that this internet service was above and beyond what Voom typically offered.
The Surf package showed a download speed of 9.01 Mbps and upload speed of 20.34 Mbps. The Surf & Stream gave a download speed of 77.03 Mbps and upload speed of 15.72 Mbps.
On both devices, we tried watching YouTube videos and Netflix shows to see how they would work. Both packages allowed us to instantly start watching the videos, with no lag or buffering time.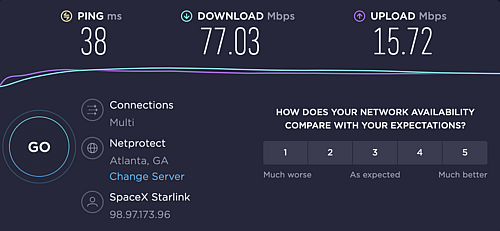 Shortly after these tests, John moved to the Star Lounge to take a Zoom call using the Surf & Stream service. The zoom call connected easily, and there was no buffering or freezing for his video and audio.
Later that afternoon, he moved to our stateroom to take another Zoom call, but realized that the service in our interior stateroom (7121) was taking longer to connect, and buffering his video. He ended up moving back down to deck 5 to finish the call.
Being in an interior stateroom, between plenty of metal walls, we weren't surprised that the quality wasn't as clear as it is in the open areas that have minimal Wi-Fi signal interference.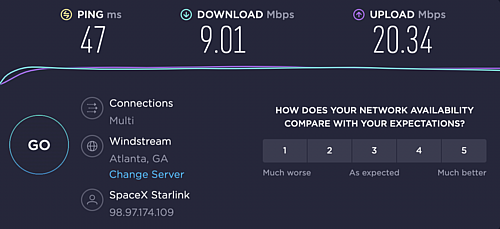 After he wrapped up his calls, the ship began to sail away, while we waited to see how the service held up once we were farther from port.
That evening, about 3 hours after we set sail, we tried the tests again, from inside our stateroom. This time Surf gave us a download speed of 2.85 Mbps and upload speeds of 3.74 and Surf & Stream gave us a download speed of 19.9 Mbps and upload speed of 5.42 Mbps.
While the Surf & Stream speeds were higher, we found that we were both able to stream shows on either package, with just a slight loading time for the Surf package.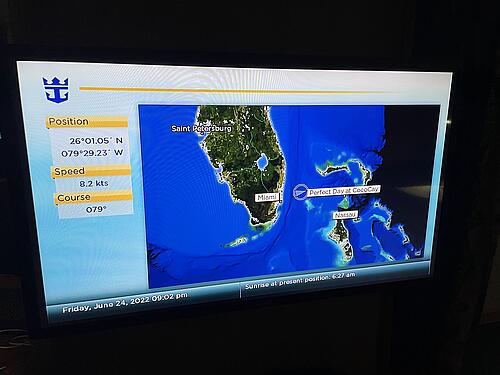 The next morning we docked in Perfect Day at CocoCay, Royal's private island in the Bahamas. We were excited to test the speeds while on the island, which includes wifi access if you purchased a package on the ship.
To our surprise, the service remained strong even on the south side of the island, with Surf showing download speeds of 19.93 Mbps and upload speeds of 8.19 Mbps, while Surf & Stream showed download speeds of 52.50 Mbps and upload speeds of 10.10 Mbps.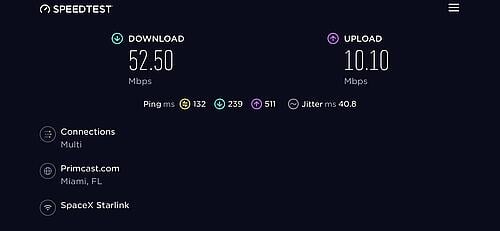 Later that day while sailing between CocoCay and Nassau, we tried using Facetime on each package to see how the video and audio quality would be. We were happy to see that both were crystal clear on each end.
On other cruises while using Royal's Voom service, the video would cut in and out, become blurry, and the audio would lag, making it a frustrating experience for everyone involved.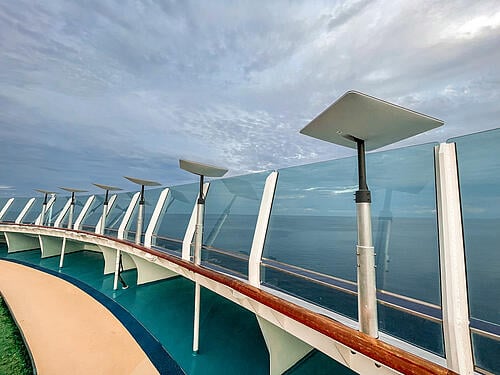 On the last day of our cruise, we decided to take our test up a notch and live stream on the Royal Caribbean Blog TikTok account for both the International Belly Flop competition and the Battle of the Sexes game show. Both events were able to stream without interruptions or buffering. 
Overall, Starlink has blown my cruising Wi-Fi expectations out of the water.
While we did notice that the service slowed in our interior room, we were still able to stream shows and use the internet much faster than the typical Voom packages we've experienced in the past.
We were particularly impressed with the Surf package, which to our surprise allowed us to stream almost as well as the Surf & Stream package. That may or may not remain a feature if Starlink gets approved for general use on cruise ships.
While many people continue to work remotely, if adopted permanently Starlink will be a great solution for working from a cruise, or just stay connected while out at sea.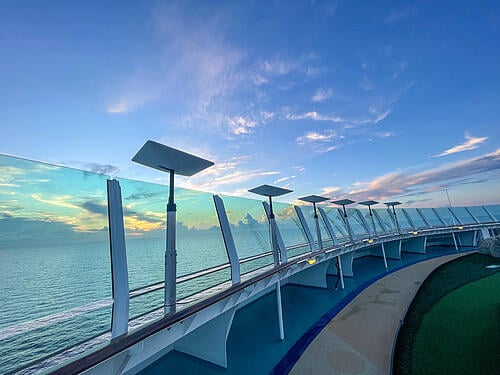 The only downside to the Starlink service on Royal Caribbean that we found will be having to adjust our Wi-Fi expectations when sailing on other ships without Starlink.