In:
I travel for food, and I've just found the best Caribbean cruise port for foodies: Cozumel, Mexico.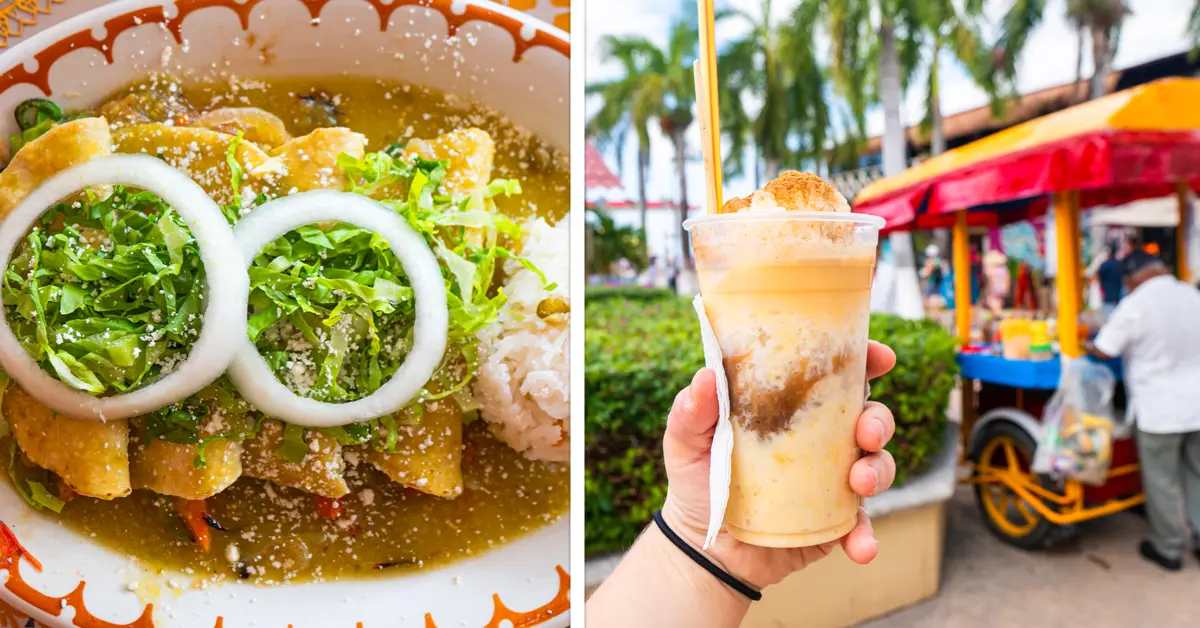 Mexican food is among the world's most popular cuisines for a reason: it's fresh, flavorful, diverse, and spicy. After all, who doesn't love chips, guacamole, and tacos?
And although Cozumel is best known for its beaches and world-renowned scuba diving, I decided to plan a self-guided food tour on my recent cruise ship port day.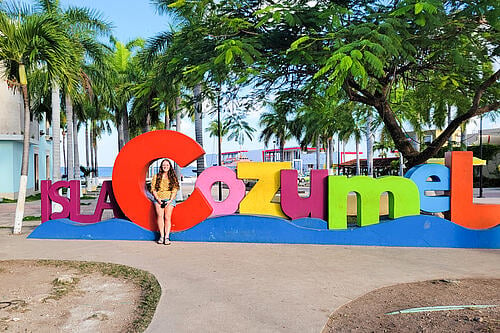 The plan was simple: find the most delicious, authentic Mexican restaurants in Cozumel for breakfast, lunch, and dessert. Yet with only 8 hours in port before my cruise ship would depart the island, I knew I had to strategize to find the best food in such a short amount of time.
Follow me on a self-guided food tour in Cozumel, which will surely inspire you to eat your way around Mexico on your next Caribbean cruise. I hope you're hungry!
Getting to downtown Cozumel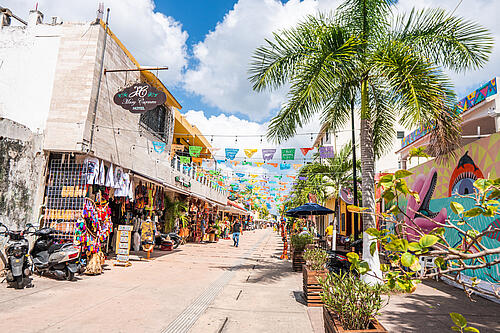 If you're visiting Cozumel on a cruise, there are two main cruise terminals: the Langosta pier, located right downtown, and the International Cruise Terminal, located three miles south of downtown.
Royal Caribbean ships dock at the International terminal, so we paid $8 one-way for a taxi from the port to downtown. For convenience, I had the taxi driver drop us off at Parque Benito Juárez, the main square in downtown San Miguel de Cozumel.
From here, countless restaurants, shops, and attractions are within walking distance, and the square is a relaxing place to spend time throughout the day.
After a brief walk around the square, it was time to check off our first item of the day: breakfast.
Breakfast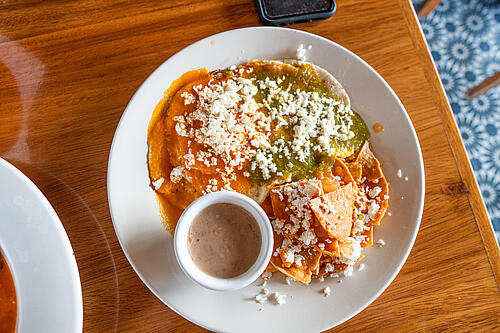 Tacos and enchiladas may get all the attention when it comes to Mexican cuisine, but Mexican breakfast is severely underrated. Whether sweet pastries or hearty plates of eggs, tortillas, and salsa, you can't go wrong with breakfast in Mexico.
Here are some of the best breakfast dishes to try when you visit Cozumel:
Chilaquiles: tortilla chips simmered in a red or green sauce, often served with eggs or chicken
Huevos rancheros: fried eggs placed over crispy corn tortillas and topped with a red salsa
Huevos divorciados: a form of huevos rancheros drenched in green salsa on one side and red on the other
Huevos motuleños: A Yucatán specialty of fried eggs on tortillas served with black beans, cheese, ham, and peas
Concha: a sweet, fluffy bread topped with a crackly crust that resembles a seashell
Mexican breakfast is, by far, my favorite type of food to eat in Mexico. There are countless restaurants offering breakfast downtown, but I settled on La Candela, a breakfast and lunch restaurant located just a few blocks from the city center.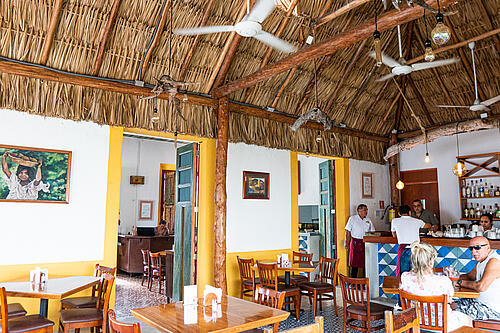 The ambiance of the restaurant was charming, with a palapa-style roof and open-air patio. I ordered the chilaquiles—my favorite Mexican dish—while my dad ordered huevos divorciados.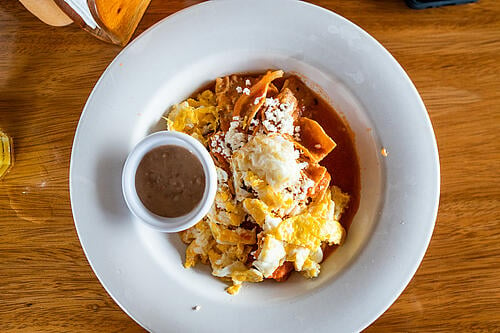 Both dishes far exceeded my expectations. In fact, the chilaquiles were the best, most flavorful chilaquiles I've ever had. I'm still dreaming about them a week later!
Of course, you can't enjoy breakfast without a fresh-squeezed jugo de naranja (orange juice).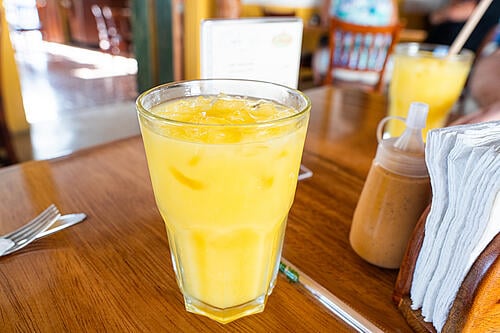 In total, we spent 300 pesos ($16 USD) on breakfast.
Food markets
After breakfast, we wanted to continue checking out Cozumel's food scene, so we headed to the Mercado Municipal, just an 8 minute walk from Parque Benito Juárez.
From the incredible aroma of barbecued beef and chili peppers to the more... unpleasant odor in the raw meat aisles, Cozumel's main food market immediately ignites all of your senses.
Although not the biggest open-air market I've been to in Mexico, the Mercado Municipal boasts restaurants, produce and meat stalls, a candy shop, and aisles of convenience stores.
Walking through the market can be an excellent way to learn more about daily life in Cozumel while sampling various dishes, candies, and fruits.
We couldn't pass up the chance to try Mexican candies, and purchased a few for 60 pesos ($3 USD).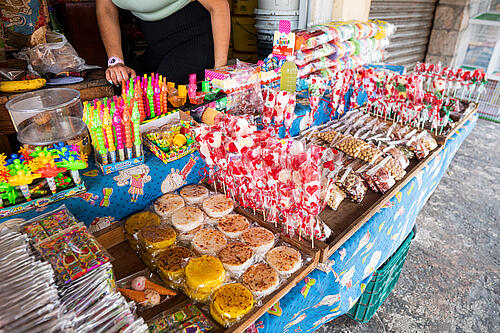 We walked back to Cozumel's waterfront and enjoyed the candies with an ocean view. This is an excellent place for people watching and enjoying the sea breeze in between your Cozumel food tour.
Lunch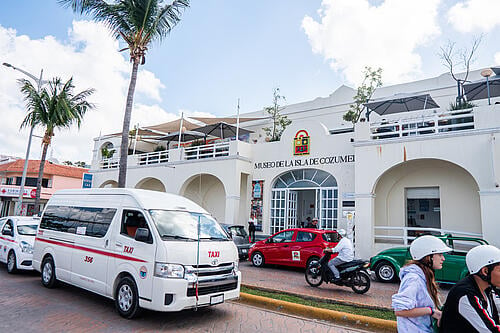 Despite our goals of trying as much food as possible during our 8 hour port day, we faced one problem: we were still full from breakfast! To pass the time, we headed to the Museo de Cozumel, a museum with artifacts and information on the island's history, geography, and culture.
The entrance fee was only $7 USD per person, and I was impressed by the museum's exhibits and technology, which gave me a new understanding and appreciation of the island. Of course, the air conditioning was a nice touch, too!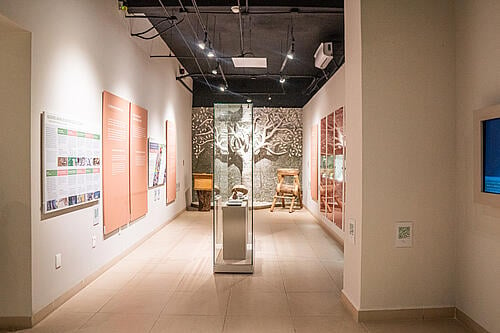 Hungry once again, we were back on Cozumel's streets in search of lunch. On our way to the market earlier in the morning, we passed many small, unassuming restaurants and decided to head that way again.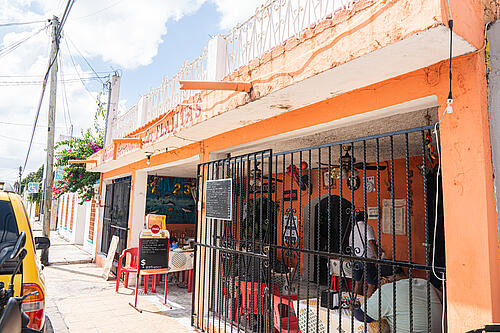 A quick Google Maps search led me to Las Flamitas, a local spot just a few blocks from the Mercado Municipal. The first thing I noticed as I approached the restaurant was a nonchalant chalkboard with a list of daily specials, and I took that as a good sign.
Our waiters were exceptionally friendly at Las Flamitas, and we started the meal with a refreshing bottle of Fresca soda followed by a comforting bowl of chicken soup, which came included with our meal.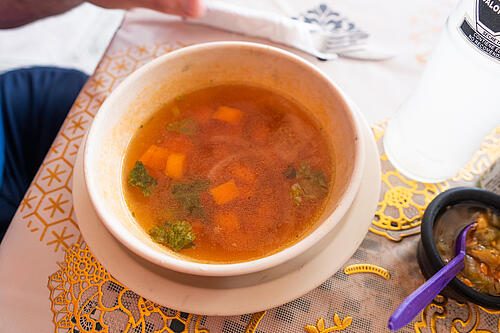 For our main courses, I ordered enchiladas with green salsa and my dad ordered chicken fajitas. Just as we hoped, both dishes were flavorful, fresh, and satisfying, although we found it a bit funny that the fajitas were served with a side of spaghetti!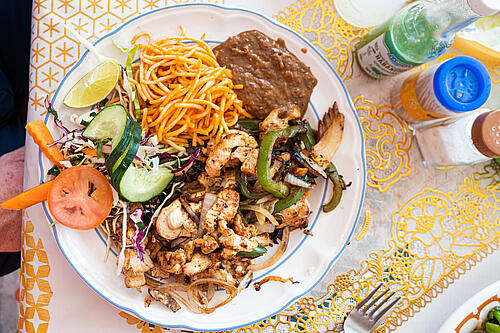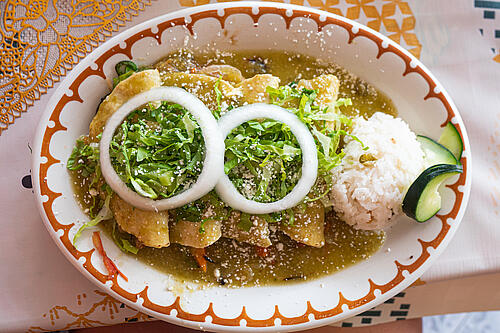 In total, we spent 280 pesos on lunch, or $15 USD, and I'd definitely come back to Las Flamitas again.
Bakeries
In the mood for something sweet? Cozumel has you covered, and the moment I stumbled upon La Cozumeleña bakery, I knew I had to pick up some pan dulce.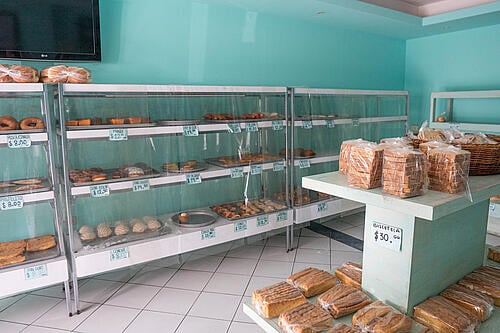 Like Mexican breakfast, Mexican bakeries are highly underrated, but once you try the diverse assortment of baked goods—from savory empanadas to fruit-filled cakes—it's easy to become addicted.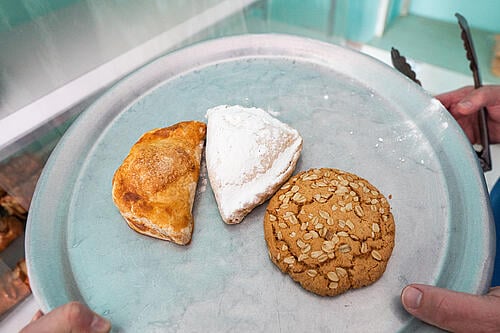 I settled on three items: a coconut empanada, guava and cheese empanada, and oatmeal-cinnamon cookie. The coconut empanada was the clear winner, but you can't go wrong with any Mexican bakery item!
Street food stalls
Our final stop of the day was back to Parque Benito Juárez, where we had one final goal: street food.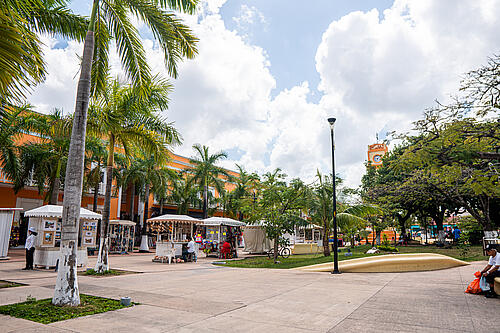 If there's anything that gets me excited about tasting new cuisines, it's street food, but I was disappointed to see only a few street food stalls during my day in town. I may have been in the wrong area or perhaps the street food scene is more active at night, but I expected to see more food carts around downtown.
Nonetheless, my plan was to find a street food stall selling marquesitas, a dessert native to Mexico's Yucatán state. These sweet snacks are made by rolling a thin crepe like a taco and filling it with caramel, condensed milk, edam cheese, and other optional ingredients like fresh fruits or jam.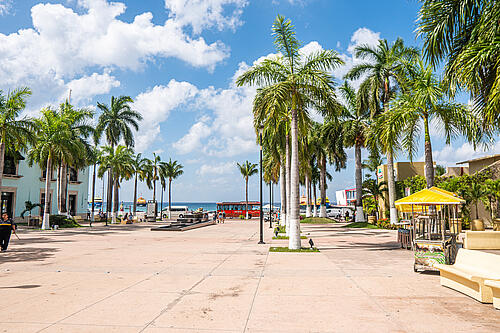 Unfortunately, my search for marquesitas in downtown Cozumel left me empty handed, as most of the street stalls I saw were not open.
I was still determined to grab dessert from one of Cozumel's food stands, though, so I continued walking around the park looking for something to eat.
This is when I made perhaps the best discovery of the day: a machacado de frutas.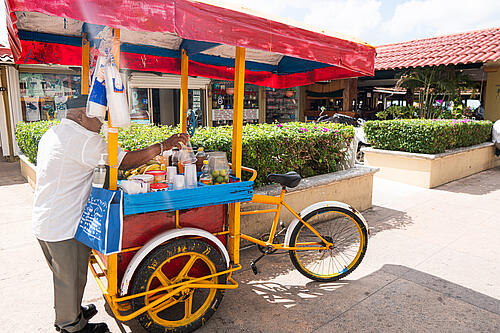 In a corner of Parque Benito Juárez, in front of the Fat Tuesday bar, I noticed an older gentleman attending to his food cart (attached to a tricycle, might I add), and I was immediately intrigued.
The cart was stacked with bananas and a variety of colorful syrups along with cans of condensed milk and jars of cinnamon. Even with these context clues, I had no idea what this local man sold at his cart, so I decided to ask.
"¿Qué tipo de comida es esta?" What type of food is this?
"Machacado," he responded kindly.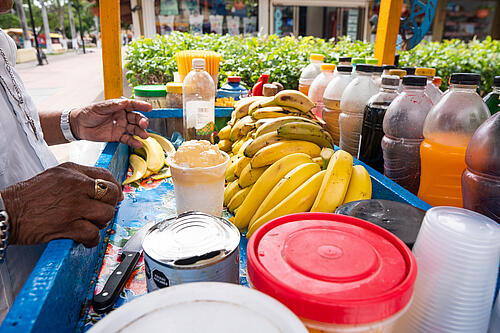 His answer left me even more confused. I had never heard of this dessert before (was it even a dessert?). Unlike churros, flan, and tres leches cake, the word 'machacado' had never appeared in any Spanish textbook, YouTube video, or articles I've seen about Mexican food.
Needless to say, l couldn't say no to my curiosity, and he began preparing me the best dessert I've ever tasted in Mexico.
First came the mashing of two bananas, which were placed in the bottom of a large plastic cup. Next was a generous scooping of crushed ice, followed by a layer of creamy sweetened condensed milk. The dessert was topped with a drizzle of vanilla syrup, which soaked into the ice below, and a liberal dash of cinnamon.
I handed the gentlemen 30 pesos (roughly $1.60 USD) and I was on my way.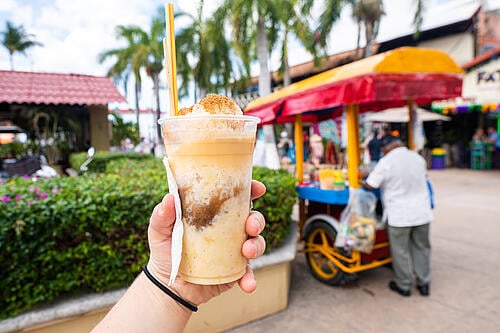 I had never tasted anything quite like this dessert before. It felt as if I were eating a homemade cinnamon roll coated in a thick layer of icing and topped with a scoop of vanilla ice cream.
It was everything I could have ever dreamed of in a dessert, and even my dad, who had just proclaimed he 'couldn't eat another bite of food,' kept sipping away at his machacado.
My tips on planning a food tour in Cozumel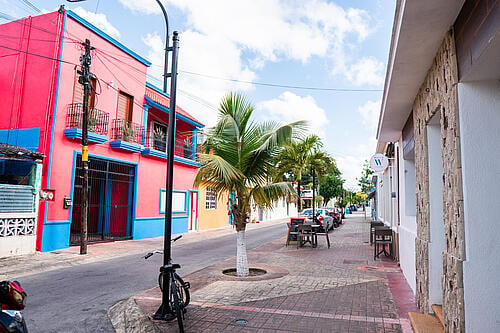 If you're a foodie who's interested in discovering Mexican cuisine, I can't recommend planning a food tour enough. Cozumel certainly has gorgeous beaches, but walking the colorful streets downtown and trying a variety of local restaurants was, by far, the best day I've had on the island yet.
Here are my top tips for planning your own food tour in Cozumel:
Self-guided versus with a guide
I planned a self-guided tour in Cozumel because I value the flexibility of exploring without a schedule and choosing the restaurants myself. However, if you're more comfortable with a local guide, you can book guided food tours on websites such as Tripadvisor and Viator.
A guided tour will likely provide you with more knowledge about Cozumel's cuisine and take you to areas you might otherwise not visit yourself. On the downside, these tours will be more expensive than planning the day on your own.
Cozumel 4 You Facebook Page
A valuable resource I used when planning this tour was the Cozumel 4 You Facebook Page. This page is a hub of information on Cozumel with restaurant recommendations and ideas on how to spend your day on the island.
What to do in between eating on your food tour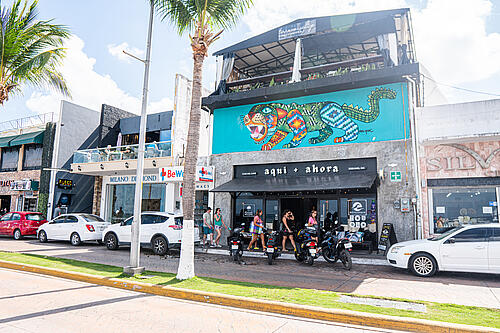 An unexpected problem we encountered during our day-long food tour was not feeling hungry. If you're planning a full day of eating in Cozumel, you'll run into the same problem, so it's helpful to know what to do in between meals.
I recommend visiting the Museo de Cozumel, sitting by the waterfront, and walking around various shops downtown to pass the time.
A variety of coffee shops are located throughout downtown as well, including the popular Aqui + Ahora Coffee Bar, and this can be a nice way to spend time throughout the day.
Download offline maps
While Cozumel's downtown is walkable, having Google Maps on your phone can help you better navigate to your destination.
If you don't have international cell phone coverage in Mexico, be sure to download an offline version of downtown Cozumel in Google Maps to allow for easy access when your phone is on airplane mode.
Pay with Mexican pesos instead of US dollars
While most places in Cozumel will accept US dollars, it's easier to pay with pesos, especially if you're eating at restaurants further away from the main tourist area.
There are several banks located downtown with ATMs depositing pesos, and having pesos on hand will make your life much easier throughout the day. Plus, you can ensure you are getting the best rate when paying in local currency.