In:
One of the most popular beach destinations for cruise passengers in Cozumel has been Paradise Beach, but how does it stack up after the cruise industry shutdown?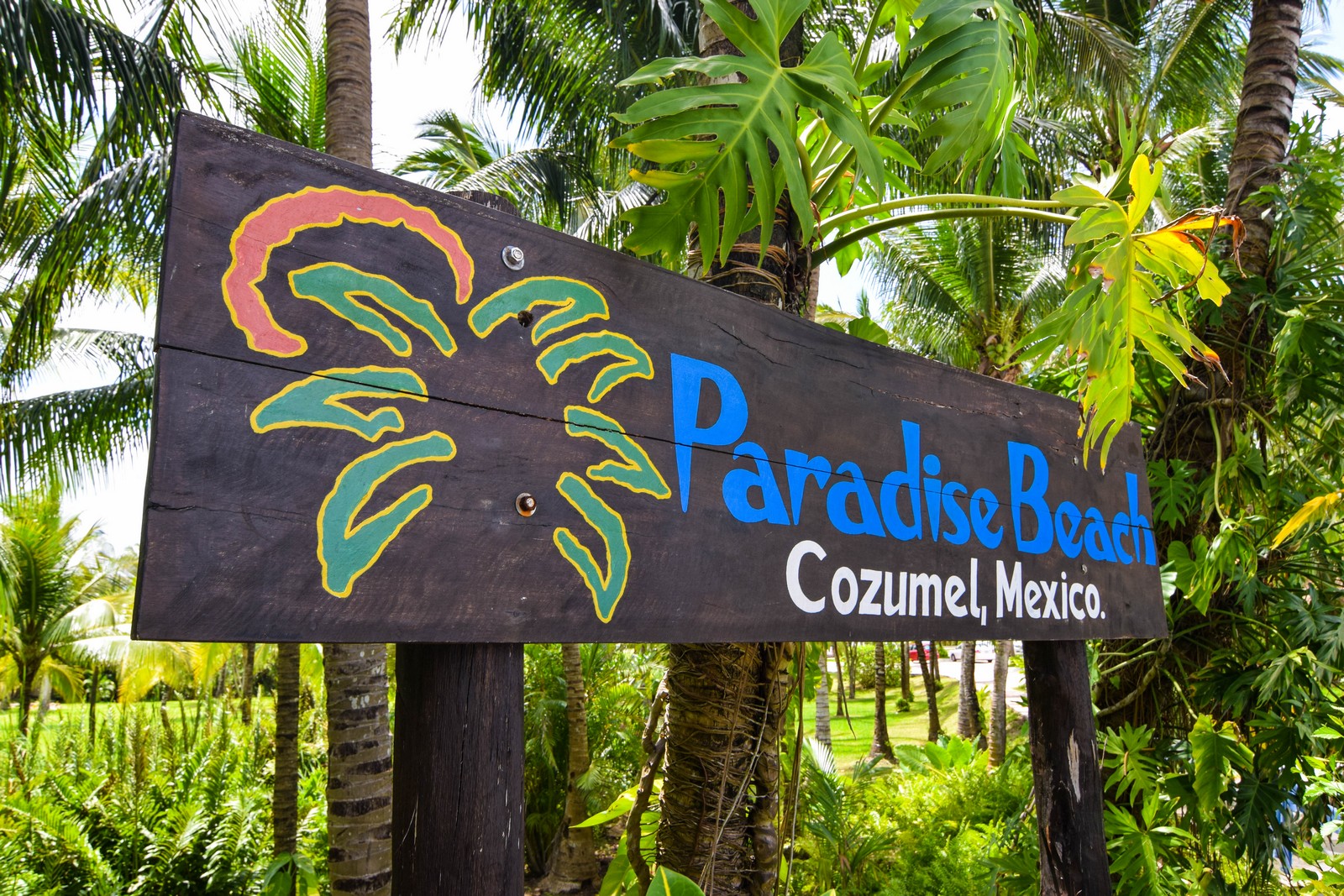 With cruises restarting, many passengers want to know what their options are for shore excursions in port, and if certain favorite spots are still available. I was equally curious to see how Paradise Beach in Cozumel was, and if it was open and still the same great experience I remember.
Over many years, my family would choose to visit Paradise Beach because it offered an inexpensive beach day coupled with great service.  On my recent Adventure of the Seas sailing to Cozumel, I wanted to see if it was still as good as I remember it.
Description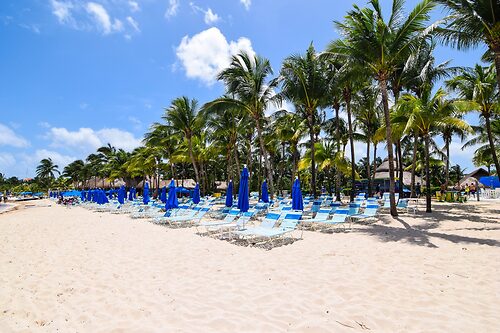 Unlike some of the other popular all inclusive beach spots in Cozumel, Paradise Beach offers a "pay as you go" choice where you can sit down at the beach for a nominal fee ($3 per person) and then pay for select activities, food, and drink as you go.
Paradise Beach also offers an all-inclusive option, but I did not test out this offering.
It is a short drive from where Royal Caribbean cruise ships dock in Cozumel, perhaps 10 minutes by taxi.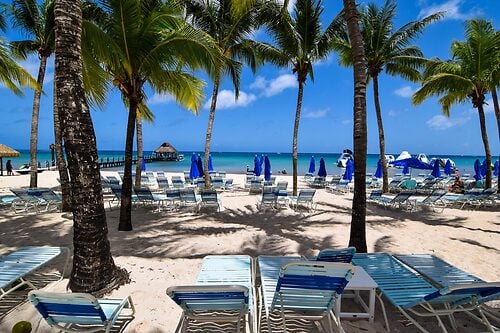 When you arrive at the entrance, a waiter will greet you and escort you to wherever you would like to sit.  You can always move around, but for purposes of tracking your orders, you are supposed to order from the two waiters assigned to you.
At the time of our visit, Cozumel required everyone to wear masks, but once we got to Paradise Beach, the staff informed us we could remove our masks. The staff wore their masks throughout the day.
As the name implies, there is a large beach with lots of chairs set up to enjoy along the beach. There is seating with or without shade, and enough umbrellas for most families.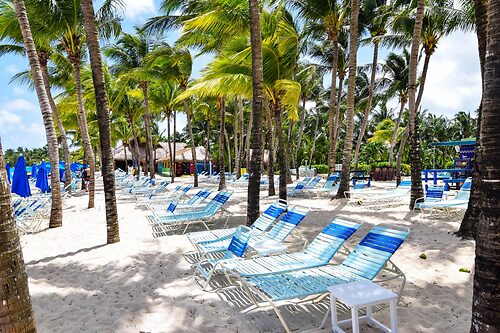 The beach itself is lovely, with soft sand. Some areas of the water are rockier than others, but it is easy enough to enter the water to avoid the big rocks.
Unfortunately the day we visited, Cozumel was inundated with sea grass, which is a temporary issue affecting Mexican beaches from time to time.  Long story short, periodically large amounts of sea weed come up on the beach.  This is the first time I experienced this issue in Cozumel, as it is more commonplace in Costa Maya. Regardless, there was a team of workers employed to remove as much of it as possible.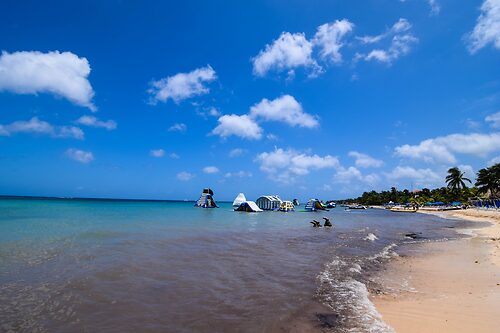 While the beach is great, I prefer to spend my time by the pool.  Paradise Beach has a massive pool, and according to them, it is the largest heated pool in Cozumel.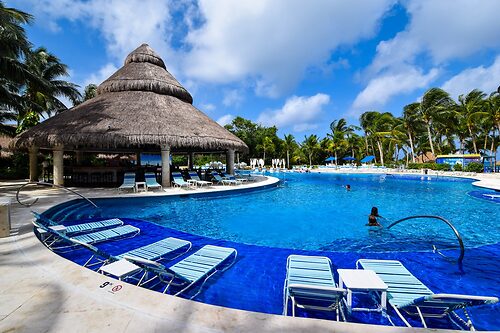 There is plenty of seating by the pool, but very little shade to be found.  Get a seat with shade early if this is important to you.
Just like the beach, the pool was well-maintained and it looked as good as it felt.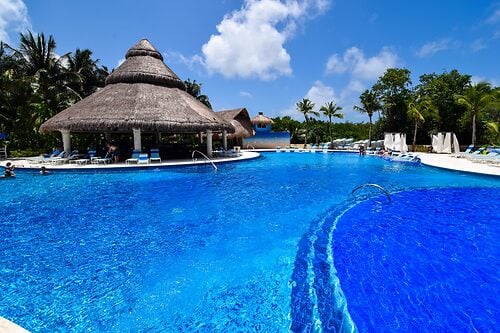 I love the food in Cozumel, and Paradise Beach offers a menu that you can order from throughout the day. Unless you go with the all-inclusive option, you will pay for each item you order.  The prices are reasonable that it still makes sense for my family to go in this direction.
The guacamole especially is worth ordering while there.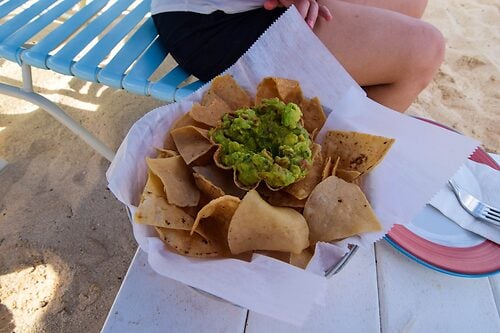 The menu has tacos, nachos, quesadillas, pizza and a few other items. It is not a large menu, but has enough to cater to most tastes.
Comments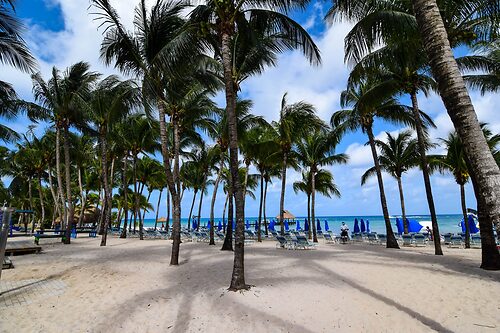 In short, Paradise Beach is about the same experience that I recall before the global health crisis hit.
The beach and pool are both well-maintained, with plenty of seating at either location. When we visited, Adventure of the Seas was the only cruise ship in port and that meant the venue was very uncrowded. 
My favorite feature of Paradise Beach is their pool, which is large enough that it does not feel like we are cramming in with other people.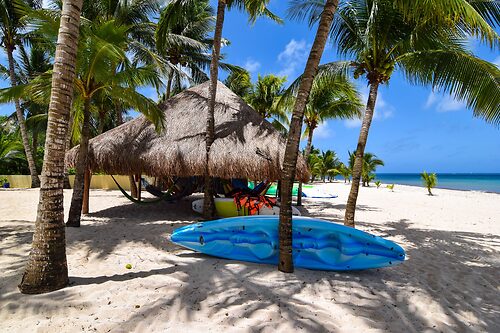 The reason my family visits Paradise Beach is because an all-inclusive option is a poor value for my kids. They don't need, nor do I want them, to be consuming enough sugary drinks to "break even" on the all-inclusive cost. Moreover, I usually have a drink package on the ship.  The low investment cost is also really nice if the weather does not cooperate or we decide we want to go back to the ship early.
The good news is Paradise Beach survived the shutdown and is in operation again for cruise guests to enjoy.  And it remains a great choice for families, or someone who wants to do a partial beach day without the full day cost.
How to book: No reservations required or available. Just show up. Website