In:
Sailing on an older cruise ship is not everyone's cup of tea. While some might prefer the latest and greatest cruise ships, nearly all cruise lines continue to sail vessels that are anywhere from 20 to 30 years old.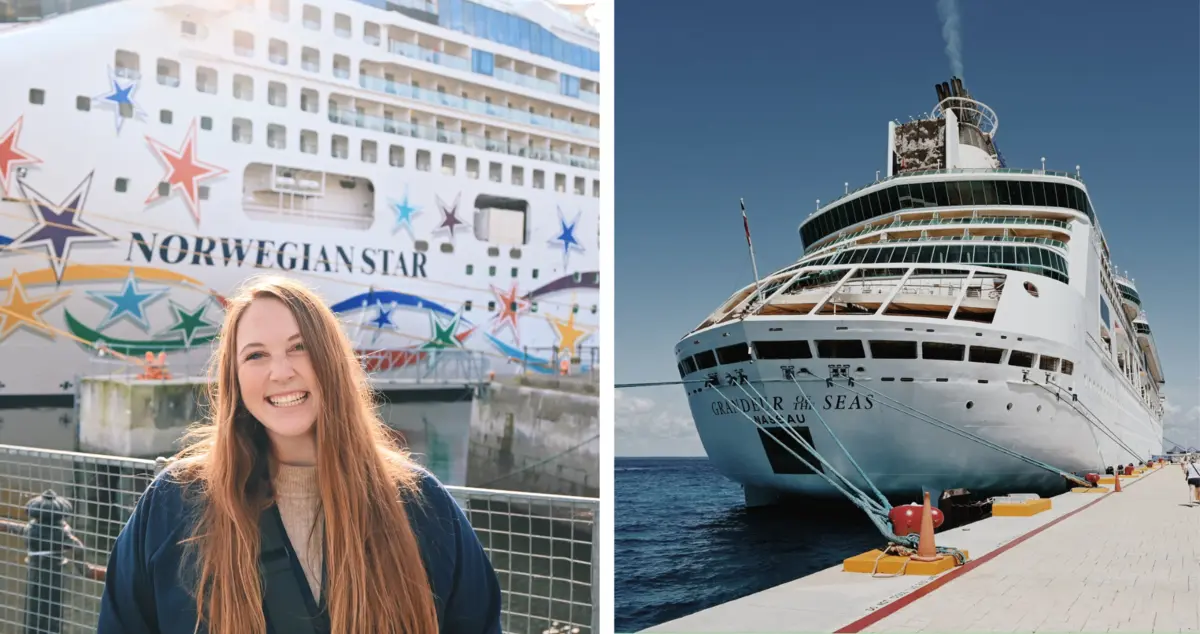 You will not find all of the pizzaz of a mega-ship onboard these older vessels, but that doesn't necessarily mean you should dismiss a cruise simply because of its age. 
I recently returned from a 10-night sailing around the British Isles onboard one of Norwegian Cruise Line's oldest ships, Norwegian Star. The ship was built in September 2001, making her over 22 years old during our cruise. 
Just last month, I also sailed on Royal Caribbean's oldest ship in the cruise line's fleet, Grandeur of the Seas.
Built in 1996, this ship - fondly referred to as "Lady G" - is nearly 27 years old. Although Royal Caribbean announced in 2019 that it would retire the vessel, the pandemic changed these plans and Grandeur of the Seas is here to stay for the foreseeable future.
Read more: Royal Caribbean ships by age — Newest to Oldest
Both of these cruise ships are 20+ years old, so I was eager to see what these older and smaller cruise ships had to offer. As always, it's important to properly research which ship you'll be sailing on and manage your expectations accordingly. You can't board a cruise line's oldest ship and expect top-of-the-line, modern amenities. 
I was pleasantly surprised by both of my experiences onboard Royal Caribbean and Norwegian Cruise Line's older ships. From the dining options to the intimate, simple onboard experiences, I found that both of these ships have a lot to offer. 
Here's how Royal Caribbean's oldest ship compares to one of Norwegian Cruise Line's oldest ships. 
Ship Overview
Both Grandeur of the Seas and Norwegian Star are considerably older and smaller than most ships sailing in their respective fleets. Both ships are considered small to midsize ships by today's standards, although both were considered large when they debuted. 
Royal Caribbean's Grandeur of the Seas clocks in at 73,000 gross tons with a maximum capacity of 2,446 guests. The ship first debuted as part of the Vision Class of ships with Royal Caribbean. In comparison, the cruise line's newest ship, Icon of the Seas, is more than three times the size of Grandeur of the Seas.
Although built in 1996, Grandeur of the Seas received a $48 million refurbishment in 2012, which added new dining venues and updated the ship with modern amenities. The ship has also received routine dry dock maintenance.
On the other hand, Norwegian Star is slightly bigger at 91,700 gross tons. However, the ship has a lower guest capacity, sailing with 2,348 passengers at maximum capacity. In comparison to Norwegian Cruise Line's newest ship, Norwegian Viva, the Norwegian Star is around 50% smaller.  
(Norwegian Star pool deck)
Norwegian Star was more recently refurbished in 2018 to include a new adults-only area, updated lounges and bars and upgraded staterooms with USB charging ports. 
Expectations and First Impressions
I've sailed on ships of all ages and sizes, so I had somewhat realistic expectations of what to expect onboard. Truthfully, I do not mind sailing on an older and smaller ships because I can appreciate a more subdued cruising experience without the onboard thrills. This is especially true on a port-intensive itinerary where there is not much time spent onboard anyway. 
After boarding both Grandeur of the Seas and Norwegian Star, I can honestly say that both of these cruise ships exceeded my expectations. I found both ships to be in very good condition despite their age. I was most impressed by Grandeur of the Seas, as my expectations were set low based on what I had read online before sailing.
While researching both of these cruises, I found tons of negative reviews about Grandeur of the Seas. Many people complained about the ship's age, condition and lack of amenities onboard. I was surprised to see that Grandeur of the Seas was rated the worst ship in Royal Caribbean's fleet!
Once onboard, "Lady G" quickly grew on me. I loved all of the natural light and windows throughout the ship. I looked around for overt signs of rust and deterioration, but this was minimal. I noted how the carpets, furniture and public spaces were both clean and well-kept. Of course, some areas onboard felt outdated in design and decor, but this was expected.
Comparatively, while researching Norwegian Star, I found less complaints from cruisers. Most had positive experiences onboard, and many noted that the ship's itinerary was the highlight of their cruise. Since our 10-night sailing had only one sea, I figured we would have a similar experience onboard. 
After boarding Norwegian Star in Southampton, England, I was very impressed with the ship's overall condition and onboard amenities. I would have never guessed the ship was more than 20 years old. Her design and decor felt more modern than Grandeur of the Seas, which is likely due to her more recent refurbishment. 
However, we struggled to navigate around Norwegian Star even after the first few days. The ship's overall design felt confusing for some reason, as we were constantly getting lost and looking towards deck plans. Perhaps Grandeur of the Seas's size contributed to a better flow onboard, but I found Royal Caribbean's oldest ship to have a better ship design overall. 
Dining and Food
Indulging in all of the delicious cuisine onboard a cruise is one of my favorite parts of cruising. Let me first note that food is highly subjective, however. Everyone has their own preferences when it comes to food and this is based on my own experiences. 
In addition, I sailed on Norwegian Star for 10 nights in comparison to my 4-night cruise on Grandeur of the Seas. Because of this, I had more opportunities to try the food on Norwegian compared to my cruise on Royal Caribbean. Regardless, I've sailed on Royal Caribbean multiple times this year, including a 12-night sailing this summer, so I do think this provides a solid foundation for comparison.
Overall, I was very impressed with the complimentary dining options on Norwegian Star. In fact, I would go as far to say the quality blew me away in comparison to Grandeur of the Seas, along with other Royal Caribbean experiences I've had this year. 
(Above: Versailles is one of Norwegian Star's complimentary restaurants)  
We dined in the main dining rooms most nights, although we also tried the Asian restaurant and pub. I felt the food was flavorful, fresh and high quality. The menus had diverse options each evening as well, including a 'Classics' section with the same nightly options. Even the food in the buffet seemed to be consistently good with everything I tried. 
Unfortunately, Grandeur of the Seas would struggle to compete with Norwegian Star. During our 4-night cruise, we dined in the main dining room most nights with the exception of one night at specialty dining. The food was decent, although we heard from many that the first night was not good. The food in the buffet was very hit or miss with some very bland options.
(French onion soup on Grandeur of the Seas)
Additionally, Norwegian Star had six complimentary dining options onboard, including two dining rooms, the buffet, Topsider's Poolside Bar and Grill, O'Sheehan's Pub and Ginza Asian. Grandeur of the Seas only has one main dining room, the Windjammer Buffet, Park Cafe and Cafe Latitude. 
Of course, Norwegian Cruise Line is known for its Freestyle Cruising approach. This means you can go to dinner at any restaurant at whatever time you choose. There are no set dining times. I actually liked this dining approach for our port-intensive cruise because we often had varying schedules with busy days. 
Having so many complimentary dining options onboard Norwegian Star was impressive, especially given its age. I think Royal Caribbean could take some notes from Norwegian when it comes to complimentary dining options onboard. I would love to see Royal Caribbean add more complimentary dining options onboard their older ships.
Entertainment
One of the biggest drawbacks of sailing on an older - and smaller - ship is having less entertainment options. Bigger ships tend to have flashy production shows; for Norwegian, this is typically full-length Broadway shows and for Royal Caribbean, ice skating spectacles and high-diving shows. 
For both of these sailings, entertainment was generally more limited and simple. Personally, I found Grandeur of the Seas to have better headliner shows and entertainment each evening. For each evening onboard, Grandeur of the Seas had at least one production show. 
During our cruise, this consisted of a comedy show, along with an impersonator and a production show called Broadway Rhythm and Rhyme. We liked all of the shows in the theatre, although nothing blew us away. It was nice to have an evening show available to attend each night of the cruise.  
(Production show on Grandeur of the Seas)
Contrary to Royal Caribbean, Norwegian Star's entertainment was much more limited. Some evenings onboard did not even have a major theatre show. On a 10-night cruise, I anticipated having a few major productions, but this was not the case. We only attended two shows in the theatre, including a contortionist and illusionist. Both of these were excellent - and I wished that Norwegian had more entertainment to offer. This was one of the most disappointing aspects of the cruise, in my opinion. 
Cost
Norwegian Cruise Line and Royal Caribbean are both considered mainstream cruise lines and aim to offer affordable fares. My cruise on Grandeur of the Seas was only four nights, so the cost was inherently cheaper overall compared to my 10-night sailing on Norwegian Cruise Line. 
In my experiences, Norwegian Cruise Line is slightly more expensive than Royal Caribbean; however, pricing is more obscure. Norwegian offers its "Free at Sea" perks which allow you to book a drink package, internet minutes, specialty dining nights and shore excursion credits. You can also add flights when booking your Norwegian cruise, which can have huge savings when promotions are happening.
We snagged a killer deal for our 10-night British Isles cruise! We booked this cruise for $1,600 each - this included the cruise fare, gratuities, port fees, taxes AND round-trip airfare to London Heathrow on Delta. We also received 150 free internet minutes and $50 shore excursion credits for each port. This comes out to $160 per day. 
For our 4-night cruise to Cozumel, we paid $466 each for the cruise fare, gratuities, port taxes and fees. This comes out to $116.50 per night to sail on the oldest ship. We also booked flights to Tampa for $250 round-trip. If you include the cost of the flight in the daily cost, this comes out to $179 per day. 
We could have added the drink package for only $220 each for our Norwegian Star cruise with the Free at Sea promotion; in hindsight, this would have probably been worthwhile for that cheap price! On the other hand, Royal Caribbean's drink package for 4-nights was nearly $400 each - more than double the price. 
These two cruise fares are relatively similar, although I think our Norwegian Star cruise was a better value given the port-intensive itinerary to Scotland, Ireland and England. If you consider the cost of an international round-trip flight being included in the cost as well, it was irresistible!
Bars and Lounges
To start, cruises were vastly different in terms of clientele and length. Our 4-night cruise on Grandeur of the Seas was over the weekend to Mexico and filled with bachelorette parties. In contrast, the 10-night sailing had a much older, quieter demographic. 
Grandeur of the Seas only had a few bars onboard and they were always packed. With so many people onboard looking to party the weekend away, it was no surprise the bars could not keep up. Anytime we wanted a drink, we contemplated whether we wanted to wait in the long lines. The issue was only exacerbated by Grandeur of the Seas only having five bars open throughout our cruise. 
On the other hand, Norwegian Star had 10 bars available with very few lines. Also, keep in mind that one bartender told us 80% of guests onboard have a drink package with the Free at Sea perks. Even with this, the bars and lounges were never too busy and we always had quick service. We particularly loved the SugarCane Mojito Bar and the Proof Whisky Bar, which were specially themed.   
Staterooms
For both of these sailings, I sailed in an inside cabin guarantee - this was the cheapest cabin available. This means you cannot book your stateroom's location beforehand; instead, you save a little money and let the cruise line decide your cabin's fate. I almost exclusively book inside cabins because of the price, although booking guaranteed cabins have become more of a gamble with ships sailing at higher capacity.
As I anticipated, I was assigned cabins in bad locations for both of these cruises. My inside cabin on Grandeur of the Seas was located at the very front of the ship while my cabin on Norwegian Star was at the very back.
However, my cabin location on Norwegian Star was arguably worse, as it was next to a Crew Only door and right above the nightclub lounge. We could hear maintenance noises all day while listening to the DJ play party tunes until midnight each evening. 
Despite the poor location, our stateroom on Norwegian Star was comfortable and cozy. I found the stateroom to be in good condition and especially appreciated the USB plugs for charging. We each had a USB port on our individual nightlights and the cabin also had two more outlets near the small vanity. When we sailed on Grandeur of the Seas, our cabin lacked these modern amenities and instead featured two outlets to share for the cabin. 
On both cruises, we had the beds separated, which made the space feel bigger. I found both bathrooms to exceed my expectations, although Norwegian Star takes the cake for having the better bathroom of the two. 
Both cabins were approximately 140 square feet, so nearly identical in size. Based on my observations, it appears Royal Caribbean allocated more space in the cabin itself while Norwegian prioritized having a bigger bathroom and shower. 
(Inside cabin on Grandeur of the Seas)
While I appreciated having this additional area for seating on Royal Caribbean, having a larger shower on Norwegian Star felt like a luxury. Our bathroom on Grandeur of the Seas has a tiny, oddly-shaped shower with a clingy shower curtain. Alternatively, we had a big walk-in shower on Norwegian Star. Now, I don't go on cruises to have a luxurious showering experience each night, but this was a design choice that we appreciated on Norwegian Star. 
(Walk-in shower on Norwegian Star)
The biggest downside of our cabin on Norwegian Star was the exposed bunk bed above one of the beds. Since an inside cabin is already small, having this exposed bunk bed sit atop one of the beds made the space feel more cramped. Since we only had two people in the cabin, it would be nice if these unused bunk beds came down from the ceiling only when needed.
Regardless, I found both cabins to be in better condition than expected. I would prefer staying in Norwegian Star's inside cabin if I had to pick between the two, but each stateroom had its advantages. 
Final Thoughts
Regardless of a cruise ship's age, it's possible to have a fantastic vacation with the right mindset and expectations - and this was the case for me onboard Grandeur of the Seas and Norwegian Star. 
Both cruise ships impressed me for their age; both were clean and well maintained. I found the food to be better quality onboard Norwegian Star compared to Grandeur of the Seas; in addition, there were more bars and complimentary dining options onboard despite the ship being similar size and age to Grandeur. 
On the other hand, Grandeur of the Seas had better entertainment with nightly shows in comparison to Norwegian Star's sporadic entertainment schedule. With an older and smaller ship, entertainment is limited regardless; however, both ships had plenty to do for activities, events and shows. 
Both cabins had their pros and cons when comparing the two, although Norwegian Star's ahead-of-its-time shower and modern amenities were the selling points for me. Each inside cabin was clean, comfortable and cozy with everything needed for a comfortable stay. 
It's hard to beat the cost of our Norwegian Star cruise, costing just $1,600 for the entire cruise, gratuities and round-trip flight to London. For the price, Norwegian Star was the better value between the two cruises. 
I wouldn't hesitate to book another cruise onboard these ships again; however, I would definitely choose another port-intensive itinerary since both ships are limited in terms of amenities and entertainment.