In:
Ask almost any loyal cruiser, and most will agree that there's something extra special about sailing on a newer cruise ship. Not only is everything onboard spick-and-span, but you're also experiencing the most advanced innovation and technology from the cruise line. 
This isn't to say that I don't like sailing on older cruise ships by any means; I've actually sailed on some of the oldest cruise ships in the industry. I also find that older ships can sail more unique itineraries since size isn't a concern for docking in less popular ports. But, I have to admit that I do love setting sail on a newer cruise ship, especially the most modern cruise ships that a cruise line has to offer.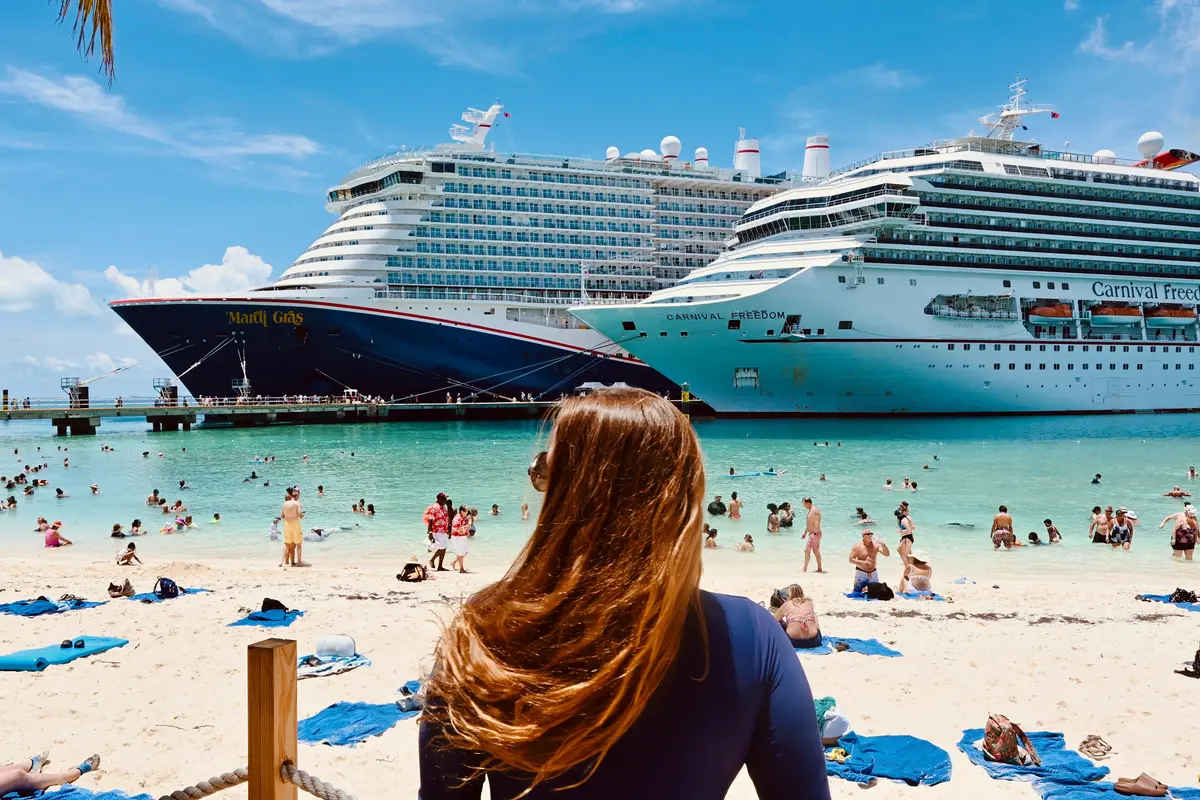 Last month, I set sail on Carnival Mardi Gras, which is one of Carnival's newest cruise ships. Launched in 2021, this cruise ship was the flagship vessel for Carnival's new Excel-class of cruise ships. In my opinion, this shift towards modernizing their fleet was revolutionary for Carnival Cruise Line. 
In fact, some might argue that the new Excel-class of ships is giving Royal Caribbean's Oasis-class ships a run for their money. With fantastic entertainment and more eateries than most, Carnival has certainly upped its game.
As someone who has sailed on every Royal Caribbean ship class, I was eager to see how Mardi Gras compared to an Oasis-class ship. Last year, I sailed on Harmony of the Seas with my family for a 7-night Caribbean sailing. The two ships are similar in size, holding around 6,000 passengers, and offer a similar type of cruise experience centered around family fun for all. 
Here's how Royal Caribbean's Harmony of the Seas compared to Carnival's Mardi Gras, along with some of my honest thoughts about each cruise experience. 
Ship Class Overview
Overall, Carnival's Excel-class and Royal Caribbean's Oasis-class ships represent important new eras of ship design and technology for each respective cruise line. 
Royal Caribbean has always been known to push the envelope on innovation and advancement in the cruise industry. As such, the debut of its Oasis-class ship in 2009 was met with much excitement from the cruise industry. At the time, there was no other cruise ship like it due to the ship's sheer size and its unique entertainment. 
These ships are best known for creating an unparalleled design with multiple neighborhoods, including an open-aired space in the middle of the ship. This space is home to Central Park - a serene space with real greenery and open air - along with the aft-facing Boardwalk, which includes a carousel, Johnny Rocket's diner and AquaTheatre with diving shows. 
With Oasis of the Seas being a smash-hit for Royal Caribbean, the cruise line continued to build similar vessels in the same class. Harmony of the Seas was launched in 2016; at the time, it was the biggest cruise ship in the world. The cruise ship has endless amounts of options for dining, onboard thrills, entertainment and accommodations onboard.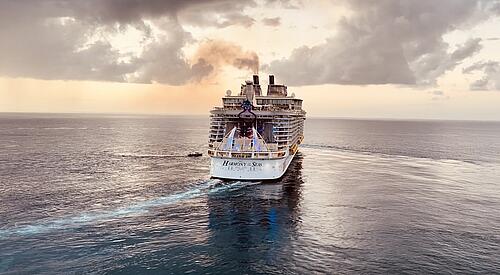 Personally, I love Oasis-class ships and find they are easy to navigate with their distinct neighborhood designs. Harmony of the Seas was no exception and the open-air spaces were some of the highlights for me. At maximum capacity, Harmony of the Seas can hold 6,700 passengers and weighs 226,000 gross tons. 
On the flip side, Carnival Mardi Gras is the second largest vessel in Carnival's fleet, only coming in second to sister-ship Carnival Celebration. In comparison, Mardi Gras is smaller than Harmony of the Seas, weighing 180,000 gross tons and holding 5,500 passengers at full capacity. 
Although smaller than Harmony of the Seas, Mardi Gras was revolutionary for Carnival because it was 40% bigger than anything the cruise line had built before. Carnival had resisted the industry's shift towards building massive mega ships for many years. Instead, Carnival built new vessels that were designed with the same look and feel as previous ship classes. This led to a stagnant innovation from the cruise line - that is, until the debut of the Excel-class ship.  
Mardi Gras was the first introduction of Carnival's take at having different designated zones onboard. Similar to Harmony of the Seas' neighborhoods, you can find similarly themed bars, lounges and eateries in Mardi Gras' six different zones. 
Similar to Harmony of the Seas, Carnival Mardi Gras has an extensive list of dining options, onboard thrills and entertainment choices. The newest vessel debuted a brand-new entertainment venue called Center Stage, which is an outward-facing atrium in the center of the ship that transforms into a nightly space for headliner productions. 
As someone who had cruised previously on older Carnival ships, I was blown away by Carnival Mardi Gras. Quite frankly, I didn't know what to expect since my prior experiences were on ships that felt dark, cramped and outdated. However, Carnival's new ship was not only modern, but it was surprisingly stylish and very well designed. 
Dining and Restaurants
If you're like me, then trying out all of the restaurants onboard is one of your favorite cruise ship activities! Lucky for me, Mardi Gras and Harmony of the Seas both had a seemingly endless amount of places to eat onboard. I ran out of time to try everything onboard, only to the praise of my jeans back home in my closet. 
Harmony of the Seas had 9 different dining options onboard that were complimentary. The main dining room serves up breakfast, lunch and dinner during the cruise, offering world-class cuisine in an upscale restaurant. The Windjammer Buffet - which we all know and love as a Royal Caribbean staple - was also great for grabbing breakfast or lunch. 
Harmony of the Seas also features a variety of spots to grab a quick bite to eat, such as Sorrento's Pizza, Dog House, Mini Bites, Cafe Promenade and Park Cafe. However, it's really tough to beat Mardi Gras' dining options for casual spots to eat. Ask anyone who has sailed on both Royal Caribbean and Carnival, and I would bet they agree with this statement. 
Comparatively, Mardi Gras has 20+ complimentary eateries onboard - and they're all pretty dang delicious. We ran out of time to try every option onboard, although we did try our best. Mardi Gras has Carnival's signature dining options, such as Guy Fieri's restaurants Guy's Burger Joint and Pig & Anchor BBQ Smokehouse. Our personal favorite was Big Chicken, which is a Chick-Fil-A dupe serving crispy chicken tenders and sandwiches thanks to another celebrity partnership with Shaq O'Neal. 
Celeb-chef, Emeril Lagassi, has also partnered with Carnival to debut Emeril's Bistro, which serves breakfast, lunch and dinner with a creole flair. We loved coming here for breakfast during our cruise, even with the extra $5 surcharge per menu item. 
This doesn't even scratch the surface for the eateries, as Mardi Gras also has BlueIguana Cantina, the pizzeria onboard, a panini shop and JavaBlue coffeeshop. Sit-down restaurants include the Italian Cucina del Capitano and Asian/Mexican fusion ChiBang. Both of these have the look and feel of specialty dining, but these dining options are complimentary. 
Of course, Carnival has a main dining room, which is home to the cruise line's famous SeaDay brunch. I appreciate having a brunch option that goes until early in the afternoon, as we had some late nights on Mardi Gras and needed to sleep in. You can also find the Lido Marketplace buffet and specialty dining restaurants, although I'd argue this is where Harmony of the Seas shines in comparison. 
Harmony of the Seas features upwards of 10 different specialty dining venues, including specialty options for steak at Chops Grille, Italian at Jamie's Italian, Izumi sushi and even 150 Central Park for fine dining. Although I've tried the steakhouse and sushi-equivalent on Mardi Gras, I much prefer the specialty dining on Harmony of the Seas. The food was higher quality, portions were more generous and service was more attentive. Overall, the ambiance was more elegant and upscale too.  
I also found that Harmony of the Seas had better service and food at the main dining room in comparison to Mardi Gras. The appetizers, entrees and desserts were higher quality and provided more variety, in my opinion. However, no one can beat Carnival's melting chocolate cake, which is served each night in the dining room! As a chocolate lover, this one is heavenly each night.
From my experiences, Carnival's buffets have always left me feeling disappointed - and the Mardi Gras buffet was no exception. The cramped Lido Marketplace space lacked variety and quality in comparison to the Windjammer, which has never let me down.
Overall, Mardi Gras has unbeatable food when it comes to quick, casual options onboard, such as Guy's Burger Joint and Big Chicken, while Royal Caribbean's dining room, specialty dining and buffet options are superior. 
Headliner Productions and Entertainment
In general, cruise ships have their best entertainment and headliner productions on the biggest cruise ships. Mega cruise ships tend to have more resources to perform the big-name headliner shows and Broadway productions. For me, this was definitely the case for us when sailing on Harmony of the Seas and Carnival Mardi Gras. 
Generally speaking, the entertainment we experienced on both of these cruise ships were incredible with lights, music, dancing, acrobats, ice skaters, divers, comedians and much more. We were throughly impressed by all of the entertainment provided. Regardless of which cruise line you sail on, I can almost guarantee that you will be awestruck by the entertainment onboard.
As an Oasis-class ship, Harmony of the Seas has some of the best entertainment that Royal Caribbean has to offer. The highlight of the entertainment for me was a 90-minute production of Grease, which felt like I was transported to New York for a Broadway musical.
Harmony of the Seas also features an onboard ice skating rink and AquaTheatre, which are unique venues that showcase even more spectacular production shows. The AquaTheatre had a production show with high-divers, synchronized swimmers and aerial acrobatics. It's truly unlike anything you've seen before on land and truly took our breath away. 
Similarly, Harmony of the Seas features 1887: A Journey Through Time as its main production  in Studio B Ice Skating Rink. The production has skaters with twirls, turns and flips in gravity-defying stunts.
Of course, Harmony of the Seas also offers evening headliner theatre shows, including comedians, magicians, and other singing and dancing productions. You'll also found bars and lounges with parties, live musicians and more throughout your cruise. 
While Royal Caribbean's Harmony of the Seas has fantastic production shows, Carnival has definitely taken its entertainment to the next level onboard Mardi Gras. Other production shows from Carnival had always felt low budget to me, although the daily comedians are normally a spotlight on any Carnival ship. 
For starters, Carnival debuted the Center Stage concept on Mardi Gras as a main venue for its production shows. This atrium is located midship and spans across multiple decks with an outward facing design. Here, you can find some of Mardi Gras' biggest productions. 
During our cruise, we enjoyed shows like Celestial Strings (an electrifying strings performance with acrobats), VooDoo Moon (a spooky musical production with aerobatics), Vegas Nights (a flashy production, Vegas-style) and We Are One (a worldly journey with singing and dancing). 
Mardi Gras also features Production Playlist shows in a smaller, more traditional theatre with another group of onboard performers. Special to Carnival is the live gameshows of Family Feud and Deal or No Deal. Finally, you can enjoy Punchliner Comedy Club with multiple shows each day featuring rotating comedians. Fun Fact: Carnival employs more comedians than any other company in the world!
Comparing the two, Harmony of the Seas has more specialty-style entertainment with Broadway musicals, diving shows and ice skating productions. These are entertainment options that are uniquely available on Harmony of the Seas (and other Oasis-class ships).
On the other hand, Mardi Gras certainly has wonderful entertainment headliner productions too. In addition, those who enjoy late-night deck parties and energetic nightclubs will definitely enjoy the fast-paced environment on Mardi Gras.
At the end of the day, I personally think you can't go wrong with entertainment from either cruise line.
Activities and Thrills
The bigger the cruise ship, the more onboard thrills, activities and amenities you'll be able to find. For me, this is one of my favorite parts of sailing on a cruise line's largest ship, as you'll have an endless amount of things to do. Both Harmony of the Seas and Carnival Mardi Gras are two of the largest vessels in each cruise line's fleet. As such, we found these ships features more things to do than we had time for!  
To start, Royal Caribbean is known for creating jam-packed cruise ships with nonstop fun thanks to a plethora of onboard thrills. Harmony of the Seas is one of the most innovative ships sailing for the cruise line. Even as an adult, many of the onboard thrills were enticing. Best of all, pretty much all of the onboard thrills are complimentary on Harmony of the Seas. From the Ultimate Abyss (the tallest slide at sea), along with an ice skating rink, zip line, miniature golf, FlowRider surf simulator and a rock climbing wall. 
Similarly, Carnival Mardi Gras is designed with family-fun in mind. One of the most innovative parts of Mardi Gras is Bolt - the very first rollercoaster at sea. As a rollercoaster aficionado, this was one of the best thrill rides I've ever experienced on a cruise ship.
However, Bolt is not complimentary. For $15 each, you can take two quick laps around the top deck of Carnival Mardi Gras. I found it worth the cost to ride this coaster, as you'll whip around the ship in a way you've never experienced before.
For complimentary onboard thrills, Mardi Gras also offers plenty onboard thrills at the Ultimate Playground, where cruisers can enjoy adrenaline-pumping waterslides at WaterWorks, participate in a round of miniature golf or play some basketball at the sports court. One of the craziest onboard thrills includes the complimentary ropes course, which takes you across the top deck of the ship while doing an obstacle course. You can even hang over the side - if you're brave enough! 
Onboard Vibe and Atmosphere
Harmony of the Seas and Carnival Mardi Gras are designed to offer an incredible vacation for everyone in your family. As such, you'll definitely find a little something for everyone onboard these two ships. 
During my Caribbean cruises on both of these ships, Carnival Mardi Gras certainly had an edge when it comes to the party and nightlife scene onboard. Mardi Gras cultivated a more casual ambiance as well with carefree cruisers looking to have a blast. This isn't to say that things were out of control - and I think Carnival gets a bad rep for this, honestly. 
If party isn't your vibe, you can enjoy the adults-only area called Serenity onboard. This is located at the front of Mardi Gras and features tons of padded loungers, daybeds and pools to be used just for adults. This is where we spent our afternoons at sea, as we appreciated the quiet space in comparison to the always busy pool deck. 
In a more subdued manner, Harmony of the Seas was still very lively with cruisers looking to have a fantastic vacation. The nightlife wasn't quite as prominent. In general, the onboard atmosphere of Harmony of the Seas was slightly more upscale with so many specialty restaurant and quality production shows.  
Adults can especially enjoy the beautiful Solarium on Harmony of the Seas. Similar to Serenity on Mardi Gras, you can enjoy an adults-only pool with loungers and daybeds surrounding the space. It's quiet and peaceful - the perfect place to enjoy a cocktail, read a book or take a nap.
While Serenity is entirely open-air, most of the Solarium is enclosed though with glass panels surrounding the space, meaning it can be enjoyed during less-than-ideal weather.
Staterooms and Suites
To appeal to a wide range of cruisers, both Harmony of the Seas and Carnival Mardi Gras have a variety of accommodations onboard. These include everything from budget-friendly inside cabins to luxurious suites. 
When sailing on Harmony of the Seas, my sister and I stayed in our typical choice: an inside cabin. We were impressed with the stateroom's decor, design and functionality - it had everything we needed for a comfortable stay. Since Royal Caribbean tends to be slightly more expensive than Carnival, we opted to save money by choosing a cheaper cabin. 
For those looking to splurge, Harmony of the Seas has some very unique staterooms available onboard thanks to neighborhood zones like Central Park and the Boardwalk. You can choose to stay in these inward-facing balcony rooms where you'll have views of each respective neighborhood. 
Harmony of the Seas also features massive suites for those looking to splurge, including the aft-facing AquaTheatre Suite (including unparalleled views of the diving spectacles) and Crown Loft Suites.
On the other hand, Mardi Gras' stateroom selection and prices allowed us to splurge a bit more. We opted to spend a but more so we could try out an Ocean Suite onboard the snazzy new ship, and it did not leave us disappointed. Our room was very large and featured a separate living room and extended balcony. This entry-level suite was only about 50% more than our inside cabin on Harmony of the Seas.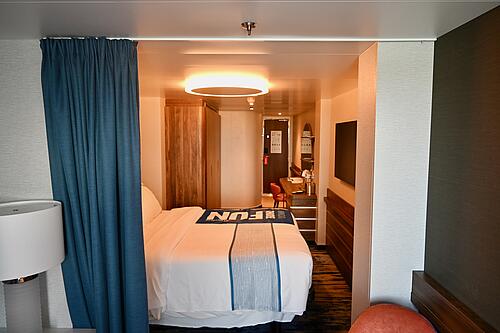 In as similar way to Harmony of the Seas, Mardi Gras also features themed staterooms to accommodate different cruisers and families. These include the Havana Club staterooms, which provides convenient access to the Havana Club and an exclusive lounge area. Families can enjoy the Family Harbor deck, which are conveniently located near Mardi Gras' childcare programs in Camp Ocean and include a special family lounge with snacks like PB&J sandwiches and cookies.
Final Thoughts: Is one better?
It's no surprise that Royal Caribbean and Carnival Cruise Line are two of the most popular cruise lines in the world. This is especially true in comparison of each cruise line's biggest and most modern cruise ships. After sailing on both, Carnival Mardi Gras and Harmony of the Seas showcase the best-of-the-best from each cruise line.
Do I think one cruise ship is better than the other? Maybe for me, but that's not the case for everyone. 
I've been a loyal Royal Caribbean cruiser for most of my life, which inherently sets a bias towards Harmony of the Seas. However, I love to cruise and can truthfully say I've enjoyed every single cruise I've taken, although some fit my travel style better than others. 
If you prefer your cruises to focus on headliner and unique entertainment, along with more upscale dining choices in specialty restaurants (like Jamie's Italian, which is one of my favorites), then you'd perhaps lean towards Harmony of the Seas. 
I'm not a huge partier on a cruise; I like to spend my Caribbean cruises taking it slow with a cocktail and good book in hand. I prefer to relax onboard while exploring ports during the day. You won't find me staying up late at the nightclub most night, which tends to align with onboard vibe on Harmony of the Seas. I also preferred the entertainment onboard Harmony of the Seas with the diving show, Grease musical and ice skating spectacles. 
However, I wouldn't hesitate to sail on Carnival Mardi Gras again. I loved that the cruise ship's ambiance and the vibe was very carefree and chill. Everyone was having a blast, but it never felt rowdy or out-of-control. Carnival's quick and casual food options, like Big Chicken and Guy's Burger Joint, are the best in the business and a huge highlight for me - it's where the cruise line shines!
You can also expect to find massive sailaway parties and deck parties late into the night while you sail, along with great entertainment each evening. The fast-paced environment is perfect for those looking to let their hair down with the whole family. 
At the end of the day, each cruise ship offers a fantastic cruise vacation.