In:
I recently stayed in windowless interior cabins onboard Royal Caribbean's Symphony of the Seas and Carnival Cruise Line's Carnival Celebration.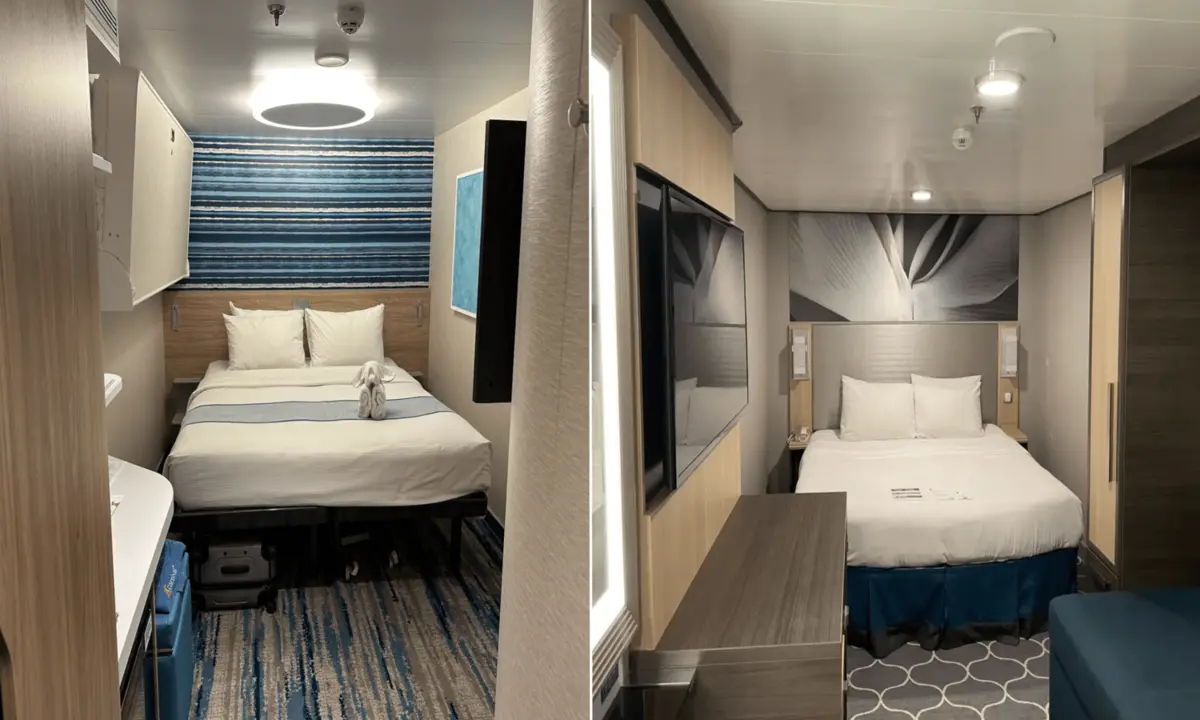 While Carnival Celebration is the newer ship of the two, Symphony of the Seas is the larger one, measuring over 44,000 gross registered tons more. As of November 2023, she is the second-largest cruise ship at sea. 
I traveled alone on both cruises, meaning that I had to pay the dreaded single supplement fee. My cruise fare included gratuities on Symphony of the Seas in January totaled $1,400. I paid $500 more, or $1,900, for my 7-night sailing onboard Carnival Celebration in mid-October.
In terms of square footage, my cabin onboard Carnival Celebration was nine square feet larger than my room on Symphony of the Seas, with the latter measuring 149 square feet. However, despite the additional square footage, I felt like the space in my room on Symphony was better utilized. 
Not only did I have a small dresser with drawers to store my clothing in addition to two closets, but there also was a nicely sized sofa. There was no other seating option in my stateroom on Celebration other than a small stool that could be tucked underneath the vanity. 
Regardless, I was impressed by the amount of storage space in both staterooms. Due to the drawers, however, I felt I was able to keep my belongings more organized in my inside cabin on Symphony. 
Additionally, the placement of the closets maximized the amount of available floor space. Despite this cabin being smaller, it felt larger than my room on Carnival Celebration! 
The vanities were equipped with more than enough outlets and USB ports to charge my devices. Celebration's stateroom had three American outlets and four USB ports, while Symphony's vanity area had three American outlets, two USB ports, and a single European outlet. 
Since there was a small dresser, the vanity space in my stateroom on Carnival Celebration was larger. I also liked the wide shelves attached to the side of the closet, as the single shelf above the desk on Symphony of the Seas was rather narrow.
I was only able to store sunglasses and other small miscellaneous items there. 
The nightstands beside the bed on my Carnival cruise were small, metal tray-like pieces of furniture, each with a single USB port above them. My cabin on Symphony also had two nightstands; however, they were wooden, with only one of them having a USB port close by. 
One of the largest drawbacks was that the stateroom's telephone was placed on one nightstand, rendering it pretty useless. I appreciated how the telephone in my cabin on Celebration was attached to the wall. Of course, this meant that if someone wanted to call me, I would not be able to answer it from bed. 
This might be controversial, but I preferred the bathroom in my Carnival cabin. While there was less floor space than the ensuite onboard Symphony of the Seas, I found the shower to be larger and appreciated how it was not rounded. Plus, the counter was wider, albeit not as long. 
Both, however, were modern and updated. Neither had a curtain, which can be found on all classes of Carnival ships except the Excel Class, and there was enough space for all of my toiletries and cosmetics. 
Royal Caribbean's showers come equipped with a shampoo/body wash combo, while Carnival provides two different products.
Personally, I'm not a fan of any cruise line-provided products and would recommend bringing your own shampoo and body wash on any cruise that you go on. 
During my time on both ships, I found the water pressure and temperature in the shower to be more consistent onboard Carnival Celebration.
While on Symphony of the Seas, the water pressure was neither great nor awful, and I had issues with the temperature. In the mornings, I was unable to get hot water, sometimes having to wait twenty-five minutes for it to heat up. In the evenings, the water was always scalding hot. 
The television in my stateroom on Carnival Celebration was hung on a small wall directly opposite of my bed near the adjoining door, whereas the one in my cabin on Symphony of the Seas was hung on the wall above the dresser. I was also able to rotate it to see it from either the bed or sofa. 
The door connecting my stateroom to the one beside me was just one complaint I had with my room. Another large one was the exposed pullman bed that constantly jetted out from the wall, making the space feel more cramped. While there was enough space for myself in this interior stateroom, I cannot imagine trying to cram three people in it! 
As standard in the cruise industry, both rooms were outfitted with mini-fridges and safes. The mini-fridge in my cabin on Symphony of the Seas had three adjustable shelves and a single bin shelf on the mini-fridge's door. There was a single adjustable shelf in the mini-fridge on Carnival Celebration, as well as two bin shelves on the door.
They were both located near the vanity; however, it was hidden behind a door in the dresser on Symphony, whereas it was exposed on Carnival Celebration due to the lack of a dresser. I never had an issue with the functionality of either. 
Overall, I found both interior staterooms to be well-appointed and comfortable for a weeklong cruise. If, however, I was presented with a choice, I think I would choose Symphony of the Seas' cabin over Carnival's, simply because the smaller room felt larger due to the way the stateroom was designed.