In:
When Royal Caribbean's new beach club opens in The Bahamas in 2025, its intent is to offer something for both cruise ship passengers and the people of The Bahamas.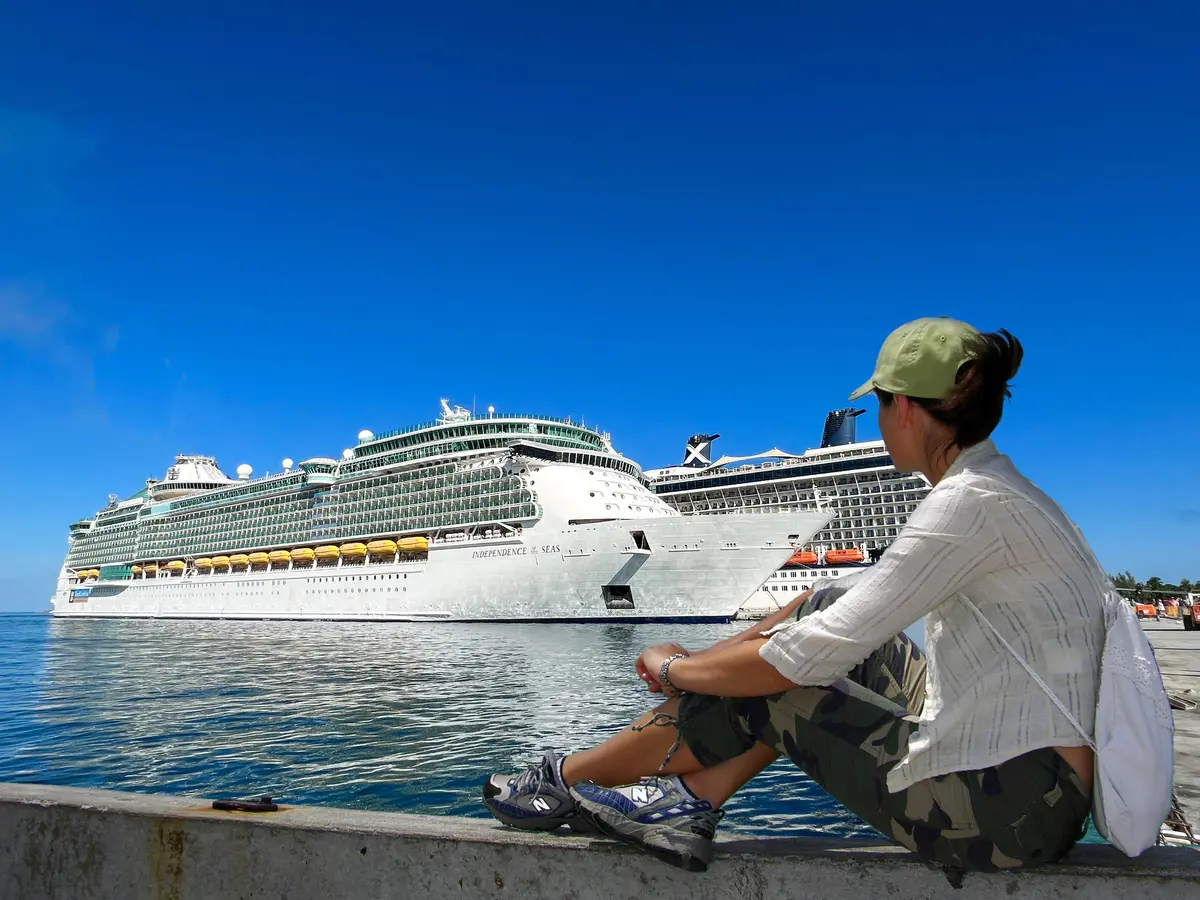 Royal Caribbean International President and CEO Michael Bayley spoke to the Bahamian press on Wednesday about the cruise line's new plans. He specifically addressed why the beach club not only benefits the cruise line, but locals as well.
In 2025, Royal Caribbean will open its first Royal Beach Club, which is an extra-cost all-inclusive beach on Paradise Island, just across the waterway from where Royal Caribbean's ships dock their ships in Nassau.
It will be a limited capacity area, and a shore excursion option that will be open exclusively to Royal Caribbean ship passengers.
There will be pools, beaches, dining experiences, and live entertainment too.
"The model for this project is a world class model for public private partnerships," Mr. Bayley said. "There is nothing in the Bahamian tourism sector of this quality. Forty nine percent of this entity will be owned by Bahamians."
The new beach club is part of an overall strategy to bring more cruise ship tourists than ever before to The Bahamas. Mr. Bayley shared the cruise line's overall strategy and how the beach club fits in, "We are building ships and bringing them to the Bahamas and Nassau. We are bringing the capacity. In Nassau we bring around one million tourists a year and nearly three million visitors a year to the country."
"By 2027 in Nassau, it will be 2.5 million. The Beach Club is obviously not capable of holding all of the visitors we bring. It can hold on average 2,750 guests per day.
"By 2027 we will be bringing 7,000 guests per day to Nassau. Sixty percent of the additional capacity coming cannot go there. That means there will be plenty of tourists for Bay Street and elsewhere. "
Passengers don't love Nassau
Mr. Bayley was also open about how cruise ship passengers perceived visiting Nassau, saying it ranks among the bottom 10% of ports in feedback.
Royal Caribbean surveys its customers regularly about the places they visit on a cruise in order to ascertain trends.
"Nassau is in the bottom ten percent," he said.
Why so low? Part of the answer is there aren't enticing options.
According to Mr. Bayley, cruise ship passengers have, "come here many times before and there's nothing new, fresh or innovative. Secondly, there needs to be more product, more experience, more uniqueness, more options."
"We want to improve the experience of our guests. We can't keep selling experiences to people who say we love going to Perfect Day, it's fantastic, we want to go back, but the Nassau thing, can you guys stop going there? We can't do that, so yeah, we want to be a part of the solution."
In case you're wondering, Perfect Day at CocoCay ranks as the number one destination among Royal Caribbean guests.
"CocoCay is the number one destination that Royal Caribbean goes to in the world out of 100 global destinations, because it's a curated experience designed and built to deliver a high-level experience to the customer. At the end of the day that's all that matters."
In the case of Nassau, Royal Caribbean sees an opportunity to improve and make the destination more appealing, "We get data from every single cruise every single time from every single customer. If one person says they don't like something, fine. When we look at the trend data and we see that a lot of people are not enjoying their experiences, what do we do? We change it. We renew it. We invigorate it to try to remove obstacles to their satisfaction."
Partnering with the Bahamas
Royal Caribbean is adamant the beach club is not just about benefiting the cruise line. It's been designed to be financially beneficial to Bahamians too.
"Forty nine percent of this entity will be owned by Bahamians," said Bayley.
"With regards to employment, everyone who works there will be Bahamian except four to five persons who will be brand managers ensuring everything is up to Royal Caribbean standards."
"We are looking for a Bahamian to be the president of the Royal Caribbean Beach Club and any construction activity will heavily involve Bahamian companies."
The beach club's benefits for the people of the Bahamas includes:
First public-private tourism development that gives Bahamians the opportunity to own up to 49% of the beach club
The land contributed by the Government will provide benefits to The Bahamas for generations to come in the form of equity
Individual Bahamians will have the opportunity to buy equity in the beach club and benefit from the profits
Local businesses and entrepreneurs will have the opportunity to manage and participate in the vast majority of the beach club
Hundreds of jobs will be created during construction and through operations, either directly or indirectly through new partnerships
1% of gross revenue of the beach club will be invested in a new fund to develop other attractions around The Bahamas
Growth of the number of guests Royal Caribbean brings to Nassau
Earlier this week Royal Caribbean's Senior Vice President and Chief Product Innovation Officer Jay Schneider echoed Mr. Bayley's comments of just how good this project will be for both sides, "We look at the totality of kind of the structure that we created with the government and the kind of net new employment opportunities and job creation and profit creation for  the government and individuals and the money that we're putting back into the Bahamas is really something that nobody's ever done before, for sure, for the Bahamas. And it's rare to see worldwide."
"We think this is a home run for the Bahamas."