In:
Port Canaveral is one of the more popular cruising and vacation destinations in Florida, and is the gateway to cruise that many guests embark and start their adventure.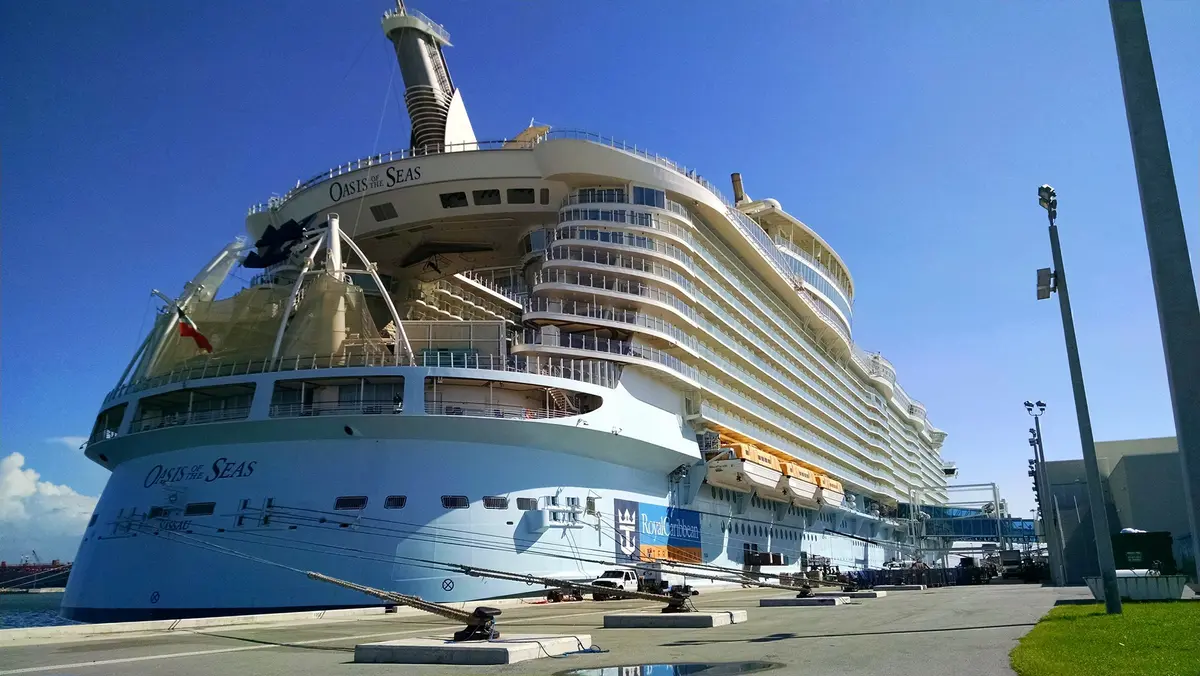 If you're looking to get to Port Canaveral, here is a quick guide to knowing how to get there quickly and easily.
Royal Caribbean operates three cruise ships from Port Canaveral currently: Harmony of the Seas, Mariner of the Seas, and Independence of the Seas.
Directions to Terminal 1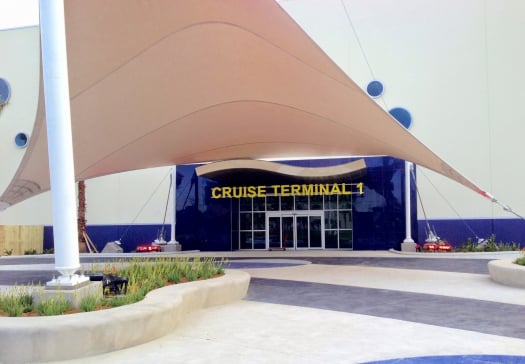 Royal Caribbean operates mostly out of the brand new Cruise Terminal #1, which is is located at 9050 Discovery Road Cape Canaveral, Florida 32920.
Driving to Terminal One is simple enough from most spots in Florida.  Most routes will take you to the Cape Canaveral/Cocoa Beach area via State Road 528, which is a toll road.  You should be prepared and either pre-purchase a SunPass or have exact change in your vehicle.
Directions from Orlando International Airport (MCO)
Take the North exit from the airport, staying to the right on SR 528 East.
Take SR 528 East all the way to Port Canaveral.
Upon approaching the port area, follow the signs indicating Port Canaveral Cruise Terminals B Side.
From Melbourne International Airport (MLB)
Exit east (left) out of the airport onto NASA boulevard and follow to U.S. Highway 1.
Turn left (north) onto U.S. Highway 1.
Travel approximately 20 minutes on U.S. Highway 1 passed the intersection of S.R. 520 in Cocoa about one mile to the S.R. 528 exit.
Exit and travel east on SR. 528 for approximately 10 miles, crossing the Indian River, Merritt Island and the Banana River to reach Port Canaveral.
From Orlando Sanford International Airport (SFB)
Exit the airport south to the Central Florida Greenway (Toll Road 417).
Go south 23 miles to S.R. 528 (the Beach line Expressway) eastbound exit.
Go east (37 miles) to the Port. 
From Space Coast Regional Airport (TIX)
Exit and drive east three blocks
Turn south onto U.S. Highway 1 to the Beach line Expressway (S.R. 528) and follow this east to the Port.
From Daytona Beach International Airport (DAB)
Take I-95 south to S.R. 528 East and follow to the Port
Port Canaveral parking information
You can park directly at Port Canaveral at the parking garage that is adjacent to the cruise terminal.
Parking is $17.00 per day (Vehicles & RVs), including day of arrival and day of departure. 
When you drive to the terminal, you can either park first or drop off luggage first.  In either case, there is a multi-level parking garage where you can easily access to park your vehicle.
You will pay for parking upon entry into the garage, which means when your cruise is over and you drive home, there are no lines.
No cash is accepted for parking, so you will need a credit card to park  (American Express, Visa, MasterCard, and Discover).
In addition to the parking garage, there are a few smaller surface lots near the parking garage. These are often used as overflow from the garage.
Taking a taxi
There are lots of taxis at Port Canaveral, as well as the airports in the area that can easily take you to/from Port Canaveral.
Ride-sharing programs, such as Uber or Lyft are also options that can save a lot of money compared to traditional taxis. These ride-sharing services allow people to use their own personal automobiles to provide car rides. Uber and Lyft are gaining in popularity among people headed to the cruise port as a less-expensive way of getting private car transportation to the port.
In either case, get a fare estimate before choosing which service is right for you.
Renting a car
In so many cases, a one-way car rental is the best optional economically because of the flexibility it offers, as well as the per-person cost. Most major rental car facilities have locations in the Cocoa Beach area and provide complimentary shuttle service to the port.
The larger the group, the better sense renting a car makes.  Check what the rental car rates will be for the time you are looking to go, but having a rental car offers not just a means of getting to the port, but also a way to see local attractions, enjoy a greater variety of restaurants and stock up on last-minute supplies prior to getting to the cruise terminal.
When reserving your car, be sure to indicate that you will return the car in a different location and look for locations in Cape Canaveral or Cocoa Beach.  The major rental car companies have locations within 5 miles or so of the cruise terminals.
A good tip for those renting a car is to first drive the car to the cruise terminal, drop off the luggage and everyone else in your party there.  Then, the driver should drive the rental car back to the car rental location and take the free shuttle back to the pier. The reason for this is many people opt to bring the car to the car rental location first and lines can develop for the shuttles since the shuttles aren't very big.  If just one person needs a ride back with no luggage, it can be much easier to hop into the first shuttle back to the terminal since you don't have to worry about fitting luggage or family.
Royal Caribbean Transfers
Royal Caribbean offers a bus service of its own (called transfers) to bring you to the port from Orlando International Airport (MCO). Royal Caribbean offers transfers in one way increments (you can book two one-ways to create a round trip). 
To purchase a Royal Caribbean Guest Transfer or for additional information consult your travel agent or the Royal Caribbean reservations department at 1-800-327-6700.
From an area hotel
If you are staying in a hotel prior to your cruise, the hotels in Port Canaveral and Coco Beach are very convenient to the port.
Take route A1A north and follow A1A all the way until you reach the port area.  Follow the signs for the terminal of your cruise.
Some hotels in Cape Canaveral will offer cruise and park deals, where you can pay for a one night stay at the hotel and receive complimentary parking for the duration of your cruise as well as shuttle service to the pier terminal.
What time to arrive to Port Canaveral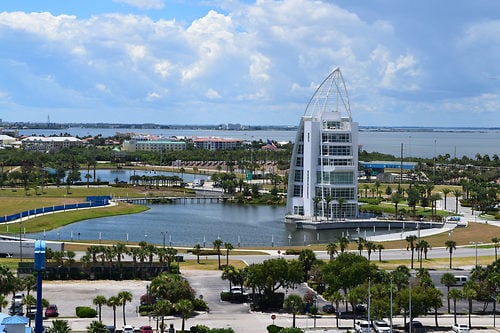 Since 2021, Royal Caribbean enforces check-in times for what time you can check-in for your cruise.
Up to 45 days before your cruise is set to begin, you can complete the online check-in process via Royal Caribbean's app.
It's important to adhere to the check-in time so you can avoid overcrowding, as well as be admitted right away into the terminal.
If you arrive early, there are a few restaurants and bars within walking distance to the left of the cruise terminal. Porters are available to take your luggage, and then you can hang out at either Fishlips or Grills while you wait.
Covid testing near Port Canaveral
Royal Caribbean requires everyone, regardless of vaccination status, to get a covid test before their cruise.
You'll need to show your negative covid test for everyone in your group when you arrive at the cruise terminal.
Ideally, you should get a covid test done before your get to the port and likely closer to your home. Most local pharmacy chains offer covid tests at various costs.
I recommend anyone that is vaccinated to take the Abbott BinaxNow COVID-19 Ag Card Test at-home covid test. It's convenient and easy to use, with no scheduling of appointments required.
Vaccinated guests that have exhausted every option in trying to secure a pre-cruise test, can secure an antigen test performed by mobile providers outside the cruise terminal in Port Canaveral. Keep in mind that Royal Caribbean warns there are extremely limited appointments at the cruise terminal, which need to be scheduled. Pricing for this option starts at $99 USD, per person.