In:
Carnival Cruise Line and Royal Caribbean are two of the biggest and most popular cruise lines in the world. Each cruise line has a lot to offer when it comes to dining, entertainment, amenities, attractions and the overall onboard experience.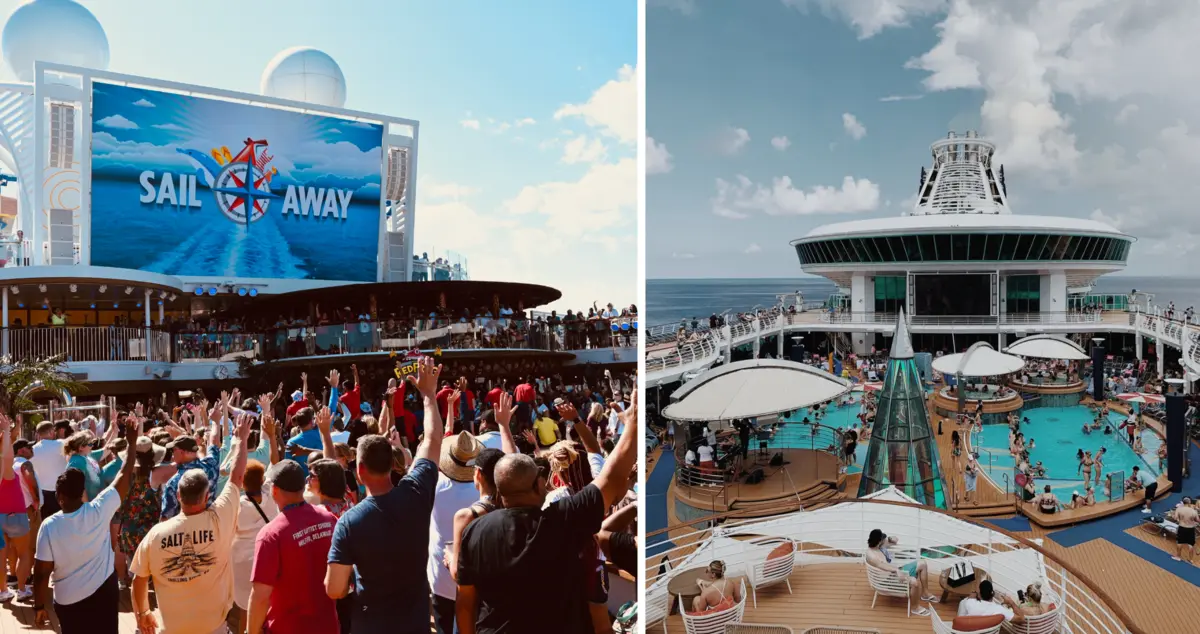 Carnival is known for having the 'most fun ships at sea', while Royal Caribbean aims to provide unparalleled entertainment and onboard thrills for the whole family.
Comparatively, Royal Caribbean is also known for being more innovative with its ship design and infrastructure, with Carnival only now just building more advanced cruise ships with its Excel-class. 
Both cruise lines, however, aim to be an affordable vacation option for the whole family. Itineraries are offered around the world, although Royal Caribbean has a more international presence. On the other hand, Carnival focuses on attracting domestic cruisers within driving distance to its U.S. ports across the country.
But which cruise line is the best? 
Of course, this is a subjective question, as everyone has their own preferred cruise line that best fits their budget and travel style. And let's be honest - there are things to love and hate about every cruise line. 
A recent post on Reddit asked users the following question: Why do you prefer Royal Caribbean over Carnival? 
Many provided insight into why they prefer cruising with Royal Caribbean instead of Carnival Cruise Line - and the responses were quite interesting. As someone who has cruised with Carnival a few times in the last year, I found these responses to mostly align with my own perspective of comparing the two cruise lines. But, I continue to be loyal to Royal Caribbean, as I have been sailing with the cruise line since I was 10 years old.
Here's why fans say they prefer Royal Caribbean over Carnival Cruise Line.
First, many seem to prefer the more relaxing environment on Royal Caribbean compared to Carnival's non-stop party atmosphere. 
When Carnival says it has the most fun ships at sea, they are not joking; Carnival takes fun very seriously. The parties really do not stop from the minute you step onboard a Carnival ship! Until last year, I hadn't sailed with Carnival since my college spring break days. After a few days onboard, we concluded that Carnival has crazier parties, louder music and more drinks flowing more than Royal Caribbean. 
When asked why cruisers prefer Royal Caribbean, one user responded, "We went on one Carnival cruise, and never again, it's the party boat."
"In my humble opinion, Carnival is the cruise line for people who like to party. And I don't like to party, at all," shared one cruiser.
"Carnival's reputation is a 'party cruise' and tends to have rowdier crowds," another person agreed.
Many people echoed this sentiment, agreeing the party-like atmosphere onboard Carnival simply does not align with their cruising style. In fact, this was one of the biggest things that surprised me about my recent Carnival cruises - the parties are truly on another level.
Because Carnival's branding centers heavily around fun, it's also integrated into every aspect of the cruising experience. This was another difference that really stood out on my recent Carnival cruise. The word 'fun' is literally plastered everywhere: the entertainment team is called the 'Fun Squad', the shops are called the Fun Shops, and every announcement seemed to have the word 'fun' it as well.
One user responded, "Also the never ending announcements on Carnival that tries to send subliminal messages that you're having fun are really annoying. 'Don't forget the sale in the fun shop', 'hope you have an amazing day on this fun ship', 'check out the fun times', fun fun fun…."
This isn't necessarily a bad thing - if you're someone who loves to let loose for your vacation, Carnival is a great fit for having fun. Those who prefer a bit slower pace on vacation will probably enjoy Royal Caribbean's experience more.
Another common response included Carnival's ship design compared to Royal Caribbean's innovative, well-designed cruise ships. 
As mentioned earlier, Royal Caribbean is known for its innovative, forward-thinking ship designs. Especially in the last two decades, Royal Caribbean has been building cruise ships that have revolutionized the cruise industry. The cruise line has held the title for biggest cruise ship in the world for nearly twenty years since the construction of Freedom of the Seas. 
Until recently, it was apparent that Carnival was not focused on advancing its ship design or innovation. Each ship class that Carnival debuted had very similar deck plans and infrastructure, rarely showcasing something new or revolutionary. The new Excel-class ship has upped Carnival's game with new technology and ship design, which was long overdue for Carnival to stay competitive in an industry thriving on mega cruise ships. 
The top response on the Reddit forum came from one user sharing that they prefer Royal Caribbean's ship design over Carnival. The user shared, "The ship layouts and finishes. Anywhere on Royal ships feel like you're on vacation. On Carnival ships, many public areas and hallways feel unfinished and very mechanical."
One user responded and agreed with this take on Carnival's ship design, writing, "Hard agree on #1. Went on a carnival cruise in June 2019 and it's odd how they don't really have a central promenade, and how most of the walkways are on the sides of the boat. Makes everything feel secluded."
"While I was on an older ship (the Carnival Sunshine) I feel that Royal's ship designers are just a step above. The layout of the Sunshine was not the most intuitive, and some areas turned into a serious traffic jam," shared another user. 
In the forum, one Reddit expanded on their preference of Royal Caribbean's ship design, saying, "Royal's ship design, in my honest opinion, was a lot better for a long time (flow of people around the ship, etc.), although I think Carnival's newest ships have caught up a fair bit."
Based on my own Carnival experiences, I agree strongly with this comparison. Royal Caribbean's ships have always felt thoughtfully designed - and it's only improved over time. When I sailed on Carnival Ecstasy last summer (the oldest ship in Carnival's fleet at the time), my sister and I were shocked at how difficult it was to navigate.
This relatively small cruise ship seemed to have too many bottlenecks and dead-ends. We continually found ourselves lost in crowded spaces. But, Carnival's newest ships in the Excel-class feature modern design with better passenger flow. 
The dining experience between Royal Caribbean and Carnival appeared to be more of a hot topic, with some preferring Carnival's quick service options. 
When it comes to comparing Royal Caribbean and Carnival, dining was a very common response. While many shared that they prefer Royal Caribbean's food quality and service, quite a few shared they actually enjoy Carnival's quick service venues more than Royal Caribbean's options. 
One user responded, "Food was of lower quality on Carnival - and I'm not a picky foodie so if I noticed, then that doesn't bode well" while another shared, "I prefer RC for a more relaxing atmosphere, and I honestly prefer their food as well".
"Dining experience in MDR is worlds better on Royal. Customer service is also better on Royal," shared another person.
However, many of the responses heavily favored Carnival's casual dining options onboard, such as Guy's Burger Joint, BlueIguana Cantina and Shaq's Big Chicken. "I do like the carnival food (guys burger joint is crazy good), but Carnival seems a lot cornier and appeals to quick laughs" said one respondent. This prompted multiple responses from others in agreement.
Another user agreed, saying, "True. Guy's is great and I've heard good things about Shaq's chicken place. So carnival has some bright spots casual food-wise that Royal doesn't really match with the hotdog place and Johnny Rockets. I'm hopeful Royal will adopt some of that kind of feel with what they're doing with the food court section on Icon."
"I really enjoy the Carnival ships, shows, and food…the food is better in every category except the buffet. That being said, my whole family prefers RCL over Carnival (and even Disney) because of the better activities on the ship and entertainment" said another cruiser. 
On my Carnival cruises last year, this was the biggest takeaway from my experience as well. Even on Carnival's oldest ship, we had multiple places to grab a quick bite, such as Guy's Burger Joint. We appreciated having so many options for dining other than the traditional buffet. 
I do wish Royal Caribbean would incorporate more casual eatery options, especially during refurbishment of older ships, to expand complimentary dining options. I also agree that Royal Caribbean could improve the quality of their casual dining to compete with Carnival's quick service options. 
Many cruisers found Royal Caribbean's renowned entertainment to be better in comparison to Carnival. 
Entertainment is another crucial pillar to the overall cruising experience. Royal Caribbean has some of the most unique entertainment options in the industry, with ice skating performances, diving and swimming productions and even Broadway musicals.
In comparison, Carnival's entertainment centers around nightly comedy shows, interactive game shows and easy-to-watch productions with singers and dancers. The cruise line's newest ships do feature more advanced entertainment with impressive acrobatics and aerialists. 
"I definitely prefer the entertainment and common areas" while another agreed, "The shows are way better on Royal Caribbean," said one cruiser who responded on Reddit. 
One user expanded, "I was recently on Royal Caribbean's Navigator of the Seas, and the refinement and amenities remain undefeated - the promenade, entertainment, and bars are so much more well done, even on the Voyager/Freedom class ships. Carnival's ships (aside from Vista/Destiny/Excel class) don't hold a candle to Royal."
While sailing on Carnival Ecstasy, my sister and I attended the nightly production shows. While we enjoyed the Punchliner Comedy club, we were less than impressed with Carnival's other shows in the theatre. It did feel almost like a high school production, which was likely due to the theatre's small size. 
"Royal Caribbean definitely has an advantage when it comes to onboard activities and entertainment. For one, Royal Caribbean has a real theater while Carnival's felt like a glorified high school cafeteria, with the seats that you typically find at a banquet hall, like a step up from a folding chair," said one respondent. 
Finally, multiple fans mentioned preferring Royal Caribbean's itineraries in comparison to Carnival's destinations. 
Both Royal Caribbean and Carnival Cruise Line have a global presence, although both cruise lines have different approaches to their itineraries offered. When it comes to international itineraries, Royal Caribbean offers way more destinations in Europe, Asia and Australia compared to Carnival. 
Because Carnival is focused on offering the most affordable cruise fares, the cruise line aims to be within driving distance for most Americans. This helps keep vacation costs down without needing to fly to your cruise port. With this approach, Carnival does not have many international sailings; instead, you will find many Caribbean and Mexico sailings. Occasionally, you can find a European sailing if one of Carnival's ships needs to dry dock across the pond, but not much else. 
"I'm very itinerary/departure port driven. I picked Royal for my first cruise because of the itinerary - I was looking for a Baltic cruise on specific dates and needed an accessible cabin for my mother. Royal met those criteria. I was happy with the product and took several more," said one Royal Caribbean fan. 
"When we were first researching cruises, we found that both RC and Carnival operated out of Baltimore, less than an hour from where we live. At the time Royal offered 4 different itineraries out of Baltimore and Carnival offered 2. And since then we've stuck with Royal even though we have cruising out of other ports (in Florida and Europe) due to the loyalty program," said another fan. 
This is one of the reasons that I've remained loyal to Royal Caribbean over many years as well. I started sailing with the cruise line at a young age, but continued to cruise with Royal Caribbean because I love their unique itineraries. I'm also a destination-focused cruiser and I've loved my sailing across Europe and Asia with Royal Caribbean. 
On the other hand, Carnival has limited itineraries outside of North America. Unless you sail on a limited series of exotic sailings called Carnival Journeys, you'll mostly find Caribbean itineraries and plenty of weekend getaway itineraries. These are the exact sailings that are perfect for bachelorette parties and spring breakers, adding to the party atmosphere.
At the end of the day, everyone has a preference for the cruise line that best fits their budget, travel style and cruising vibe. Some might enjoy the upbeat, party-style of Carnival while others appreciate a more upscale vibe on Royal Caribbean. 
Image gallery