In:
Carnival Cruise Line and Royal Caribbean are two of the biggest names in the cruising industry and both vie for the general public to try their ships.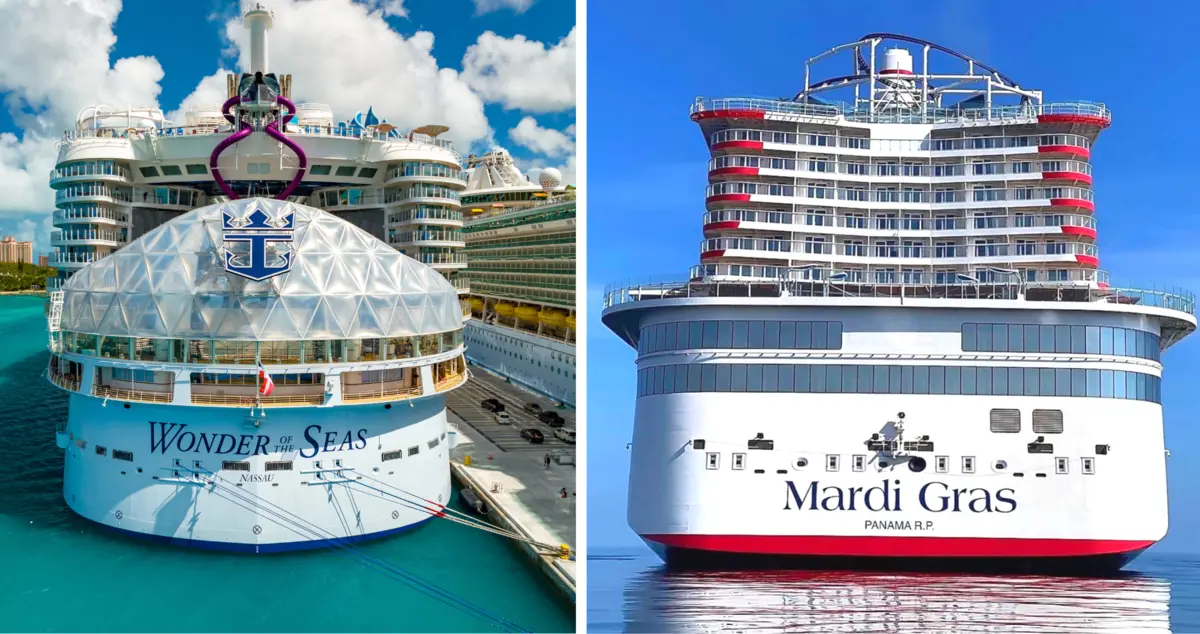 In comparison, both mainstream cruise lines take a family-friendly approach to cruising, with a little bit of something for everyone to enjoy onboard from dining to entertainment, accommodations and amenities. 
It's no surprise that millions of passengers choose to set sail with both Royal Caribbean and Carnival Cruise Line each year. Both offer affordable cruise fares and various itineraries around the world - all with a big emphasis on fun. 
Carnival Cruise Line's current fleet of cruise ships includes 24 vessels, which is similar in size to Royal Caribbean's fleet with 26 ships. The newest ships from both cruise lines feature dazzling entertainment, one-of-a-kind onboard thrills, unique amenities and endless dining options. 
However, there is an obvious competition between these two cruise lines. It's a tale as old as time: which cruise line is better between Royal Caribbean and Carnival Cruise Line? 
As with anything, the best cruise line for you and your family mostly depends on travel style, cruise preferences and vacation budget. 
In my experience, people either love to cruise with Carnival or they love to hate on Carnival. In all honesty, I used to be someone who scoffed at the idea of setting sail on a Carnival ship now that I am far removed from my college spring break days. These days, I much prefer to cruise with Royal Caribbean or Celebrity Cruises. 
But, I've sailed on three Carnival cruises in the last year, two of which were on the cruise line's newest Excel-class, Mardi Gras and Carnival Celebration. Prior to this, I had previously only cruised with Carnival on short spring break itineraries during college and high school. My recent, positive experiences onboard Mardi Gras and Carnival Celebration really gave me a new perspective about the cruise line.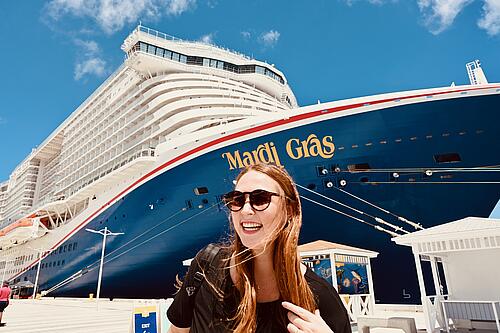 As a loyal Royal Caribbean cruiser, I can now see why Carnival cruisers choose to return to the cruise line over and over again. In fact, it's obvious that Carnival's newest ships in the Excel-class represent a new era for the cruise line. These two modern cruise ships have transformed the cruise line with up-to-date ship design, technology and amenities. 
If you're considering a cruise with Carnival, here's everything you need to know about how the cruise line's "fun ships" compare to Royal Caribbean's fleet of innovative ships. 
Overview of Fleet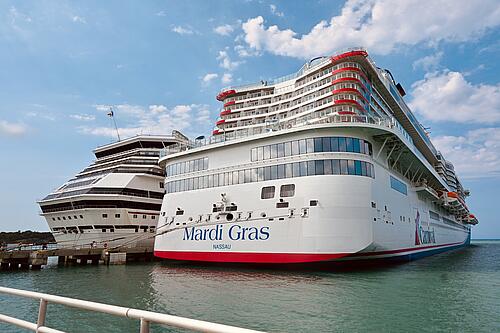 While Royal Caribbean's fleet is slightly larger than Carnival's with two more vessels, the two cruise lines are very similar in size. Today, both cruise lines are focusing on building modern and massive cruise ships that can hold more than 5,000 passengers.
Both lines have relatively smaller ships as well, with passenger counts ranging between 2,000 and 4,000 passengers. And the ships ages range between brand new and going as far back as approaching 30 years old.
For many years, Carnival's approach to ship design was implementing "tried-and-true" deck plans that had already proven successful for the cruise line. Each ship class was built similarly (some nearly identical) to the last with only minor changes to accommodate larger vessels. 
This approach was used until 2021 when Carnival Mardi Gras set sail. The building of this ship started a new era for the cruise line with the Excel-class of ships. Mardi Gras paved the way for the equally modern and advanced Carnival Celebration to set sail in late 2022, in which my sister and I were onboard one of the inaugural sailings.
On the other hand, Royal Caribbean has always been pushing the envelope when it comes to innovation across its fleet. The cruise line is constantly creating ship classes that are bigger and better than ever before. 
The Oasis Class ships hold the title as the largest in the world, and Royal Caribbean has held the title as world's biggest ships for many years now.
With the upcoming release of Icon of the Seas, the first of a new astonishing class of ships, this approach still stands. Royal Caribbean continues to be a pioneer in the cruising industry and sets the bar for other cruise lines, like Carnival, to follow.
Regardless of which line you pick, you'll find big ships that have plenty to do.  Neither line truly offers a small ship experience, but they have sister brands that fill that gap.
Dining Options 
Food is arguably one of the most important aspects of a cruise, right after the places in the world the ship visit.
Comparatively speaking, I think Royal Caribbean comes out on top with its traditional and specialty dining, while Carnival's plethora of complimentary, quick dining options onboard are second to none.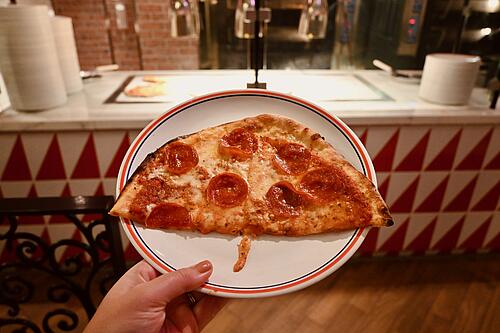 Where Carnival truly shines is its approach to casual dining onboard its ships - and the food is pretty darn good too. Carnival crushes the competition when it comes to its complimentary dining. Cruisers have a wide range of eateries to choose from on their ships.
To start, Carnival has partnered with Food Network celebrity chef, Guy Fieri, to create the popular Guy's Burger Joint and new Pig & Anchor Smokehouse and Brewery.
In addition, the cruise line debuted a new partnership with Shaq's Big Chicken, which is nearly as good as Chick-fil-a in my opinion.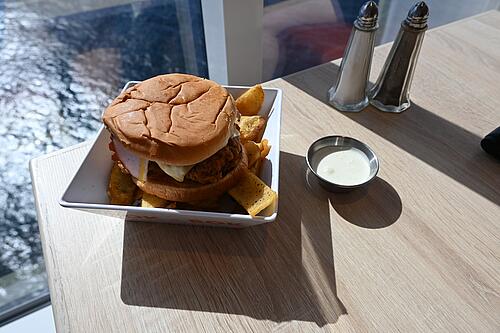 This is just the start of the complimentary dining options and doesn't even include the pizza shoppe for Napoli-style pizza, fresh made sandwiches from the panini grill and authentic tacos from BlueIguana cantina. 
Another favorite onboard Carnival is the SeaDay Brunch, hosted into the early afternoon for those who stayed up past their bedtime. Some signature dishes include (possibly the best) 12-hour French toast topped with roasted peaches and skillet pancakes with freshly whipped ricotta. 
Finally, Carnival's newest ships have debuted complimentary, speciality-style restaurants called ChiBang and Cucina del Capitano. While ChiBang serves up Mexican and Asian dishes on two separate menus, Cucina del Capitano is the Italian speciality restaurant onboard. While other cruise lines would certainly charge for this experience, it's free for guests on Excel-class ships.
This isn't to say that Carnival's main dining experience is lackluster (that award goes to the cruise line's buffet, which has always left me disappointed); rather, the cruise line truly shines with its quick service options. 
And don't even get me started about Carnival's Chocolate Melting Cake. It's the best dessert at sea for chocolate lovers and the cruise line has perfected this molten, warm decadence. Best of all? It's on the menu every day.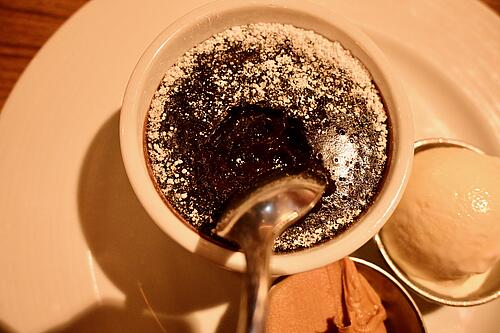 Where Carnival falls short is where Royal Caribbean sparkles. Specialty dining on Royal Caribbean is top-notch food and service, from Chop's Grille steakhouse, Izumi Sushi and Teppanyaki and Jamie's Italian - to name a few. 
Royal Caribbean's main dining room service is also more sophisticated with a diverse menu compared to Carnival. You won't find the servers dancing each night on tables like you will in Carnival's dining room where you get a small 'show' each evening you dine. Royal Caribbean focuses on offering a varied menu with quality food for cruisers.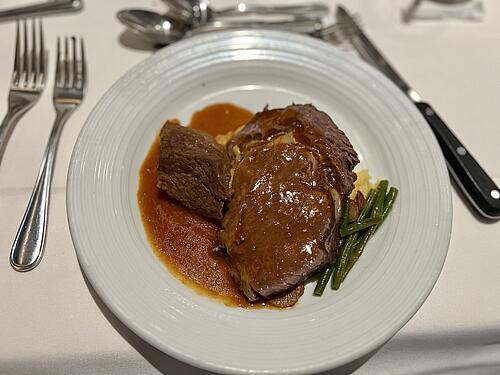 The onboard buffet is the main spot for meals on the majority of the cruise line's fleet. The food is similar quality to what you'd find at a hotel; while it might not be the most impressive thing you eat onboard, it will hit the spot. 
Entertainment
Both Royal Caribbean and Carnival offer an excellent range of daily entertainment for cruisers. You might even run out of time to see everything during your cruise; however, the cruise line take a different approach to entertainment. 
Royal Caribbean offers large-scale production shows on most of its Oasis and Quantum-class ships. You can find 90-minute, Broadway-style shows like "Hairspray" and "Mamma Mia". The cruise line also offers one-of-a-kind aquatics shows on Oasis-class ships, along with jaw-dropping, ice skating spectacles on some of the larger vessels.
Older Royal Caribbean ships will still offer a variety of entertainment, but on a smaller scale. You can still find production shows, comedians, magicians, acrobatics and more on a Royal Caribbean cruise. 
On the other hand, Carnival's entertainment leans into a variety of comedy shows with singing and dancing productions. Something unique to Carnival is the cruise line's Punchliner Comedy Club with daily comedy shows and rotating comedians. Each show lasts just 30 minutes, so you have plenty of time to try the other entertainment available.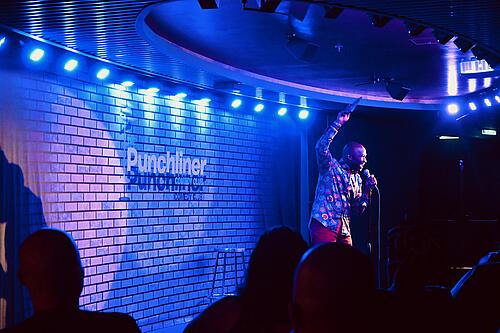 Carnival also features Playlist Production shows where the singers and dancer's showcase familiar tunes with dazzling choreography. If that's not your cup of tea, you might enjoy live gameshows of Deal or No Deal or Family Feud, which can only be found on Carnival's cruise ships. 
With Carnival's newest Excel-class of cruise ships, the entertainment has been kicked up a notch. The cruise line has developed some really incredible shows for its transformative Center Stage, like the Most Magnificent Circus on Carnival Celebration. This acrobatic-style headliner show was quite possibly one of the best shows I've seen at sea. 
Kids and families
Royal Caribbean's Adventure Ocean program offers programmed activities for kids and teens to mingle with peers their own age. It's supervised, which means parents can drop their kids off and then enjoy time with their children.
Adventure Ocean caters to kids and teens between the ages of 3 and 17, dividing them into five different groups:
Aquanauts (3-5)
Explorers (6-8)
Voyagers (9-11)
Pre-teens (12-14)
Teens (15-17)
Now, depending on which category your child falls into, they'll likely be able to take part in karaoke showdowns, pajama parties, carnival games, epic games of crazy tag, sports tournaments, and dance parties that will have them busting moves all night long.
Related: Best Royal Caribbean cruise ships for Kids
If you have younger kids, there is also Royal Babies and Royal Tots, which costs extra and is for toddlers between the age of 6 and 36 months years old.
Camp Ocean is Carnival's complimentary youth club and is also split by ages:
Penguins (2 - 5)
Stingrays (6 - 8)
Sharks (9 - 11)
Tweens and teens have their own spaces, too, in the form of Circle C and Club O2. They can keep themselves busy with stuff like video and board games, sports and karaoke.
Attractions and Thrills
When it comes to onboard thrills, no one in the cruise industry does this better than Royal Caribbean. This has been Royal Caribbean's bread and butter for decades. 
In fact, the cruise line pioneered many firsts for the cruise industry, like the first zip line at sea, the first FlowRider surf simulator, and the first ice skating on a cruise ship. This doesn't even encompass all of it, like the waterslides, rock climbing walls, bumper cars, bungee jumping and skydiving you can try!
For the most part, these onboard thrills are all complimentary for Royal Caribbean cruisers (other than the iFly sky diving simulator). 
Read more: 15 free things to try on your next cruise
Comparatively, Carnival's showcase plenty of pools, hot tubs and waterslides. The biggest ships, Carnival Mardi Gras and Carnival Celebration, feature The Ultimate Playground where guests can find the cruise line's onboard thrills. Here, you can take your turn on the ropes course or dare to try the thrilling waterslides for free.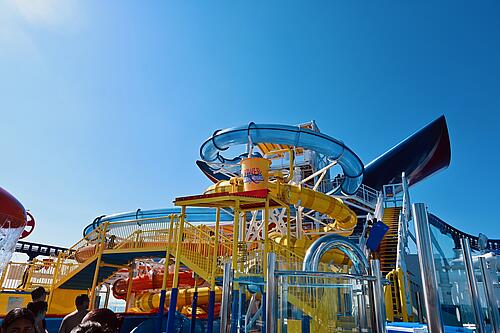 This is also where you'll find the first rollercoaster at sea, called Bolt. Costing $15 each for two laps, cruisers can twist and turn around the aft of Carnival Mardi Gras and Carnival Celebration!
Although pricey, my sister and I would recommend this unique experience at least once for all Carnival guests.
Experience Onboard
Undoubtedly, Royal Caribbean and Carnival Cruise Line offer incredible cruise experiences. Both cruise lines aim to provide affordable, family-friendly cruises with something onboard for everyone. 
Carnival's entire brand revolves around having "the most fun ships at sea". You can't get off a Carnival cruise without seeing the word "fun" multiple times each day.
As such, the environment onboard is very casual with a major focus on fun. No one takes themselves too seriously and this creates a very carefree style of cruising. 
Carnival attracts a younger crowd, including young adults and families. It's a popular cruise line for spring breakers because of its notoriously cheap cruise fares. Carnival cruises have a lively nightlife scene with plenty of parties, although this doesn't mean it's necessarily out of control. Imagine everyone - even your mom and grandma - simply letting loose together on a cruise!
I will say, nobody does a sailaway party like Carnival Cruise Line. Everyone onboard shows up with their drinks in hand, ready to celebrate the start of vacation. In fact, I would verge to say it's a right of passage to attend a Carnival sailaway party if you consider yourself a seasoned cruiser!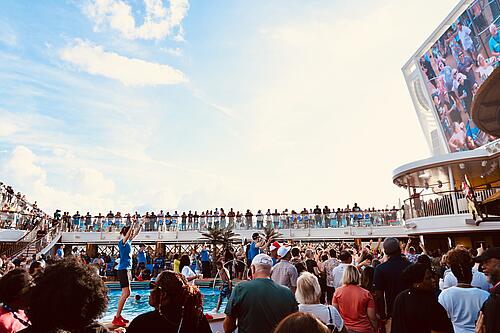 With Royal Caribbean's cruises, you'll find a more varied crowd thanks to the cruise line's international presence. Comparatively, Royal Caribbean offers more international cruises to places like Europe, Asia and Australia.
Along with young adults and families, you'll also find solo travelers, couples and grandparents onboard a Royal Caribbean cruise. Because of Royal Caribbean's slightly higher cruise fares thanks to high-end suites, the parties onboard tend to be more subdued and upscale. 
For those traveling without kids, Royal Caribbean's adult-only areas are superior for relaxing during your cruise. Each ship in Royal Caribbean's fleet offers a serene space for adults called The Solarium - it's my favorite place to relax.
Comparatively, Carnival also offers an adults-only area called Serenity, although it's not as large or secluded. I also prefer the motif of the Solarium over Serenity. 
If you're sailing around spring break or on a short getaway itinerary, your Royal Caribbean cruise will likely entice a more energetic crowd.
Read more: Everything you should book before the cruise to avoid it being sold out
Itineraries and where they sail
Both Royal Caribbean and Carnival focus primarily on North American cruises, with lots of cruises to the Caribbean and Mexico.  Both have seasonal sailings to Alaska, Bermuda and Canada.
Royal Caribbean has a larger presence in Europe and Australia compared to Carnival.
Both have private destinations in the Caribbean, although Carnival has one more than Royal Caribbean: Amber Cove, Half Moon Cay, and Princess Cays vs Perfect Day at CocoCay and Labadee.
Read more: The best cruise itineraries for every type of traveler
Final Thoughts
When it comes to comparing Royal Caribbean and Carnival, the two cruise lines are more similar than they are different. Each aims to provide an amazing and affordable cruise vacations for families. You can't really go wrong between the two, as long as you have the right expectations. 
If you're a major foodie or someone who loves to really let loose and party the night away on a cruise, you might find that Carnival is the best cruise line for you. The upbeat and carefree atmosphere is perfect for cruisers who want a casual getaway without any of the fuss.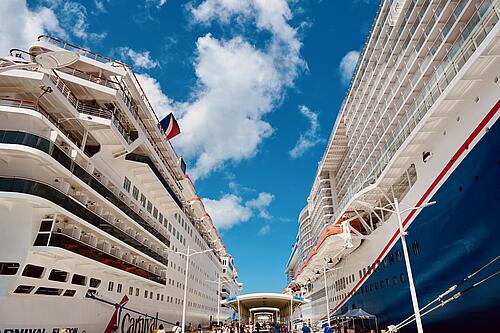 Those who might want a slightly more upscale experience with better specialty dining options and innovative onboard thrills would probably prefer Royal Caribbean. This is also the best cruise line for an adults-only cruise vacation or those looking to truly relax. 
Personally, I wouldn't hesitate to book another cruise on Carnival's Excel-class ship, as it truly changed my opinion of the cruise line and amplified the fleet. I'm excited about the future of the cruise line as it starts to put innovation and technological advancement at the forefront.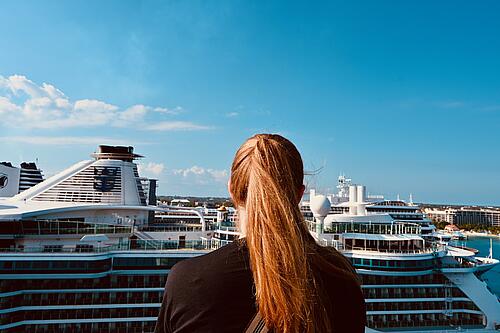 However, I still prefer Royal Caribbean overall as a cruise line as it fits my budget and travel style; of course, the lucrative loyalty benefits don't hurt either!