In:
The same day the United States announced an end to needing a negative Covid test to enter the country, the cruise industry said it wants to next move to looking at pre-cruise testing requirements.
Ever since cruise ships restarted sailing in late 2020 and early 2021, a pre-cruise covid test has been required.
While the specific requirements vary depending on where the ship sails from, in general, a negative covid test is required up to 2 or 3 days before the cruise for anyone that wishes to sail.
Cruise Lines International Association (CLIA) issued a statement on Friday in support of the U.S. lifting testing requirement for travelers arriving by air to the USA.
At the end of the statement, CLIA mentioned a next step of looking at pre-cruise testing.
"As the CDC monitors the improving health landscape and works with airlines to support a smooth transition with the lifting of the pre-arrival testing requirement, we believe a review of pre-embarkation testing requirements for cruise travelers is also in order."
Just like the testing for international air travelers, CLIA points to the economic impact opening up cruises without a pre-cruise test.
There was no mention of changing vaccine requirements in the statement.
Pre-cruise anxiety
The problem with having to take a covid test just a few days before a cruise is it inserts an x-factor into vacation plans of will they or will they not be able to go.
For many cruisers, a positive result just before the start of their vacation could ruin their plans.
Besides that, no other form of leisure travel subjects their customers to a covid test as a requirement for entry. This includes casinos, hotels, theme parks, or zoos.
Then there's the issue of actually getting a test done in time. Vaccinated guests can choose to do a proctored at-home test, but these tests cost extra. Tests at pharmacies are often free, but getting an appointment can be daunting.
In short, pre-cruise testing adds stress to planning and getting excited for a cruise because of the fear of a positive test derailing plans.
Reviewing health protocols
Royal Caribbean recently added new questions to its post-cruise survey that ask people who just took a cruise on their thoughts on the amount of health protocols.
Post-cruise surveys are one of the most important metrics Royal Caribbean uses in measuring customer feedback. These are comments from people that actually paid and went on vacation, rather than comments from people who may or may not actually cruise.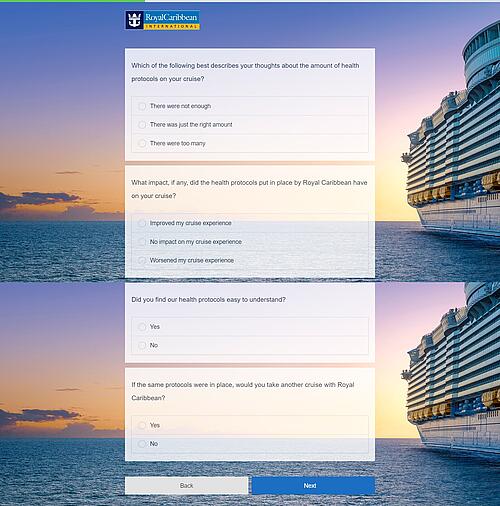 The addition of these questions seems to hint at the company wanting to know what its customers think about the current set of protocols.
Questions include if there were enough or too many health protocols on the cruise, what impact (if any) did the health protocols in place have on the cruise experience, and if the same health protocols were in place again for the next cruise, would they cruise again?
Some want testing to remain
There are still a lot of cruisers who want pre-cruise testing to remain as a way to prevent someone who has Covid from boarding their ship.
Melissa Chapa wrote on the RoyalCaribbeanBlog Facebook page, "Only reason I cruised is because of testing."
Jason Lutes added, "These tests have kept some cases off the ship. If they do away with pre-cruise testing, quarantine time while cruising might go up."
Randie Williams shared a story about how pre-cruise testing helped, "For my last cruise my husband tested covid positive 2 days prior to leaving. He was asymptomatic. We would have never known he had covid and could have passed it on to many passengers if we were allowed to board without a test."