In:
When you see a cruise ship in person, you can't help but marvel at just how big these things are and how much bigger they are than you expected.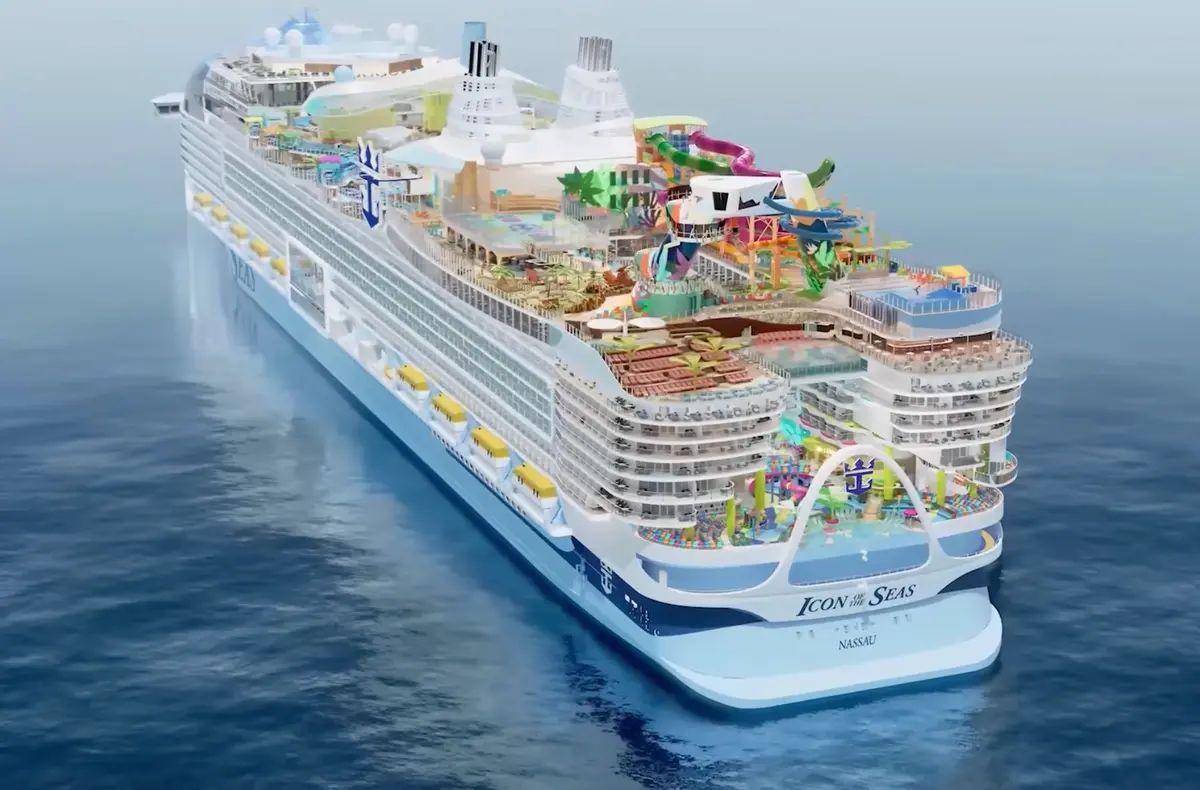 Icon of the Seas will be Royal Caribbean's next new cruise ship when she launches next year, and she's currently under construction at the Meyer Turku shipyard in Turku, Finland.
At 250,800 gross tons, Icon will be the biggest cruise ship in the world. There's an entire water park, spa, surf simulator, shopping mall, arcade, casino, gym, three theaters, seven pools, 20 dining venues, and 15 bars onboard. 
It will have 20 decks and enough room for nearly 10,000 passengers and crew members.
Cruise ships are the biggest passenger vessels that humans have ever built.  They can fit a small town's worth of people into a single vehicle, and they certainly have a look to them that is different from ocean liners of 100 years ago.
How did the biggest ships today end up looking like this?
Origins with ocean liners
Before we had the cruise ships of today, there were ocean liners. These vessels were about simply getting you from one place to another.
Ocean liners were built to offer comfortable accommodations across oceans at the highest speed possible.
Of course, crossing a vast ocean, such as the Atlantic, means sea conditions could be miserable if the weather did not cooperate.
Ocean liners were divided up into classes, with the first class areas looking a lot like a fancy hotel you might see on land.
The SS Normandie could cross the Atlantic in a record 4.14 days, and was beautifully designed. She had an Art Déco and Streamline Moderne design, and had first class amenities such as a dining room, first-class lounge, grill room, first-class swimming pool, theatre and winter garden.
Normandie's first-class dining hall was the largest room afloat. At 305 ft, it was longer than the Hall of Mirrors at the Palace of Versailles.
For first class passengers, the idea was to deliver a luxurious experience that you might find on land. First-class suites were given unique designs by select designers. The most luxurious accommodations were the Deauville and Trouville apartments, featuring dining rooms, baby grand pianos, multiple bedrooms, and private decks.
A vacation at sea
Once air travel became a popular method to cross oceans, ocean liners started to slowly become obsolete.
In the 1960s, it became very apparent that falling ocean liner numbers were not an anomaly and that compelled a change in the market.
By the late 1960s, some liners would head south to the warmer regions in the winter months to offer a different kind of trip. Instead of transportation, these ships offered a vacation.
The idea of a cruise ship started here, but the product would take some time to evolve into what we know today.
Ocean liners were not well acclimated to a leisure product. They were designed to go fast and consumed a lot of fuel. They sat low in the water, which kept them stable in rough seas, but meant they could only access ports with deep harbors. 
They had separate sections for first, second and third class, but that left a lot of passengers without access to amenities and limited everyone's freedom of movement throughout the ship.
And compared to the full time cruise ships of the time, ocean liners were huge. So they'd have to attract a lot of vacationers to be profitable.
In short, ocean liner's optimal design to make for a quick commute through rough waters hindered its ability to be attractive for a calm ocean at a slow pace.
Royal Caribbean started its operations up in 1969, and the company launched the first ship purpose-built for warm-water cruising. 
A milestone in the transition from ocean liner to cruise ship came in 1979 when Norwegian Caribbean Line bought the S.S. France with the intention of transforming it into a cruise ship.
The new owners spent $80 million to make the ship better at offering leisure cruises. 
The new ship would have larger and more numerous public spaces for the cruise-type recreations, had two propellors removed to reduce fuel consumption, and was given a complete set of bow/stern thrusters to make it easier to dock in port.
 A large lido deck was created at the very back of the ship. They built it wide enough to accommodate as many sunbathing passengers as possible.
The First Class Smoking Room was converted to an outdoor buffet restaurant, and the Patio Provençal on the Sun Deck was filled in with a top-side swimming pool.
Renamed as the S.S. Norway, the new ship started sailing in 1980 and it sailed to  just The Bahamas and St. Thomas, because the ship itself was marketed as the destination (rather than the places you could visit).
The cruise industry was transformed with the launch of the TV show, "The Love Boat" because it made the idea of cruising mainstream to the general public.
The Norway proved that size worked for cruise ships and it kicked off a race to build bigger and bigger ships that would change the look of a cruise ship.
In order to fit more cabins and amenities, everything above the deck became taller to fit all the amenities and that hid smokestacks that used to be an iconic feature on any ship.
To fit even more cabins and amenities, superstructures became wider, which shortened the front part of the ship (bow).
The bow didn't need to be long and pointed to cut through intense waves like on transatlantic liners. So builders rounded them out, giving even more square footage for amenities.
Big and bigger
With the model proven, now ships could grow to meet demand.
Over the next few decades, cruise ships would grow immensely. While the S.S. Norway had an internal volume of 70,000 gross tons, Royal Caribbean's cruise ships today are three times the size.
Icon of the Seas' gross tonnage is over 250,000 gross tons and she follows in many ways the tradition of the first ships.
When Royal Caribbean wanted to build its first mega ship, they had never built a cruise ship with an indoor café, a casino, a champagne bar or a health club; and having made the decision to include those options inside a suitably large hull, the scale of an inevitable new prototype emerged. Thus, Sovereign of the Seas, the world's largest purpose-built cruise ship at the time, was conceived.
The passenger count would be 2,673 total occupancy, more than double Song of America's capacity.
The launch of Sovereign of the Seas in 1988 introduced the era of the mega ship, and vessels became larger and larger. 
Royal Caribbean pushed the envelope of possibilities with the Voyager and Oasis Class ships in the decades to follow.