In:
Sailing on a Royal Caribbean ship makes for a memorable vacation experience, but what is it like to sail on the world's last ocean liner?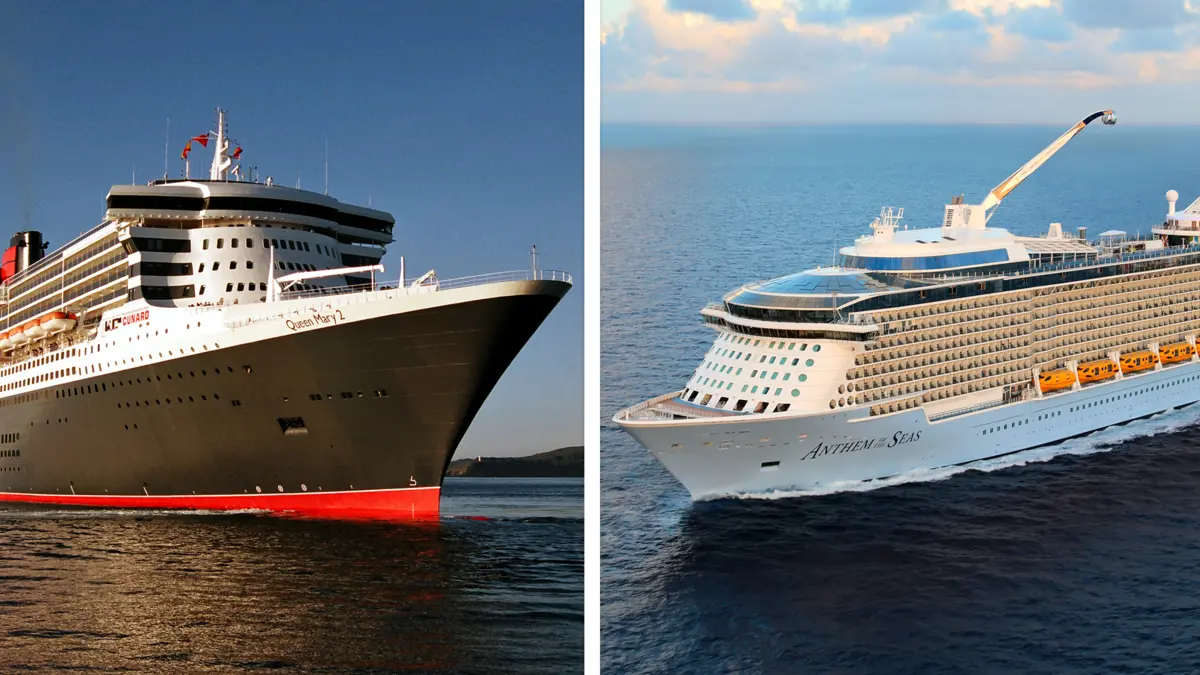 Built in 2004 by Cunard, the Queen Mary 2 is the last remaining ocean liner offering passenger service. Cunard has a long history of building ocean liners, with hundreds of ships having been constructed since Cunard was founded in the mid 1800s.
Because ocean liners have such historical significance in global migration and transportation, many people are intrigued by the Queen Mary 2. Let's take a look at what it's like to sail on the Queen Mary 2 and how the experience can differ greatly from cruising with Royal Caribbean.
What's the difference between an ocean liner and a cruise ship?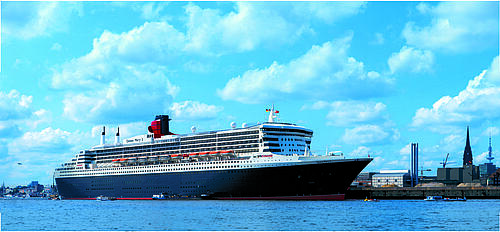 Ocean liners are used to provide transportation from one destination to another without stopping at various ports of call for leisurely travel days in between. They are designed and built to sail long distances, often between the US and Europe.
Here are some of the major differences between an ocean liner and a cruise ship:
Speed: Ocean liners are constructed to move quickly through the ocean. The Queen Mary 2 has a max speed of 30 knots (35mph). Wonder of the Seas, by comparison, has a maximum speed of 22 knots (25mph). The Queen Mary 2 is the fastest passenger ship in service today.
Draft: The draft (distance between the waterline and bottom of hull) is 34 feet on the Queen Mary 2. Royal Caribbean ships, on the other hand, have between a 25 and 31 foot draft depending on the vessel.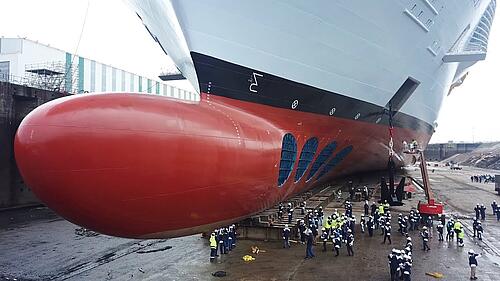 Steel Thickness: Ocean liners are designed with thicker steel on the ship's hull. This helps the Queen Mary 2 endure the stress she takes on during frequent transatlantic voyages in the Atlantic. 
Longer bow: Ocean liners are built with a long bow designed to cut through rough waters in the open ocean.
Movement: You tend to feel much less movement on an ocean liner than a cruise ship due to the ship's design, which is welcomed on long ocean crossings. Most public areas–including the buffet, which is usually found on higher decks–are located  midship and on lower decks, which decreases any movement felt in these spaces.
Size of the Queen Mary 2 versus Royal Caribbean ships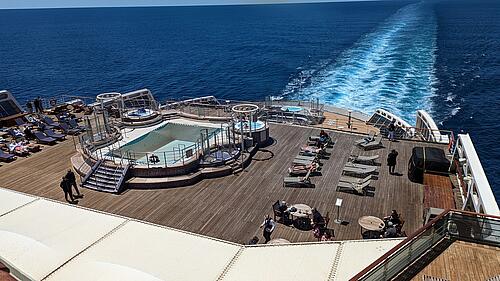 The Queen Mary 2 has capacity for 2,691 guests and 1,173 crew members. She has a length of 1,132 feet and a gross tonnage of 148,528.
Royal Caribbean ships vary by size according to ship class. The Queen Mary 2 is most similar in size to Freedom Class cruise ships. Freedom of the Seas, for example, has a length of 1,112 feet and a gross tonnage of 154,407.
Onboard experience: Royal Caribbean ships versus the Queen Mary 2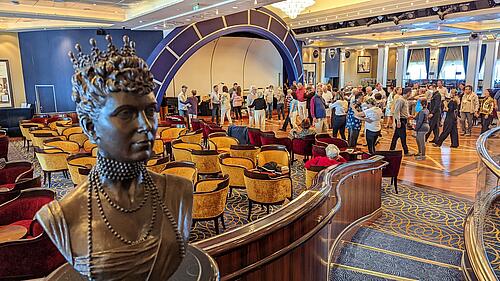 Royal Caribbean ships and the Queen Mary 2 may both be passenger ships, but the onboard experience can be quite different. Whereas you might spend your days moving from one thrilling activity to another on a Royal Caribbean cruise, sailing on the Queen Mary offers a more laid-back, traditional cruising experience.
Pool deck: As an ocean liner, the Queen Mary 2 does not have a traditional pool deck. You'll find pools spread throughout the ship, with pools on decks 6, 7, 8, and 12. Instead of a pool, the top deck of the Queen Mary 2 features a large, open sun deck often used for shuffleboard.
Biggest library: Royal Caribbean ships have small libraries, but the Queen Mary 2 has a 700 square foot library with over 10,000 books!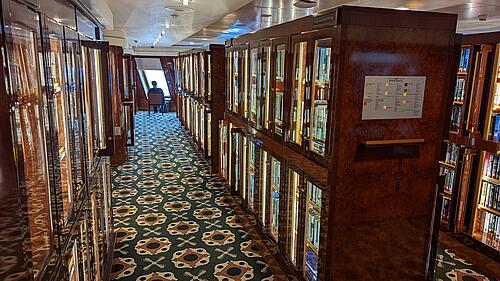 Planetarium: The Queen Mary 2 has a planetarium onboard which provides daily shows.
Lectures: Royal Caribbean ships occasionally provide guest lectures, but they are not nearly as common as on the Queen Mary 2. When sailing on the Queen Mary 2, the Cunard Insights enrichment program offers seminars and talks by famous historians, explorers, politicians, and other experts.
Entertainment: Royal Caribbean is known for its unique entertainment offerings, such as dynamic AquaTheater performances and ice-skating shows. The Queen Mary 2 features more traditional entertainment, from pianists to jazz ensembles and theater shows.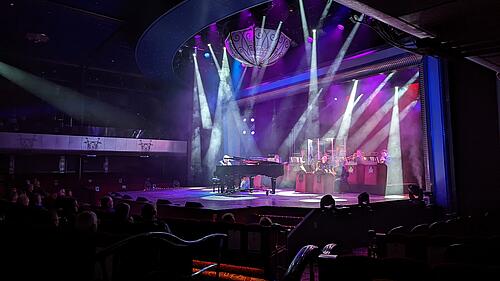 Family-friendly activities: Royal Caribbean is known for being a family-friendly cruise line, and while the Queen Mary 2 accommodates children, it is not nearly as family-friendly as Royal Caribbean. You won't find activities like waterslides, ziplining, ice-skating, and surfing simulators onboard the Queen Mary 2.
Dress codes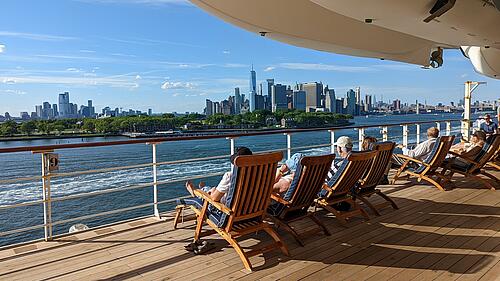 Sailing on the Queen Mary 2 is a more formal experience overall than sailing on Royal Caribbean, and dress codes are taken seriously while onboard. You can wear the same casual clothes you'd wear on Royal Caribbean during the day on the Queen Mary 2, but evening wear will differ.
What you might wear to formal night on a Royal Caribbean cruise is what you'd wear to a casual night on the Queen Mary 2. Collared shirts, cocktail dresses, and blouses are typical daily dinner outfits on the Queen Mary 2.
Related: What to wear on a cruise formal night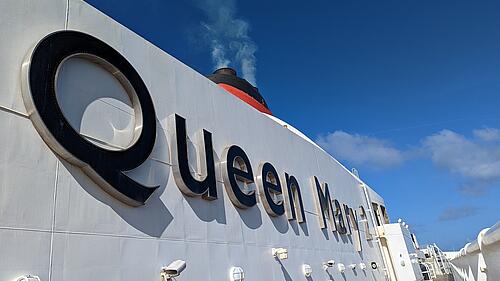 Formal nights onboard the Queen Mary 2 are called Gala Evenings, and they are a black tie event where you'll find tuxedos and ball gowns. Unlike on a Royal Caribbean cruise where the dress code is not strictly enforced, you'll find most guests adhering to dress codes on the Queen Mary 2.
You're also expected to adhere to dress codes around the ship on Gala Evenings. It's not recommended to attend theater shows and parties in casual wear on formal nights.
If the idea of dressing formally every night doesn't sound appealing, you're always able to dine at the buffet, just like on Royal Caribbean.
Food & drink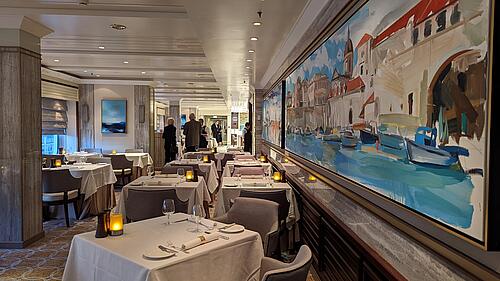 The Queen Mary 2, like Royal Caribbean cruise ships, comes with many different dining options. One aspect of dining that stands out is that there are four separate dining rooms on the Queen Mary 2, each of which serves a different clientele.
The Queens Grill, Princess Grill, and Britannia Club restaurants serve passengers staying in Queens Grill Suites, Princess Grill Suites, and Britannia Club Balcony staterooms respectively.
All other guests dine at the Britannia Restaurant, the Main Dining Room onboard the Queen Mary 2.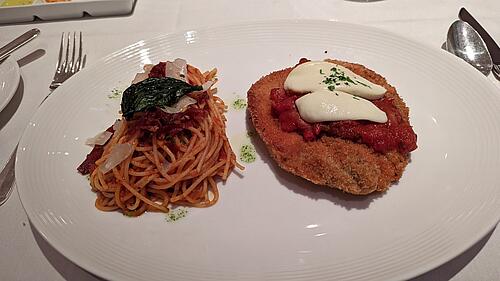 On Royal Caribbean ships, suite guests on Oasis and Quantum Class ships can dine at Coastal Kitchen, but the Queen Mary 2 takes this a step further with her four dining rooms.
Both Royal Caribbean ships and the Queen Mary 2 have a steakhouse which comes at an extra cost and there is also an informal buffet on all ships.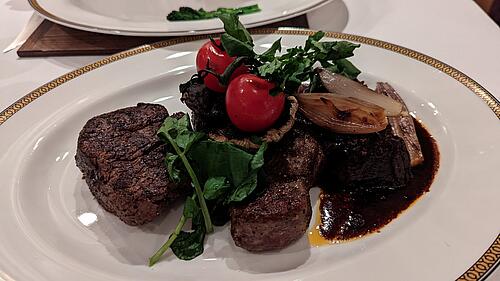 The Queen Mary 2 also has an English-style pub that serves fare like beer battered cod, burgers, and savory pies.
Afternoon tea
Something you'll find on the Queen Mary 2 but not on Royal Caribbean ships is afternoon tea, which is included in the Cunard cruise fare.
From 3:30PM to 4:30PM daily, afternoon tea is offered on the Queen Mary 2. The menu changes daily, but passengers can expect to find a variety of scones, sandwiches, and patisserie. A harpist or pianist provides music during tea.
Pets travel in luxury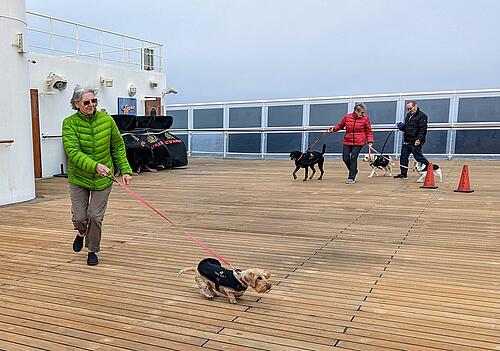 Have you ever wished you could travel with your four-legged friends onboard a cruise? Something that makes the Queen Mary 2 even more unique is the kennel found onboard.
Available on transatlantic crossings is the ability to board your dog or cat in the ship's kennel, where pets are cared for 24 hours a day during the length of the sailing by the Kennel Master and assistant.
There are 24 kennels on the Queen Mary 2, an owner's lounge, and outdoor deck space to play. British dogs will enjoy the ship's lamppost from the Cunard building in Liverpool whereas American dogs will find familiarity with a New York City fire hydrant!
Only service dogs are permitted on Royal Caribbean ships.
Itineraries
One of the most obvious differences between a Royal Caribbean cruise ship and the Queen Mary 2 are the itineraries.
Most Queen Mary 2 itineraries include a transatlantic crossing between Southampton, England, and New York. However, she offers itineraries around the world, from Europe to Asia and beyond.
You may also find itineraries visiting the Caribbean. Departing from New York, these voyages visit ports including St. Maarten, Martinique, and Barbados.
You can also find cruises on the Queen Mary 2 to various ports of call in Europe. These sailings depart from Southampton and visit ports in the Netherlands, Belgium, Norway, Germany, and France.
In 2024, the Queen Mary 2 will sail a 108-night Full World Voyage sailing roundtrip from Southampton and visiting ports in South Africa, Asia, Australia, and the Middle East. Passengers can book the full voyage or individual segments of the cruise.
Enjoyed this article? Discover more about the history of ships: