In:
Royal Caribbean wants families to look no further than a vacation on Icon of the Seas.
In order to appeal to families, Royal Caribbean went beyond the amenities it had dedicated to children and their parents on other cruises by creating an entire section of the ship for young families to enjoy all day, every day.
Royal Caribbean hopes Icon of the Seas will appeal to families that prefer a land-based vacation because there are so many elements of a land trip on this ship.
The thought of taking your kiddos on vacation can be daunting, but Royal Caribbean is making waves in family travel by creating an immersive, expansive area for seaside adventures with the Surfside Neighborhood.
I dug through what Royal Caribbean revealed recently about Surfside to give you the splash-tastic fun you'll find in the very first Surfside Neighborhood.
Splash
The Surfside Neighborhood was inspired by young families - encouraging exciting play and ultimate relaxation in the same beautiful space.
Kiddos ages 6 and under can swim to their hearts content in Splashaway Bay and Baby Bay, loaded with a myriad of ways to play. Adults can keep a watchful eye on their little ones from the comfort of the adjacent adult infinity pool, Water's Edge. It is located at the aft of the ship, complete with in pool lounge chairs and gorgeous views of the ocean.
This pool area is not just a place to swim, it's a full blown family experience with exciting slides and engaging water play areas.
Play
While the name Surfside is synonymous with aquatic adventures, there's also plenty of dry fun to be had as well.
Right by the three pool areas is a uniquely imagined carousel, arcade for all ages, and a thematic play place with a dry slide.
Also located in this neighborhood are Adventure Ocean and Social020. Adventure Ocean is Royal Caribbean's young cruisers club filled with games, crafts, and even party time that's supervised by skilled staff your kiddos will love.
Social020 is the teen space on deck where your older kids can make new friends while enjoying a place all their own (but heavily supervised by ship staff, of course).
If you happen to be headed to Surfside from Central Park, don't take the stairs, drop on down using the slide that connects the two areas!
Dining
No neighborhood is complete without delicious places to drink and eat!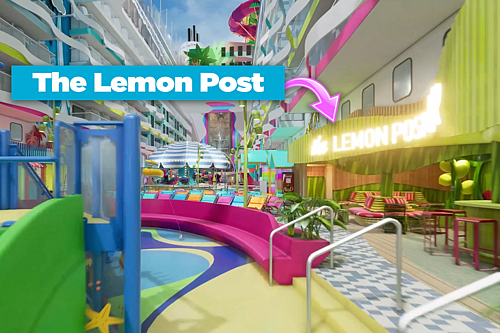 The first bar announced in the Surfside neighborhood is The Lemon Post, a bar located adjacent to Splashaway Bay, aimed at quenching the thirst of sailors of all ages.
This colorful hangout will have its own unique drink menu with mouth-watering mixes like Watermelon Hibiscus Lemonade - fresh-squeezed lemonade, watermelon juice, pineapple hibiscus syrup, Ketel One Botanical Grapefruit & Rose, and soda water.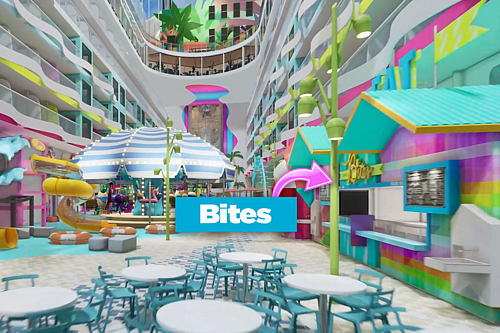 Early ship renderings also hint at quick-service dining areas: Bites – a grab-and-go food station similar to Wipeout Café or Mini Bites found on your favorite Oasis-class ships, Surfside Eatery, Sugar Beach – an ice cream, candy and treat shop, and another unnamed location near the arcade.
Cabins
Surfside aims to be a neighborhood you and your family can enjoy throughout your entire vacation, which includes newly-imagined, Surfside adjacent staterooms for families both large and small.
Read more: Guide to Icon of the Seas cabins and suites
The Ultimate Family Townhouse is a mind-blowingly epic, 3-story stateroom extraordinaire that features its own back yard with a private entrance into Splashaway Bay. You heard that right, this stateroom has a back yard.
You'll enjoy private balconies on the 2nd and 3rd levels, and a slide that transports you in the most awesome way possible from top to bottom. Inside this ship-tastic mini mansion, there are tons upon tons of ways for your family to make incredible memories, including a cinema room for late-night movie marathons, an interactive dining table for dinner time fun, and even a whirlpool for when you want to soak it up in the solitude of your stateroom.
This amazing accommodation is 1772 sq. ft., sleeps 8 guests, and enjoys all of the benefits of Star Class suites, including the private genie service for making your cruise wishes come true.
The Surfside Family Suites are also a new suite style that overlook the Surfside neighborhood. This luxurious accommodation is a 1.5 bedroom suite that sleeps up to 4, complete with a bedroom and special kids' nook space with a pullout couch.
In this suite, you'll also find a split bathroom and a private balcony accessible via a convertible partition in the bedroom. Guests residing in this suite enjoy the benefits of Sky Class.
The Surfside Family View Balcony is reminiscent of the beloved Promenade Balcony rooms you might be familiar with on sister ships in the Royal Caribbean fleet, as it has a private balcony overlooking the Surfside fun and festivities. This lovely room is 196 sq. ft. with a seating area and sofa bed, perfect for up to 4 guests wanting a view of the pool and play areas they'll be conquering during their cruise adventures. 
Lastly, we have the Surfside Family Interior stateroom with a window overlooking the Surfside fun below. Inside, you'll find a quaint seating area next to the bed, which can either be a royal king bed or split into two beds that sleep up to 4 within the 187 sq. ft. dimensions.
When you're ready for some seaside fun in the sun, the Surfside neighborhood is ready to welcome your entire family for splashes and giggles galore on the boldest ship to hit the high seas – Icon of the Seas.