In:
There's a new way to spend your day by the pool on the newest Royal Caribbean cruise ship.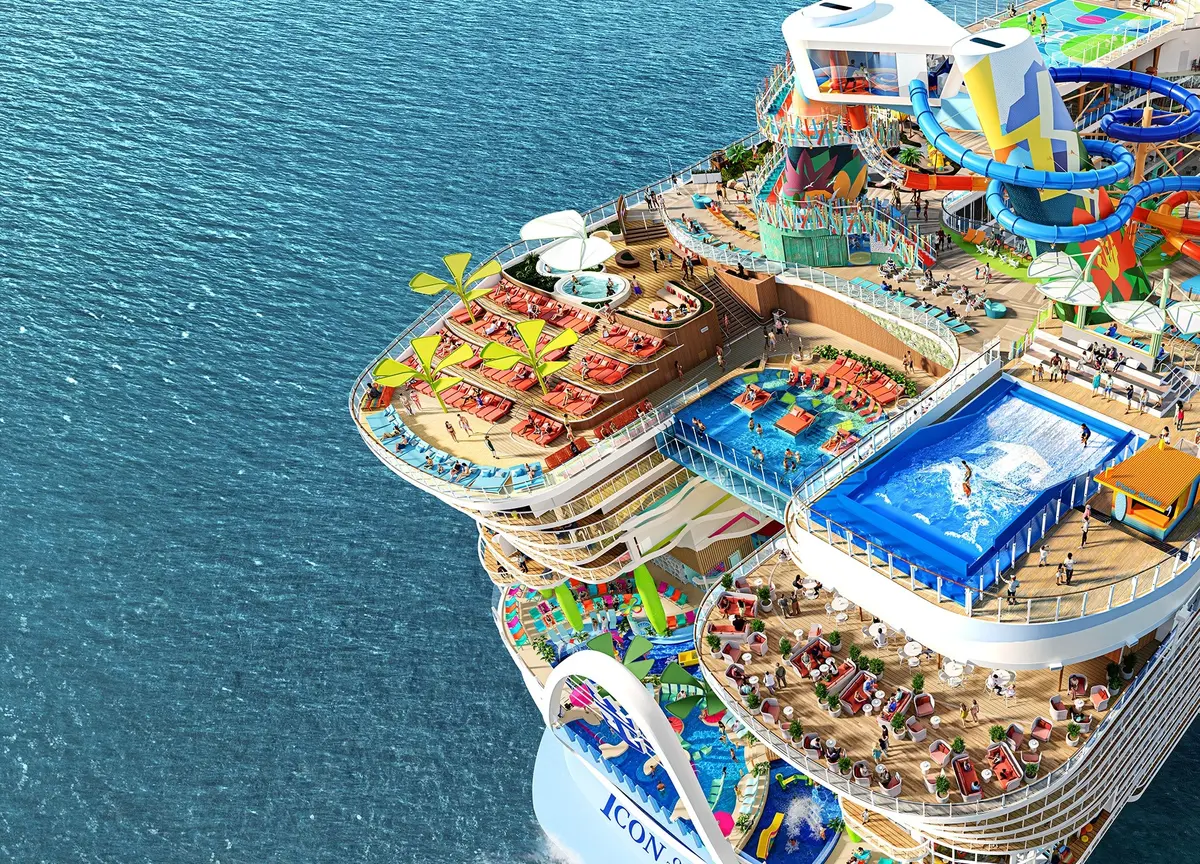 Guests can now book an in-pool daybed on Icon of the Seas for an additional cost.
Royal Caribbean has added the new option to its Cruise Planner website, which are located in the Hideaway neighborhood.
The Hideaway is located on deck 15 above Surfside neighborhood , and it's essentially a beach club or Vegas pool party scene that the cruise line is going for. Access to The Hideaway is complimentary, but there are daybeds you can choose to rent.
The Hideaway Pool is the first suspended infinity pool at sea, and it's one of the signature options on Icon of the Seas.
You'll find tiered lounge space, hot tubs and a bar specializing in Champagne and Champagne-based cocktails.
Day bed options
There are two types of day beds, with the option to reserve them on port days or sea days.
Both types include amenities provided for up to 2 - 4 guests.
The cruise line warns daybeds are uncovered with limited access to shade.
In-Pool Day bed
The in-pool daybed are a full-sized daybeds which, "channel beach club party vibes at the first suspended infinity pool at sea."
It includes:
Chilled champagne
Bottled water
Four pool towels
A large tray for your personal items. 
Royal Caribbean describes it as, "Whether you're lounging with friends or jamming to the beat, these In-Pool Daybeds are your haven of comfort onboard. Your exclusive retreat awaits. Space is limited and may sell out — book yours today!"
Oceanview Daybed
The other option is an oceanview daybed, and as you might imagine, the difference is its location.
The amenities are the same, but offer full-size daybeds which overlook the ocean.
These include:
(1) Champagne bottle (Insulated plastic bottle holder and ice bucket included)
Branded souvenir champagne glasses
(4) Pool towels
(4) Bottles of water
Side table for personal belongings
Dedicated beverage service
Guests under the age of 18 will receive complimentary mocktails to substitute the champagne bottle.
Hideaway daybed prices
In comparing prices across multiple Icon of the Seas sailings, the prices for the daybeds in the Hideaway seem to be the same.
The Hideaway In-Pool Daybed — Sea Day: $350
The Hideaway Oceanview Daybed — Sea Day: $300
The Hideaway In-Pool Daybed — Port Day: $250
The Hideaway Oceanview Daybed — Port Day: $200
Pool deck option: casitas
Another option for a private retreat near a pool are the casitas, which are available on the pool deck.
Casitas have been offered on other Royal Caribbean cruise ships for an extra cost.  On Icon of the Seas, they will have an additional fee as well.
Located at Chill Island on Deck 16, casitas cost more than day beds, but also offer more included, like towels, a tabletop cooler, water bottles, a charging outlet, and dedicated bar service at the touch of a button. 
The full list of what you get for a casita on Icon of the Seas:
Welcome drinks for all guests
(8) Pool towels
(8) Water bottles
(2) Tabletop coolers
Charging outlets
Call-for-service button for dedicated beverage service
Shaded and unshaded lounge seating
Amenities are provided for up to 6 - 8 guests.
Reader reactions
Since the new option appeared to book, cruise fans aren't surprised to see such a new extra cost option.
Xaa wrote, "Those beds will sell everyday.  People want them.  If they were free, the hogging and associated conflicts created would be constant. "
Gilley wasn't a fan just because of the lack of shade, "it's in the sun, no umbrella.  I will pass."
asquared17 added, "I don't know how comfortable I'd feel with spending money for what is essentially an island that anyone could swim up to and haul aboard."
A new kind of pool vibe
The Hideaway is a new type of neighborhood on a cruise ship, and Royal Caribbean thinks it will offer something very different than other pools.
A combination of music and location, The Hideaway is designed to offer a beach club experience.
"Perfectly perched in the center of the new Hideaway neighborhood and with its own resident DJ, it's the ultimate spot to keep the beach club vibes going all day. Designed with disappearing edges for seamless sunsets and full-sized daybeds surrounded by water, this signature suspended infinity pool will make for your most snap-worthy sea day yet."