In:
When the Royal Caribbean team was in the process of designing Icon of the Seas, it was important that they cook up dining experiences for every type of traveler.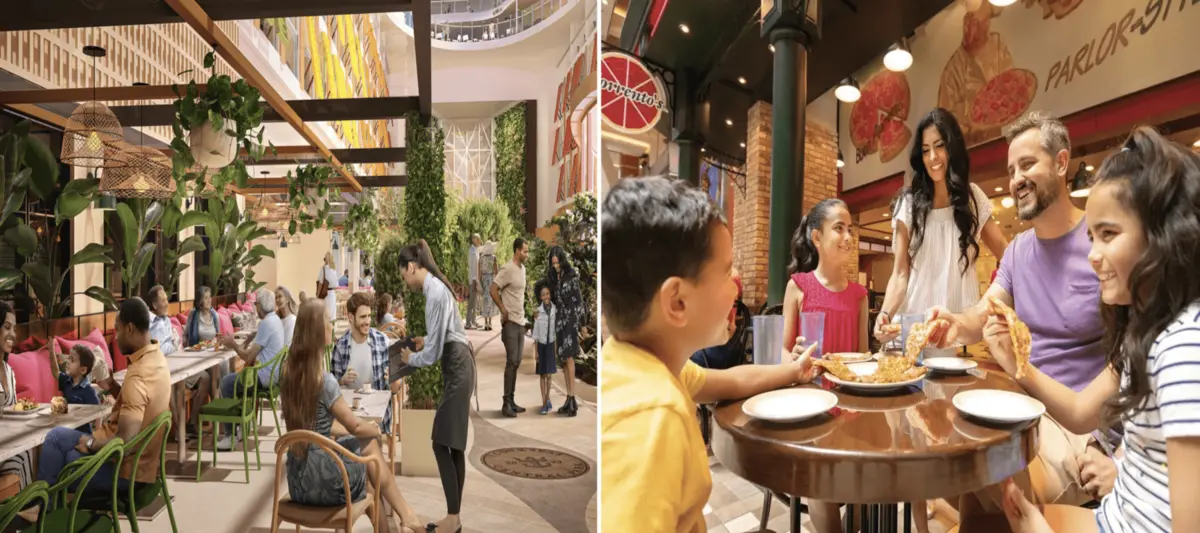 Onboard, you'll find over 40 different food and beverage experiences, meaning that every single day and night of your vacation can serve up a different vibe. 
Maybe one night you'll want to splurge on the swanky Empire Supper Club, while the next you'll want to dine under the stars at the complimentary Park Cafe! 
"Our incredible team, they're bringing different types of fare across each neighborhood. I think our guests are going to look at all this variety of dining and beverage as almost an adventure," said Jason Liberty, President and CEO of Royal Caribbean Group. 
Read more: Royal Caribbean will offer swanky supper club and food hall on new Icon of the Seas when it launches
In order to curate experiences for everyone, the Royal Caribbean team spent a lot of time planning and testing equipment, recipes, designs, and more 
In addition to consumer research, the Royal Caribbean team spent about two years traveling to top cities for research, including New York, New Orleans, Las Vegas, Barcelona, and more. 
Linken D'Souza, Vice President of Food and Beverage for Royal Caribbean International said, "In our research, our guests told us they were looking for convenience, choice, and variety, as well as the ability to have lots of different opportunities to dine differently while on vacation. And so on Icon of the Seas, we have over 40 food and beverage venues, with over 20 brand new experiences." 
These vary from easy and simple to those that are sophisticated and classy. "Anything that you want to experience as it relates to dining is available on Icon of the Seas," remarked Michael Bayley, Royal Caribbean International's President and CEO. 
There were over 100 showcases, which Rebecca Burns, Senior Manager of Restaurant Operations for Royal Caribbean International described as opportunities for the operators to set the stage and tone to see the space, where the ingredients, dishes, and experiences were tested. 
Jennifer Goswami - Director of Product Development for Royal Caribbean International said, "Dining on Icon will be so multifaceted, so we took the best of everything we've learned. And we've really evolved it for Icon."
What does all this mean? There are options for everyone, whether it's an adults-only night out to kid-friendly grab-and-go spaces. 
New dining spots onboard Icon of the Seas
Empire Supper Club
The Empire Supper Club is a super premium dining experience that will feature amazing music, dining, and beverage pairings. This eight-course meal will cost $200 per person and take three hours. With each dish, there will be a small cocktail pairing that matches the ingredients. 
Onboard Allure of the Seas, Royal Caribbean converted 150 Central Park into the Empire Supper Club to test how well all of the aspects of the experience worked together. 
Read more: Royal Caribbean's most expensive specialty restaurant ever will take 3 hours and cost $200 per person
AquaDome Market
Within the AquaDome Market, Royal Caribbean's first-ever food hall, guests will find five food stands with options for all guests, including those who are gluten-free and vegetarians. The five different stands are Feta Mediterranean, Mac's, Toast and Garden, GNGR, and Crème de la Crepe. 
Crème de la Crepe will serve sweet and savory crepes, including yummy breakfast options with eggs and hash browns. GNGR will feature Asian dishes, while Toast and Garden will serve salads and sandwiches. 
Mac and cheese lovers will love the mac and cheese stand, Mac's, where they can order specialty mac and cheese dishes topped with things like pulled pork, broccoli, and more. 
Feta Mediterranean is where you can go to get fresh pitas and Mediterranean bowls. 
Surfside Eatery
Surfside Eatery is one of three brand-new dining experiences within the stay-all-day neighborhood for young families, where you'll also find three water experiences, the first bar for kids and adults, and more. 
Rather than leave the neighborhood to head up to the Windjammer, Surfside Eatery is another complimentary buffet option that's been designed for families! Here, you'll find fun stencil pancakes (i.e., those cut to form smiley faces and more), as well as cookies with different designs!
Pier 7
The casual California specialty restaurant Pier 7 will serve brunch all day long. While mom and dad can enjoy a sit-down meal, kids can dine on their favorites, such as grilled cheese sandwiches. Plus, kids eat for free here! 
Surfside Bites
Those who want a quick snack will appreciate Surfside Bites, where you can go if you want something grab-and-go. This pick-up window will serve handheld options. 
Izumi pick-up window
Speaking up pick-up windows, Icon of the Seas will be the first ship in the Royal Caribbean fleet to have a grab-and-go Izumi window. Located in Central Park, there is where guests can go to grab sushi, hot gyoza, and soft serve bubble cones for a refreshing afternoon sweet treat! 
Basecamp
Thrill Island is where you'll find the record-breaking Category 6 Water Park. Of course, you will need to be able to fuel yourself, so you don't run out of energy. 
Basecamp, the outdoor, fast-casual eatery located in Thrill Island is where you can grab a quick bite to eat before returning to the Pressure Drop for the second (or third) time.
It's also a place where you can meet up with friends and family to talk about all the surrounding activities. Maybe you're traveling with a multigenerational party. 
A lunch at Basecamp will allow your teenagers to fill in their grandparents on all the exciting things that they've been up to while eating things like waffle chicken nuggets topped with hot honey, smash burgers, crispy shrimp bao buns, and more. 
Pearl Café
Located in the Royal Promenade, Pearl Cafe will feature elevated options compared to the Cafe Promenade found onboard some other ships. Don't worry, though, it'll still be open 24/7, meaning that you'll always be able to grab a complimentary sandwich, ready-made salad, and more at any hour!
You'll also be able to enjoy both complimentary and specialty coffees. 
The Grove
The Grove is an al fresco buffet that will only be available to those staying in Star and Sky Class suites, as it's located in the suites-only area. It's another dining option in addition to Coastal Kitchen; however, it'll be much smaller, with a capacity of only 38 passengers. 
Celebration Table
Celebration Table will be kind of like an elevated Chef's Table. This fully rentable private dining room inside of Hooked Seafood will be able to seat twelve guests. 
There will be four different family-style prix fixe menus to choose from: American, Asian, Seafood, and Italian. You can also personalize and upgrade the selections, too. 
Returning favorites
Onboard Icon of the Seas, there will be many fan favorites available for passengers to enjoy, including Playmakers, El Loco Fresh, Hooked, Sugar Beach, Sorrento's, and Coastal Kitchen. 
However, many returning dining venues will have their own flare compared to other ships in the fleet. You can expect to find new dishes, designs, locations, and more! 
Chops Grille
For the first time, you'll be able to hand-select your cut of meat at Chops Grille thanks to the impressive butcher's display. 
Izumi
Have you ever wanted to enjoy sushi al fresco? Izumi is being relocated to Central Park onboard Icon of the Seas. Plus, there will be more hibachi tables to allow even more guests to enjoy a fun teppanyaki experience. 
Trellis Bar
Also returning to Central Park is the Trellis Bar. This beloved meeting point will, for the first time, have a menu for those who want to enjoy some snacks at the bar. Some potential offerings include beef tartare, mac and cheese poppers, crab cake fritters, steak bites, and crispy truffle fries. 
Park Café
In addition to the legendary Royal Kümmelweck roast beef sandwich, guests can expect to find new breakfast, lunch, and -- yes -- dinner sandwiches, as the Park Café onboard Icon of the Seas will be open later than on other ships in the fleet. Plus, there will be new salads, too.
Giovanni's Italian Kitchen & Wine Bar
Located on Deck 6 in the Royal Promenade, the new location of Giovanni's Italian Kitchen & Wine Bar will allow diners to be connected to the action of the main thoroughfare. It will be the first time that Royal Caribbean will feature a specialty restaurant in the Royal Promenade, too!
Main Dining Room
A staple onboard every Royal Caribbean ship, the three-story Main Dining Room onboard Icon of the Seas will have a special kids' menu where they'll be able to see their options, as well as fold and play with it after making their decisions! 
Read more: First look at Royal Caribbean's new main dining room menus
Windjammer
Kids will love the Windjammer as it'll feature a "Kidjammer." In other words, a section of the Windjammer has been designed with children in mind, and they will find yummy treats like cake pops, as well as kid favorites like peanut butter and jelly sandwiches and chicken fingers.