In:
When Royal Caribbean's new cruise ship starts sailing, it will have its most ambitious and expensive extra-cost restaurant ever.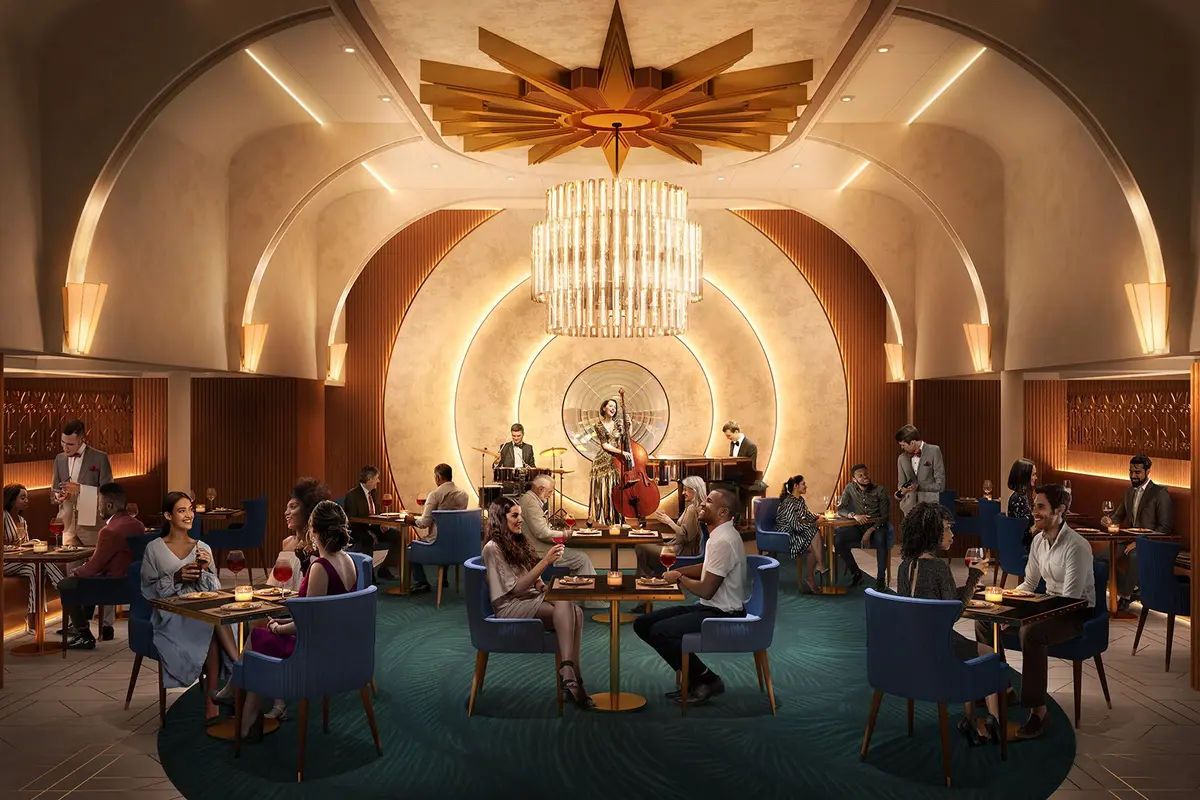 Royal Caribbean's Icon of the Seas is being designed from the water line up as a brand new evolution in cruising, and there are plenty of firsts, including 20 unique dining options.
One of the new restaurants on Icon of the Seas will be a high-end specialty restaurant that offers a "taste of old New York" and it wont be cheap.
The cruise line calls it the Empire Supper Club, and this throwback restaurant is unlike any other dining venue on its ships so far. Top quality food along with entertainment in a paced meal is what Royal Caribbean hopes will be a very cool idea that provides another option for those seeking a refined meal.
Icon's most elegant dining establishment is something brand new and has a lot of people curious what we can expect.
Welcome to old New York
The Empire Supper Club looks to be the most elegant restaurant created by Royal Caribbean to date.
Guests will enjoy an eight-course meal, all paired with with cocktails that have been specially created for Royal Caribbean by a world renowned mixologist. Tony Abou-Ganim has worked with James Beard Award-winning chefs, Bellagio and more.
When you eat at the Empire Supper Club, expect an experience, not just dinner.
The venue can only seat 38 people and there will be only one seating per night, which means this will be a hot ticket to get into given its low capacity.
Each meal will take approximately three hours, and there will be a three-piece band playing, which means guests get not just a top quality meal, but entertainment too.
Royal Caribbean hopes it will be a throwback to old New York. Appropriately enough, you'll find the New York-themed restaurant in the part of the ship that is also inspired by the same city, Central Park.
A pricey dinner
While no prices have been listed yet, Royal Caribbean did give a ballpark estimate for how much a meal will cost.
In talking with travel agents recently, Royal Caribbean's Senior Vice President, Sales, Trade Support and Service, Vicki Freed, said she expects the price to be right around $200 per person.
"It'll probably be about $200 a person," she explained in talking about the restaurant. "We haven't landed exactly on the price, but it's going to be worth it because it's going to be a beautiful eight course meal paired with the mixologist, the cocktails and the wines."
Royal Caribbean has plenty of specialty restaurants that have cover charges, but none that have a per-person price tag approaching the Empire Supper Club.
In comparison, here are prices for other specialty restaurants from the upcoming inaugural sailing of Icon of the Seas (with a 10% discount off onboard prices):
Chops Grille: $62.99 per person
Giovanni's Italian Kitchen: $48.99 per person
Izumi: $35.99 per person
Hooked: $57.99 per person
Izumi Hibachi: $57.99 per person
While the price is higher than other restaurants, it's also different from any other specialty restaurant the cruise line has come up with.
While the Chef's Table experience on other ships is also a curated meal experience, The Empire Supper Club is taking things to a new level with the menu and drink pairings.
Royal Caribbean said caviar and wagyu beef would be among the items that we can expect to see on the menu (the full menu has not been released yet).
"Most elevated dining experience we've created"
The high price tag isn't without merit, as Royal Caribbean wanted to come up with something that is substantially different from anything else.
Royal Caribbean Vice President Food & Beverage, Linken D'Souza, spoke about the Empire Supper Club a few months ago and he is excited to bring something so different to guests to try, "Empire Supper Club is what I would say is the most elevated dining experience we've created at Royal Caribbean."
"Food will be paired with cocktails, and then we'll pair it with music as well. So it'll be a full immersive dining experience."
From the sounds of it, this will be an intimate setting.
Just as food and drinks get commonly paired together, Royal Caribbean thinks pairing music to the meal will add to the sensory experience.
As mentioned earlier, the menu isn't set yet, but Mr. D'Souza's team is working on a variety of concepts for the menu, including an elevated oyster course, butterflied Caesar salad, and even testing out a rabbit dish. Don't worry, even if the rabbit course makes it to the menu, Mr. D'Souza said there will be other meat options too to pick from.
"It's really a set menu that allows you with a couple of choices around entrees."
Almost all the ingredients will be American sourced ingredients to match the New York menu they are aiming for.
He used the word "elevated" a lot to describe the meal at Empire Supper Club because of how fundamentally different it will be from other restaurants, "it really is an elevated food experience that's tied together with a really elevated beverage experience."
"It's really challenging us to come up with food and now figure out how to pair it, because you can pair wine easily. But, we're saying how do we pair a cocktail in a really meaningful way so that it's really an experiential combination between the food and the cocktail, and now you're layering music."