In:
At the heart of every Royal Caribbean cruise vacation are the crew members who work to make sure each guest has a memorable experience.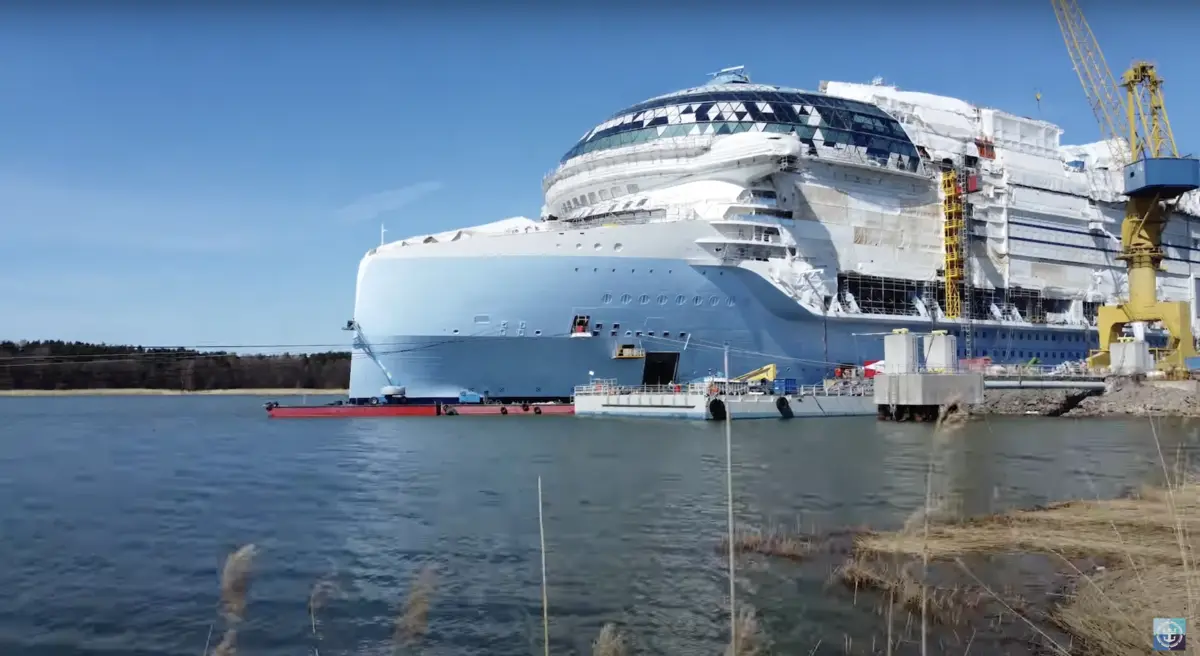 Royal Caribbean shared an inside look at how they designed the crew's neighborhood onboard the highly-anticipated Icon of the Seas, which will have over 2,300 crew members from 80 counties. They will have their own indoor and outdoor pub, gym, and even salon. 
"Building Icon of the Seas and putting all these amazing neighborhoods and 'wow; moments on there," said Jason Liberty, President & CEO of Royal Caribbean Group, "that's really the beginning of the experience. But in order to deliver on that experience, it will require what makes Royal Caribbean so special, which is our crew."
The crew neighborhood spans four decks and will feature redesigned accommodations
"Well, the good thing about a new class of ships is that we really get a chance to start from scratch and elevate the crew life onboard," said Henrik Loy, Captain of Icon of the Seas.  
Royal Caribbean sent our surveys to crew members asking them what they wanted to see onboard Icon, and at the top of the list was a place their home away from home: their cabin. 
In fact, the new design has been patented for its unique L-shaped layout. Other features include privacy curtains, enhanced finishes and materials, as well as easier to climb beds. 
"This [L-shape] accommodation allows each crew member to have their own private space where they can really relax and have their own time," said Michael Bayley, Royal Caribbean International President and CEO.
After architects designed what they thought crew members wanted, Royal Caribbean gave crew the chance to sit down and be involved first-hand in the process. Over 1,000 crew members reviewed the mockups in person, and they were not all the same position. 
In total, the represented members were from 25 different nationalities and from 25 different onboard positions, with the estimated age range begin 22- to 55-years-old. 
Crew amenities 
For the first time, the finishes that are found throughout the passenger areas will be similar to those found in crew spaces. 
"One of the things that we've enhanced is what's called The Clubhouse," said Robert Hines, Newbuild Human Resources Manager for Royal Caribbean International.
"It's an area at the front of the ship, and it's our space to really chill out and relax...It's our space to really bond as a team."
Here, they will be able to grab anything from a coffee to a cocktail while relaxing in a massage chair, or they can challenge a fellow crew member to a game of ping pong, foosball, or pool. 
Plus, there will be four digital windows that allow for real-time views outside. 
Onboard, crew members will be also able to take care of their grooming needs with a crew-only salon. There will also be a crew store, as well as a gym. 
Dining and lounge options
"The crew can looking forward to in the crew Windjammer a lot of the same options that we serve to our guests," said Rebecca Burns, Senior Manager of Restaurant Operations for Royal Caribbean International, "That was something that was very important to us when developing the menus."
In addition to both hot and cold food stations, Icon of the Seas will be the first to feature live cooking stations in the crew buffet.
And the best part is that there will be ocean views from the crew Windjammer through port hole windows.
When it comes to crew bars, there is both an indoor and outdoor space that have forward facing views. 
There is also a multipurpose room that is meant to give crew members an area to host celebrations. It is not just an entertainment venue, either, as it can also be used for trainings. 
For gamers, there is a dedicated game room just for them. This room will feature seven divided spaces that allow for everyone to have their own nook.
"There's a degree of practicality that has to be applied for all of our crew spaces because we have a lot of crew, so you've got to find that balance between functionality, practicality, and comfort and design," said Bayley. 
Icon of the Seas progress
In June 2023, Icon of the Seas completed her first round of sea trials. On June 22, the ship returned to the Meyer Turku shipyard after spending four days at sea. 
During the trials, she traveled hundreds of miles and had the main engines, hull, brake systems, steering, noise, and vibration levels tested by hundreds of specialists. 
Despite her initial departure being delayed, all tests were completed on time as outlined in the schedule. 
A lot still has to be done in preparation for Icon's maiden voyage on January 27, 2024. There is, for instance, another round of sea trials set for later in 2023.