In:
Royal Caribbean will have its first food hall on Icon of the Seas, and I had the opportunity to preview this new venue.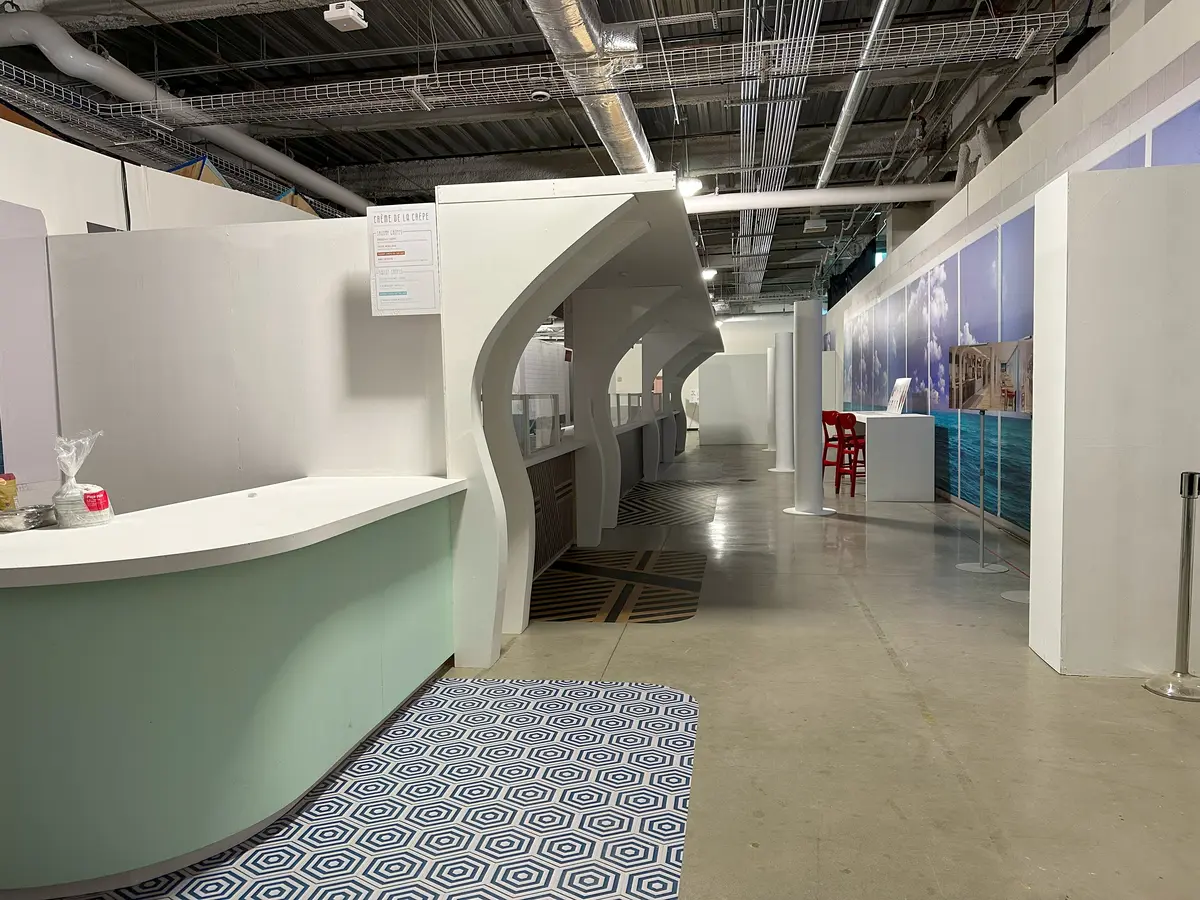 The AquaDome Market will be a series of five stalls that offer different quick-serve cuisines, and it's a new choice for Royal Caribbean.
Read more: Royal Caribbean will offer swanky supper club and food hall on new Icon of the Seas when it launches
Food halls are a relatively new concept in the cruise industry, and Icon of the Seas will be the first cruise ship under the Royal Caribbean International brand to offer one.
AquaDome Market will be located in the AquaDome neighborhood, which is another first for the cruise line.  This is an area of the ship enclosed by a massive glass dome on the front of the ship.  Nearly everything about this area is different, from the theater's location, being fully enclosed, and this new eatery.
In preparation for the launch, Royal Caribbean set up a mock-up in its Innovation Lab at the cruise line's headquarters in Miami, Florida, and invited me come see their plans first-hand.
Walking us through the set up was Tim Klauda, Royal Caribbean's Vice President for Product Development, and Valentina Madinabeitia, Product Development Product Owner.
This prototype helps Royal Caribbean "fill in the gaps" that concept art and virtual reality cannot completely convey. Because AquaDome Market's space is more challenging, the team built out more of the space to work through the details
What is the AquaDome Market?
AquaDome Market will be a new complimentary venue at the front of Icon of the Seas that has five food stalls you can choose from.
The five choices include:
Creme de la Crepe (French crepes)
Mac's (Macaroni and cheese)
Feta Mediterranean (Greek cuisine)
GNGR (Asian cuisine)
Toast and Garden (Sandwiches and salads)
You'll be able to access the AquaDome Market from the pool deck to make it convenient for anyone that wants to stop in and grab a quick bite to eat.
"We've never had like a food hall concept like this," Mr. Klauda explained. "You're seeing food halls pop up all over the place, so that's not a new concept. But for us, doing it this way and where it's positioned forward."
Being all the way forward helps spread crowds out too. The Windjammer buffet is in the rear of the ship, and El Loco Fresh also towards the aft.  So Royal Caribbean wanted something towards the front of the ship that's easy to access from the pool deck, and bring guests into the AquaDome neighborhood too.
Designing a food hall
Mr. Klauda explained there are many challenges to creating a space for a new food hall, especially within the AquaDome.
"The reason this will be challenging is it's right up against the glass. And so as we've got all this awesome food and all of these options, which is what our guests want, how many people can really pack in there, and get to the food and get in a line? And how is that going to work and how do we queue?"
For this reason, they built out all five stalls of the Market in order to get a better sense of the layout and flow for guests and the crew members.
"We're still working through some of the details, but without this, we'd be solving this after the ship's built."
The team wanted to know how tight the space would be, and can the menus be easily seen by guests and would the queues work well.
One early lesson they discovered were sight lines, as Ms. Madinabeitia explained being able to see each station was an issue, "we realized that when you're looking at this hallway, you really have to be like in front of each one to realize what each one is."
"So we are debating on does the sign come to the side? Those are all the things that by building this type of mockups, we catch before we're on board."
Something else this prototype gives is a chance for the team to experiment with the space. 
"Another opportunity is that the team has the opportunity of also doing rotating specials daily," Ms. Madinabeitia explained. "There's a lot of flexibility and options that could be brought into the space."
While Royal Caribbean intends the AquaDome Market to be complimentary when Icon of the Seas launches, they could experiment with extra-cost options too.
In terms of how it will work, guests will walk up to the stall they want to order food from and place the order and wait for the food to be prepared. There won't be pagers to indicate when the food is ready, because they want the experience to be fairly quick.
"The balance is how customized can I be and still keep up speed so that I can get something, get it handed me pretty quick," Mr. Klauda said.
"If they have to stop and prep and it takes two minutes, this will never be successful. So looking at those options are some of the things we worked through."
In addition, certain halls will be more customizable than others. Ms. Madinabeitia compared GNGR will be more like a Chipotle ordering experience where you choose your base, protein and toppings, whereas Mac's will be more of a set menu.
Sampling the AquaDome Market food
In addition to testing out the physical space, Royal Caribbean is also testing out the food that will be served to guests in AquaDome Market.
Within Royal Caribbean's headquarters is a test kitchen, where a team of chefs work through the various food choices to find the right selections and ingredients to include.
Royal Caribbean's Vice President of Food and Beverage, Linken D'Souza, walked us through this ultra-secretive space to share a glimpse of what they have in mind for the menus.
Designing the food hall was about evolving the cruise line's offerings, "We always want to give something interesting, exciting," he said in talking about the new dining venues on Icon.
"And on the ship as amazing and big as Icon is, that means having food in more places than we've ever had."
We saw examples of food from each of the new food stalls, along with the chance to try a few out ourselves. Mr. D'Souza cautioned us that the menus are still a work in progress, so you may not see these items when Icon launches.
Creme de la Crepe: Strawberry, Nutella, caramelized banana with salted caramel
GNGR: Sweet and sour chicken
Toast and Garden: Monte Cristo sandwich
Mac's: Pizza macaroni and cheese
Mac's: Pulled pork mac and cheese
Feta Mediterranean: Traditional style Greek pitas
One goal for these foods was to give guests something different than they see in other venues.
Mr. D'Souza thinks the AquaDome Market will offer more made-to-order choices for passengers, "It's more about providing a more curated experience for the guests. A more built for you experience."
"Obviously we have large venues, like the Windjammer, where we make some things to order, but the volume is kind of ready for the guests to grab and go. And so this is really about being able to make it a little bit more special."
The variety of choice really stands out to Mr. D'Souza, "what I like about it is you have the ability to walk in and at breakfast, get a monte Cristo for breakfast. And come in for lunch and have a pita, or come in at dinner and have some Chinese food."
For families, he thinks this will be a big win, "especially if you have a family of 5 or 6, you go in and not everybody wants to eat the same thing. You have the choices, but you don't feel like you're at a buffet."
An interesting anecdote from the test kitchen story of the food development was the mac and cheese.
As it turns out, over 500 hours of time has been developed so far to get the mac and cheese sauce consistent and, of course, tasty.
Why so long to get the sauce right? It's all about consistency. 
Paul Fortin, Senior Director of Culinary Operations, explained why it's important, "Consistency. The sauce has to coat the pasta. What sauce is going to coat the pasta properly? All the pastas are specifically done for the sauce, not just for the shape that it is."