In: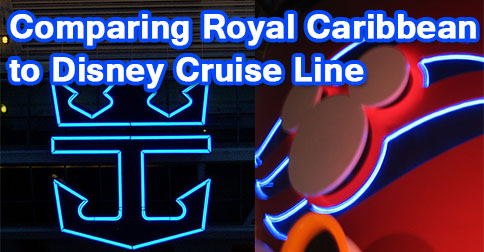 For many families, they have to pick the right cruise for their vacation and there's no doubt two of the titans of the family cruise market are Royal Caribbean and Disney Cruise Line.  We get so many questions about this topic that we wanted to look at how they compare to each other.
It should be noted right away that picking a cruise line over another is quite subjective and there's always going to be differing opinions on this, but we try to remain as objective as possible.
What Royal Caribbean does well
Royal Caribbean has a few "core competencies" where it generally exceeds at and these are areas that if important to you, could sway your opinion
Latest and greatest
If you want to cruise on the newest cruise ships with the latest uber-cool cruise ship innovations, then Royal Caribbean is the line for you.  They build new ships quite regularly, with another four cruise ships on order as of this blog post.
Besides bragging rights, these new ships offer the latest in cruise ship trends as well as the very best in accommodations, dining, technology and entertainment.  We love older ships but there's no beating a brand new ship for what it offers.
World wide itineraries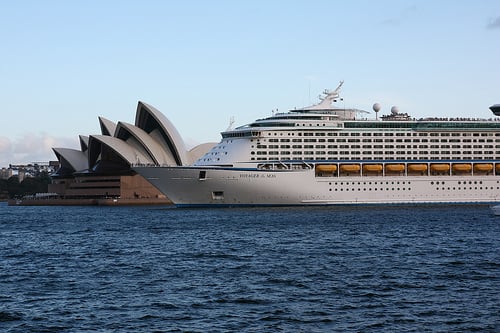 From the Far East, to Australia to the Middle East, Europe and Alaska, there's lots of Royal Caribbean ships sailing these waters throughout the year.   Its ships sail to every continent except Antarctica on cruises ranging from three nights to 18 nights.
Because Royal Caribbean has a substantially larger fleet than Disney, Royal Caribbean has been focusing on serving the international markets to expand its market share and that's resulted in a lot of itinerary variety to choose from.  Often, there's a Royal Caribbean ship in one of these major regions in addition to the well-represented North American cruise corridor.
When you're looking for something more than another cruise to the Bahamas, it's hard to beat what Royal Caribbean offers.
Unlimited alcohol packages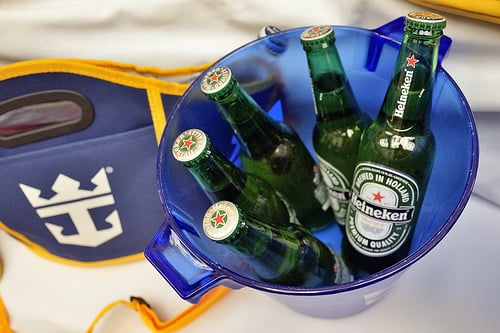 Simply put, you can get reasonably priced unlimited alcohol packages on Royal Caribbean ships that give you a fixed price for your onboard consumption.  
Adults will be able to know in advance how much this cost will be and even pre-pay it to help break up the cost of the trip.  While we personally find the unlimited drink packages to be more than what we need, many adults enjoy the convenience of the packages.
What Disney Cruise Line does well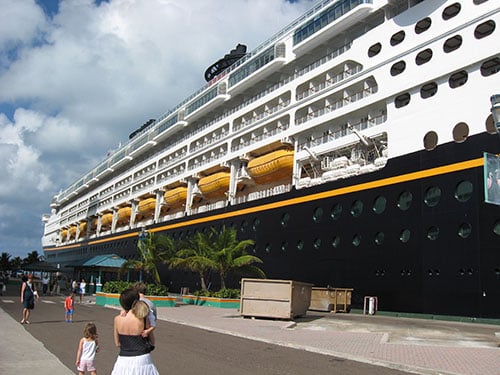 If you're wondering what Disney Cruise Line does better than most, here's a quick rundown of our experience.
Overall dining experience
Excluding specialty restaurants, we think Disney Cruise Line's complimentary restaurants are quite well planned. Guests get to try a different restaurant each night with the same wait staff "following" them around between restaurants.
In addition, the restaurants on Disney Cruise Line are not just rooms with food.  Each restaurant has a unique look and feel to it and they stand out in terms of their atmosphere.
For sailing of 4-nights or more there are different themed menus. So, even though you eat in the same dining room again you'd have a different dinner. At times they are themed to the region for example Mediterranean or Taste of Alaska.
Free soda
If soft drinks are your thing, there's no beating the complimentary soda available on Disney Cruise Line.  
Royal Caribbean charges per soda or offers beverage packages that cover them, but on Disney Cruise Line offers unlimited fountain soda, regular coffee, tea and water.  
For kids and those that just love a good Coke, it's a big cost savings when you consider how much Royal Caribbean would charge to drink the same amount onboard their ships.
Stateroom size and offerings
Since it's inception, Disney Cruise Line has offered more space and options in its staterooms than anyone else in the cruise industry,
While Royal Caribbean has narrowed the gap in recent years with its newer ships, Disney Cruise Line offers more square footage and bathtubs in the majority of staterooms.
Inside staterooms on the Disney Dream (one of Disney Cruise Line's newest ships) have square footage of 169 square feet, whereas on Oasis of the Seas inside staterooms begin at 150 square feet).
Blurred Lines: How the two compare in other areas
Both cruise lines do a lot of things well and it's harder to pick a winner among the two without getting into some real personal opinions.
Entertainment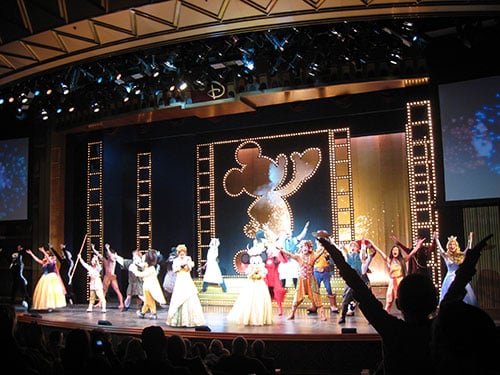 Disney came into the cruise space with its well known ability to create compelling shows.  Disney puts on a lot of stage shows that garner rave reviews and they also offer character meets with Mickey, Minine and many other characters and princesses.
Disney Cruise Line also offers fireworks at sea, whereas Royal Caribbean does not.
Royal Caribbean has really upped its game in recent years.  Many Royal Caribbean ships feature Broadway shows such as Cats, Mamma Mia, Chicago and more.  Royal Caribbean has also partnered with DreamWorks Animation to offer just as many character meets, film showings and general character interactions as Disney.
For adults, Royal Caribbean's entertainment may be a stronger choice given their shows gravitate to them more so than children and there's also a greater variety of shows to choose from.  In addition, Broadway shows are of a higher caliber display than Disney's shorter shows based on their films.
Activities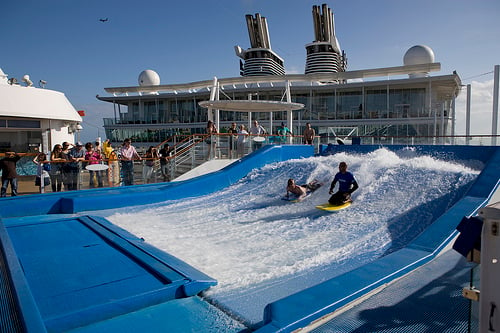 You will find plenty of onboard activities for both cruise lines.  Bingo games, dance lessons, demonstrations, tours and more can be found on both cruise lines.  Both lines also offer swimming pools, sports courts, spas, gyms, shows, bars and entertainment lounges.
Royal Caribbean offers ice-skating rinks, rock climbing walls, surf simulators, mini-golf, movie theaters and a lot more.  Oh and did we mention there are no casinos on Disney Cruise Line?
Disney Cruise Line offers a water coaster, water play areas for kids, and slides in their pools.  There's also scavenger hunts, trivia, tasting classes, and more on Disney Cruise Line.
Child Care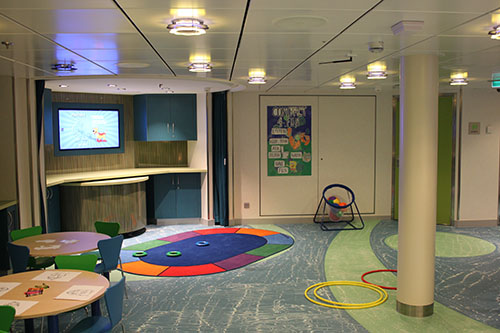 Both cruise lines offer child care included in the price of the cruise.  
Both lines offer kids clubs for children, young teens and teens.  In general, Royal Caribbean's clubs are more structured in terms of their daily routine but Disney Cruise Line has a more "open" policy to their child care programs, that encourage the children to explore and try what they find interesting.
Both lines do have nursery options that have a per-hour cost.  
Private islands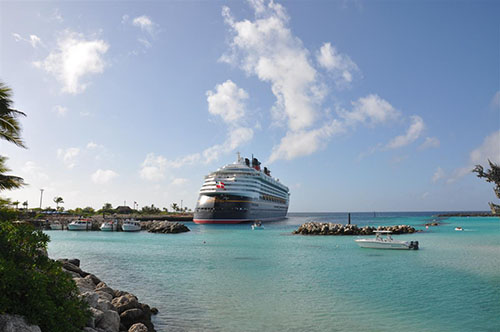 Both cruise lines have private islands the cruise line operates that offer a very well-maintained and beautiful destination.  With good weather, it's hard to really which is more beautiful than the other (beauty is in the eye of the beholder, right?).
Disney Cruise Line has Castaway Cay in the Bahamas that is widely regarded as a beautiful island with lots to do for adults and children.  We also find the beach sand to be softer and less rocky than Royal Caribbean's.  
On Castaway Cay you will find 5k races, great snorkeling, and a private beaches for adults.
Royal Caribbean has two private islands, Labadee in Haiti and CocoCay in the Bahamas.  Both islands are gorgeous and a great place for a beach day.  Given their respective locations, western and eastern Caribbean itineraries usually include a stop at one.
Labadee also offers an aqua park, zip line and roller coaster for an additional cost.  CocoCay is more basic in its offerings and also requires tendering to get to the island.
The crew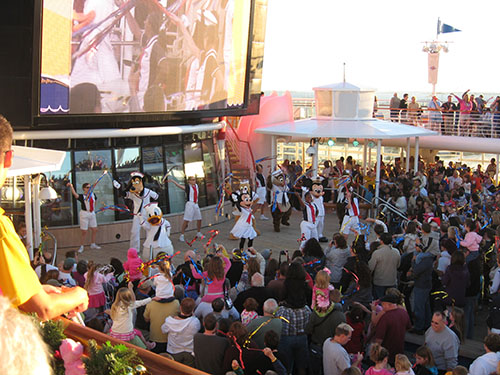 Both crews do an admirable job at keeping their guests happy.  From customer service, to wait staff to the people that turn down your bed, both cruise lines work hard to keep guests smiling.
Disney has built a reputation over many decades for a hard working staff that is always looking to improve.  From its theme park origins, the Disney Cruise Line crew members want to make your cruise better and offer tremendous service.
Royal Caribbean's crew is just as good, with their service always looking to "WOW" its guests.  For the crew, wow is more than a marketing slogan, it's the group mantra.  You will find smiling faces and a can-do attitude onboard Royal Caribbean that is always asking how can they make your cruise better. 
The X-Factor: Cost
There is a big difference between Disney Cruise Line and Royal Caribbean that is hard to ignore and that is the cruise fare price.
Royal Caribbean is usually considerably cheaper in cruise fare compared to Disney Cruise Line.  In a study by the Unofficial Guide to Disney Cruise Line, Royal Caribbean's prices were on average 60-70% less than Disney for very similar cruise experiences.
To put this in perspective, seven-night eastern Caribbean cruises out of Port Canaveral in the second half of 2015 were over $7200 for an inside cabin (depending on date) compared to Royal Caribbean's prices of about $2200 - $3000.  That's a lot of money.
We are the first to admit the onboard experience of a Disney Cruise and a Royal Caribbean cruise are very similar, so it's hard to justify the prices Disney Cruise Line charges for their product.
Summary
After reading all of this, you have to start deciding which aspects of your cruise vacation are more important to you to pick the right choice.
Given the fact this blog is centered around Royal Caribbean cruising, it's obvious where our allegiance lays but it's important to recognize what the competition does well too.  Royal Caribbean is far from perfect and when you look at the right cruise for you, it's always important to have as much information as possible.
In a nutshell, Disney Cruise Line offers a wonderful product with lots of entertainment and plenty for the kids.  Royal Caribbean counters with phenomenal ships, lots of options to choose from at a great value.
I also wanted to give a big thanks to Scott from Disney Cruise Line Blog for making sure I was fair to Disney Cruise Line in this post.  Check out his blog for some really good coverage of all things DCL.